Electric bikes can be awesome when it comes to commuting to town or cruising around the neighborhood, but they can be just as great when it comes to hunting and fishing.
Portable and versatile, the right e-bike can make accessing your favorite fishing hole or hunting ground easier than ever.
And since these mobiles are electric, you'll be less likely to scare away the game as you make your way through the great outdoors.
If you're looking for an efficient way to tackle the unbeaten path, opting for an electric bike is a great choice, but before you make a purchase, it's a smart idea to know what to look for.
After all, there are a lot of e-bikes out there and they aren't all created equal.
In this guide, I'll go over the top considerations we should be making when looking for best electric bikes for hunting and fishing.
I'll also offer my top picks currently on the market, based on the specs and features we go over.
After reading, you'll be more than ready to find the right e-bike to meet your hunting/fishing needs.
Let's begin.
What Makes A Good Hunting/Fishing E-bike?
Four wheelers and other ATV's have often been the vehicles of choice for avid hunters and fisherman, but I could see the explosion of e-bike popularity taking a cut out of their profits.
Not only are ATV's more expensive (average cost $5k – $7k), but they're a lot heavier too (average weight 400 – 700 lb).
The sheer size and cost of a quality ATV makes them undoable for a lot of hunters, but e-bikes can also go in a lot of areas these larger vehicles can't.
E-bikes don't need a wide path – they can easily squeeze through narrow spaces and between trees, making it easier to access the hard to reach destinations.
That said, there are a lot of electric bikes out there and they aren't all qualified to handle the stresses hunting and fishing put on 'em.
Your exact requirements might vary a little depending on your location and the type of hunting you like to do, but generally speaking, a good hunting/fishing e-bike should have:
A powerful motor
Fat tires
A large capacity battery
Generous payload capacity
Compatibility with additional accessories
Motor
The motor powers your e-bike, so this is probably the first spec you should check out when considering a new purchase.
E-bike motors vary based on their location and strength and it's a good idea to think about both.
When it comes to location, the motor can be located at the rear tire (rear hub motor) or with the crankset (mid-drive) and they both have their advantages.
(Some also come with motors located at both tires, giving you all-wheel drive).
Rear hub motors are more affordable, but they don't offer as natural a riding experience; mid-drive motors are more natural and allow the motor to take advantage of the gears, but they cost more.
When it comes to strength, having a more powerful motor is beneficial when it comes to riding over rougher terrain and ascending steeper inclines.
You can look at the motors' watt outputs, but most of the best hunting e-bikes will have ratings of 750 – 1000w, so there likely won't be huge differences in this spec.
So, it might make more sense to look for the torque ratings when comparing bikes.
Torque refers to the rotational power and seeing higher torque ratings means better acceleration and better hill climbing capabilities.
Some of these hunting/fishing e-bikes come with torque ratings well over 100Nm (Newton-meters), making them ferocious hill tacklers.
Tires
The size and thickness of e-bike tires vary greatly depending on the style of bike.
Large, thinner tires are often found on bikes designed for road use because these tires offer better handling and gain speed more efficiently.
On the other hand, fatter tires make more contact with the ground, allowing for better control over grass, gravel, mud, or any other unpaved surface.
Assuming you'll be hunting/fishing that doesn't have paved roads, you'll want to go with an e-bike with fat tires (4″).
The best hunting e-bikes should come with puncture resistant, 26″ x 4″ tires for optimal off-road performance.
Battery
Having a rechargeable battery is good for the environment and means you don't have to spend money on fuel, but it's important to have enough range to get you to the hunt and back.
Most e-bike manufacturers will offer their estimations of how far their bikes will get ya on a full battery, but it's still smart to do your own homework.
This means comparing the batteries yourselves to see how they really stack up.
When comparing e-bike batteries, I find it easiest to look for the voltage (V) and amh-hour (Ah) specs, which combined, gives you the watt-hour rating (Wh = V x Ah).
The Wh rating gives you a great idea as to the real capacity of the battery – in other words, seeing higher Wh ratings means you should be able to go longer distances between charges.
Just keep in mind, that a lot of different stuff affects real-world range, including terrain, riding conditions, user weight, amount of motor assist used, etc.
Regardless, it's still a good idea to check out those Wh ratings before making a decision.
Payload
The payload, or weight capacity, refers to the total amount of weight the bike can safely handle while riding.
This includes the weight of the rider, plus any cargo he/she may be hauling – and if you're using your e-bike for hunting or fishing, you're going to have some cargo.
The best hunting bikes should have a payload of at least 300 lb, but some will offer even more.
An example:
With a 300 lb payload capacity, a 200 lb rider would still be able to load up the bike with 100 lb of additional cargo.
When looking for a hunting bike, think about the size of the riders and the amount of gear you'll likely be using and make sure you go with an option that can safely accommodate your needs.
Accessories
Some e-bikes come with a bunch of additional accessories or are compatible with several add-ons, others don't.
Most quality hunting and fishing e-bikes will be compatible with rear racks, front racks/baskets, and other various storage options for gear.
You can also expect LCD consoles of different varieties that offer various options, depending on the model.
You might want to look for a bike with a front headlight if you like the idea of going out early in the morning or later at night, although not all e-bikes offer this feature.
Oh, wouldn't be a bad idea to consider the suspension either.
Most hunting bikes come with at least a front suspension fork, while others come with more advanced rear suspensions as well.
Having a suspension system of one sort or another will make for a more comfortable ride when going off-road.
Ok, I think that hits all the most pertinent considerations, so let's get to the good stuff already…
The 6 Best Electric Bikes For Hunting & Fishing
#1 Bakcou Storm Jager
Bakcou specializes in electric off-road and hunting vehicles and they've got a lot of great options to choose from (I say 'vehicles' here because they also have all-terrain electric scooters… how awesome is that??)
These e-bikes and e-scooters are designed by hunters for hunters and it's pretty obvious when you see what these things have to offer.
Bakcou offers several high-quality hunting bikes, but their Storm Jager is the pinnacle of their lineup.
The Storm Jager comes loaded with Bafang's 1000w, mid-drive Ultra M620 motor, which is largely considered one of the nicest e-bike motors out there.
This motor comes with a torque sensor, allowing the Jager to supply power appropriate to what you need, but it also comes with heavy-duty all-metal gearing for optimal performance and durability.
1000w is impressive, but what's more impressive to me is the 160Nm of torque this motor can provide – this is serious muscle.
With this much power and strength, the Jager will be able to ascend any hill you're daring enough to attempt.
And with a 1200Wh battery (48V, 25Ah), you won't have to worry about having enough juice to get back home.
This e-bike also comes with a 14-speed, internal gear hub that gives you a ton of control over performance, while protecting most of the components from damage on rough terrain.
Additional highlights include front/rear suspension, 26″ x 4″ tires, a full color LCD console, and an included rear rack.
Bakcou also includes a 4 amp super charger for fast charging and front/rear mud fenders with purchase.
The Storm Jager certainly isn't cheap, but if you're looking for a serious hunting e-bike, there's no finer option out there.

#2 Bakcou Kodiak
The Kodiak is another awesomely-named hunting bike by Bakcou, but unlike the Storm and it's mid-drive motor, the Kodiak has something else up its sleeve.
Like dual hub motors.
That's right – this bike comes with both a front and a rear hub motor (each rated at 500W and 85Nm of torque), making it a true all-wheel drive (AWD) e-bike.
This gives you access to a ton of power (1000W, 170Nm of torque combined), but you can also switch between rear, front, or AWD anytime you want from the console, allowing you to save energy when you don't need so much power.
The AWD capabilities of the Kodiak make it great for messy or snowy terrain, but dual motors require more power.
Fortunately, Bakcou understands this and gave this e-bike a 1,200Wh (48V, 25Ah) battery for generous ranges.
The Kodiak is available in 3 different color schemes, comes with a removable thumb throttle, and also offers a front suspension and shock absorbing seat post.
Additional highlights include 26″ x 4″ tires, an included rear rack, an LCD console, fenders, and an included 4 amp super charger.
Overall, if you're looking for a reasonably-priced hunting e-bike with some serious AWD performance, Bakcou's Kodiak is definitely worth checking out.

#3 Rambo Krusader 2.0 AWD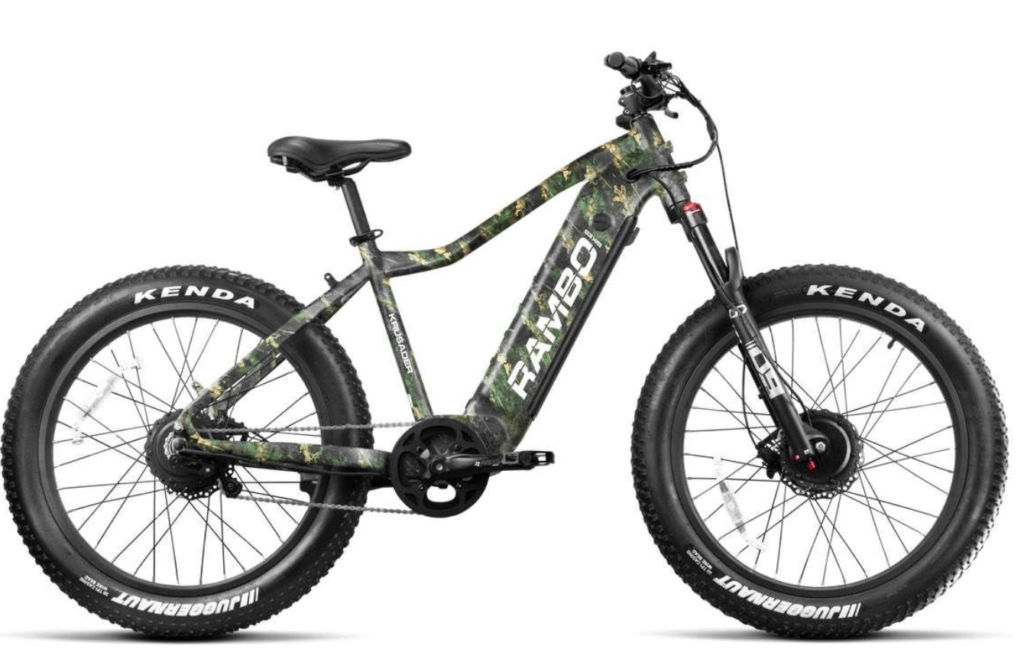 As a lifelong fan of the "Rambo" movies (well, most of 'em anyway), I have an instant appreciation for the Rambo Bikes brand.
And much like the fictional character they're named after, these are some tough, no-nonsense e-bikes.
Rambo has a large lineup of electric bikes to choose from, including several designed specifically for hunting and fishing, but it's their Krusader 2.0 that instantly caught my attention.
Unlike most hunting bikes, that come with a single mid-drive motor, the Krusader comes with 2 hub motors.
Yup, just like the Kodiak above, the Krusader is a true all-wheel drive e-bike.
More specifically, this bike comes with dual 500W hub motors, for a total output of 1000W and 160Nm of torque.
That's a ton of power, but what's really cool about the Krusader 2.0 is that you can switch between rear wheel, front wheel, or all-wheel drive (AWB) any time you want from the console.
This means you can get optimal power when you need it, but you can also save battery power when you don't.
And if worst comes to worst and you end up messing up your chain, you can still use the front wheel drive mode to keep going.
Speaking of battery power, the Krusader 2.0 comes a large, 960 Wh (48 V, 20Ah) battery that'll get you upwards of 57 miles per charge (it's also compatible with a second battery for even more range).
Other awesome features include 26″ x 4″ tires, adjustable front suspension, a full color display, and an impressive 350 lb weight capacity.
And with an asking price of around $4k, it's reasonably priced for such an impressive specimen.

#4 QuietKat Ibex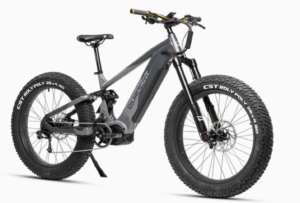 QuietKat (another great brand name by the way) is another provider of elite hunting/fishing e-bikes and they've got a lot of great models to choose from.
The Ibex is another good example of a more traditional, performance driven hunting bike, coming with a 1000W, mid-drive motor with 160Nm of available torque.
This is a lot of power, giving you great hill climbing abilities, as well as really fast top speeds.
Speaking of speeds, the Ibex can be programmed for Class I, II, and III use. It also comes with "unlimited" mode, that'll give you access to speeds well over 30 mph (I read where one user reported reaching over 50 mph… whoa).
QuietKat pairs that strong motor with a 9-speed shifter and a 1008Wh (48V, 21Ah) battery that could get you upwards of 60 miles per charge, depending on how you ride of course.
The Ibex also comes with massive, 26″ x 4.8″ tires that'll be able to handle any terrain you set out on.
This e-bike comes in 2 frame sizes, has a 300 lb payload capacity, and comes with a pretty sophisticated shock absorbing system.
It's also compatible with a lot of cool accessories, including a solar e-bike charging kit.
Overall, the Ibex is pretty expensive, but it's a powerful, sophisticated e-bike that can hang with the best of 'em.

#5 QuietKat Ranger
If you like what QuietKat has to offer, but are looking for a more affordable option, their Ranger might be right up your alley.
The Ranger comes with a single, 1000W rear hub motor that can reach top speeds of 30 mph or higher, depending on user size and terrain (I can't find any torque ratings for this motor, my apologies).
This is pretty powerful, but the Ranger's battery is quite a bit smaller than the ones mentioned thus far – with only a 768Wh capacity (48V, 16Ah), this bike will only get ya 24 – 48 miles per charge.
Not bad, but not as impressive as the ranges seen above.
This e-bike also comes with 26″ x 4.5″ tires, a 7-speed shifter, 5 levels of pedal assist, and a front suspension fork for comfortable riding off-road.
I also like that it comes with an integrated rear rack and an impressive payload capacity of 325 lb.
It also comes in a few different color schemes and is available in 3 different frame sizes, so folks of most heights should be able to find a comfortable fit.
And like the other QuietKat models, the Ranger is compatible with several cool accessories, including a hunting trailer that would make hauling your price away much easier.
Overall, the Ranger is a little pricey for a rear hub e-bike, but the impressive features and quality of build likely warrant the cost.

#6 Ride1Up Rift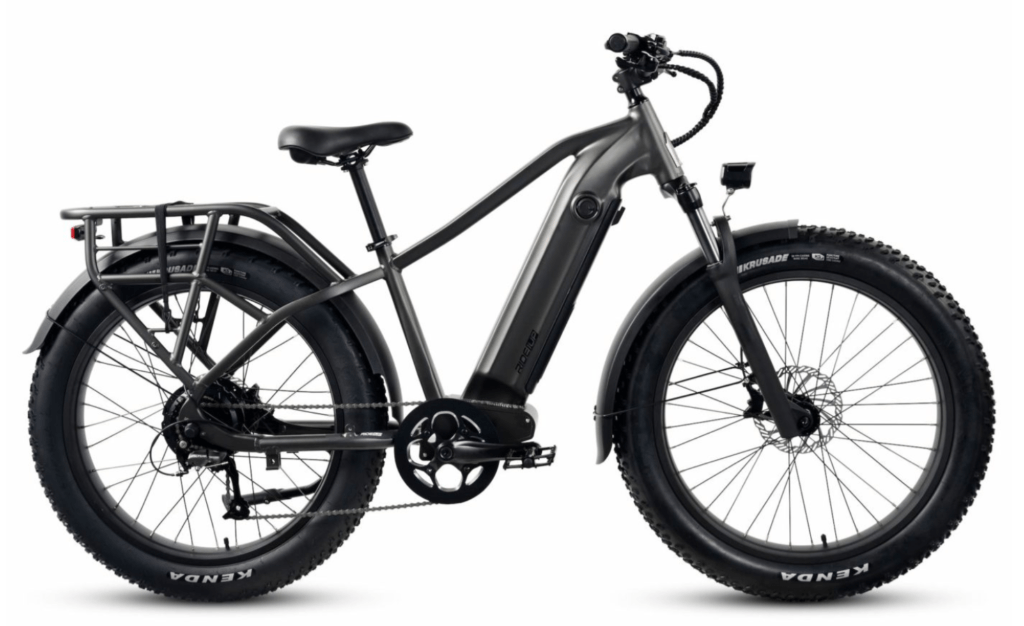 Rounding out my list is an exciting e-bike by Ride1Up, a brand that's made a name for themself by offering quality components and more than fair prices.
And yes, I know the Rift isn't technically a hunting e-bike, but hear me out here.
The Rift is an all-terrain e-bike and as such, it comes with a robust frame, fat tires (26″ x 4″), and a powerful motor (750W rear hub, 95Nm of torque) that can handle off-roading.
It comes with a top speed of 28 mph, an 8-speed shifter, and a front suspension fork for smooth handling.
And with a 960Wh (48V, 20Ah) battery, you'll be able to get 45 – 60 miles per charge, which is impressive for any e-bike.
The Rift also comes with a heavy-duty, built-in rear rack that can safely hold up to 150 lb of cargo (350 lb total payload capacity).
Additional features include front/rear lighting, a color display, and hydraulic disc braking.
And with an asking price under $2k, the Rift is certainly priced to move.
So, if you have an open mind and are looking for an affordable hunting e-bike, I could see the Rift making a lot of sense. See full review.

Final Thoughts
Alright, there ya have it – an overview of some of the best hunting and fishing e-bikes 2023 has to offer.
There are a lot of great bikes out there, so looking through and comparing all these options can rapidly become overwhelming.
But if you stick to your game plan and compare those performance specs and features, I'm confident you'll be able to find one that fits your budget.
If you can decide between a hub motor(s) and a mid-drive motor, that'll instantly help you narrow down your search.
And again, it's a good idea to make sure your e-bike comes with a suspension system and is at least compatible with a rear rack because you're going to want a place to store equipment.
And don't forget about that payload capacity either.
Anyway, I hope you found this guide helpful and if you know of any great hunting e-bikes that deserve a spot on this list, please share.
Leave a comment below and I'll get back to you shortly.