When maximizing your range is the primary goal, going with a dual-battery e-bike makes sense – after all, double the battery capacity usually means double the distance you can go between charges, more or less.
There aren't a ton of dual-battery bikes out there, but, depending on your budget, there are still enough options that you've got some decisions to make.
And yes, having a second battery does significantly increase your e-bike's range, but it can also significantly increase your bike's weight, making it harder to haul around.
Not to mention the extra cost that often comes with investing in one of these bikes.
So, before you decide on one of these models, it's a good idea to know what you're looking for and understand all the benefits and disadvantages that come with a dual-battery e-bike.
And it just so happens that's exactly what'll I'll be going over here.
In this comprehensive guide, I'll go over all the considerations you should make before deciding on a dual-battery bike in the first place.
Then I'll share my top picks for this category, based on the specs and features discussed.
After reading, you'll be ready to find the right extended range e-bike to meet your needs.
Let's roll.
Do I Really Need Two Batteries?
Sure, having a second battery sounds great, who wouldn't want an extra battery on their bike?
But do you actually need it?
The answer to that question really depends on how you plan on using your e-bike.
The way I see it, there are 3 obvious scenarios where having a second battery would be worth the investment:
Long commutes to/from work/town
Long trail rides where charging isn't an option
Hunting trips
The first scenario makes a lot of sense because if you plan on riding 20+ miles one way to work or town, you might need that second battery to ensure you make it back home.
And even if you can charge your battery while you're there, depending on the timing, there's no guarantee a single battery would be charged enough in time to get you home.
And if you're looking to do some epic trail rides, you wouldn't be in a position to charge your battery while you're out and about in the wilderness.
And it would suck to run out of juice on a rough trail.
The same goes for hunting trips.
Believe it or not, there are e-bikes designed specifically for hunting and when you think about it, a powerful e-bike makes a lot of sense for hunting because of its size and maneuverability.
The right e-bike and go places even a 4-wheeler can't go.
But if you're out there miles away from civilization, the last thing you want to do is run out of power – especially if you're hauling a trailer or extra cargo.
So, dual-battery e-bikes can certainly come in handy, but for the casual rider who isn't making long trips, they might not make a lot of sense.
It can often be more practical (and affordable) to simply go with a single battery bike and charge it as needed between trips.
I'm not trying to discourage anyone from purchasing a dual-battery option, I'm just suggesting we really consider whether or not we need one before going down this rabbit hole.
Anyway, like everything in life, having a second battery has its advantages and disadvantages…
Advantages
The big advantage of having a second battery is pretty obvious – you get more range between charges.
Depending on the e-bike and the battery configuration, you may literally double your expected range by adding a second battery.
Some bikes come with different sized batteries, so you might not necessarily double your range, but you'll still likely get at least an extra 20 – 30 miles than you would with just a single battery.
Having this extended range allows you to ride farther and longer without having to worry about making it home or landing somewhere where you can charge up.
Having a second battery also means your bike might be able to handle a second motor – yup, there are all-wheel-drive (AWD) e-bikes out there and they can offer some serious muscle.
Having 2 batteries gives you the fuel necessary to support dual motors or even one really powerful motor.
And they can give you the peace of mind to unleash all that power without worrying about immediately running out of juice.
Disadvantages
Longer ranges are always a plus, but adding a second battery to your bike comes with a few downsides too.
The most obvious bummer is the cost – adding another battery usually significantly increases the cost of the bike.
The price difference will vary depending on the brand, the kind of e-bike, and the size of the battery being added, but you can realistically expect to add anywhere from $300 – $1000+ to the price by simply adding another battery.
Which, depending on the bike, can make it quite the investment.
Something else worth considering is how much extra weight you'll be adding to the bike by adding another battery.
Again, the weight of the battery will depend on its size, but you can expect to add at least 8 – 10 lb to the total weight of the bike with an additional battery.
And if you find yourself hauling your bike around often or having to carry it up/down stairs regularly, any added weight could be seen as an inconvenience.
The last big possible disadvantage is that adding a second battery might take away from the overall style of the bike.
I'm being completely superficial here, but if the second battery isn't integrated or hidden, it can take away from an other wise sleek looking ride.
Ok, if you're still confident that you want an extra battery, let's talk about what we should be looking at when comparing options.
Choosing A Dual-Battery E-Bike
Choosing a dual-battery e-bike isn't that much different than choosing one with a single battery – it's all about finding one that offers the best specs and features in your price range.
When comparing bikes, I encourage you to consider the following:
Range
The point of having 2 batteries is that you have extended range, so the first thing I'd look for when comparing options is the expected range.
All brands offer an estimate of how much range you'll get from your bike and even though these ranges are usually measured with small riders keeping the bike at the lowest PAS level, it still gives you a good idea of what to expect.
Look for an e-bike that offers the kind of range you're looking for.
With 2 batteries, you can expect possible ranges anywhere from 80 – 140 miles… depending on how you ride and the size of the batteries.
Speaking of battery size, the easiest way to compare batteries is to look for the watt-hour (Wh) ratings.
This spec combines volts and amp-hours (Wh = V x Ah) and seeing higher Wh ratings means you can expect longer ranges.
Most dual-battery e-bikes function by running on the first battery and then switching to the other battery when the first one runs out of juice.
Others pull power from both batteries simultaneously.
As mentioned above, the second battery can be (and often is) a different size – when comparing numbers between bikes, it can be helpful to add the Wh's for each battery to get a total capacity.
Motor
Motor strength is important to consider for any e-bike, but it's especially important when you're looking to optimize range.
Having a stronger motor comes in handy when it comes to faster accelerations and better hill climbing, but know that stronger motors drain batteries faster.
So, if you're looking for optimal range, it could make sense to opt for a weaker motor… especially if you'll be riding on smooth, paved routes.
On the other hand, if you're looking for an all-terrain bike, going with a stronger motor makes sense because of the rougher riding conditions.
There are e-bikes out there with dual-motors as well now, which give you unparalleled power and hill climbing capabilities.
These bikes come with both rear and front hub motors and can offer some insane top speeds and enough power to traverse any terrain.
But as you can imagine, they drain batteries faster too.
When comparing motors, you can look for the watt (W) ratings, but it's the torque rating that'll likely give you a better idea as to its true performance.
Torque refers to the rotational power the motor can provide and higher torque ratings mean better acceleration and better hill climbing capabilities.
Any torque rating over 60 Nm is decent for climbing hills, but more powerful motors will provide 90 Nm+ of torque.
Components
The range (including batteries) and motors are key to consider, but there are a bunch of other pieces of the puzzle to think about too.
A lot of these will depend on the style of e-bike you're looking for and the kind of terrain you plan on riding on, but it's a good idea to check and consider the following components as well:
Bike weight
Bike size
Stand-over height
Suspension?
Tire size
Brakes
Cadence vs torque sensor
Rear rack?
Accessories
A few comments on this list…
Bike size and stand-over height are important ones – before you buy any e-bike, you need to make sure it'll fit you comfortably.
Manufacturers offer the height estimates of who should be able to fit on said bike and it's worth checking out.
In general, step-through frames have lower stand-over heights than step-over frames, usually making them better suited for shorter riders.
Tire size is another important feature.
If you'll be off-roading, you'll likely want larger, fatter tires; if you'll be riding on pavement, you'll probably want larger, thinner tires.
Compact and folding e-bikes tend to come with smaller tires.
And when it comes to optimizing range, a torque sensor is the way to go.
Torque sensors measure how hard you're pedaling and provide motor assistance to match your output; this is as opposed to a cadence sensor which simply turns the motor on whenever you start pedaling.
Torque sensors give you more control over motor output and are more fuel efficient, however they to require you to pedal.
Alright, let's get to the fun stuff already…
The 6 Best Dual-Battery E-Bikes 2023
#1 Electric Bike Company Model C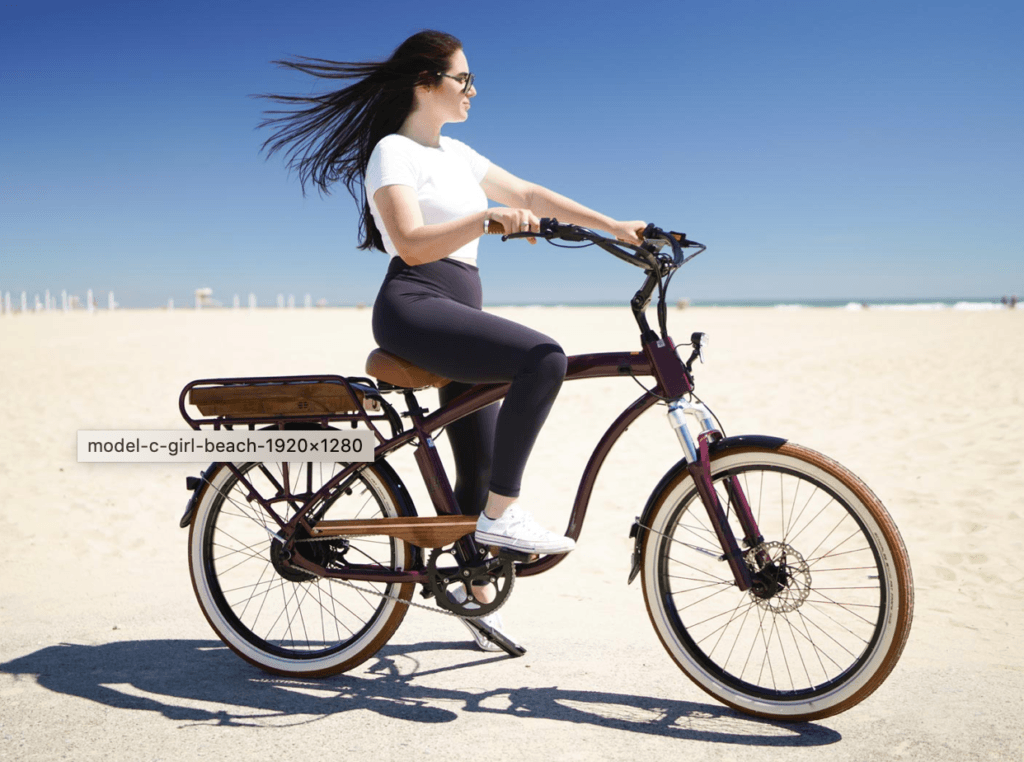 Electric Bike Company (EBC) is a well-known e-bike brand known for letting customers customize just about every component found on their bikes.
We're talking accessories and frame colors to fork colors, chain guards, battery cases, and pretty much everything else in between.
They have several great e-bikes to choose from, but their Model C is the epitome of the classic beach cruiser.
As such, it comes with a rounded step-over frame and a wide, comfy handlebar configuration and again, it's highly customizable.
You can choose all your colors, but you also get to choose a lot of the primary components, including:
Direct drive vs 7-speed cassette
Rigid vs suspension fork
Thumb vs half-twist throttle
Standard vs jumbo seat
Leather vs rubber grips
24″ vs 26″ tires
Torque vs cadence sensor
And when it comes to the batteries, you have several options to choose from as well.
The Model C comes standard with a single, 576 Wh (12Ah, 48V) battery, but you can upgrade that up to 18Ah or add an additional 9Ah battery to the basket.
With the 18Ah + 9Ah battery configuration, you get a combined 1,296Wh at your disposal which, according to EBC, can get you upwards of 140 miles.
That's some serious range.
Combined with these batteries is a 750W rear hub motor that can be programmed to operate in either Class II or Class III mode, depending on your needs.
EBC also covers their batteries with a 5 year warranty, so you shouldn't have to worry about these things crapping out on ya anytime soon.
Overall, the Model C is a great e-bike, but depending on which colors and features you choose, it can get pricey fast – adding the second battery adds ~$1k to the base price of ~$2400, so you see what I mean.
Otherwise, if you're looking for a sleek cruiser with some serious range potential, the Model C could be a great choice.

#2 Juiced Bikes HyperScrambler 2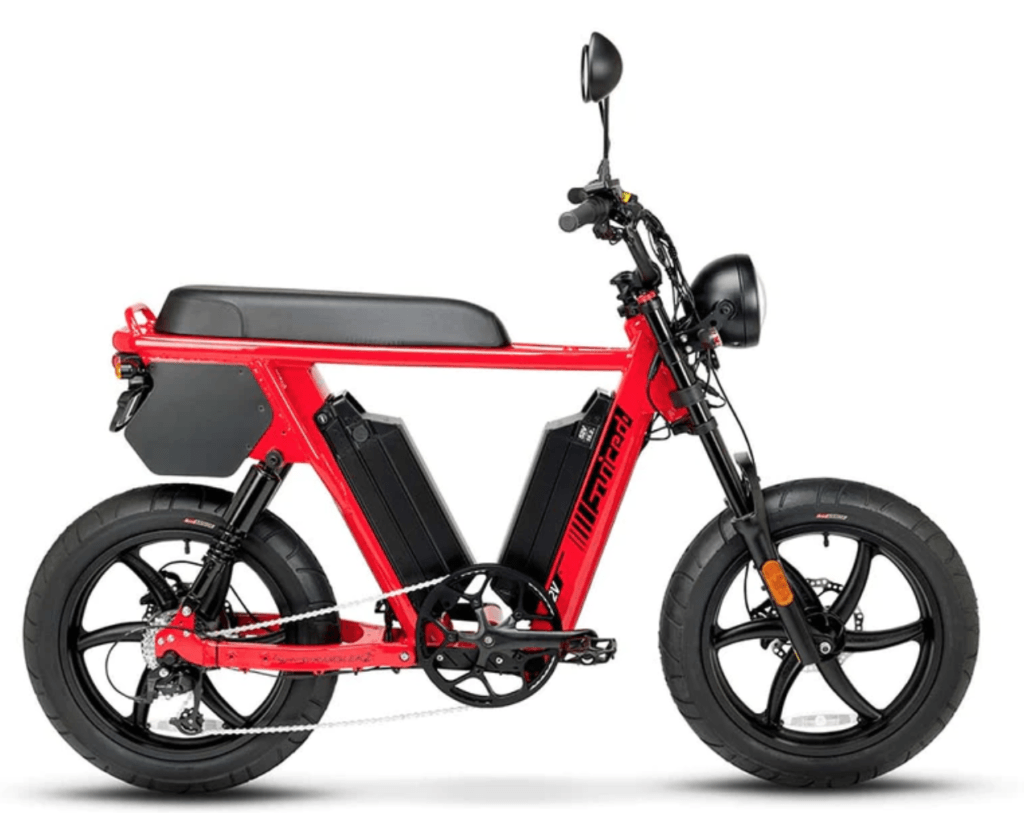 If you're not into beach cruisers and instead, are looking for a little more power, Juiced Bikes might have exactly what you're looking for.
Their HyperScrambler 2 is a little beast (I love the name by the way).
Designed to look like a moped, the HyperScrambler 2 would fit in seamlessly when commuting around any bustling city.
The jumbo front headlight adds a lot to the whole moped style, but the enlarged sideview mirrors certainly do as well.
Appearances aside, the HyperScrambler 2 comes with some impressive specs.
We're here to talk about battery capacity and when it comes to this department, this e-bike doesn't disappoint – with dual 998.4Wh batteries (52V, 19.2 Ah each), the HyperScrambler 2 comes with damn near 2,000Wh of power.
And even with the 1000W rear hub motor, that's still enough juice to get upwards of 100 miles per charge.
These batteries are huge, but let's go back to that motor – 1000W is really powerful; powerful enough to get this e-bike going 30+ mph.
This makes the HyperScrambler 2 a Class III e-bike, but even so, you might want to check with your local regulations because 1000W might not be street legal in all areas.
Just make sure before you get in trouble.
Additional highlights include integrated turn signals, hydraulic disc braking, a torque sensor, an 8-speed shifter, and USB charging.
The tires are a little shorter on this one (20″ x  4.25″), so folks looking for larger tires might be disappointed.
It's also worth noting that this bike is heavy – with both batteries, this guy weighs 119 lb, so definitely not the easiest bike to haul around.
But with an asking price well under $3k, it's easily one of the best deals in dual-battery e-bikes.
It looks like this bike is being discontinued, but Juiced Bikes will be coming out with an updated model soon to take its place.


#3 Rambo Bikes Megatron 2.0 AWD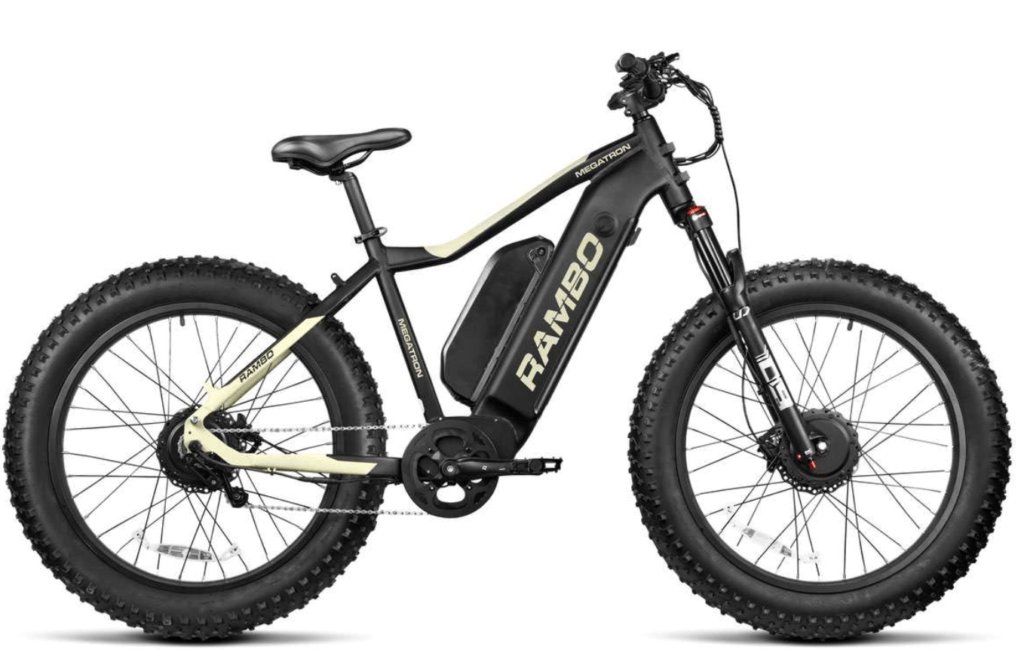 The name of this e-bike says it all.
I mean seriously, could there be a more masculine sounding name… "Rambo" and "Megatron" in the same sentence, I love it.
Jokes aside, the Megatron 2.0 is designed for serious performance.
Rambo Bikes creates e-bikes specifically with hunting and fishing in mind and I understand that they were the first ones to come out with an all-wheel-drive (AWD) e-bike.
Well, the Megatron 2.0 is the second generation of that AWD bike and it means business.
The 'AWD' refers to this bike's ability to power both the front and rear wheels at the same time, which is accomplished with a 750W motor at the front and rear hubs.
The combined 1500W of nominal power is impressive, but it's the combined 190Nm of torque that really catches my attention here.
With this type of torque output, the Megatron 2.0 will be able to handle any rocky, muddy, or otherwise messy terrain you find yourself in.
And better yet, you can switch between front wheel drive, rear wheel drive, and AWD anytime you want from the console.
This means you can save battery power when cruising around and engage AWD when you really need it.
Speaking of battery power, the Megatron 2.0 comes with an integrated 20Ah, 48V battery (960Wh) and an additional 17Ah, 48V battery (816Wh) on top of the frame, giving you a total capacity of 1,776Wh.
According to Rambo, all this battery capacity will likely get you somewhere between 30 – 80 miles per charge, but that varies greatly on motor usage and terrain.
Other highlights include 26″ x 4.8″ tires, an adjustable air suspension, 4-piston hydraulic braking, and a full color LCD console.
And with a total weight less than 100 lb, this e-bike is surprisingly light considering what it comes with.
The only real downside here is the cost – this bad boy isn't cheap.
But if you're looking for a serious off-road e-bike for hunting, fishing, or working, the Megatron 2.0 could be worth the investment.

#4 Electric Bike Company Model A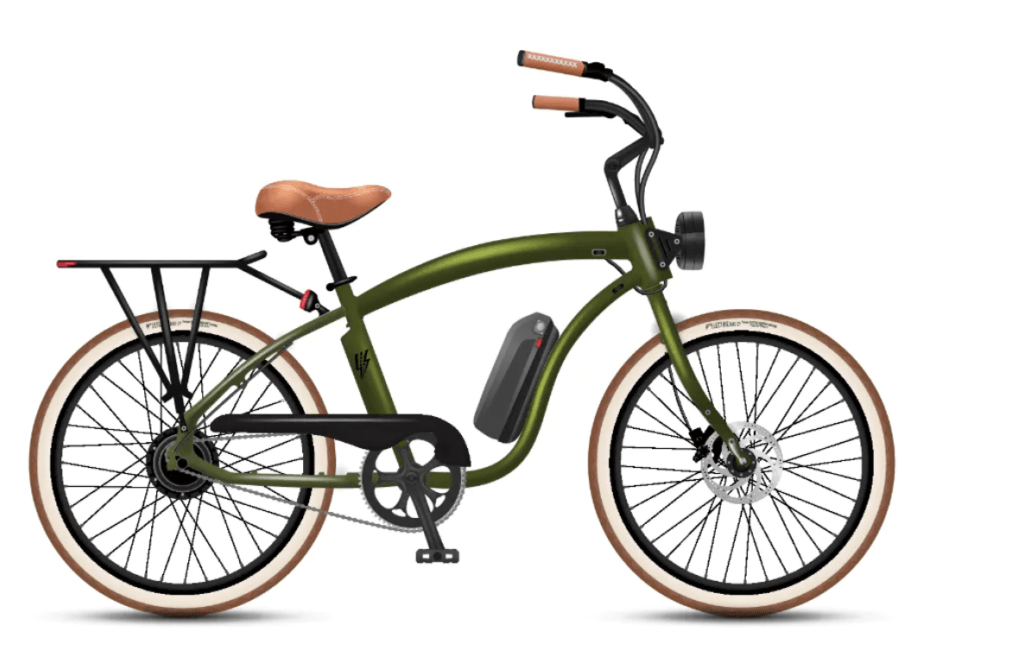 The Model A is another classic cruiser from the brand that specializes in such bikes.
If you ask me, it isn't quite as sleek as the Model C mentioned above, but it's quite a bit more affordable and it too is highly customizable.
One of the most notable differences here is that the primary battery is located right in the middle of the frame, as opposed to being housed in the rear rack as it is on the Model C.
It also doesn't come with a built-in internal charger like the Model C does.
But it comes with the same 750W rear hub motor and similar battery configuration options.
It comes standard with a single 12Ah battery, but you can opt for the upgraded dual-battery configuration for added cost (1x12Ah battery plus additional 9Ah battery located in front basket).
Going with this double battery option gives you 1,008Wh of combined capacity and a max range somewhere around 110 miles per charge.
Otherwise, the Model A is very similar to the Model C, where you can customize all your major components and upgrade anywhere you see fit.
And just to be clear – in order to get the second battery, you need to get the basket.
The battery is housed at the base of the basket, but you can still put up to 50 lb of cargo in said basket, so it's still fully functional.
The Model A is a durable e-bike that can handle a total payload of 420 lb and with the ability to choose your tire size, can accommodate folks of all heights.
The only real bummer is that the price can grow rapidly with color and accessory upgrades.

#5 Blix Dubbel
The Dubbel is one of Blix's newest additions to their lineups and I have a feeling that it's gonna be a hit.
This e-bike is designed with a modular mindset, allowing riders to modify their setup depending on their needs.
This means there are conveniently placed mounting points along the bike's front and rear, allowing the Dubbel to be compatible with a lot of baskets, racks, and accessories.
And this even includes passenger seats for the rear, allowing multiple riders, which is always fun.
When it comes to performance, the Dubbel comes with a 750W rear hub motor that'll reach a top speed of 28 mph, making it a Class III e-bike (although it can be set to Class II mode as well).
That motor also offers 90Nm of torque, giving this utility bike a surprising amount of hill climbing power.
When it comes to the batteries, you can choose between 1 or 2, 672Wh batteries (each 48V, 14Ah), giving you a total capacity of 1,344Wh.
This is a lot of battery capacity for an e-bike in this price range and according to Blix, will get most riders upwards of 80 miles or so.
Other nice features include an 8-speed shifter, integrated front/rear lighting, hydraulic disc brakes, a rear rack, and 20″ x 3.3″ tires that can handle a little bit of everything.
Overall, there's nothing too fancy going on here, but it's going to be hard to find a better dual-battery utility bike at this price.

#6 Blix PackaGenie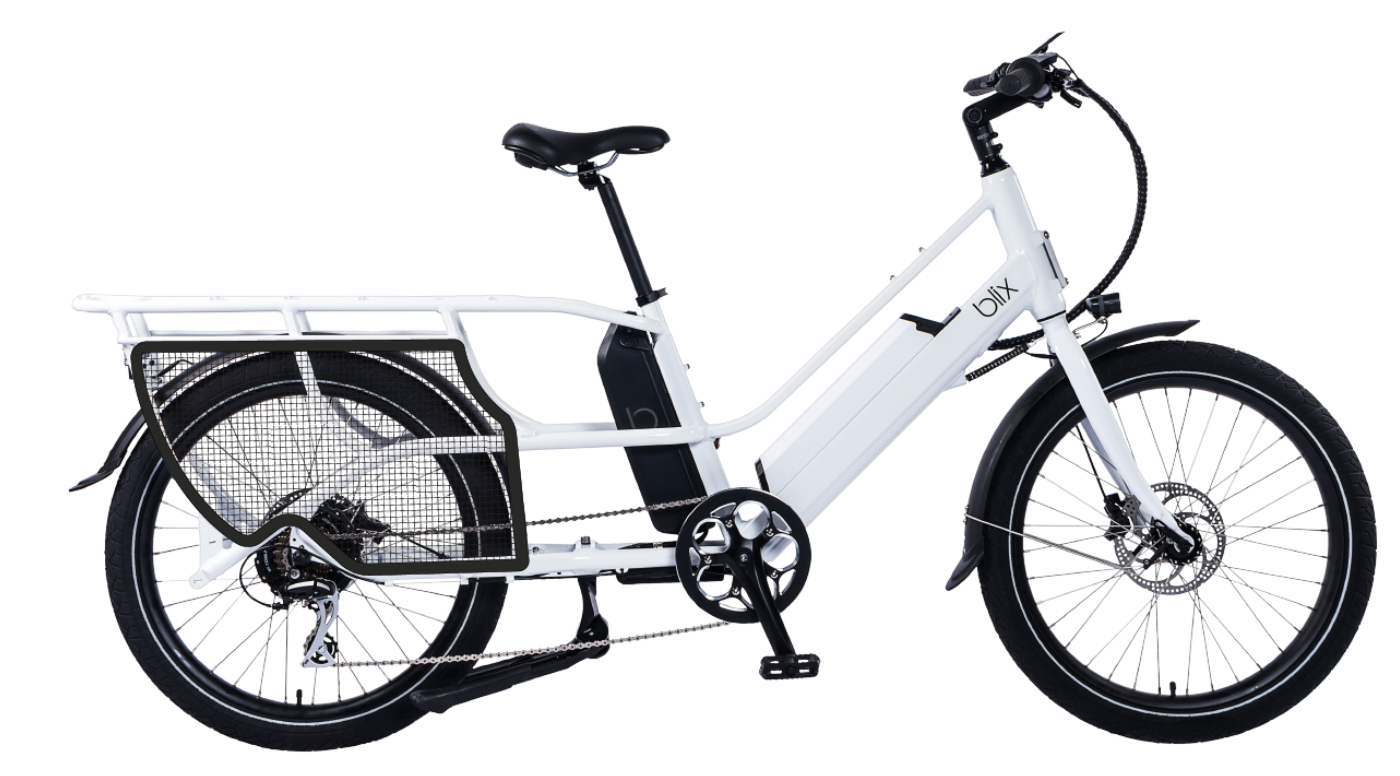 Rounding out my list is another good buy from Blix.
The PackaGenie (another great name… I love it when brands give us creative model names), as the name might suggest, is a true cargo bike designed for hauling cargo and multiple riders.
The genius in this design comes in the form of the elongated rear rack that gives room for multiple attachments and even has enough room for 2 passenger seats, assuming they're children.
The PackaGenie also comes with smaller, 24″ tires and a lower step-through frame (19.4″ stand-over height), to keep the center of gravity closer to the ground.
This makes it easier to get on/off the bike, but it also makes it easier to handle when hauling cargo or loved ones.
The PackaGenie comes with a 750W rear hub motor and the option to get 2x 614Wh batteries (each 48V, 12.8Ah), giving you a total capacity of 1,228Wh.
Which, depending on riding conditions, should get most riders around 80 miles before needing to recharge.
This is a Class II e-bike, meaning it can reach a top speed of 20 mph with both pedal assist and with throttle, so you won't have to worry about controlling higher speeds with kids on the back.
Other highlights include hydraulic disc braking, front/rear lighting, a 7-speed shifter, and USB charging in the console.
All things considered, I could see the PackaGenie being a great option for parents looking to haul kids around town or for folks looking for an affordable cargo bike.
Either way, the modular design is very cool.

Final Thoughts
Ok, I think that'll about do it.
As I did the research and put this guide together, I have to say – I was surprised at how many different styles offer dual-battery capabilities.
When I think of dual-battery bikes, I tend to picture the fast, powerful, all-terrain options like the Megatron 2.0 or even the HyperScrambler, but as this list shows, there are cruisers, utility bikes, and other styles that offer extended range as well.
Which is great.
When deciding on a bike, I encourage you to compare those performance specs and think about the style of bike that'll fit you best.
Then it's all about comparing features and finding one that checks the most boxes in your price range.
Anyway, I hope you found this guide helpful and maybe even a little entertaining.
And as always, if you have any comments or know of any dual-battery e-bikes that deserve a spot on this list, please let me know.
Leave 'em below and I'll get back to you shortly.