When it comes to riding in style, I'm not sure any bike tops the classic cruiser. With wide handles, large seats, and plenty of cargo space, these comfy cycles are perfect for running errands or simply enjoying a little fresh air.
And now, with the ever-growing popularity of electric bikes, we have plenty of great electric cruisers to choose from as well.
And since these electric cruisers have motors, they make it even easier to enjoy a recreational ride around town.
There's no denying the perks of investing in a quality electric cruiser, but before you decide, it's important to know what to look for when comparing options.
We're talking motor strengths, battery capacities, mileage ranges, and all that stuff.
If this sounds like a lot of work, don't worry – I've done the heavy lifting for ya.
In this guide, I'll review all the specs and features you should consider before investing in one of these e-bikes; I've also included a rundown on the top cruisers currently available based on this info.
After reading, you'll know everything you need to in order to find the right e-bike to meet your cruising needs.
Let's roll.
Frame
Motor
Battery/Range
Features
#1 EBC Model C
Step-over
750W rear hub
Class II or III
576Wh or 864Wh
60 - 100 miles
Customizable everything
Built-in charger
420 lb weight limit
#2 Aventon Level.2
Step-thru
500W rear hub
Class II or III
672Wh
up to 60 miles
LCD console
Rear rack
Front/rear/fender lights
#3 EVELO Galaxy Lux
Step-thru
500W mid-drive
Class II
556.8Wh
25 - 55 miles
Automatic gear shifting
LCD console
Front/rear lights
Rear rack
#4 RadCity5 Plus
Step-thru
750W rear hub
Class II
672Wh
28 - 50 miles
Regenerative braking
LCD console
Front/rear lights
Rear rack
#5 Ride1Up Cafe Cruiser
Step-thru
750W rear hub
Class III
720Wh
30 - 50 miles
LCD console
LED lights
Locking battery
#6 Trek Kakau Cruiser Go!
Step-over
250W rear hub
Class I
250Wh
up to 40 miles

Custom grips
Front/rear lights
Bell
#7 EBC Model Y
Step-thru
750W rear hub
Class III
432Wh or 864Wh
40 - 80 miles
Customizable everything
LCD console
Anti-theft system
What Makes A Cruiser A Cruiser?
There's no set definition of what constitutes a "cruiser bike", but over the years these bikes have certainly become their own style.
These bikes are also known as "beach cruisers" because they've become a popular mode of transport around, you guessed it, the beach.
Classic cruiser bicycles are designed with comfort and fun in mind, so they aren't usually the highest-performing bikes, but they work great when it comes to biking around for the fun of it.
And these days, a lot of cruisers (traditional and electric) come with baskets or rigs on the back of the bike that makes them good for carrying loads (or additional passengers).
In other words, cruisers can work great when bopping around town running errands.
Anyway, most electric cruisers these days come with the following features:
Step thru frame
Wide handlebars
Larger seat
Fixed gear drivetrain (single speed)
Again, these rules aren't written in stone anywhere, so e-bikes classified as cruisers may not have all these characteristics and I know that some modern cruisers are coming with additional gears and frames that look a bit more modern.
But the above represent what you should expect to see on a classic cruiser.
Anyway, moving on…
What To Look For When Comparing Electric Cruisers
E-bikes have been around for awhile now and their popularity is really taking off, which means we have a lot of options to choose from.
This is great because it gives us a better chance of finding something that fits our needs and budgets, but it also means it can become a little overwhelming trying to find the right bike.
Luckily, there are some things we can look for when comparing electric cruisers to help us find the best options.
These include:
Frame Style
If you're looking for that classic beach cruiser appearance, you're gonna wanna go with a bike that has a step-thru frame.
A step-thru frame makes the bike easier to get on/off of because you don't have to lift your leg up as high to clear the horizontal bar found on step-over frames.
Which can come in handy if you're dealing with limited hip/knee range of motion or you plan on using your bike to run errands where you'll be getting off/on your bike often.
That said, step-thru bikes tend to be a little heavier to make up for the fact that they're lacking the support from the the additional horizontal frame bar.
Step-over bikes are a little more challenging to mount/dismount, but they come with extra stability, that makes them better options for tackling hills and other more challenging terrains.
But again, we're talking about electric cruisers here, so these bikes aren't really the best option for off-roading and crushing steep hills anyway.
Many brands offer their electric cruisers in both styles.
Motor/Class
The motor is always an important spec to consider and the best option for you depends a lot on what you're looking for and how you plan on using your cruiser.
Stronger motors come in handy for ascending steeper hills and reaching top speeds faster, but they also drain the battery faster and usually come with lower ranges.
On the other hand, weaker motors may have a harder time with steep inclines, but they won't drain the battery as much, allowing them to last for longer durations.
Electric cruisers usually come with motors somewhere in the 250W – 750W range and top speeds vary between 20 – 28 mph, depending on the class.
Speaking of class, a lot of e-cruisers will be Class I bikes, meaning they don't have a throttle (pedal assist only) and they top out at 20 mph.
But there are plenty of Class II & III cruisers available too if that's what you're looking for – just make sure it's legal to ride 'em in your local area.
Battery/Range
The batteries found on these cruisers will vary just as much as the motors found on 'em and again, the best option for you depends on how you plan on using your bike.
Going with a larger battery usually increases the price, but it'll also increase the range you'll get between charges.
But if you only plan on short trips around town, you can easily get along with a smaller battery, especially if you take it easy on the pedal assist.
When comparing batteries, you can look at the amps, amp-hours, and voltages separately, but the easiest spec to look for is probably the watt-hour (Wh) rating (which is the product of the Voltage x Amp-hours).
Seeing higher Wh ratings mean the battery should be able to provide more range, but it really depends on a lot of factors, including your size, the terrain, and how much you use the motor.
Luckily, e-bike manufacturers provide the expected ranges, so you don't have to do a lot of calculating.
Most electric cruisers can get somewhere between 20 – 60 miles on a single charge, but again, it depends on a lot of stuff.
Features
Going through and comparing bike batteries and motors and looking at all the performance specs can seem like homework, but comparing features is the fun part.
E-bikes come with all kinds of additional add-ons, so it really just comes down to what you want.
Common cruiser features include:
Headlights
Tail lights
Horns
Turn signals
LCD consoles
Baskets
Rear racks
Passenger seats
Alarm systems
Many brands also allow you to choose between various colors and brands like the Electric Bike Company basically let you customize your entire bike.
Price
I listed price last, but let's be real – price is one of the top concerns for a lot of us.
Electric bikes in general can vary greatly in price, with high-end cycles going for as much as most cars, but luckily, most of the top electric cruisers for us recreational riders cost somewhere in the $1500 – $3000 range.
Factors that affect price include brand name, materials used, motor strength, battery capacity, and included features.
The 7 Best Electric Cruiser Bikes of 2023
#1 Electric Bike Company Model C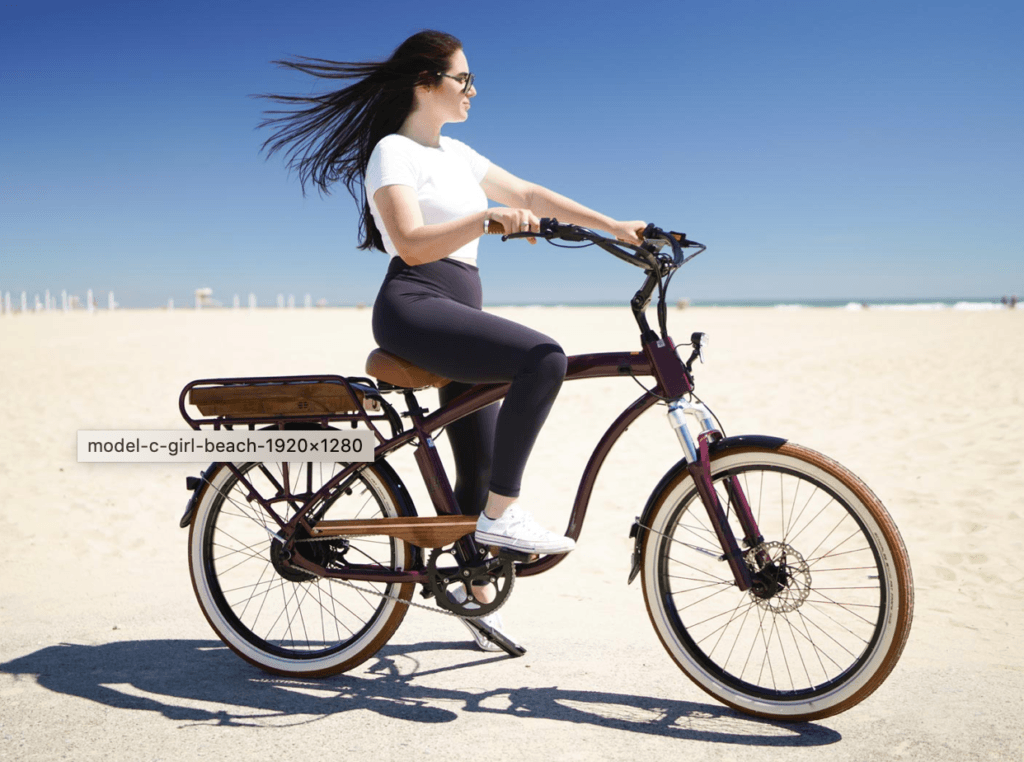 When it comes to reasonably-priced cruisers, the Electric Bike Company is easily one of the best brands out there – one might even say it's their specialty.
Which makes sense when you consider they're based out of California, where the term "beach cruiser" started being used in the first place.
Anyway, every bike in their lineup could be considered a cruiser of one sort or another, but their Model C is a perfect example of the quintessential e-cruiser.
From the wide handlebars and leather seat to the rear rack and fenders, the Model C screams classic cruiser – the only thing missing is the step-thru frame.
But if you're ok with a step-over frame, the Model C has got ya covered on the rest.
This bike comes with a 750W rear hub-drive motor that can reach a top speed of 28 mph when set in Class III mode (although it arrives at your home programmed as a Class II bike with a top speed of 20 mph).
When it comes to the battery, the Model C comes standard with a 12Ah, 48V battery (576Wh), but you can upgrade to an 18Ah option or purchase additional batteries for even more riding range.
And what's really cool about this cycle is that it comes with a built-in internal charger, so you can simply park the Model C and plug it in when you're away from home and you need a charge.
When it comes to range, you can expect to get up to 60 – 100 miles on a charge depending on which battery you opt for and how much pedal assist you use.
The Model C comes with 5 levels of it by the way, as well as a standard thumb throttle.
What's especially great about this bike and Electric Bike Company in general, is that they give you the option to customize every detail of the bike.
We're talking colors and accessories of course (of which they offer a ton), but you can even customize stuff like the handle material, the seat posts, the rims, and pretty much any other component you can think of.
You can also choose between the standard fixed gear drivetrain or upgrade to a 7-speed cassette for improved performance.
And with an impressive 420 lb weight capacity, this cruiser can definitely handle an additional passenger when necessary.
Oh, Electric Bike Company also backs this bike with a 5 year battery warranty and 10 year motor warranty for even more peace of mind.
Overall, if you're looking for a highly customizable cruiser with as many (or as few) bells and whistles as you can handle, Electric Bike Company's Model C is a smart choice.

#2 Aventon Level.2 Step-Through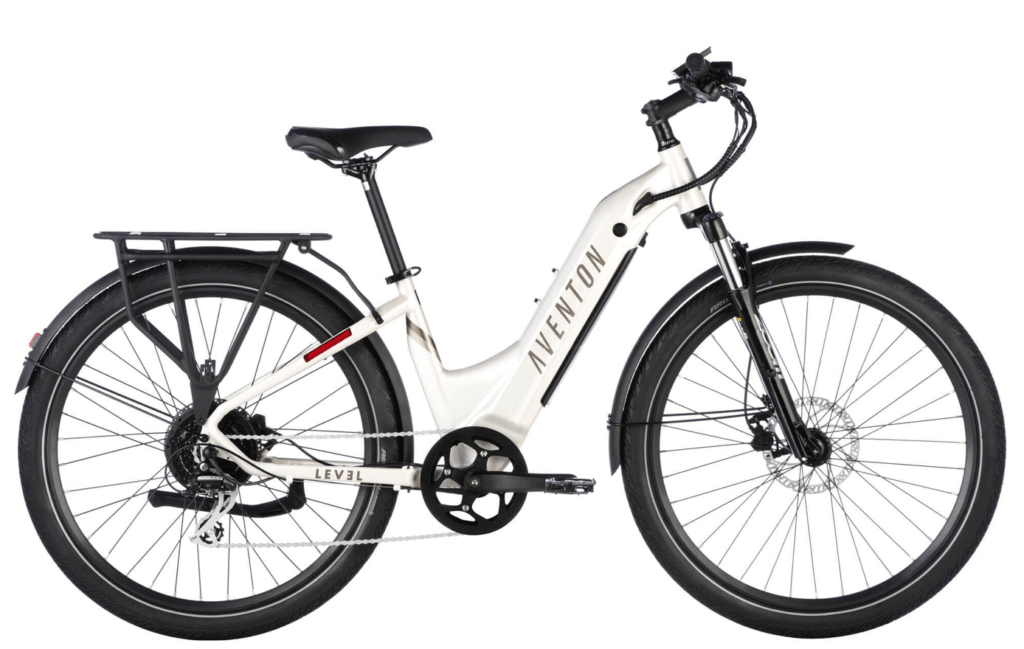 If you're looking for an e-cruiser with a more modern appearance, Aventon's Level.2 might catch your eye.
Personally, I think the Level.2 looks like what you'd get if you crossed a cruiser with a mountain bike, combining comfort and performance into a single cycle.
Either way, the Level.2 has a lot of great cruiser features worth mentioning.
As the name implies, this model does come with a step-thru frame for easy access and it's packing a 500W rear hub motor that can reach a top speed of around 28 mph on pedal assist in Class III mode.
Although like the Model C above, it arrives to your home programmed as a Class II e-bike with a top speed of 20 mph for both pedal assist and the throttle.
Bike manufacturers do this because Class III bikes aren't legal everywhere, but Class II bikes usually are, so it's all about safety.
You can actually remove the throttle all together on the Level.2 and use it with pedal assist only and it'll still work (for those areas where throttles aren't allowed at all).
This e-cruiser also comes standard with a 672Wh (48V, 14Ah) removable battery that'll get ya upwards of 60 miles on a single charge.
And as I mentioned earlier, this e-bike is designed to perform a little better than most cruisers.
With an 8-gear drivetrain and built-in front suspension, the Level.2 can handle pretty well over rougher terrains when necessary.
And even though it doesn't come with as many accessory options as the Model C above, it still comes with some nice features, including an LCD console, a rear rack, fenders, and front/rear/fender lights.
Aventon also offers 2 different sizes of this e-bike, allowing a wider range of users to ride comfortably.
Overall, if you're looking for a step-thru cruiser that's more performance oriented, Aventon's Level.2 Step-Through is worth checking out.

#3 EVELO Galaxy Lux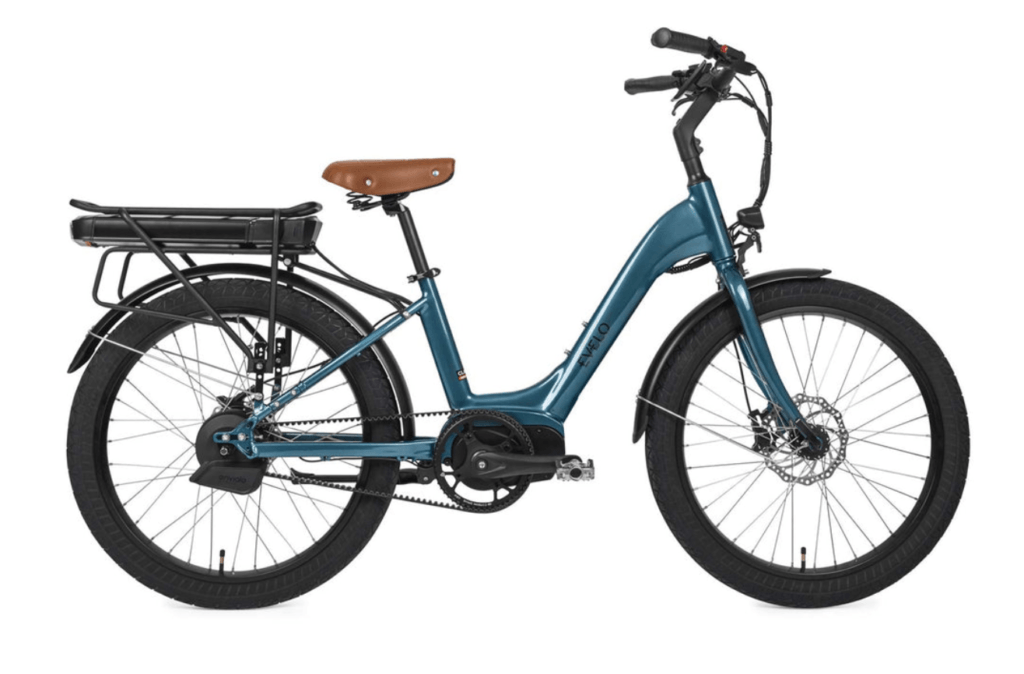 If you're looking for a sophisticated e-cruiser with a smooth ride, EVELO's Galaxy Lux might be speaking your language.
At first glance, the Galaxy Lux looks like a classic cruiser with a few modern upgrades – it's got the expected fenders and extended rear rack, as well as a sleek-looking step-thru frame.
But it's the motor that really puts the "lux" in this Galaxy.
This e-bike comes with a 500W, mid-drive motor that can reach a top speed of 20 mph in standard mode or 25 mph in "off road" mode.
FYI, bikes with mid-drive motors feel more balanced because the weight is centered on the frame and they tend to offer smoother assistance and less noise than their rear-drive counterparts.
Having a mid-drive motor immediately increases the price as well.
Anyway, the inclusion of a mid-drive motor is a great upgrade, but the Galaxy Lux also comes with an automatic transmission that changes gears for you automatically based on your pedaling cadence.
EVELO calls this system their Enviolo Automatiq and you can fine tune the settings as you please through an app, but it's set up to automatically gear shift for ya as you pedal, based on how your cadence changes throughout your ride.
Very cool.
The Galaxy Lux also comes with a 48V, 11.6Ah battery (556.8Wh) that can go up to 55 miles on pedal assist or 25 miles or so with throttle only.
Additional features include a color LCD console, built-in front/rear lights, hydraulic disc brakes, and a large rear rack.
The biggest downside (other than the cost) is that it's only designed to handle folks up to 5'10", so taller riders might feel a little cramped.
But if you fit the size requirements and are looking for a truly sophisticated mid-drive e-cruiser, the Galaxy Lux is a great option.

#4 Rad Power Bikes RadCity 5 Plus Step-Thru
Rad Power Bikes is known for their powerful, fun to ride e-bikes and I think the RadCity 5 Plus fits into both categories nicely.
Now the RadCity 5 Plus doesn't really have the look of a traditional beach cruiser, but a lot of the main components are still there, like the step-thru frame, front/rear fenders, and large rear rack.
At first glance it might not scream cruiser, but at closer inspection, I think it definitely qualifies.
Regardless, there's no denying this e-bike is built for performance.
With a powerful 750W, rear hub geared motor, the RadCity 5 Plus can reach a top speed of 20 mph with pedal assist or the throttle, making it a Class II e-bike.
It comes with 5 levels of pedal assist and a half twist throttle, allowing you to control how much assistance that motor is really providing.
This cruiser also comes with a 672Wh (48V, 14Ah) battery that should give riders an expected range of 28 – 50 miles, deepening on how dependent you are on that motor.
An interesting feature Rad Power Bikes implements though, is regenerative braking, allowing the battery to be charged a little each time you hit the brakes.
Additional features include an LCD console, integrated headlight/tail lights, and a 7-speed shifter.
The only downside here is that the RadCity 5 Plus only comes with a 275 lb weight limit (including a 60 lb rear rack limit), so larger riders and folks with large payloads might not work.
But otherwise, the RadCity 5 Plus is a very advanced cruiser for the price.

#5 Ride1Up Cafe Cruiser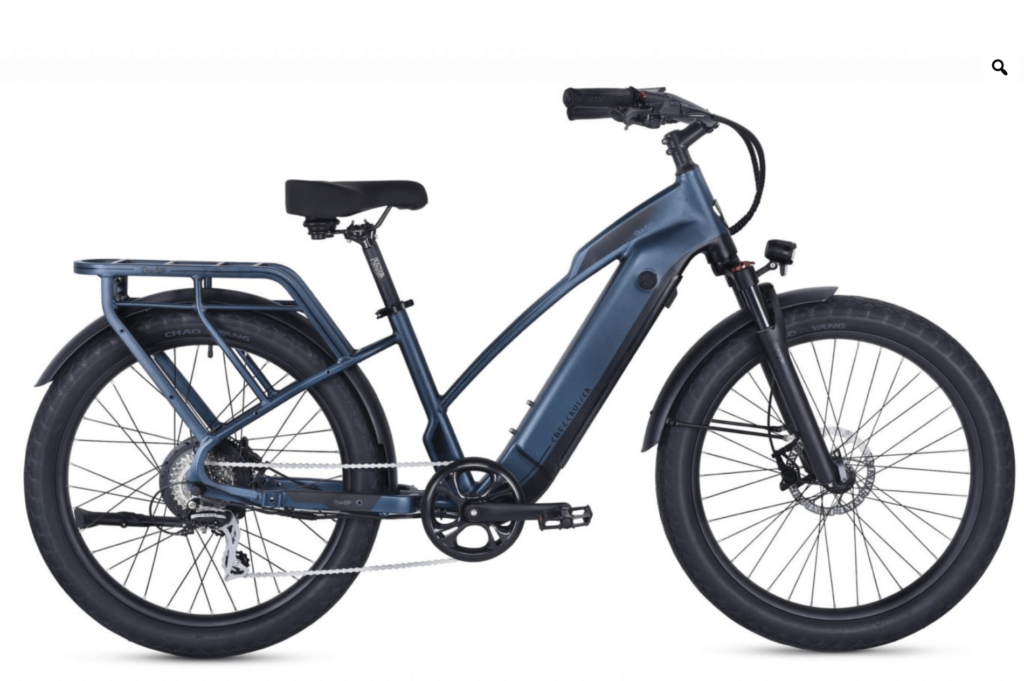 Ride1Up is a great e-bike brand known for offering surprisingly affordable options in each class. In fact, only a couple of their bikes cost over $2k, making them quite budget-friendly as e-bikes go.
They offer a handful or so of e-bikes to choose from and the Cafe Cruiser is their only cruiser-style e-bike at the time of writing this.
The Cafe Cruiser is an attractive bike, taking the classic cruiser look and giving it a modern color scheme.
You can choose between 3 frame colors, but personally, I think the indigo is the clear winner here.
Anyway, the the Cafe Cruiser comes with a step-thru frame, wide handlebars, integrated fenders, and a rear rack that can safely handle up to 150 lb of cargo.
Under the hood, this e-cruiser is packing a 750W rear hub motor that maxes out at 28 mph with pedal assist and 20 mph under throttle control (Class III bike).
It also comes with a 720Wh (48V, 15Ah) battery that'll be able to get ya 30 – 50 miles between charges, depending on riding conditions.
At 65 lb, this Cafe Cruiser is a little heavier than some competitors, but that extra bulk allows it to safely hold folks weighing up to 350 lb and who are up to 6'4″ tall.
So, larger riders, here's a cruiser that can handle ya.
Other noteworthy features include an 8-speed gear shifter, LED headlight/tail lights, an LCD display, and a key operated removable battery for added safety.
Ride1Up only offers a 1 year warranty on their bikes, but with an asking price well under $2k, the Cafe Cruiser is a whole lot of bike for the price. See full review.

#6 Trek Kakau Cruiser Go!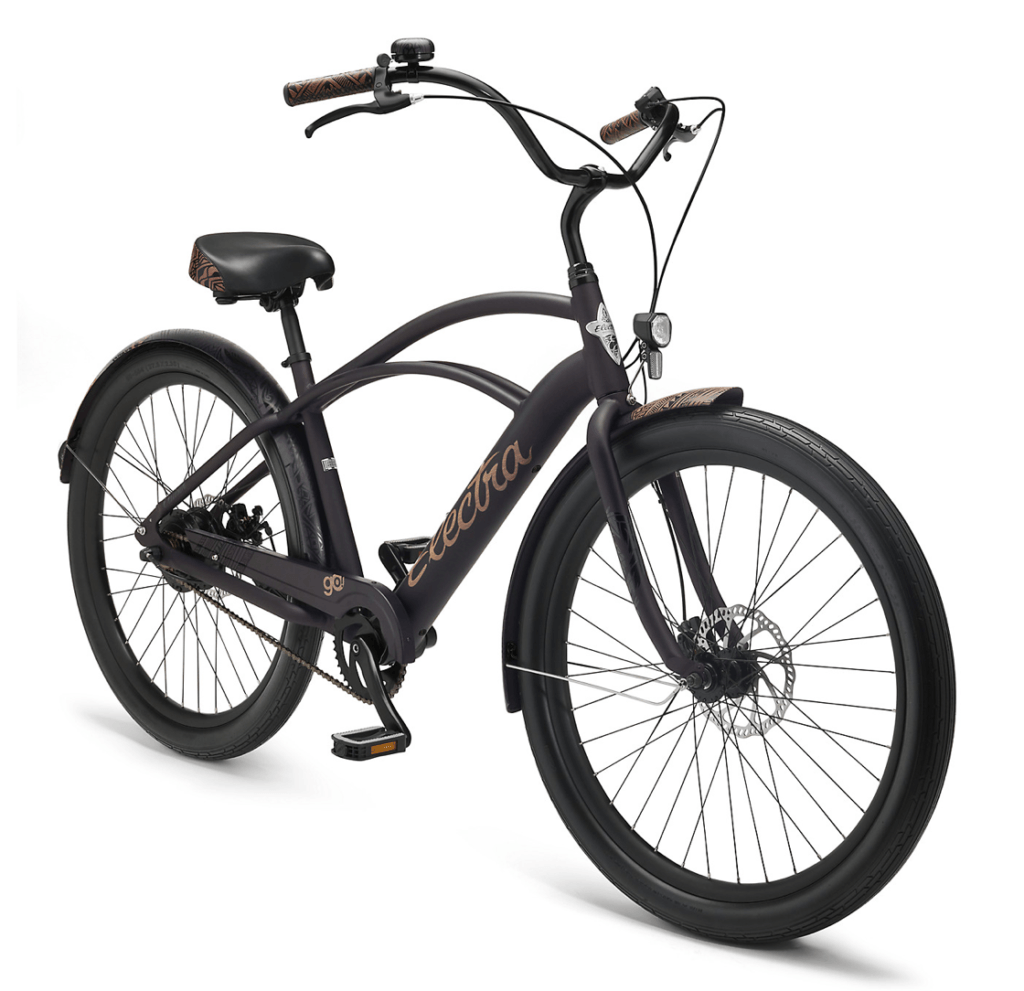 Trek is a premiere manufacturer of all kinds of bikes and they've been going strong since the '70's. They offer just about any style of bike or e-bike you can think of and they've all got one thing in common…
Superior craftsmanship.
Yeah, Trek bikes are no joke – they tend to cost a little more, but as they say, you get what you pay for.
We bought my son a Trek bike when he was like 4 years old. After a couple of years of not so gentle use, he outgrew it so we handed it off to my daughter who's 2 years younger.
She's been using it for a couple of years now and it's still rock-solid – hasn't skipped a beat in all that time.
Sadly, my daughter's rapidly outgrowing that old Trek and won't be fitting on it much longer… but man, what a great bike.
Anyway, Trek offers a ton of really high-end e-bikes to choose from, but I like their Kakau Cruiser Go! because it looks great and is reminiscent of the classic beach cruisers.
And it's also affordable as Trek bikes go.
With the matte ember paint job, the Kakau Cruiser would fit right in on any tropical island and that rounded step-over bar is very sleek.
In terms of performance, this is a Class I e-bike that comes with a 250W rear hub motor that can reach a max pedal assisted speed of 20 mph.
It also comes with a 250Wh battery that'll last ya up to 40 miles, depending on usage.
The Kakau Cruiser Go! is lacking a rear rack, but it still comes with a built-in headlight, tail light, custom grips, a bell, and 3 levels of pedal assist.
And with a weight of only 46 lb, it's easier to move around than some of the other bulkier e-bikes mentioned above.
Overall, the Kakau Cruiser is as much a piece of art as it is a mode of transportation.

#7 Electric Bike Company Model Y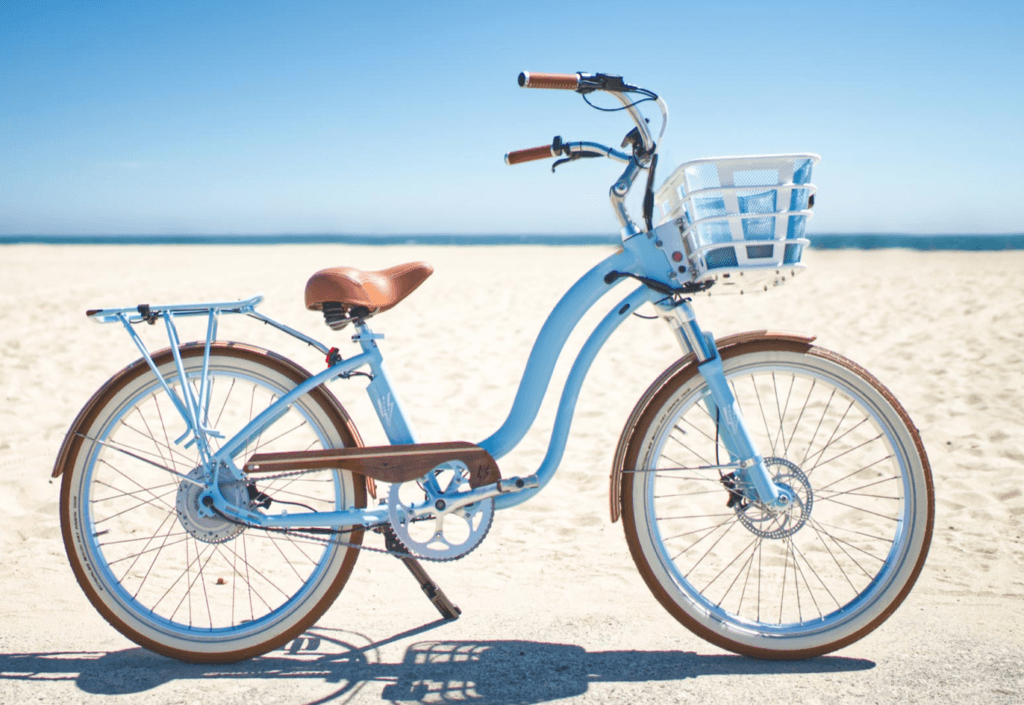 Finishing up my list here is another great cruiser by the Electric Bike Company – the Model Y.
The Model Y is similar to the Model C mentioned earlier, but this model is a little more affordable and it even looks more like a classic cruiser you'd expect to find roaming the boardwalks.
The Model Y does come with a step-thru frame and the classic elongated handles, as well as the included fenders and rear rack.
And this is Electric Bike Company we're talking about here, so of course every aspect is customizable (even the chain guard, which you can get made out of real wood).
The Model Y also comes standard with an integrated front basket that attaches directly to the frame, so you won't have to worry about it getting in the way as you manage the handlebars.
In terms of performance, the Model Y comes with a 750W rear hub motor that reach a top pedal assist speed of 28 mph and a top throttle assist speed of 20 mph (Class III).
And Electric Bike Company lets you choose between a 9Ah or an 18Ah battery (both 48V), giving you an expected range somewhere between 40 – 80 miles.
The Model Y also comes with the same cool internal battery charger found on the Model C, where you can simply plug your bike in and walk away.
Additional features include an LCD console, front/rear lights, and an included anti-theft system to help keep your bike safe.
And Electric Bike Company covers this bike with a fabulous 5 year battery, 10 year frame/motor guarantee as well.
Overall, if you're looking for a classic cruiser that's as customizable as they come, the Model Y is worth taking a serious look at.

Final Thoughts
Electric cruiser bikes come in various shapes and sizes and their performance specs can vary greatly, as I'm sure you noticed.
When comparing bikes, try to keep in mind there's no right or wrong answer regarding which bike is best – it all depends on your style and what you're looking for.
If you're looking for a comfortable bike to ride a few miles here and there, you may not need one with a really strong motor and a high capacity battery.
On the other hand, if you plan on using your cruiser to run errands and to travel longer distances, getting one with more impressive performance specs is likely a smart idea.
Either way you go, keep one thing in mind – these bikes are designed for fun.
And they sure do look good too.
Anyway, I hope you found this guide helpful and as always, if there are any great electric cruisers out there that I missed, let me know – leave a comment and I'll get back to you shortly.
Happy cruising.