With a sleek frame and a built-in rear rack with passenger carrying capabilities, Ride1Up's Cafe Cruiser is far from your grandfather's classic beach cruiser.
Nope, this versatile e-bike is sporting impressive performance specs, like a 750W rear hub motor and a 720Wh battery, meaning it can handle more than your blissful cruise around town.
And with 3″ tires, an 8-speed shifter, and hydraulic brakes, this is one cruiser that can hold its own off the beaten path as well.
All things considered, I think Ride1Up's Cafe Cruiser is easily one of the best electric cruisers in its price range, but folks looking for those classic beachy vibes might be put off by its more modern design.
Before you decide though, you might want to take a closer look at what this e-bike has to offer – and that's where I can help.
In this review, I'll go over everything this bike does and doesn't have going for it; I'll also compare it to some of the other top options in its price range so you can see how it really stacks up against the competition.
After reading you'll know whether or not the Cafe Cruiser is the right e-bike to meet your needs.
Let's roll.
Quick Stats
| | |
| --- | --- |
| Motor | 750W rear hub, 60Nm torque |
| Top Speed | 28 mph |
| Battery | 720Wh |
| Range | 30 - 50 miles |
| Weight Limit | 350 lb |
| Weight | 65 lb |
The Ride1Up Cafe Cruiser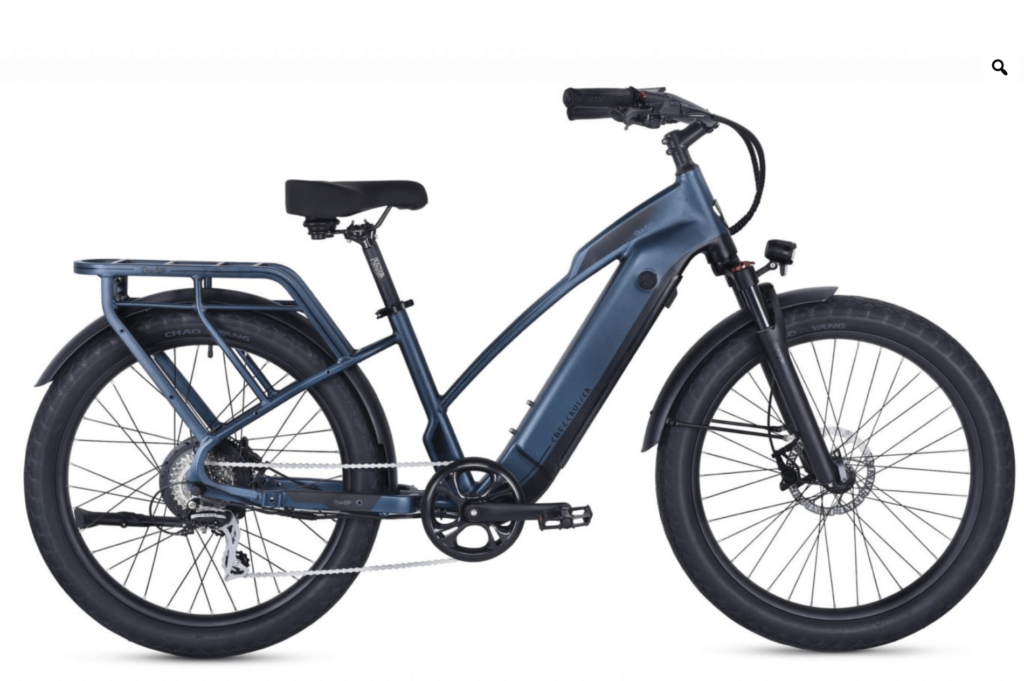 Ride1Up's a popular brand that's been making a name for themselves by creating reasonably-priced e-bikes that are loaded with quality components.
As I'm writing this, they have 9 bikes to choose from and the most expensive one (the painfully cool Revv 1) is under $2500.
This puts 'em in a great place when it comes to folks looking for quality e-bikes, but aren't looking to spend a ton of money to get one.
The Cafe Cruiser we're here to go over now is one of their mid-range models, as is their 700 Series, which comes with similar specs and features.
Anyway, let's start things off with a rundown on the top performance specs then we'll switch gears and check out the features and accessories this bike has to offer.
Pros
750W, 60Nm torque motor
720Wh battery
30 – 50 mile range
350 lb weight limit
5 levels of PAS
Thumb throttle
Choice of 2 frames
8-speed shifter
Hydraulic disc brakes
Front suspension fork
Thick tires
Front/rear lighting
Rear rack
Compatible with passenger kit
Reasonable price
Cons
Basic console
A little heavy
Motor
Motor strength is fun to talk about, but it's also an important spec to consider when it comes to e-bike performance.
Generally speaking, bikes with stronger motors can accelerate faster, reach faster top speeds, and perform better over uneven or hilly terrains.
When talking e-bike motors, you can check out their power, measured in watts, as well as their location on the frame (hub vs mid-drive).
In terms of power, most e-bikes come with motors that are somewhere between 250 – 750 watts (W) and in this price range, most will packing a rear hub motor.
"Rear hub" means the motor is located with the rear tire and this is the norm for this price range, although we are seeing some mid-drive motors now on e-bikes under $2k.
But there still aren't many of them.
With this info in mind, consider that the Cafe Cruiser comes with a 750W rear hub motor that can reach a top speed of 28 mph with pedal assist (20 mph with throttle).
This is pretty powerful for any e-bike, but it's maybe even a little more so for an electric cruiser.
The power rating for this e-bike is impressive, but I also want to mention that it comes with 60Nm of torque.
Torque refers to the motor's ability to create rotational power and seeing higher torque levels on an e-bike means it should have better acceleration and better hill climbing abilities.
At 60Nm, the Cafe Cruiser's motor has a respectable amount of torque for an e-bike in this price range, allowing it to accelerate nicely on flat roads and even hold its own with moderate inclines.
For the sake of comparison, the Cafe Cruiser's motor matches that found on Electric Bike Company's more expensive Model C and Aventon's similarly-priced Level.2.
Both of which are amongst some of the top electric cruisers out there.
Honestly, there aren't many e-bikes in this price range packing more motor power than this.
Overall, I'd say the Cafe Cruiser scores highly with its motor/torque ratings – it should have plenty of power to provide a smooth ride in various terrains.
Battery
Motor power is certainly important, but that motor can't do its thing unless it's getting enough juice from the battery.
E-bike batteries come in a lot of different variations and having a larger one usually means better range between charges (although a lot of variables effect real world range, including rider size, terrain, amount of pedal assist [PAS] used, etc).
Anyway, when comparing batteries, you can look at a bunch of different specs, but I find it easiest to go straight to the watt-hour (Wh) rating.
This spec combines the voltage (V) and amp-hour (Ah) ratings (Wh = V x Ah) and it gives you a nice objective way to compare different batteries.
And seeing larger Wh ratings indicates the battery should last longer.
Well, the Cafe Cruiser comes with a 720Wh (48V, 18Ah) battery that should get most riders somewhere between 30 – 50 miles per charge.
And considering most cruisers top out around 672Wh, I'd consider the Cafe Cruiser's battery to be a little larger than most.
Example include Aventon's Level.2 (672Wh), Rad Power Bike's RadCity 5 Plus (672Wh), and even the more expensive EVELO Galaxy Lux (556.8Wh).
Ride1Up includes a 2 amp charger with purchase, which is pretty standard for e-bikes in this price range, so expect it to take several hours to get your battery fully charged.
Overall, I like that the Cafe Cruiser comes with a larger battery and folks looking to ride farther distances between charges will appreciate its generous range.
Frame
Ok, so far I'd say this e-bike comes with a powerful motor and large battery, but let's keep moving along.
Checking out the frame, I think it's fair to say that the Cafe Cruiser doesn't have your quintessential beach cruiser appearance.
And by that, I mean it's lacking a classic beachy color (teal, yellow, etc), doesn't come with a front basket, and its frame isn't as curvy.
But like most cruisers, it does come with an elongated wheel base of 48″, which makes for a more leisurely experience.
The Cafe Cruiser also comes in 2 frame options – XR (step-over) or ST (step-through).
The XR frame is designed to fit riders 5'5″ – 6'4″ and comes with a stand-over height of 29″ and the ST frame is designed for folks 5′ – 6'4″ and comes with a stand-over height of 23″.
The ST frame is more in align of what I picture when I think of a cruiser, but it's nice to have the option to choose.
Both frames weigh in at around 65 lb, making them fairly heavy for an electric cruiser (many weigh in the 50 – 60 lb range).
This added weight might make it a little harder to haul around, but this extra bulk allows the Cafe Cruiser to have an impressive weight capacity of 350 lb.
This is awesome because it allows larger riders to use it, but it also gives this bike the ability to transport additional passengers via the passenger kit.
Overall, the Cafe Cruiser is a heavier electric cruiser, but it can accommodate riders of all heights and sizes effectively.
Warranty
Ride1Up covers their Cafe Cruiser with the following warranty:
Ride1Up guarantees all the components will work properly for the first year, assuming the bike is used properly.
This warranty doesn't really include any cosmetic wear and tear from regular use, so don't try to get a replacement fender that gets roughed up after a few rides.
If you read the fine print, it looks like Ride1Up only covers the labor cost for the first 30 days.
After that, they would likely send you any replacement parts you need and then you'd be responsible for handling any labor costs on your own (assuming it wasn't something you could do yourself).
One year isn't a particularly generous warranty, but it's fairly common when it comes to electric bikes.
Brands like Rad Power Bikes, Juiced Bikes, and Blix also only offer single year guarantees.
That said, there are brands out there, like Aventon and EVELO, who do offer longer warranties.
Overall, Ride1Up's warranty is pretty basic.
Features
Ride1Up's Cafe Cruiser comes with the following included features:
2″ LCD console- this electric bike comes with a pretty standard console. It isn't anything especially fancy, but it's large enough to see clearly. The console will function as your speedometer and odometer, as well as let you choose your PAS level.
5 levels of PAS- speaking of which, this bike comes with 5 PAS levels to choose from, with level 1 giving you just a little motor and level 5 giving you all the motor assist the bike has to offer.
Thumb throttle- there's a throttle on the left handlebar, giving you convenient access to instant motor assist any time you need it.
8-speed shifter- and with 8 gears at your disposal, the Cafe Cruiser gives you a lot of control to adjust your effort while you ride. Keep in mind these gears only effect your pedaling effort – with a rear hub motor, the motor assist doesn't change with different gears.
Cadence sensor- this bike uses a cadence sensor to sense when you're pedaling, telling the motor when to kick on/off, regardless of which PAS level you're on. This is opposed to a torque sensor, which measures how hard you're actually pedaling and adjusts the motor output based on your effort.
26″ x 3″ tires- the tires on the Cafe Cruiser are large and pretty thick, allowing them to pick up speed rather quickly on paved roads, but also allowing them to handle some rougher off-road terrain when the need may arise.
Headlight/taillight- the built-in front/rear lighting adds an extra layer of safety when riding in dark conditions.
Hydraulic disc brakes- this type of braking offers great stopping power too, regardless of how fast you're cruising.
Front suspension fork- there's a shock absorbing front fork that'll help keep your rides comfortable when going over curbs or bumpy routes. You can also lock it out if you prefer.
Fenders- the front/rear fenders will help keep you clean regardless of road conditions.
Integrated rear rack- the built-in rear rack comes with a 150 lb weight capacity, meaning you can put a lot of cargo back there. And if you opt for their passenger seat, you can even put a second rider back there. Just keep in mind the max total weight capacity of 350 lb.
Comps
As I'm writing this review, the Cafe Cruiser is selling for $1,595, regardless of which frame you go with.
Based on the specs and features, I think this is a reasonable asking price, but there's a lot of competition in this price range – so let's take a look at some of the other top similarly-priced comps to see how the Cafe Cruiser really stacks up.
The first bike that comes to mind is Electric Bike Company's Model E, which comes with a starting price of around $1,499.
EBC gives you the option to customize pretty much everything about the bike, so the features you get depends a little on what you want.
But the Model E comes with a 500W rear hub motor, a 576Wh battery (standard), and a max weight capacity of 420 lb.
It's a single speed bike, so no adjustable gears, but it comes with a 3.5 amp super charger for quick charging and EBC offers a great warranty (10 year motor, 5 year battery).
There's also Blix's Sol Eclipse, which costs around $1,650.
The Sol Eclipse is about as beachy as they come and it's got some great specs like a 750W hub motor, a 614Wh battery, and a 7-speed shifter.
But this e-bike uses mechanical disc brakes and doesn't come with fenders or a rear rack, which some might see as a bummer.
Finally, I want to mention Aventon's Level.2, which might not technically be a cruiser (it's more of a commuter), but it's priced at $1,699 and I thought it was worth at least a brief shout out.
The Level.2 comes with a 750W hub motor, a 672Wh battery, an 8-speed shifter, and does come with a built-in rear rack.
It also comes with an upgraded torque sensor, which is rare for this price range, as well as an upgraded backlit console.
But it only has a weight limit of 300 lb and isn't compatible with a passenger kit.
Final Thoughts
Based on the other electric cruisers in this price range, I would say the Cafe Cruiser holds its own quite well.
With 750W and 60Nm of torque, it's gonna be hard to find a more powerful motor at this price point.
And the same goes for the 720Wh battery.
I also like that this bike comes with an 8-speed shifter and an integrated rear rack and it's awesome that you can plop a seat back there and take another passenger for a ride.
The console is pretty basic, but it's not a dealbreaker in my book.
This e-bike is also fairly heavy, so if you're looking for something you can easily haul up/down stairs, this might not be the best option.
Otherwise though, I think the Cafe Cruiser is easily one of the best e-bikes in its class.