With impressive specs, great features, and an asking price well-under $2k, it's no wonder Ride1Up decided to call this electric commuter the LMT'D.
I mean if this kind of deal was the norm, I'm not sure how long they'd be able to stay in business (and I'm guessing naming it "The Unicorn" was out of the picture).
Either way, the LMT'D has a lot going for it.
The motor and battery specs are impressive, but it's the fact that it comes with a torque sensor that really stands out because there aren't many bikes in this price range that offer this.
Additional highlights include an 8-speed shifter, hydraulic disc brakes, large grippy tires, and an easy-to-read color console.
Put it all together and you've got a hell of a good deal, but with the popularity of e-bikes growing daily, there's a lot of competition out there.
So, is the LMT'D really worth investing in, given all the other options out there?
Well, that's what I'm here to help you figure out.
In this review, I'll go over everything this electric bike does and doesn't have going for it; I'll also compare it to some of the other biggest competitors in its class.
After reading, you'll know everything you need to in order to decide for yourself whether or not the LMT'D is worth buying.
Let's begin.
Quick Stats
| | |
| --- | --- |
| Motor | 750W rear hub, 95Nm torque |
| Top Speed | 28 mph |
| Battery | 672Wh |
| Range | 30 - 50 miles |
| Weight Limit | 300 lb |
| Weight | 53 lb |
The Ride1Up LMT'D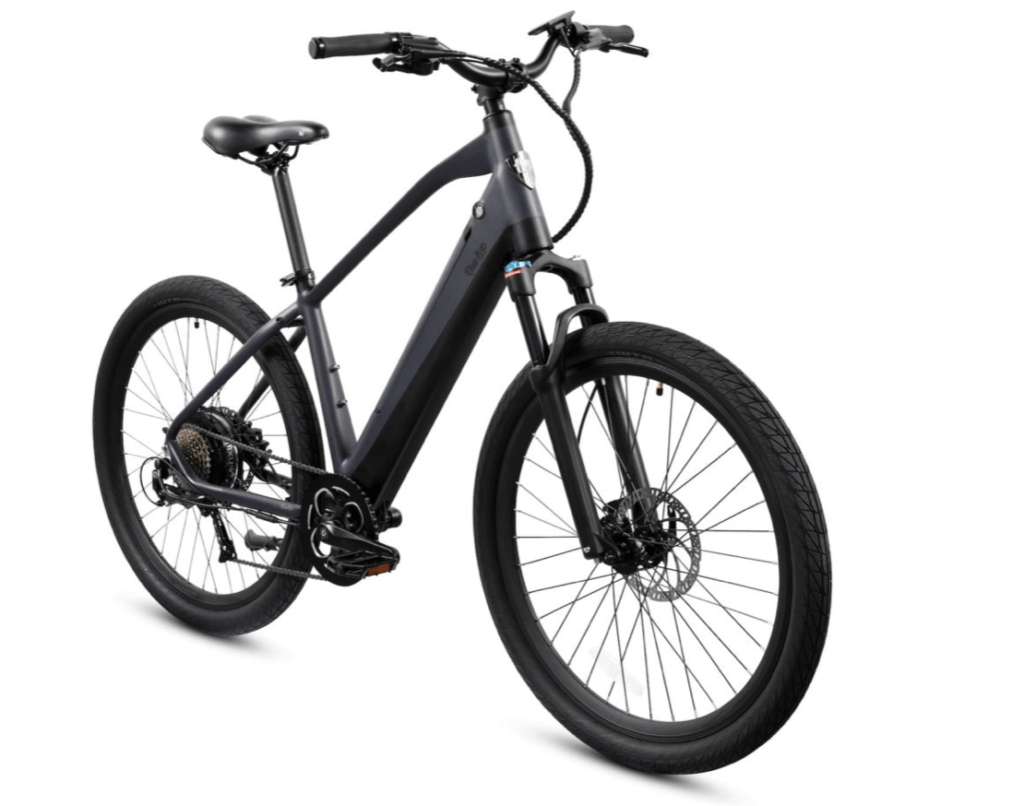 I'm a fan of Ride1Up as a brand and they've got a nice selection of electric bikes to choose from.
They offer a little bit of everything, including affordable road bikes like their Roadster V2 to painfully cool, moto-inspired options like their Revv 1.
The styles, features, and specs for their different bikes vary, but one thing they all have in common is that they're affordable and packed with quality components.
That's kind of Ride1Up's MO.
The LMT'D we're here to go over now would probably be best classified as an electric commuter bike, but with rugged tires, it could easily handle some casual off-roading as well.
Semantics aside, this e-bike is designed for comfort and efficiency regardless of where you're riding.
Pros
750W, 95Nm torque hub motor
672Wh battery
30 – 50 mile range
Top speed of 28 mph
Torque sensor
Choice of frame
Fairly lightweight
300 lb weight limit
Color console
5 levels of PAS
8-speed shifter
Hydraulic disc brakes
Front suspension fork
Headlight
Thumb throttle
Large tires
Well-priced
Cons
No rear rack included
No fenders included
No rear lighting
Motor
The motor is one of the most important and most fun specs to talk about, so we might as well start here.
Well, the LMT'D comes with a 750W rear hub motor that comes with 95Nm of torque and a top speed of 28 mph through pedal assist (20 mph via throttle).
That was a mouthful, so I'm gonna break that down a little more here.
In terms of power, 750W is about as high as you'll see on most electric bikes – I say "most" because there are brands out there using stronger motors (like Juiced Bikes and their 1000W motors).
But rules and regulations regarding what's "street legal" for an e-bike vary and some areas don't allow motors stronger than 750W – so if you go with a bike packing more muscle, just know it might not be legal in public.
But for most of us, 750W will be plenty of motor to get the job done.
"Rear hub" refers to the location of said motor and this means the motor on the LMT'D is located with the rear tire.
This is opposed to a mid-drive motor, where the motor would be located in the middle of the frame with the pedals.
Each type of motor has their own perks, but for this price range, a rear hub motor is the norm (it's rare to see a mid-drive motor under $2k).
This isn't a physics class, so I won't bore you with any detailed descriptions of what torque is – just know that it refers to rotational power and when it comes to e-bike motors, higher torque means better acceleration and better hill climbing.
And with 95Nm of torque, the LMT'D will be quite zippy and excellent at climbing hills (fyi, motors with 60Nm of torque or higher are usually good at conquering hills).
For the sake of comparison, Aventon's similarly-priced Level.2 comes with 60Nm of torque, so a fair amount less.
And with a top speed of 28 mph, this bike is classified as a Class III e-bike, so again, check with local regulations to make sure it's ok to ride publicly.
Overall, the LMT'D scores highly with its powerful, torquey motor. It has more than enough power to zip around town and get you up even the steepest inclines.
Battery
The LMT'D has a powerful motor, but it also comes with a pretty large battery too – which is important because strong motors drain batteries faster.
More specifically, this e-bike comes with a 672Wh (48V, 14Ah) battery that should get most riders somewhere between 30 – 50 miles per charge.
In the real world, your range will depend greatly on a lot of factors, like your size, the terrain, the riding conditions, and of course how much motor assist you use.
But having a larger battery capacity always helps.
By the way, there are several different battery specs you can look at when comparing options (voltage, amps, amp-hours, etc), but comparing the watt-hours (Wh) is the easiest because this spec takes into account both voltage (V) and amp-hours (Ah).
And seeing batteries with larger Wh ratings means a larger capacity, which usually results in longer ranges.
At 672Wh, the LMT'D has one of the larger batteries in its class, matching the one found on the Level.2 mentioned above.
That said, Juiced Bikes' CrossCurrent X comes with a 995Wh battery, so there are larger ones out there.
Overall though, the LMT'D comes with a large capacity battery and a great range for the price.
Frame
With the LMT'D, you get to choose between a step-over (XR) or step-thru (ST) frame, depending on your height and what you prefer.
Both frames weigh around 53 lb and both come with the same 300 lb weight capacity and there's no difference in price either.
With this weight, the LMT'd isn't exactly lightweight, but I wouldn't say it's especially heavy either (pretty average for an electric bike).
Anyway, the ST frame comes with a standover height of 18″ and should fit most riders between 5'1″ – 6'2″ and the XR frame comes with a standover height of 29″ and fits riders 5'6″ -6'4″.
If you fall in between, feel free to go with which ever frame you prefer.
Both frame options also come with the same wheelbase of 43″, which is pretty average for a commuter and should lend itself to comfortable handling.
Oh, as I'm writing this, you can also choose between 2 colors: midnight gray and sandstone.
Overall, the LMT'D is pretty average in terms of size and weight, but it's nice that you can choose between the 2 different frame styles.
Warranty
Ride1Up covers their LMT'D with the following warranty:
Yeah, there's not much to say about the warranty here, but if anything goes wrong in that first year, you should be covered.
Assuming it's due to bike malfunction and not improper use.
I agree, this isn't a very long warranty, but it isn't too out of the ordinary as e-bikes go – Rad Power Bikes and Juiced Bikes also both offer only a single year on their products.
There are better warranties out there though: Electric Bike Company offers 10 year motor and 5 year battery guarantees and Aventon/Velotric both offer 2 years on frames/components.
So, there's room for improvement for Ride1Up, but they aren't alone with their shorter guarantees.
Features
The Ride1Up LMT'D comes with the following included features:
Color LCD console- the LMT'D comes with a pretty snazzy looking color display that measures around 2″ making it easy to see your speed and all your other metrics as well choose your pedal assist level.
5 levels of pedal assist (PAS)- speaking of which, this e-bike comes with 5 levels of PAS, giving you a lot of control over how much help you get from the motor. Setting it to 5 gives you the most motor output, while level 1 gives you the least. Personally, I spend all my time on my e-bikes on level 5, but to each their own.
Thumb throttle- there's a thumb throttle mounted on the left handlebar, giving you access to instant motor power any time you need it (regardless of which PAS level you're on).
Torque sensor- the LMT'D comes with a torque sensor and this is one of the most pleasant surprises about this e-bike. Torque sensors, as opposed to cadence sensors, measure how hard you're pedaling and provide you with motor output to match your effort. The result is a smoother, more natural riding experience. It's awesome that this bike comes with one of these because most in this price range use cadence sensors.
Hydraulic disc brakes- this type of braking is the norm for this price range and it offers great stopping power, regardless of how fast you're cruising.
Suspension fork- this electric bike comes with a shock absorbing front fork that'll reduce the stress you feel every time you go over a bump, curb, or any other rougher terrain.
8-speed shifter- and with 8 gears to work with, you'll have a lot of control over your performance, regardless of which PAS level you're using.
Headlight- the included front light is a nice touch, making riding at night or early in the morning a little safer.
27.5″ x 2.4″ tires- the tires on the LMT'D aren't fat, but their big and wide enough to provide some solid traction when off-roading, but without completely destroying your range when riding on pavement.
Comps
At the time of writing this, Ride1Up has the LMT'D selling for $1,695 regardless of which frame you go with.
Given the specs and features, I would say this sounds like a pretty reasonable price, but the only true way to judge that is to take a look at some of the competition.
So, let's do that.
The first e-bike I want to bring up is Aventon's Level.2, which is selling for $1,799.
The Level.2 comes with a 750W peak (500W sustained) rear hub motor, a 672Wh battery, a range of up to 60 miles (with very little motor assist), and a torque sensor as well.
It also has an 8-speed shifter and comes with a rear rack and fenders, although it does weigh a bit more at 62 lb.
The next comp I want to discuss is the RadRover 6 Plus by Rad Power Bikes.
This model is on sale for $1,399 as I'm writing this (although I don't know how long that great price will last) and it has similar  motor/battery specs as the LMT'D.
The biggest differences are that it comes with a 7-speed shifter, has much fatter tires, weighs about 20 lb more, and uses a cadence sensor.
The last comp I want to bring up is Juiced Bikes' CrossCurrent X, which is on sale for $1,799 at the time of writing this (again, who knows how long this price will last).
The CrossCurrent X comes with a 750W hub motor, a massive 995Wh battery, a 9-speed shifter, and a combo cadence/torque sensor.
It's a bit heavier (65 lb), but it comes with fenders, a rear rack, and front/rear lighting.
Final Thoughts
Ok, I think it's about time to wrap this thing up.
Looking at the LMT'D, I think it's fair to say this e-bike has a lot to offer for the price.
Specifically, it has a strong motor (with a ton of torque), large battery, and generous range for an e-bike in this price range.
I also like that it comes in both a step-over and step-thru frame, but in terms of features, the bike itself is a little bare-bones.
It would be nice to see some included fenders and maybe even a rear rack, but these accessories can be purchased separately.
And I love that it comes with a torque sensor because this isn't a given in this price range.
That said, as the comps mentioned above illustrate, there's some pretty serious competition in this price range.
Aventon's Level.2 and the CrossCurrent X both come with torque sensors, similar performance specs, and more included features.
To be fair though, they do both cost a little extra (especially the CrossCurrent X, who has a regular price of over $2k).
Overall, I think the LMT'D is a great commuter for the price and it can easily hang with any e-bike in its class.
I could see this e-bike making a lot of sense for folks who want a sleek, lighter-weight option.