Lightweight and nimble, Ride1Up's Roadster V2 would fit in perfectly amongst the hustle and bustle of any crowded city street.
And with a clean, road bike design, most pedestrians probably won't even notice the Roadster V2 is an electric bike – well, until you go whizzing effortlessly by that is.
Highlights of this zippy e-bike include a 350W rear hub motor, an integrated 252Wh battery, a low maintenance belt drive, and a lightweight frame that's easy to haul around.
All things considered, I think the Roadster V2 is likely one of the best road-style e-bikes $1k will get ya, but with narrow handlebars and the lack of a kickstand, it might take a little getting used to.
But if you're still interested, keep reading.
In this review, I'll go over everything you should know about this electric bike before purchasing, including all the pertinent specs and features worth knowing about.
I'll also compare it to some of the other top competitors in this price range to see how it really stacks up.
After reading, you'll know whether or not the Roadster V2 is the right e-bike for you.
Let's roll.
Quick Stats
| | |
| --- | --- |
| Motor | 350W rear hub, 40Nm torque |
| Top Speed | 24 mph |
| Battery | 252Wh |
| Range | 20 - 30 miles |
| Weight Limit | 300 lb |
| Weight | 33 lb |
The Ride1Up Roadster V2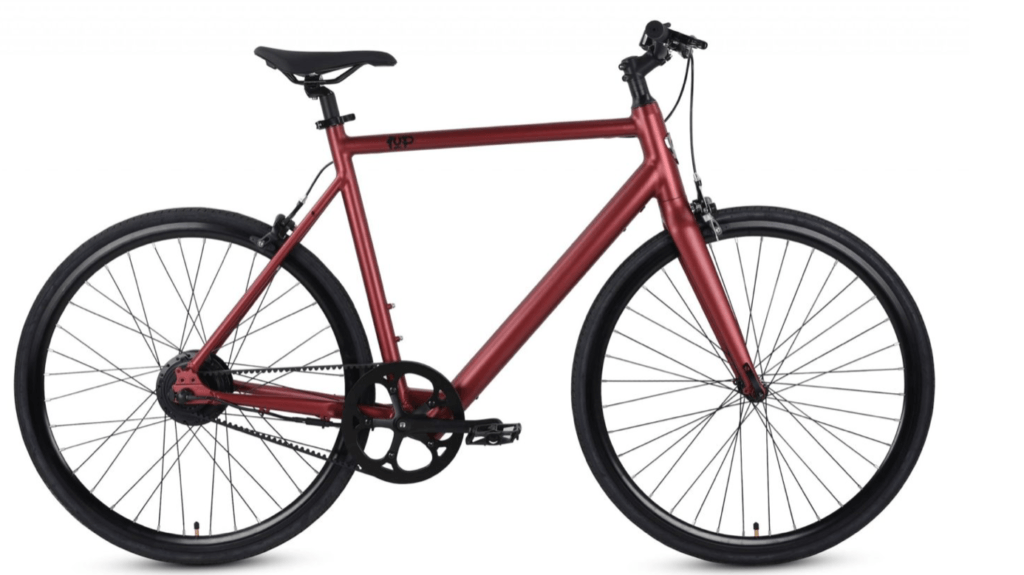 Ride1Up's a great brand for folks looking for quality e-bikes that are reasonably priced.
They seem to really pride themselves in offering some of the finest components you can find while keeping their prices budget-friendlier than most.
The result is a lineup of affordable e-bikes that are surprisingly sophisticated – and the Roadster V2 we're here to go over now is a perfect example of this.
As the name might imply, the Roadster V2 is Ride1Up's take on what an electrified classic road bike should look like, but they have e-bikes of all varieties to choose from.
We're talking cruisers, commuters, fat tire all-terrains, and even a moto-inspired e-bike (the aptly named Revv 1) that's capable of reaching ridiculous speeds.
Anyway, back to the V2.
Let's start this review with a rundown on the most important performance specs; then we'll switch gears and check out the rest of the features.
Pros
Top speed of 24 mph
Lightweight frame
Comes in 2 frame sizes
Choice of color
300 lb weight limit
Sleek design
Belt drive
5 levels of pedal assist
Integrated battery
LCD console
Large tires
Great price
Cons
Smaller motor
Smaller battery
No throttle
No adjustable gears
No kickstand
Motor
The Roadster V2 comes with a 350W rear hub motor that can reach a top pedal-assisted speed of 24 mph, making it a Class III e-bike.
By the way, this e-bike doesn't come with a throttle, so pedal assist is all you've got.
Anyway, in this price range, a rear hub motor is to be expected, so no surprises there (at least I've haven't come across a mid-drive motor at this price point yet).
And as rear hubs go, 350W is on the weaker side, but again – for this price range, this isn't a big surprise.
For the sake of comparison, most rear hub motors are rated somewhere between 250 – 750W (there are some 1000W motors out there too, but they aren't as common).
But considering the V2 is designed for flat, paved urban streets, it should still have enough muscle to comfortably get you where you need to go.
When thinking about e-bike motors, it's also helpful to consider the motor's torque output because this will also give ya an idea as to what you can expect with regards to performance.
Recall from physics class that torque refers to rotational force and is measured in Newton-meters (Nm).
Yeah, I don't remember that much about torque from school either, but when it comes to e-bikes, seeing higher torque ratings tells us we should expect better acceleration and better hill climbing capabilities.
With this in mind, the V2's motor offers 40Nm of torque, which is also a bit low on the expected range when it comes to e-bike motors.
For the sake of reference, most e-bike motors come with torque ratings somewhere between 40 – 90Nm and most agree having at least 60Nm of torque is a good idea for solid hill climbing capabilities.
So, with a 350W, 40Nm rear hub motor, the Roadster V2 certainly isn't the strongest or best hill climbing e-bike out there.
But again, it's got enough muscle under the hood for comfortable city cruising (but I'm not sure how it would handle those crazy San Francisco inclines).
And for this price range, these stats are pretty par for the course.
For example, Aventon's similarly-priced Soltera also comes with a 350W rear hub motor and it can only reach a top speed of 20 mph.
There's also Velotric's T1 ST (which costs about $200 more than the V2) and it too comes with a 350W hub motor and only 45Nm of torque.
So, overall, the Roadster V2 comes with a smaller motor, but compared to the other electric road bikes in its class, it holds its own nicely.
Battery
But the motor is only part of the equation, we have to take into account what fuels that motor too – the battery.
The battery is like your e-bike's gas tank and having a larger one means you'll be able to go farther between charges (although having a stronger motor pulls more energy from the battery faster, but that isn't much of an issue in this case).
When comparing batteries, I find it most helpful to compare the watt-hour (Wh) specs because this calculation takes into account both the battery's voltage and amp-hour ratings (Wh = V x Ah).
And generally speaking, seeing a higher Wh rating means you should get more range per charge.
Well, the Roadster V2 comes with a 252Wh battery (36V, 7.0Ah), which is pretty considering plenty of e-bikes come with 672Wh batteries and larger.
But given the smaller motor (and light-weight frame), the V2 can still offer 20 – 30 miles of range, depending on pedal assist (PAS) level and riding conditions.
Not bad for an affordable road bike.
For the sake of comparison, Aventon's Soltera comes with a 345.6Wh battery and Velotric's T1 ST comes with a 352.8Wh battery.
So, there are definitely larger batteries available in this price range, but if you'll be using your bike for shorter daily commutes, this shouldn't be an issue.
I also want to point out that the batter on the V2 is fully integrated into the frame, for a seamless look that makes it hard to identify as an electric bike.
Frame
The V2's battery and motor are on the smaller side, but this helps Ride1Up keep the total weight for this bike down.
More specifically, the V2 only weighs in at 33 lb, making it one of the lightest-weight cycles I've come across in this price range.
It's also 8 lb lighter than the Soltera and 3 lb lighter than the Velotric's T1 ST.
This lightweight frame will come in handy if you'll have to be hauling your bike up/down stairs regularly or if you plan on packing your bike up for regular travel.
The Roadster V2's frame is made out of an aluminum alloy and it comes in 2 sizes (small & large) depending on your height.
The small frame is designed to fit riders between 5'3″ – 5'8″ and the large frame should fit most folks between 5'8″ – 6'3″.
The standover heights will vary a little depending on which size you go with, but both come in a step-over design, as the V2 is molded after the traditional road bike style.
I also want to point out that the wheelbase on this cycle is a little smaller than most – at only 1026mm (small) and 1054mm (large), the V2 is a shorter cycle.
This makes it a little more compact and easier to haul, but it'll also make it a little more reactive and nimble when riding.
Which, if you're used to a longer bike, might take a little getting used to.
Overall though, I think most riders will appreciate how lightweight the V2 is.
Oh, almost forgot – this bike comes with a weight limit of 300 lb, which is pretty average for an electric road bike, especially in this price range.
Warranty
Ride1Up covers their Roadster V2 with the following warranty:
Yeah, this isn't a particularly expansive coverage policy – Ride1Up basically guarantees everything will work properly for a year.
This may seem kinda short, but it's actually kinda the norm when it comes to electric bikes (especially really affordable ones).
Juiced Bikes and Rad Power Bikes also both offer single year warranties.
That said, Velotric covers their bikes with a 5 year frame and 2 year component guarantee and Aventon offers 2 year frame/component warranties (and the frame can be upgraded to lifetime by registering).
So, overall, there are better guarantees out there, but Ride1Up's warranty is pretty average.
Features
The Ride1Up Roadster V2 comes with the following included features:
LCD display- the display on the V2 is small and simple, but it stays in line with the sleek design this road cycle has going for it. This console will tell you all your main metrics (speed, PAS level, battery level, etc) without taking up too much space.
Belt drive- this bike uses a belt drive instead of a chain and this is a real surprise for this price range. Belt drives are generally preferred because they're quieter and lower maintenance and it's rare to see one on such an affordable bike.
Single speed drivetrain- the V2 is a single speed e-bike, meaning there are no additional gears to work with. This keeps the bike simple and lightweight, but it's also another indicator that this isn't the highest-performing cycle when it comes to tackling steep inclines.
5 levels of PAS- it does come with 5 levels of PAS though, so you can get as much or as little help from the motor as you like. And given how lightweight this bike is, it should be quite ridable without motor assistance. Oh, but since there is no throttle, you'll always have to be pedaling to some degree to keep this e-bike moving.
Cadence sensor- the V2 utilizes a cadence sensor to determine when you're pedaling and when the motor should be activated/deactivated. The sensor on this cycle is known to be highly sensitive, activating within half a turn of the pedals.
Narrow handlebars- at just over 21″ in total length, the handlebars on this cycle are fairly narrow. If you aren't used to road bikes, this might take a little getting used to, as it'll make the V2 very responsive to small adjustments. But most riders agree it doesn't take very long to get accustomed to.
27.5″ x 1.1″ tires- the tires on this cycle are large and pretty thin, making it easier for them to gain speed faster while riding on smooth, paved surfaces. That said, they aren't designed to handle rougher, off-pavement terrain.
Dual pivot brakes- the V2 comes with pivot brakes, which help keep the cost and total weight of this bike down, but they don't usually offer the same stopping power as hydraulic disc brakes.
Comps
As I'm writing this review, the Roadster V2 is selling for $1,095, making it a very budget-friendly electric bike.
We've gone over all the major specs and features this e-bike has to offer and, considering the affordable price, I would argue the V2 is a pretty good deal.
But the best way to really know whether it's worth investing in or not is to look at what else is available in its price range.
So, let's go ahead and do that.
There aren't a ton of electric road bikes in this price range, but there are a couple worth talking about and I've been casually referencing 'em throughout this review.
These are Aventon's Soltera and Velotric's T1 ST.
The Soltera is priced around $1,199, making it about $100 more than the V2 and it comes with some great features.
These include a 350 hub motor, a 345.6Wh battery, a 7-speed shifter, and an included throttle.
The Soltera also uses mechanical brakes and it can only reach a top speed of 20 mph (Class II) and it weighs quite a bit more at 43 lb.
Velotric's T1 ST is priced at $1,299, making it about $200 more than the V2 and it's also got a lot to offer for the price.
It comes equipped with a 350W hub motor, a 352.8Wh battery, an 8-speed shifter, and it even uses an upgraded torque sensor as well.
The T1 ST also comes with hydraulic disc brakes and only weighs a few more pounds (36 lb), making it a top competitor.
Again though, both of these cycles cost a little more and neither uses a belt drive.
Final Thoughts
Alright, I think that'll about do it for the Roadster V2.
As I've said a few times throughout this review, I think this e-bike has a lot to offer for the price.
It doesn't have the strongest motor or the largest battery, but it's sleek, easy to use, and really lightweight.
And the fact that it comes with a belt drive is kinda shocking.
The biggest downsides I see is that without adjustable gearing, the V2 isn't going to offer the best performance for really hilly terrains (especially considering the lower torque rating on the motor).
It would also be nice if it came with hydraulic disc brakes and an included kickstand, but giving up these luxuries certainly helps Ride1Up keep the price as low as it is.
All things considered, I think the Roadster V2 would be a great choice for folks looking for an affordable e-bike to tackle the city in.