Ride1Up labels their Revv 1as a moped-style e-bike, but if you ask me, this bad boy looks more like a motorcycle or a dirt bike than anything else.
Either way, we can probably all agree that it looks great.
Appearances aside though, this electric bike comes loaded with a lot of great features, especially for the reasonable price range it finds itself in.
With a 750 rear hub motor and 95Nm of torque, the Revv 1 is casually one of the strongest e-bikes in its class, but it also comes with one of the largest batteries around as well (1,040Wh), so you don't have to sacrifice range for power.
And there's plenty of other highlights to enjoy, including hydraulic disc brakes, fat grippy tires, integrated lighting, and a custom cafe style seat.
Ride1Up also offers this e-bike in 2 frame varieties, allowing you to choose between a hardtail and full suspension, depending on how you plan to ride.
Basically, this is a whole lot of bike for the price, but there are a few drawbacks as well – most notably that the custom seat isn't height adjustable and the fact that this bike is quite heavy (especially the full suspension model).
If you're looking for a sporty e-bike that won't destroy your budget, I think the Revv 1 is a fabulous choice, but before you decide, you need to know what this bike is all about.
And that's where I can help.
In this review, I'll not only go over all the specs and features this electric bike has to offer, but I'll also compare it to some of the other top contenders in its price range.
After reading, you'll know without a doubt whether or not the Revv 1 is the right e-bike for you.
Alright, let's do this.
Quick Stats
| | |
| --- | --- |
| Motor | 750W, 95Nm torque |
| Top Speed | 28 mph+ |
| Battery | 1,040Wh (52V, 20Ah) |
| Range | 30 - 60 miles |
| Weight Limit | 350 lb |
| Weight | 93 lb |
The Ride1Up Revv 1 Electric Bike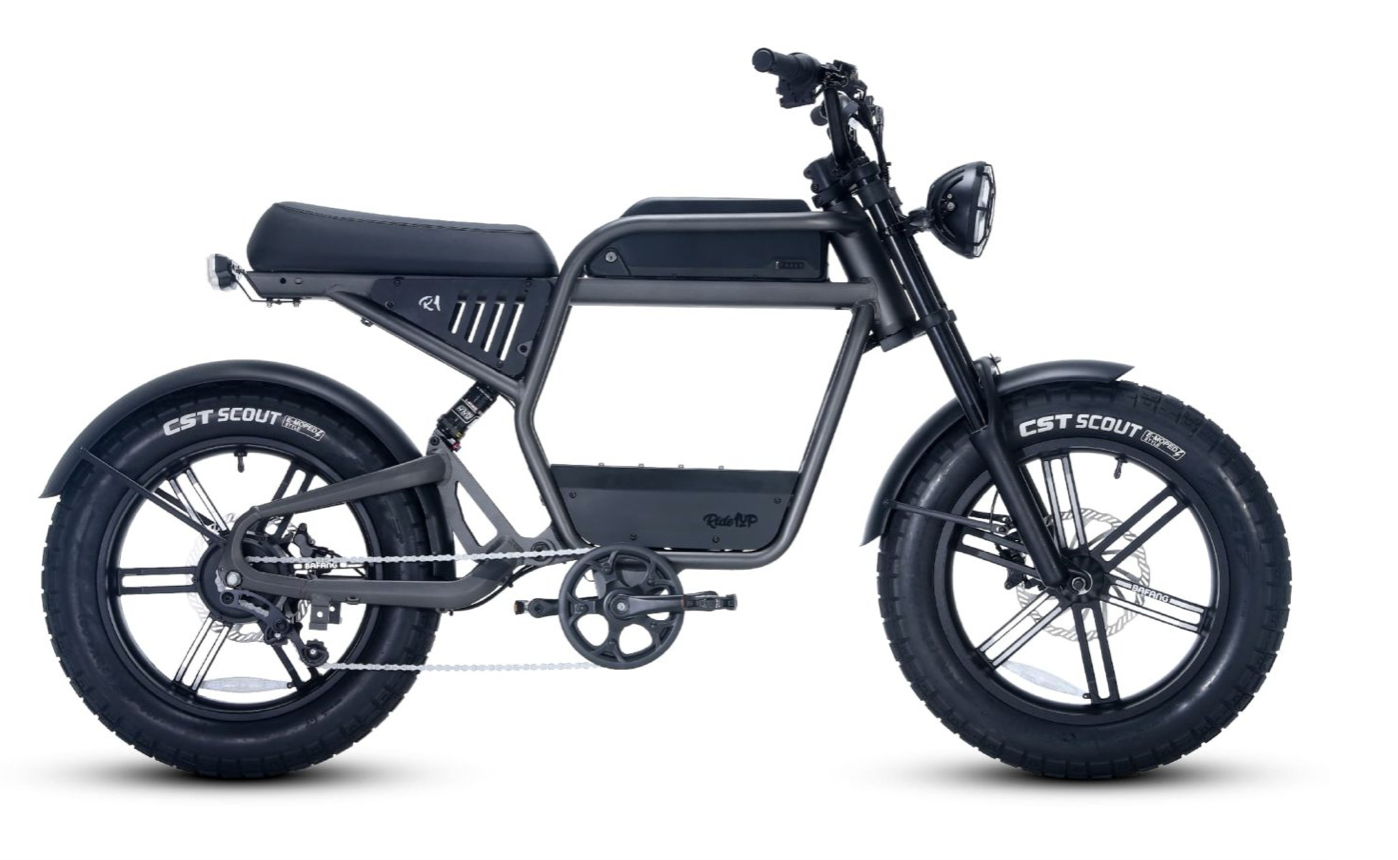 Ride1Up prides themselves in offering the best bike components possible for each of their bikes' price ranges and when you check out their lineup, it would seem they're doing just that.
As a brand, Ride1Up would fall more in the budget-friendly to moderately priced category of e-bikes.
This means most of their bikes fall somewhere between $1k -$2k, which is a great place to be shopping for a decent e-bike.
Actually, as I'm writing this, I believe the Revv 1 we're here to talk about is their most expensive model to date.
We'll go over price a little later on, but I think it's fair to say all of Ride1Up's bikes are competitively priced.
I actually have their Turris sitting in my garage right now (which is quite a bit cheaper) and it works great for a $1200 e-bike.
Anyway, back to the Revv 1.
Let's start things off with a rundown of the key performance specs this e-bike comes with.
Pros
750W (95Nm) rear hub motor
1,040 (52V, 20Ah) battery
3 riding modes
Very fast top speeds
30 – 60 mile range
Choice of 2 frame styles
Option to get full suspension
4A/3A charger
Large headlight
Brake light
Turn signals (FS model)
Horn
Fenders
Elongated seat
350 lb weight limit
LCD console
Hydraulic disc brakes
Gorgeous design
Cons
Heavy bike
Direct drive train
Seat not height adjustable
No rear rack included
Motor
When it comes electric bikes and performance, the first thing a lot of us are probably wondering about is the motor.
Not only is this one of the more interesting components to look at, it's also one of the most important – I mean this is what literally powers you through every ride.
When comparing e-bike motors, there are a few things to consider, but to me, it really boils down to location and power.
By location, I'm talking about where the motor is physically placed on the bike and in this price range, we're usually talking about a rear hub motor.
There might be a few mid-drive motors out there in this price range, but most mid-drive bikes cost a bit more.
Either way, the Revv 1 comes with a rear hub motor, meaning the motor is placed around the axel of the rear tire and even though these tend to through the balance of the bike off a little, they're affordable and they work great.
In this case, the Revv 1 comes with a 750W motor, which is about as powerful as you're going to find in this price range.
Actually, I'm not sure motors stronger than 750W are street legal in all areas, although some brands do use 1,000W motors.
But with 750W, you won't have to worry about the Revv 1 being strong enough to climb hills or reach top speeds.
This is especially true when we consider that this same motor has a torque output of 95Nm, which is high for a rear hub motor.
Having more torque means the e-bike will be better at climbing steep hills and have faster acceleration from a cold start – both of which can come in handy when riding.
For the sake of comparison, C3Strom's Astro Pro also has a 750W motor, but its torque is only around 80Nm; and G-Force's similarly-priced ZM falls a bit short at 86Nm of torque as well.
All of these e-bikes have enough power to get ya where you're going, but my point is that the Revv 1 is more torquey (is that a word?) than the rest.
Speaking of speed, the Revv 1 comes programmed as a Class II e-bike, meaning it has a top speed of 20 mph regardless of whether you're using the throttle or pedal assist (PAS).
That said, if you fill out Ride1Up's waiver form, you can set the Revv 1 to Class III or "Off Road" mode, giving you a lot more speed.
When set as a Class III bike, it'll reach a top speed of 20 mph with the throttle and 28 mph with PAS; in "Off Road" mode, it'll reach well beyond 28 mph with both throttle or PAS.
When in "Off Road" mode (with the FS model), you can also activate a boost feature that increases the controllers amperage (from 28amps to 35amps), which is what gives you so much more power.
One user reported they were able to get it up to 46 mph… yeah, that's crazy fast.
As suggested, "Off Road" mode is for designated use on private property, as it is not street legal in any bicycle area.
And that kind of speed and power can be dangerous, so if you go with this e-bike, please be careful and wear a legit helmet.
Overall though, the Revv 1 doesn't disappoint when it comes to the motor – this is, without exaggeration, one of the strongest, fastest e-bikes in this price range.
Battery
All that power can exhilarating, but it can also drain your battery like no one's business.
When comparing batteries and ranges, you can look at a bunch of different specs and numbers, but I like to focus on the watt-hour (Wh) rating because gives you a great idea as to what the battery's real capacity is.
The Wh rating is derived by multiplying the battery's voltage (V) by the amp-hour (Ah), so it takes into account a few different specs.
And seeing a higher Wh rating means the battery has a higher overall capacity.
And the higher the battery the capacity, the longer you should be able to go between charges (but again, having a strong motor will drain your battery faster).
Either way, the Revv 1 comes with a massive battery.
At 1,040Wh (52V, 20Ah), this e-bike comes with the largest single battery I've come across in this price range (matching the battery found on the Astro Pro).
Although, you need to keep in mind that it's the full suspension (FS) version of the Revv 1 that comes with this extra large battery; the hardtail (HT) version comes with a 780Wh (52V, 15Ah) battery.
With a 1,040Wh battery, you can expect to get anywhere between 30 – 60 miles on the FS model, although you'd have to do a lot of pedaling to get anywhere near 60 miles of range.
And let's be real – this bike isn't really designed for pedaling.
I think most users are going to be taking full advantage of all the power this e-bike has to offer, which means most will be getting around 30 miles or so of range.
But that's still really good, especially for a bike packing such a powerful motor.
Overall, the Revv 1 scores very highly with its large battery and generous range.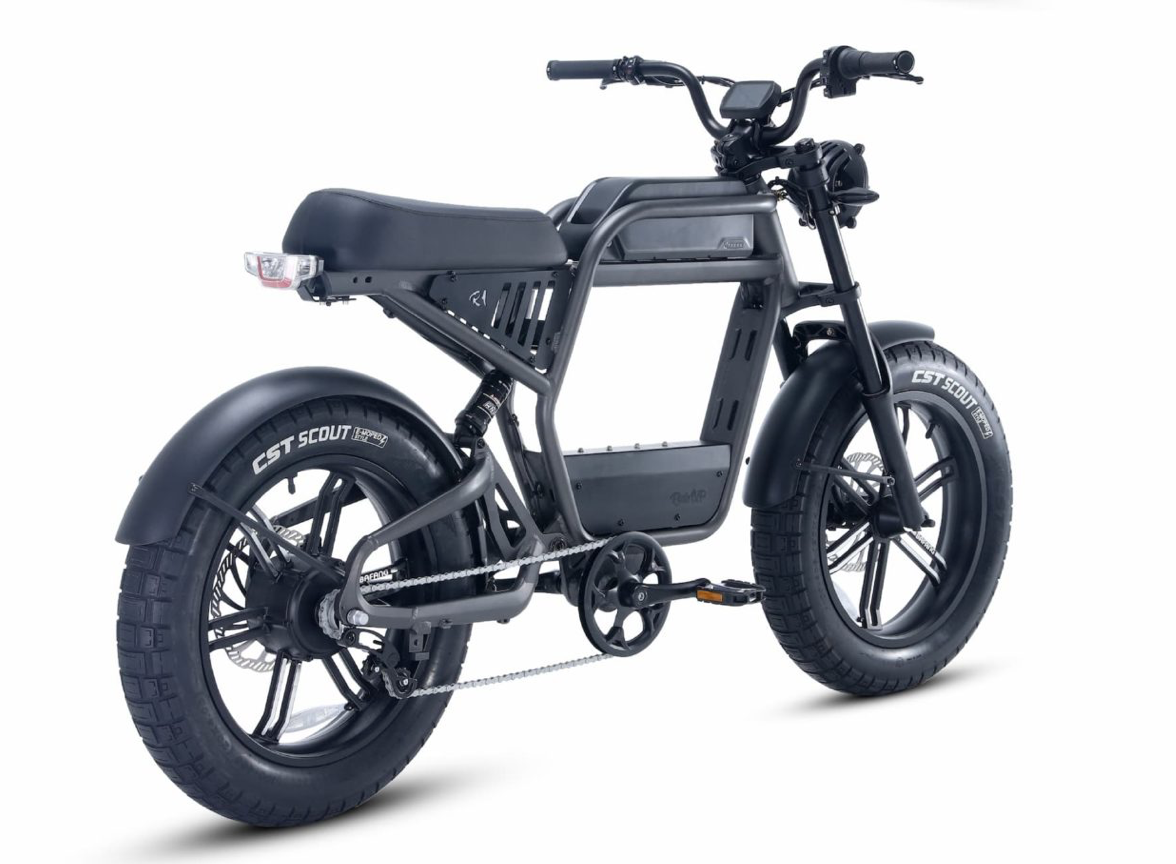 Frame
As mentioned, the Revv 1 comes in 2 frame varieties – the 'FS' or full suspension and the 'HT' or hardtail.
Both models come with a front suspension fork, although the FS's is more adjustable and offers more travel (120mm vs 100mm).
The FS also comes with a rear suspension, while the HT does not (hence the 'hard' part of hardtail).
The FS version is about 2.75″ longer than the HT and it also weighs about 10 lb more – 93 lb vs 83 lb.
But both models come with the same seat height, standover height, and both come with an impressive 350 lb weight capacity.
But back to the weights – 93 lb is a very heavy electric bike.
With this much bulk, I wouldn't want to be carrying this thing up stairs or putting it in/taking it out of a vehicle on a regular basis.
All this weight will make the bike hard to pedal as well, something that's exacerbated by the fact that the seat is not height adjustable.
Oh yeah, it's also a direct drive e-bike, meaning there are no adjustable gears.
This doesn't really matter when it comes to using the motor, but it's going to make it very unpleasant to pedal without motor assist.
Just a few things to consider.
According to Ride1Up though, the Revv 1 should be able to comfortably fit most riders between 5'2″ – 6'4″ (although again, don't expect it to be fun to pedal).
Overall, this e-bike comes with a strong motor, large battery, and heavy-duty components that add to the overall weight, making it a very bulky bike.
Warranty
Ride1Up covers their Revv 1 with the following home warranty:
Yeah, Ride1Up only covers the Revv 1 for a year and I would agree this sounds kinda short for a bike of this caliber, but it's actually the norm for e-bikes.
G-Force, C3Strom, Rad Power Bikes, Juiced Bikes… all offer a year on components.
So, yup, unfortunately this is about as good as most brands offer (although Electric Bike Company does offer 10 year motor and 5 year battery guarantees).
Features
Ride1Up's Revv 1 comes with the following included features:
LCD console- the console on this e-bike is bright and clearly visible, making it easy to see your speed and other stats while riding.
5 levels of PAS- with 5 levels of pedal assist, you can work as much or as little as you see fit.
Hydraulic disc brakes- the 4-piston hydraulic disc brakes give you powerful stopping ability (which is a must, given how fast this thing can go).
Elongated seat- the long cushioned seat adds to the moped/motorcycle aesthetic, but it isn't height adjustable.
Half twist throttle- the throttle is mounted on the right handlebar, giving a moped-style acceleration.
Fat tires-  the Revv 1 comes with 20″ x 4″ tires, which are fat enough to offer superior grip over the messiest of terrains. These fat tires will also help absorb shock over rougher terrains.
Headlight- it's hard to mess the huge headlight mounted front and center, giving you plenty of light for night riding.
Brake light- there's also an integrated brake light that turns on every time you hit the brakes.
Turn signals- the FS model also comes with built-in turn signals for added town riding (the HT model does not come with this feature).
Fenders- front and rear fenders are included to help keep you clean and dry during rides.
Direct speed drivetrain- I think I mentioned this earlier, but I wanted to make sure everyone knew this e-bike does not come with adjustable gears, which will make pedaling it more difficult when the PAS is set low.
Price/Comps
Prices can change, but as I'm writing this, Ride1Up has the Revv 1 listed for $2,395 (FS) and $1,895 (HT).
There's a $500 difference between these 2 models, which makes sense considering the FS comes with a larger battery, stronger controller, rear suspension, upgraded front suspension, and turn signals.
Personally, given what both models come with, I'd say they're both very reasonably priced – but my opinion doesn't really mean much here.
Instead, I think it makes more sense to look at the similarly-priced comps to see how the Revv 1 really stands up to what else is on the market.
So, let's do that.
When it comes to motorcycle-styled electric bikes, C3Strom's Astro Pro immediately comes to mind.
This gorgeous e-bike is priced around $2,699 and it comes with a 750W/80Nm rear hub motor, a 1,040Wh battery (32 – 78 mile range), and similar features.
Now the Astro Pro does come with an 8-speed shifter, but it isn't as powerful and can't reach as fast a speed as the Revv 1 can in "Off Road" mode.
There's also G-Force's ZM, which goes for around $1,999 – $2,499 (depending on battery configuration).
The ZM comes with a 750W/86Nm motor, and the option to choose 960Wh battery (48V, 20Ah) or a combo of batteries for a range upwards of 80 miles (with very little pedaling).
The ZM also comes with a full suspension and similar features, including a USB charging port and it comes with a 7-speed shifter.
But personally, I would argue the ZM isn't quite as sleek looking and looks a lot more like a dirt bike than anything else.
Finally, I want to mention Juiced Bikes' HyperScorpion, which comes with a full asking price of $2,499 (although is often on sale for as low as $1,899).
The HyperScorpion looks like a straight up moped and it comes with a 1,000W rear hub motor that can reach a top speed of about 30 mph.
It also comes with a 995Wh battery (52V, 19.2Ah), an 8-speed shifter, and included side-view mirrors, but this bad boy weighs over 100 lb and only comes with a 275 lb weight capacity.
Final Thoughts
So, all things considered, I'd say the Revv 1 holds its own quite well and then some when compared to similarly-priced comps.
Honestly, there's not much to complain about here.
The biggest drawbacks I see are that this bike is heavy, the seat isn't adjustable, and that it's going to be hard to pedal without any motor assist.
That and that it doesn't come with an included rear rack (can be purchased separately).
But let's be real, this bike isn't designed for pedaling – it's basically a moped in an electric bike's clothing.
You're gonna be hard pressed to find a more powerful e-bike with such a massive battery for this price and I seriously haven't come across any bikes with a faster top speed.
So, if you're looking for an exhilarating e-bike that can handle any terrain, I think this e-bike is a hell of a good buy.
Just be careful out there and make sure to double check your local regs regarding what's street legal.