With a torque sensor and a mid-drive motor, Ride1Up's aptly-named 'Prodigy' could easily be one of the most sophisticated e-bikes $2k will get ya, but that's just the tip of the iceberg.
This sleek electric bike also comes with a lightweight frame, a 9-speed shifter, and the option to choose between 3 different frame styles.
The battery on the Prodigy is a bit smaller (504Wh) than some competitors, but given the extra efficiency of a mid-drive motor, it's still able to get most riders 30-50 miles between charges.
Additional features include hydraulic disc brakes, front/rear lighting, and a color display as well.
All things considered, I think the Prodigy would make a great choice for riders looking for a budget-friendlier mid-drive e-bike, but we shouldn't get too ahead of ourselves here.
After all, there are a lot of great e-bikes to choose from in this price range, so is the Prodigy really worth investing in?
Well, that's what I'm here to help you figure out.
In this review, I'll go over all the specs and features this e-bike has to offer, but I'll also compare it to some of the other top options in its price range.
After reading, you'll be able to decide for yourself whether or not the Prodigy is the right electric bike for you.
Let's roll.
Quick Stats
| | |
| --- | --- |
| Motor | 250W, 90Nm, mid-drive |
| Top speed | 28 mph |
| Battery | 504Wh |
| Range | 30 - 50 miles |
| Weight limit | 300 lb |
| Weight | 50 lb |
The Ride1Up Prodigy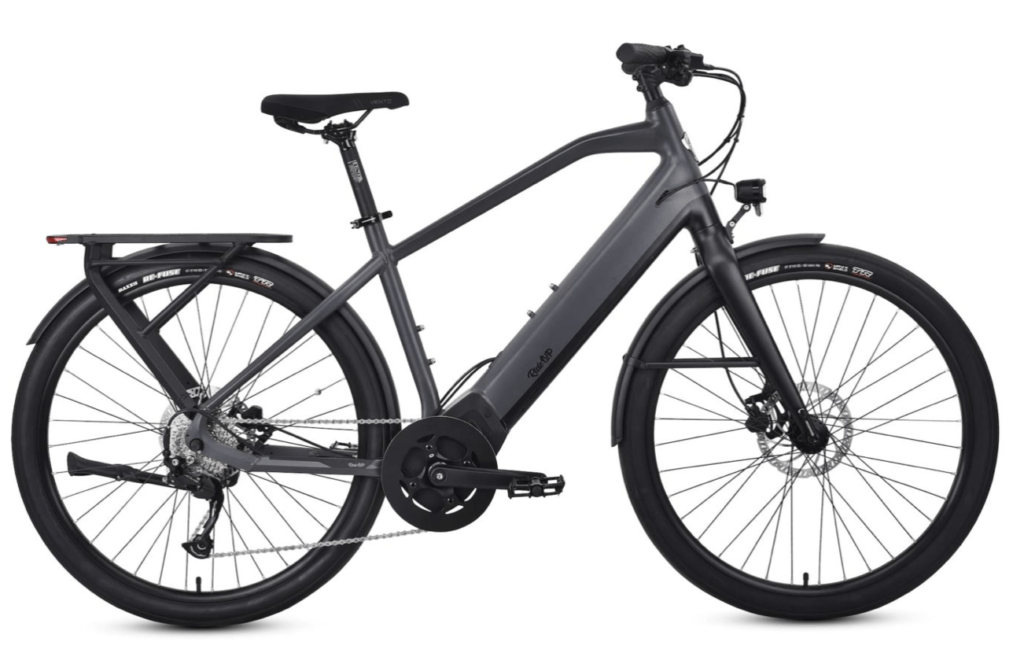 As a brand, Ride1Up's been around since 2018 and in that time, they've rapidly become one of the go-to providers for reasonably-priced e-bikes.
They pride themselves in the value they offer their customers, especially when it comes to using the best possible components for each given price range.
And when you take a closer look at their lineup, it's hard to deny that's exactly what they're doing.
As I'm writing this, Ride1Up has 9 or so e-bikes to choose from with most of 'em costing between $1-2k (only the Revv 1 and the newer Prodigy V2 cost a bit more).
Speaking of which, we're to talk about the Prodigy, so I should probably get to it.
Let's start things off with a rundown on the motor.
Pros
Mid-drive motor
Torque sensor
90Nm of torque
28 mph top speed
30 – 50 mile range per charge
Lightweight frame
300 lb weight limit
Frame comes in 3 varieties
Suspension fork available
Hydraulic disc brakes
4 levels of PAS
Integrated lighting
Rear rack available
9-speed shifter
Color console
27″ tires
Competitively priced
Cons
No throttle
Motor could be stronger
Motor
At first glance, the Prodigy looks like pretty much any other classic e-bike – the matte gray is rather sleek, but otherwise it doesn't look like anything especially interesting is going on.
But as we look at the finer details, we'll notice there are several things that do stand out about this bike and the motor is the most notable.
For starters, the Prodigy comes with a mid-drive motor, which in itself is pretty unique for this price point.
Mid-drive motors are usually reserved for electric bikes costing $3k and up, so the fact that the Prodigy has one kinda puts it in a class of its own.
In fact, the only other mid-drive e-bike at this price that I've found so far is EVELO's Galaxy SL, which is priced almost identically (more on this bike in a bit).
Anyway, mid-drive motors are usually considered an upgrade over rear hub motors, which are usually found on e-bikes in this price range.
FYI, a "mid-drive" motor means the motor is located in the center of the bike's frame, supplying power to the crank – this is opposed to a "rear hub" motor that's located at the rear tire.
Mid-drive motors offer a more efficient supply of power because the motor can take advantage of any gears the bike has.
The result is often a smoother feel with better climbing capabilities.
Anyway, the mid-drive motor found on the Prodigy is rated at 250W, which is on the lower side, but with 90Nm of torque, you won't have to worry about this e-bike being able to get up steep inclines.
For the sake of comparison, EVELO's Galaxy SL comes with a 500W mid-drive motor with 95Nm of torque, so just a little stronger.
Having more torque usually means better acceleration and better hill climbing capabilities, but anything over 70Nm is usually pretty good.
The Prodigy can reach a top speed of 28 mph with pedal assist (PAS), making it a Class III e-bike and it does not have a throttle.
FYI, most mid-drive e-bikes don't come with a throttle, so if this is a feature you're looking for, you might be better off with a rear hub motor.
And as with most mid-drive motor electric bikes, the Prodigy use a torque sensor to help calculate how much power the motor needs to provide as you pedal.
The result is a smoother pedaling motion that feels more natural, as opposed to a cadence sensor which can feel a bit choppy at times while pedaling.
Overall, the Prodigy scores very highly with its mid-drive motor and torque sensor and it has more than enough torque to handle steeper inclines.
Battery
The motor is important to consider, but so is the battery.
The battery is largely responsible for your range between charges and if you're looking for an e-bike that can go longer distances, opting for one with a larger battery could be essential.
Just keep in mind that having a stronger motor is going to drain that battery faster.
Anyway, the Prodigy comes with a 504Wh (36V, 14Ah) battery that should get most riders somewhere between 30 – 50 miles per charge.
In reality though, your range will depend on your size, riding terrain, and how much PAS you use throughout your ride.
As a mid-drive motor bike, the Prodigy is designed to be used by folks who are looking for an active ride – there is no throttle, so you'll be expected to pedal at least some.
If you crank the PAS all the way up to level 4, expect to get upwards of 30 miles or so; if you want longer range, you'll have to be willing to do some more work.
This is great range, even though the battery capacity on this e-bike is a little small compared to other similarly-priced options with hub motors.
But the smaller battery keeps the overall weight down, which is helpful too.
And the more efficient mid-drive motor pulls less juice from the battery throughout your ride, also aiding total range.
Overall, the Prodigy's battery is a little on the smaller side, but it's still able to offer great range with its efficient motor.
Frame
In terms of design, the Prodigy looks like what you'd expect from a commuter or an all-terrain e-bike.
At around 71″ long, it's pretty standard sized for this style of bike, but at only 50 lb, it's lighter-weight than most.
This makes it easier to haul and transport, but it'll also make it easier to ride at lower PAS settings.
The Prodigy is available in 3 different frame designs and the exact measurements will vary a little depending on which option you go with.
The 'ST' is their step-thru option and it comes with a significantly lower stand-over height of only around 18″.
Their 'XR' option consists of a step-over frame without front suspension and the 'XC' is a step-over frame with front suspension (standover height pretty identical for both at around 29″).
Regardless of which frame you go with, they all come with a 300 lb weight capacity, allowing them to comfortably handle most riders.
And according to Ride1Up, most folks between 5'1″ – 6'4″ should be able to riding comfortably (varying a little depending on which frame you go with).
Overall, it's nice that you can choose your frame here, but it's the lightweight-ness of this e-bike that stands out most in this department.
Warranty
Ride1Up covers their Prodigy with the following warranty:
Yeah, I know this doesn't sound like much of a warranty, but a year guarantee is what a lot of e-bike brands offer.
It's kind of standard operating procedure.
That said, some brands do offer better warranties. EVELO, for example, offers a 4-year/20,000 mile guarantee on their bikes.
Overall though, Ride1Up's warranty is comparable to what most moderately-priced brands are offering.
Features
The Ride1Up Prodigy comes with the following features:
Color display- this bike comes with a 1.5″ LCD console which is small, but easy to read given how bright it is, making it easy to see your PAS level and stats during rides.
4 levels of PAS- the Prodigy comes with 4 levels of PAS, giving you a fair amount of control over how much work you do as you pedal.
Maxxis tires- all models come with 27″ tires, although the thickness will vary a little bit depending on which frame you go with.
Hydraulic disc brakes- each model comes with hydraulic disc brakes for superior stopping power.
9-speed shifter- with 9 speeds, you'll have more control over your rides than the competitors that come with 7-8 speeds. This is especially important considering this is a mid-drive motor.
Suspension fork (XC)- the 'XC' version comes with a front suspension for added comfort when riding over rougher terrain (the other 2 models come with rigid front forks).
Integrated lighting- all models come with a front headlight and the 'XR' and 'ST' come with a brake light for added safety.
Rack (XR, ST)- the 'XR' and 'ST' also come with an included rear rack that can handle up to 40 lb of gear.
Price/Comps
As I'm writing this, Ride1Up has their Prodigy (regardless of model) priced at $2,195.
I think this is a more than fair asking price considering it comes with a mid-drive motor, but I still want to compare it to some of the other top options in this price range.
The fact that it comes with a mid-drive motor makes it a little harder to find comps, but there are a couple worth mentioning.
For example, EVELO's Galaxy SL, is likely the Prodigy's biggest competitor and it too has a lot to offer.
The Galaxy SL is priced at $2,199 at it comes with a 500W, 95Nm mid-drive motor and a similar range.
The SL is a bit stronger than the Prodigy, but the Prodigy does have a faster top speed (28 mph vs 25 mph). Although the SL does have a throttle, which the Prodigy is lacking.
The Galaxy SL also comes with smaller tires (24″) and only in a step-thru frame, making it better suited for cruising than hitting the trails.
It's also worth knowing that the SL can only handle users up to 5'10", so taller folks likely won't fit comfortably.
I should also mention Lectric's XPremium, which is priced around $1,600 at the time of writing this.
This folding e-bike comes with a 500W mid-drive motor, a torque sensor, throttle, and has a top speed of 28 mph.
And with dual-batteries, if you play your cards right you might just get upwards of 100 miles per charge.
This is all really good, but this folding e-bike comes with smaller, fatter tires, so it doesn't work as well as a commuter and its mid-drive motor isn't as nice as the Brose found on the Prodigy.
Final Thoughts
Alright, that' about all I got here, so it's probably about time to wrap things up.
After looking at the Prodigy and the few comps that come with mid-drive motors in this price range, I think it's fair to say that this e-bike holds its own quite well.
The fact that the Prodigy comes with a mid-drive motor to begin with sets it apart from most $2k e-bikes, but I love that it also comes with a a generous range, 9-speed shifter, and choice of frame.
The biggest downside I see is that it would be nice to have a throttle, but I wouldn't necessarily call this a deal breaker.
The biggest competition I see for the Prodigy is EVELO's Galaxy SL, which does come with a throttle, but the Prodigy is better suited for trails and rougher terrain.
So, it's a tough call between these 2 and it really boils down to what you're looking for.
If you want an e-bike that can pretty much go anywhere and function well as a commuter too, I'd probably go with the Prodigy; if you're not as interested in off-roading and want a comfortable cruiser, I'd go with the Galaxy SL.
Either way, you can't go wrong.