Going with an all terrain electric bike is a great option if you like the idea of taking your rides off road and these days we've got lots of 'em to choose from.
With fat tires, durable frames, and powerful motors, the best all terrain e-bikes allow you to comfortably handle any route your adventures leads you to.
But before you purchase one, it's a smart idea to know what to look for when comparing bikes – and that's where I think I can help.
In this guide, I'll go over the specs and features you should consider when deciding on an electric all terrain bike; I'll also present my top picks for this category based on the specs we discuss.
After reading, you'll be well-equipped to find the right all terrain e-bike to meet your needs.
But before we get rolling, let's make sure we're all talking about the same thing here…
What Is An "All Terrain" Electric Bike?
This isn't a trick question – the answer's pretty straightforward.
An all terrain bike is one that's designed to handle being ridden anywhere, just as the name implies.
And since we're talking about electric bikes here, all of these all terrain bikes will come with batteries and motors to help assist you on your path.
An all terrain e-bike comes with certain features that make it better equipped to handle off-road conditions, including:
Fat tires
Heavier-duty frames
Suspension systems
Powerful motors
Fat tires is a key feature of an all terrain e-bike because without 'em, these bikes wouldn't be able to handle the rougher conditions found off-road.
Think about mountain bikes and road bikes – mountain bikes come with much larger, grippier tires, while road bikes come with much more narrow tires.
Fat grippy tires allow these bikes to work on dirt, gravel, sand, grass… pretty much any surface you can think of, hence the "all terrain" in their name.
The tires are important, but these bikes also need durable frames that can survive the added forces being applied through them when riding over uneven, bumpy terrains.
The best all terrain electric bikes will also come with suspension systems to help absorb those forces, making for a more comfortable ride.
An all terrain electric bike is basically the equivalent of an electric mountain bike, although electric mountain bikes are designed specifically for mountainous terrain.
Electric bikes listed specifically as mountain bikes usually come with more advanced suspensions and higher-end drivetrains, but that rule isn't written in stone anywhere.
Buying An All Terrain Electric Bike
All terrain bikes have become some of the most popular e-bikes out there because they're fun to ride and can go pretty much anywhere.
Most brands offer at least one all terrain e-bike these days and they can come with all kinds of different features and accessories, but it's a good idea to focus on the important stuff when choosing between different models.
This includes:
Tires
A true all terrain bike will come with fat tires, meaning they're 3 – 4″ thick.
Four inch tires are the fattest tires you'll likely see and this extra width makes them more capable on rougher terrain.
The extra width gives them better traction and since they're usually not inflated as much, they actually work to provide some shock absorption as well.
So, if you plan on tackling rough trails, sand, mud, or rocky roads, going with 4″ tires makes a lot of sense. That said, thicker tires have their drawbacks too.
Thicker tires aren't as fast on pavement (as thinner tires) and they're going to drain your battery faster too.
Fat tires don't turn as sharply as thinner tires either, making them harder to navigate in congested areas and their larger size is going to increase the overall weight of the bike.
This means fat tire e-bikes aren't usually the best options for riding on pavement or for running errands in town.
So, before you opt for a fat tire bike, think about how you plan on using your e-bike.
Suspension
The suspension system is what absorbs some of the forces going through your bike as it traverses the ground, meaning you, the rider, experiences fewer of them.
Most all terrain e-bikes will at least come with a front suspension fork and other will come with a full suspension, meaning they come with a front and rear suspension systems.
"Hardtail" bikes only come with a front suspension fork and are lacking a rear shock.
Some bikes come with adjustable suspensions, allowing you to fine tune how much shock they absorb, others don't.
The more suspension your bike has, the more comfortable you'll be riding over rough terrain.
So, if you plan on doing some serious off-roading, going with an e-bike with a full suspension system is a smart idea.
Motor
We should be checking out the motor for any e-bike we're considering, but it's especially important if you plan on taking your new bike up some steep inclines.
Long-story-short, you wanna make sure you have enough power to get up those hills.
When comparing all terrain bike motors, there are a couple of things you can look for, including the location of the motor and its strength.
The motor can be located in the rear of the bike (rear hub) or in the middle of the frame near the pedals (mid-drive) and both have their advantages.
Rear hub motor bikes are usually more affordable and can be very powerful; mid-drive motors offer better balance and are usually a bit smoother, but they cost more.
When it comes to motor strength, you can compare the wattage of the motors, as well as the max torque they can provide (measured in Newton-meters, Nm).
If you're looking for an all terrain bike with the ability to give short bouts of increased power when needed (like when ascending steep slopes), going with a higher-torque motor makes sense.
Just know that stronger motors drain your battery faster, so they want come with as much range.
Battery
Speaking of which, the battery is another key component you'll want to check out before making a decision.
E-bike batteries come with varying capacities, allowing for different max ranges between charges.
Most all terrain e-bikes offer a range of at least 20 – 45 miles, but some can offer a lot more.
The way you use your bike will play a huge role in how much range you get (the more motor assist you use, the faster you'll drain your battery), but the capacity of the battery will as well.
When looking at e-bike batteries, there are a few specs to consider, including the voltage, amp-hours, and watt-hours.
Having a higher voltage battery means the battery can supply the motor with power faster; amps refer to the intensity of the electricity the battery supplies and amp-hours refers to the amperage the battery can provide per hour.
All of these technical terms can get a little confusing, but the watt-hours (Wh) is probably the easiest spec to look at when comparing battery capacities.
The Wh is basically a combination of the voltage and amp-hours and it's a quick way to compare battery capacities – the higher the Wh, the longer the battery should last.
Although keep in mind, stronger motors will drain batteries faster, so if you have a battery with a high Wh and a really strong motor, you may still get a smaller range than a bike with a smaller battery.
Transmission
Electric bikes can come with multiple gears or a single gear (direct drive) transmission and depending on how you plan on using your bike, this is something you'll want to consider before purchasing.
Just like non-motorized bikes, e-bikes with multi-speed transmissions allow you to change gears while riding, making for more efficient pedaling.
Having multiple gears comes in handy when you're pedaling and putting the work in, but it can also make for more efficient use when the motor is assisting.
And more efficient pedaling means a longer lasting battery and improved range.
Direct drive transmissions are simpler because you don't have to mess with changing gears and they will often be a little cheaper.
But if you plan on riding your e-bike with lower levels of pedal assist, going with a multi-speed transmission might be a good idea.
Price
Most of us don't have a choice but to consider the price of these e-bikes because most of us will be working with a set budget.
E-bikes come in a lot of different price ranges, but most of the top all terrain e-bikes for recreational use cost somewhere in the $2-3k range.
At this price point, you can expect pretty high-end motors, batteries, and components.
But you can certainly spend more for even higher-end frames and more sophisticated drive trains and suspensions systems.
High performing electric mountain bikes can easily cost $5 – 10k, which sounds like a lot for a bike (and is), but if you're serious about off-roading and want the best, it could be worth the expense.
E-bikes in these price ranges will from the top brands (like Trek) and will come with lighter-weight frames and higher-end components from top to bottom.
The 7 Best All Terrain Electric Bikes of 2023
#1 Juiced Bikes RipCurrent S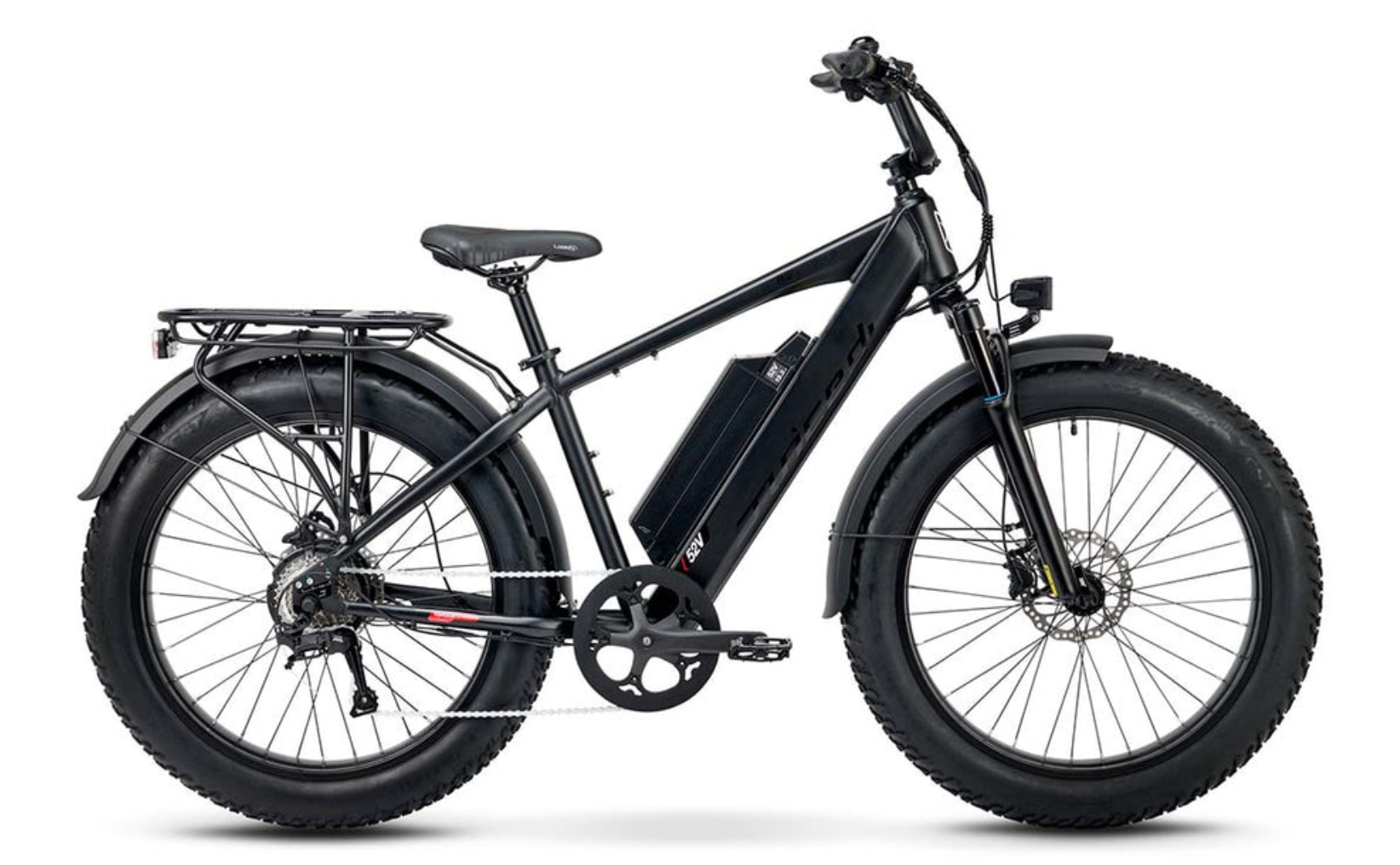 The RipCurrent S landed the top spot here because it offers a great combination of performance specs and features for the price.
Juiced Bikes is known for their powerful e-bikes and the RipCurrent S follows their mold perfectly.
With a 1000W rear hub motor with 90 Nm of peak torque, you won't have to worry about this bike having enough power to get up steeper slopes.
All of this power comes in handy when going off road, but it can be fun to play with on paved roads too – with a top speed of around 33 mph in "race mode" (with upgraded controller), you can feel confident challenging your buddies to a friendly competition.
The RipCurrent S is a Class III e-bike, but it can also be programmed as a Class II for areas that don't allow that much speed.
The motor on this e-bike is large, but so is the battery.
With a 52V, 19.2Ah (995Wh) battery, the RipCurrent S comes with one of the largest capacity batteries in this price range, allowing riders to go upwards of 70 miles or so per charge (depending on how much assistance you use).
Speaking of which, this bike comes with 5 levels of pedal assist as well as a thumb throttle, giving you a lot of control over your rides.
Juiced Bikes also gives this model both cadence and torque sensors, allowing this e-bike to give you smooth assistance to match how hard you're pedaling.
And with 4″ thick tires and a 9-speed transmission, the RipCurrent S is well-equipped for any terrain you may find yourself.
Additional features include an LCD console, hydraulic disc brakes, front/rear lighting, fenders, and an included rear rack.
The only downside I see is that this bike isn't light – at 76 lb, this e-bike might be challenging to carry up/down stairs.
But otherwise, it's gonna be hard to find a finer all terrain e-bike at this price point.

#2 Ride1Up Rift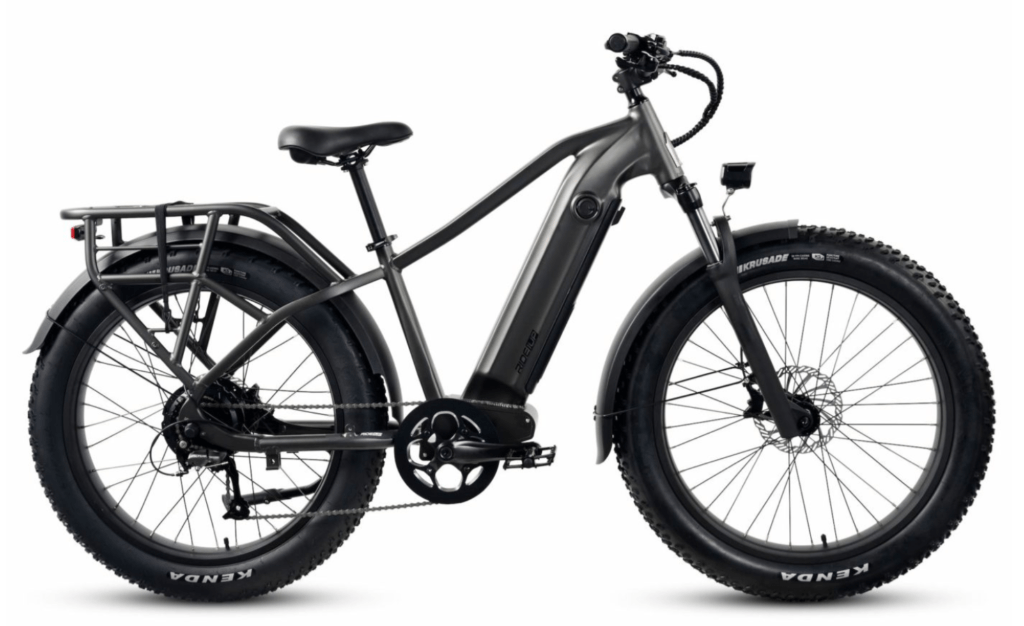 Ride1Up is known for supplying riders with reasonably-priced e-bikes with the finest components you can expect for that price range and the Rift is no exception.
Designed as a true all-terrain e-bike, this bad boy comes with 26″ x 4″ tires that are large enough and fat enough to ride over any terrain you might face.
The Rift comes with a 750W rear hub motor and 95Nm of torque for some serious hill climbing capabilities.
And with a 960Wh battery, you can still get somewhere between 45 – 60 miles, which is impressive for such a powerful bike.
This bike comes programmed as a Class II bike, but it can be unlocked to Class III mode with a top PAS speed of 28 mph.
Other notable features include a color LCD console, an 8-speed shifter, 5 levels of PAS, a thumb throttle, and front/rear lighting.
This e-bike also comes with a rugged built-on rear rack that's compatible with several attachments and can handle loads weighing all the way up to 150 lb.
Speaking of weight, the biggest downside of this powerful e-bike is probably its weight – at around 85 lb, it isn't light.
But all that bulk allows it to safely handle riders weighing up to 350 lb.
Overall, if you're looking for an affordable all-terrain e-bike that can truly go anywhere, Ride1Up's Rift is definitely worth checking out. See full review.

#3 RadRover 6 Plus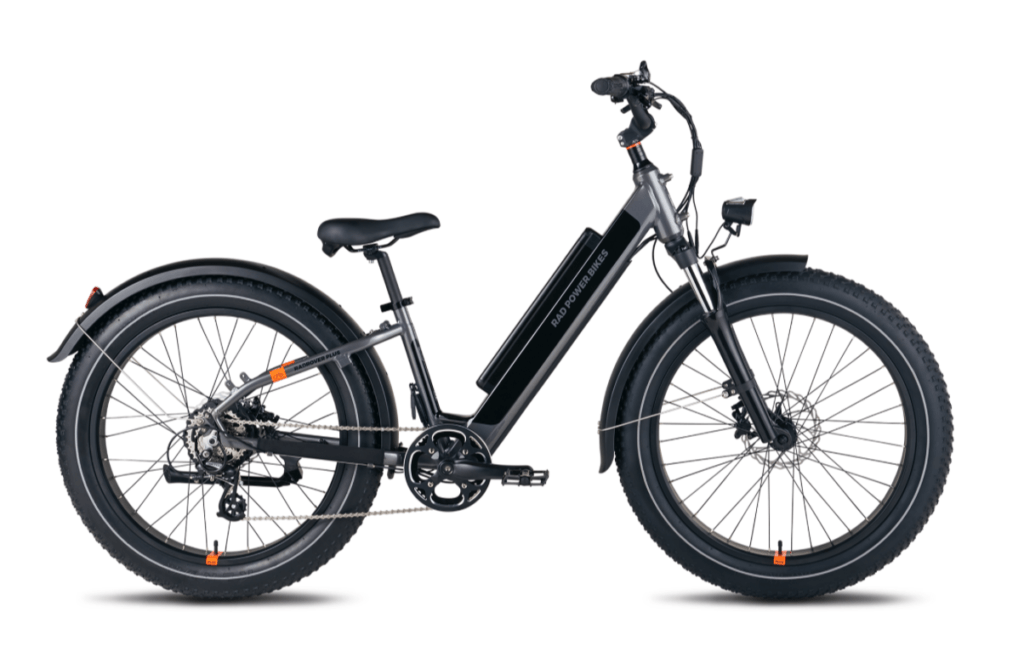 Rad Power Bikes is another great brand when it comes to affordable fat tire bikes and the RadRover 6 Plus is the premiere model in their current lineup.
The RadRover 6 isn't quite as powerful as the RipCurrent mentioned above, but with a 750W/80Nm peak torque rear hub motor, this e-bike still has more than enough muscle to get the job done.
This is a Class II bike, coming with a max speed of 20 mph through pedal assist or the half-twist throttle – so you don't get the thrills of the crazy speed, but you can rest assured it'll be street legal in most areas.
When it comes to the battery, the RadRover 6 comes with a 672Wh (48V, 14Ah) capacity that'll get most riders upwards of 25 – 45 miles on a single charge, which is quite good for an all terrain e-bike.
This bike also comes with 4″, puncture resistant fat tires that can ride in snow, sand, dirt, mud, or pretty much any other surface you can think of.
Additional highlights of this bike include a 7-speed transmission, a backlit LCD console, front/rear lighting, fenders, and the option to choose your frame style.
This e-bike is also compatible with several rack configurations, allowing you to customize your ride.
The biggest downside I see with the RadRover 6 is that its max weight limit is only 275 lb, so larger riders of folks who often pack their racks with heavier loads may find this capacity to be too low.
But all things considered, this is still easily one of the finest all terrain e-bikes on the market.

#4 Trek Powerfly FS 9 (Gen 3)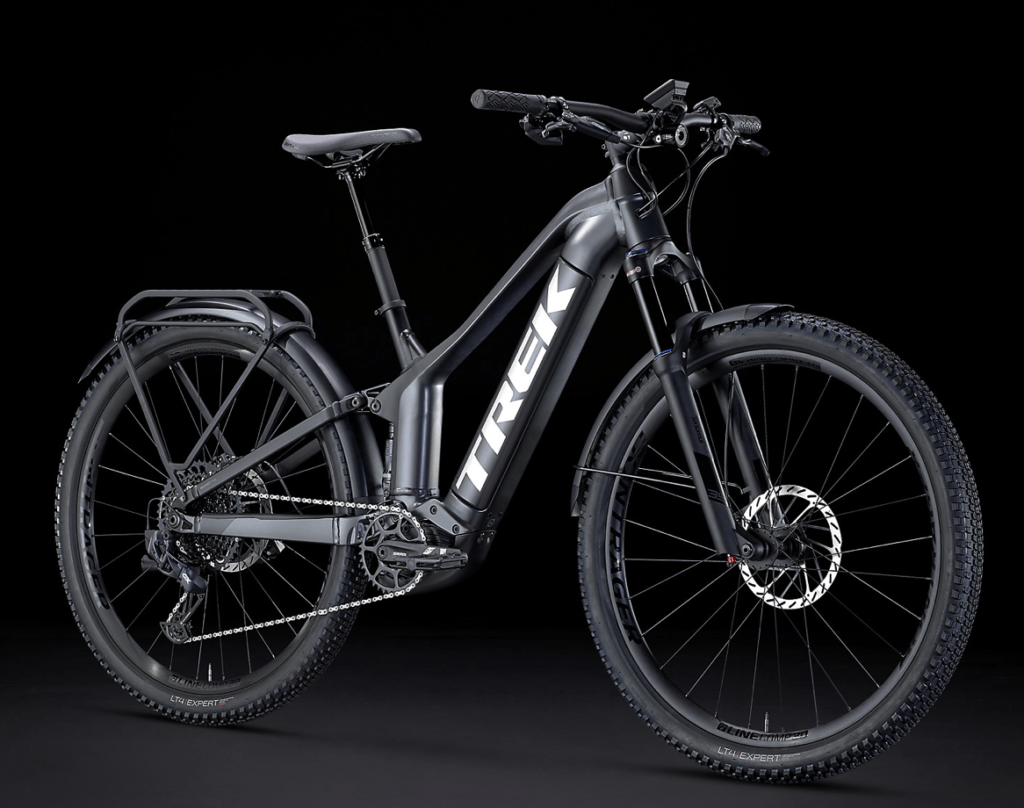 Trek is a premiere provider of traditional road and mountain bikes, but their e-bikes can hang with the best of 'em as well.
This brand is known for their high-end features and components and I can personally attest to how well-made their mountain bikes are – between me, my kids, and my wife, we've had 4 Treks and they've all taken a beating and survived to tell their stories.
Anyway, I want to point out that the Powerfly FS 9 is a legit electric mountain bike, so it's designed for handling mountainous terrain and serious descents.
This is a little different than your average all terrain e-bike, but this is a great model and I wanted to include it to show what's out there.
So, don't be mad, just roll with it.
As a real mountain bike, the FS 9 comes with a full, adjustable suspension system allowing you to customize its feel to meet your needs.
It's also packing a Bosch motor (250W, 85Nm) that can reach a top speed of 20 mph with 5 levels of pedal assist to work with (FYI, Bosch makes some of the top e-bike motors out there).
The FS 9 comes with a 625Wh battery (36V, 17.4Ah) that'll give most riders an expected range of 30 – 90 miles depending on how much work you do yourself.
The 2.4″ thick tires on this bike are a lot thinner than the fat tire bikes seen so far, but this is more in line with what a true mountain bike comes with.
Additional features include a 12-speed transmission, hydraulic disc brakes, front/rear lighting, fenders, and an included rear rack.
And with a bike weight of just under 60 lb, this e-bike is easier to haul around than many all terrain models.
The only real downside to the FS 9 is the price – it's certainly an investment.
But if you're an avid mountain bike looking for a sophisticated electric model that'll be able to keep up regardless of where you go, Trek's Powerfly FS 9 is worth checking out.

#5 Aventon Adventure.2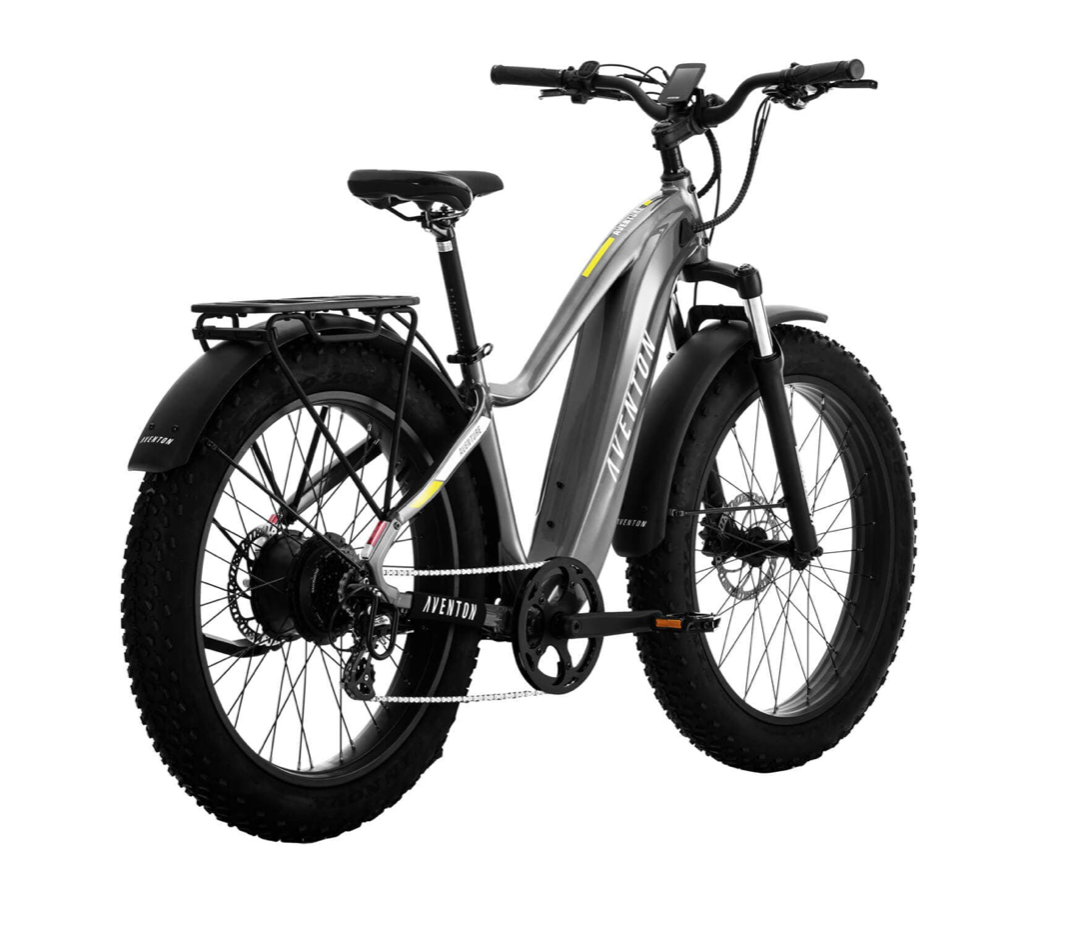 Aventon's Adventure.2 is more in line with what most of us picture when we think about a classic all terrain e-bike and with a price under $2k, it's a lot more approachable as well.
The Adventure.2 is a great looking bike that comes in 2 frame sizes and is available in a step-over or step-thru design.
This bad boy comes with a 750W rear hub motor that can reach a top speed of 28 mph in Class III mode, but it can also be set as a Class II bike when you don't need so much speed.
The 720Wh (48V, 15Ah) battery offers an expected range up to 60 miles depending on ride conditions and the front suspension fork makes for a more comfortable feel when off roading.
The Adventure.2 also comes with 4″ tires, an 8-speed transmission, hydraulic disc brakes, 4 levels of pedal assist, a thumb throttle, and a torque sensor to provide assistance to match your effort.
That's a lot, but it comes with a few extra goodies too.
These include an LCD console, front/rear lights, fenders, and an included rear rack.
Oh, the Adventure.2 even comes with turn signals… how cool is that?
And with a max weight capacity of 400 lb (and the ability to accommodate riders up to 6'4″ tall), this all terrain e-bike can handle folks of all sizes.
Overall, there isn't much to not like about this e-bike – it's well-priced and loaded with great features. See full review.

#6 Blix Ultra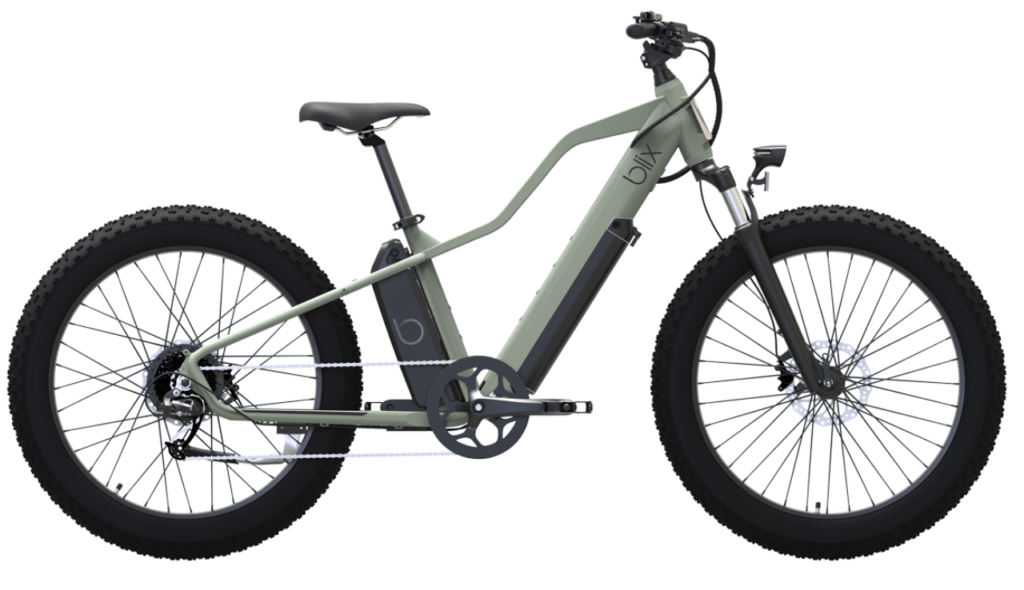 The Ultra is a sleek all terrain e-bike that can work just as well as a cargo bike, allowing you to run errands or take family members for a spin as you please.
This bike comes with 4″ fat tires and a 750W (90 Nm) rear hub motor that power through any rough terrain you face, but it's the battery and rack options that really set this e-bike apart from most in its class.
With the Ultra, you can choose between one or two 48V, 14Ah batteries (each 672Wh).
With the dual battery setup, that's 1,344Wh of battery capacity at your disposal – and the Ultra pulls power from both batteries at the same time, so you don't even have to stop to swap out batteries.
With both batteries, you can ride upwards of 80 miles with a single charge.
This is impressive, but Blix also gives you the option to build out your racks any way you like.
You can choose from all kinds of front baskets, rear racks, seats, cushions, and other accessories to choose from – you can even set your Ultra up to carry young children in their seats.
Other highlights of the Ultra include a bright front light, a bluetooth compatible display, an 8-speed transmission, hydraulic disc brakes, and the option to switch between Class II and Class III mode.
The biggest downside is that the Ultra comes with a rider weight limit of 250 lb, so larger folks will have to look elsewhere.
But if you're looking for a well-priced all terrain e-bike with dual battery capacity, Blix's Ultra is a great choice.

#7 Denago Fat Tire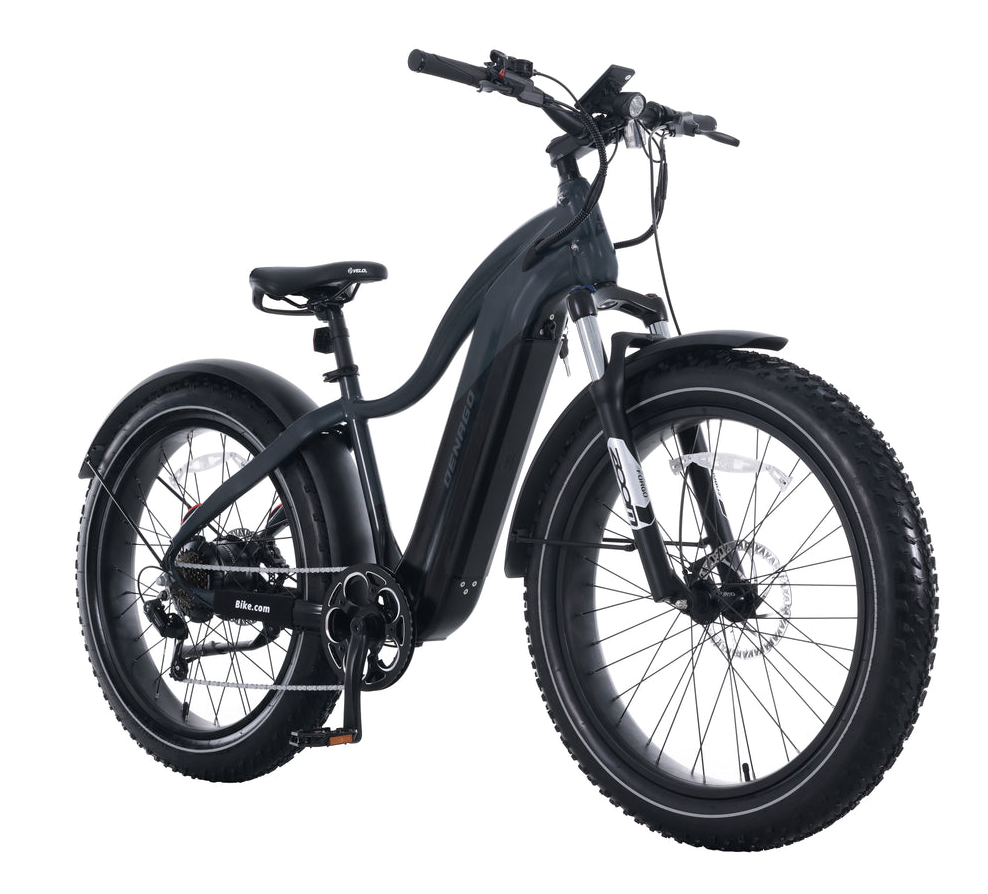 Denago's Fat Tire e-bike comes with a stylish frame, a powerful motor, and a large battery capacity. It's also very well-priced for all the features it offers.
More specifically, this e-bike comes with a 750W rear hub motor that can reach a top speed of 28 mph on pedal assist (Class III).
It's also packing a 921.6Wh battery (48V, 19.2Ah) that can offer most a range somewhere between 35 – 60 miles between charges.
Combine that with 4″ fat tires and a front suspension fork and you're well set for a full day of off roading adventure.
The Denago's performance specs are great, but this e-bike comes with some nice additional features as well.
This bike also comes with a 7-speed transmission, hydraulic brakes, a color LCD console, large fenders, and integrated front/rear lighting for added safety.
I also want to point out how large and cool looking Denago's fenders are – with these puppies, you shouldn't have to worry about getting dirty while you ride.
And with an asking price well under $2k, this fat tire bike is priced to move.

#8 The RadExpand 5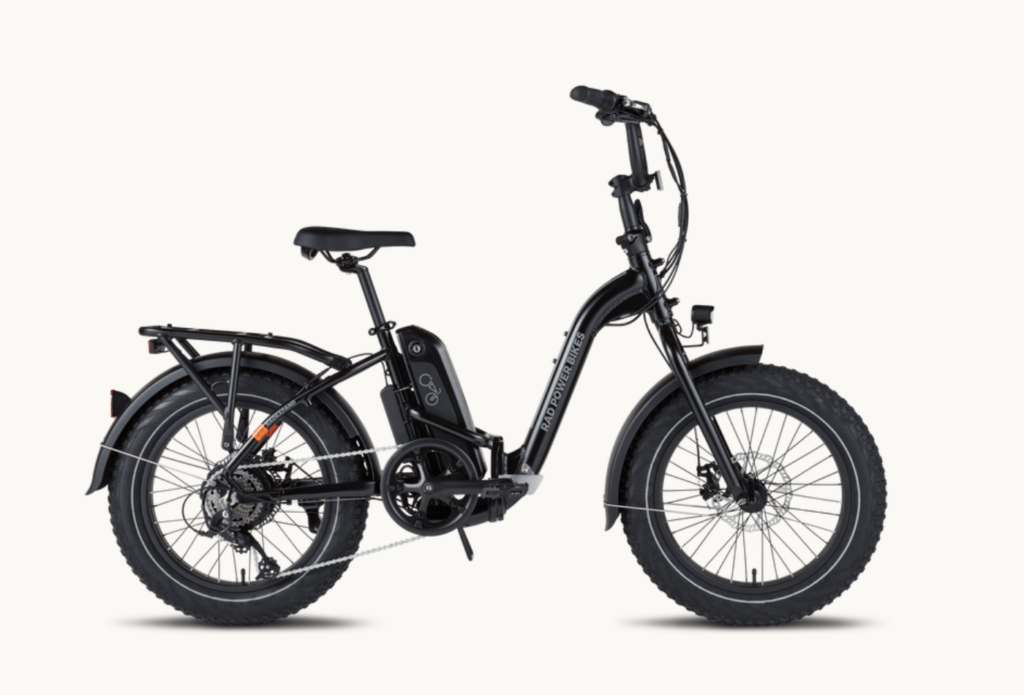 Rounding out my list here is another fat tire bike by Rad Power Bikes.
The RadExpand 5 is the most affordable e-bike on this list, but it can actually do something no other cycle here can – fold.
Yup, this is a folding fat tire bike, so it can fold down for storage in-between rides, which comes in handy when storage space isn't exactly plentiful.
But don't let the fact that this bike folds fool ya, it can still bring the pain when it comes to performance.
The RadExpand 5 comes with a 750W rear hub motor that reach a top speed of 20 mph through pedal assist or via throttle, making it a Class II e-bike.
And it comes with a 672Wh battery (48V, 14Ah) that'll give most riders a range somewhere between 25 – 45 miles.
I mentioned the fat tires (4″), but the RadExpand 5 also comes with a 7-speed shifter, front/rear lights, 5 levels of pedal assist, and an LED console.
But the fact that this bike folds is one of its coolest features.
The RadExpand 5 can fold down to take up an area of 29″ x 25″ x 41″, making it easy to stow away or toss in the back of a car after your ride.
This is cool, but this foldability does take a little away from its cargo carrying capacity – this e-bike only comes with a weight limit of 275 lb and has a rear rack capacity of only 59 lb.
It's really only designed for folks 5'10" or shorter as well, but if you fit the size requirements and are looking for a high performing folding e-bike, the RadExpand 5 is a top option.

Final Thoughts
I think that about does it.
It was a lot of fun researching these e-bikes for this guide and it really did make me appreciate how many great all terrain options are out there.
And it's surprising too how many of 'em are reasonably priced.
In other words, it's not an easy decision choosing between these electric bikes, but I encourage you to have fun with the process.
Compare those performance specs and see which ones offer the features you're looking for.
And if you're planning on doing some real off roading, check those suspensions systems and choose an e-bike with multiple gears.
Anyway, I hope you found this guide helpful and as always, if you know of any great bikes I missed, please leave a comment below to let me know.
Happy riding.