The name here says it all.
With a powerful motor and fat, all-terrain tires, Aventon's Adventure.2 is one electric bike that can take you anywhere you want to go.
And it'll get ya there in style too, if I don't say so myself.
I mentioned the motor and tires, but additional highlights include a 720Wh battery, an 8-speed shifter, a torque sensor, and a robust frame that can handle a 400 lb payload.
And with the option to choose between two frame styles, there's not a lot to complain about here – especially considering the reasonable asking price.
I'll cut to the chase and tell ya up front that I think the Adventure.2 is easily one of the best all-terrain e-bikes around, but there are a lot of great options to choose from in this price range.
So, is the Adventure.2 really the best option for you?
Well, that's what I'm here to help you figure out.
In this review, I'll go over all the details you need to know about this e-bike, but I'll also discuss how it stacks up against some of the other top e-bikes in this class.
After reading, you'll know whether or not it makes sense to invest in the Adventure.2.
Alright, let's get to it.
Quick Stats
| | |
| --- | --- |
| Motor | 750W rear hub, 80Nm torque |
| Top Speed | 28 mph |
| Battery | 720Wh |
| Range | up to 60 miles |
| Weight Limit | 400 lb |
| Weight | 77 lb |
The Aventon Adventure.2 Ebike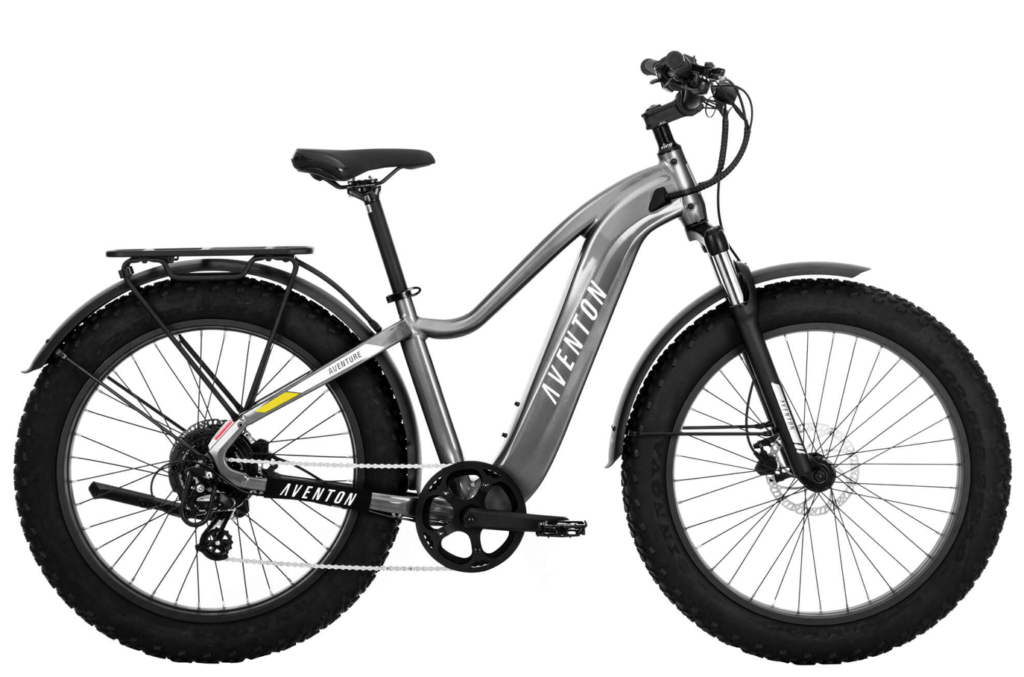 Aventon, unlike a lot of the e-bike brands we see now, didn't start out selling electric bikes.
Nope, they actually started out as a traditional cycling brand, specializing in fixed gear cycles (or "fixies" as they're casually known as).
These are single speed bikes, meaning you don't have any adjustable gears to work with and they apparently have a pretty big following.
And it looks like Aventon was carving out a nice space for themselves in this niche (they even won some international races), but they decided to switch over to the electric side shortly after.
Their first e-bike was the original Pace 500 (of which they now offer versions 2 & 3) which came out in 2018, but since then, they've created a diverse lineup of e-bikes to choose from.
The Adventure.2 we're here to talk about now is one of their all-terrain options and it's an upgraded version of their original Adventure, which is still available.
Let's start things off with a rundown on the top performance specs, then we'll dive into all the features this e-bike has to offer.
Pros
750W rear hub motor
80Nm torque
720Wh battery
Great range
Heavy-duty frame
400 lb payload
Comes in 2 frame options and 2 sizes
Torque sensor
Upgraded console
8-speed shifter
Hydraulic disc brakes
Front suspension fork
Fenders
Huge tires
Headlight
3 amp charger
Good warranty
Reasonably-priced
Cons
Heavy
Not compatible with a passenger kit
Motor
Motors are fun to talk about, but they're paramount when it comes to your e-bike's performance – especially when it comes to all-terrain bikes.
Generally speaking, having a more powerful motor means faster acceleration, better hill climbing capabilities, and better performance over rough terrain.
When comparing e-bikes, it's a good idea to think about the motor's power output (measured in watts, 'W'), but it's also a good idea to look for the torque rating.
Torque refers to the rotational power the motor can create and seeing higher torque ratings usually means better acceleration and hill climbing.
One could probably argue that the torque rating is more important than the actual watt output…
Either way, I think it makes sense to look at both.
The Adventure.2 comes with a 750W rear hub motor that has a torque rating of 80Nm (Newton-meters).
In terms of watt output, 750W is about as strong as you're likely going to see.
Yes, there are some brands (like Juiced Bikes) that offers 1,000W motors, but these aren't street legal in all areas, so most brands stop at 750W.
With 750W powering you though, you won't have to worry about having enough power to get where you want.
80Nm of torque is also quite high, especially since most e-bikes need at least 60Nm for impressive hill climbing.
These stats are impressive, but there are a lot of impressive all-terrain e-bikes with similar specs.
For example, Juiced Bikes' RipCurrent S comes with a 1,000W/90Nm torque motor and Ride1Up's Rift comes with a 750W/95Nm motor.
To be fair, they're both a little more expensive (and again, 1000W might not be legal everywhere), but still worth noting.
The Adventure.2 is shipped as a Class II bike (20 mph top speed with throttle/pedal assist (PAS)), but you can switch it to Class III mode to get up to 28 mph on PAS.
Overall, there are stronger e-bikes in this price range, but the Adventure.2 still scores highly in this department – and it easily has enough muscle for impressive hill climbing and to power through any terrain.
Battery
Having a powerful motor is great, but they require larger batteries to give 'em the juice they need to perform.
Well, that's assuming you want an e-bike with a decent range anyway.
E-bike batteries come in a lot of different variations and it can get a little confusing trying to compare all the voltages, amps, cell numbers and whatnot when trying to find the best option.
And yes, most brands offer their estimates with regards to their bikes' real-world ranges, but most are pretty generous with their estimations.
And I don't blame 'em.
But it's smart to do your own homework and luckily, it isn't that tough to compare these batteries against each other if you use the watt-hour (Wh) spec.
This spec is found by combining the battery's voltage (V) and the amp-hour (Ah) rating (Wh = V x Ah) and it's an easy number to look for to get an idea as to how large the battery's capacity is.
Generally speaking, larger Wh ratings mean more mileage between charges.
But keep in mind, there are a lot of variable that effect real world range, including rider size, the terrain, riding conditions, and how much motor assist you use.
But again, seeing a higher Wh rating is a good sign the bike will come with better range.
With all of this in mind, the Adventure.2 comes with a 720Wh (48V, 15Ah) battery that according to Aventon, can offer a range of up to 60 miles.
Now in order to get anywhere near 60 miles, you'll have to be a smaller rider, using PAS level 1 over level ground… but it's possible.
Most folks will likely be using quite a bit of motor, meaning you'll probably get somewhere around half that range, but ~30 miles per charge is still awesome for such a rugged e-bike.
This is comparable to what a lot of the other top all-terrain e-bikes offer and even quite a bit better than many that come with 672Wh batteries.
The RipCurrent S and Rift mentioned earlier do come with larger battery capacities (995Wh and 960Wh, respectively), but overall, the Adventure.2 comes with a large battery with generous range capabilities.
Frame
So far, I'd say the Adventure.2 comes with a strong motor and great range, but what about the bike's design?
Well, for starters, this e-bike comes in 2 frame options: step-over or step-through.
These describe the orientation of the cross-bar and both bikes are priced identically.
Both frames also come in 2 different sizes (regular and large), giving 4 total options when it comes to finding the right sized bike for your needs.
Between all 4 frame variations, the Adventure.2 should be able to comfortably fit most riders between 4'11" – 6'4″ tall, making it accessible for a lot of folks.
This is great, but at 77 lb, this is also a heavy bike.
The powerful motor, large battery, huge tires, bulky frame… this all adds to the total weight of the bike.
And at 77 lb, I wouldn't want to be hauling this bike up/down stairs or trying to pack it up in a vehicle on a regular basis.
To be fair, Ride1Up's Rift is even heavier at damn near 85 lb, but the Adventure.2 is still quite heavy.
All this extra bulk does come in handy though because this e-bike can handle payloads up to 400 lb, which is impressive for any bike.
FYI, the payload capacity includes the weight of the rider and any cargo being hauled on the rear rack.
Overall, I like that Aventon gives us the choice to choose between the 2 frames and 2 sizes for each and I love seeing the high weight capacity.
The only downside here is that this extra weight will certainly make the Adventure.2 hard to move around.
Warranty
Aventon offers the following warranty on their Adventure.2:
2 year frame (upgradable up to lifetime)
2 year parts/components
1 year accessories
Aventon's standard warranty for the entire bike is 2 years – this includes the frame, motor, battery, and pretty much any other integral component of the bike.
But if you register your warranty with Aventon within 90 days of purchasing, they'll give you a lifetime frame warranty.
Pretty sweet deal.
They cover any additional accessories you might purchase with a 1 year guarantee, which is pretty standard stuff.
Two years on everything is a solid warranty, considering plenty of brands in this price range only offer 1 year warranties on the frame/components.
And we're talking good brands, like Ride1Up, Juiced Bikes, and Rad Power Bikes.
Overall, I think Aventon's guarantee is pretty solid.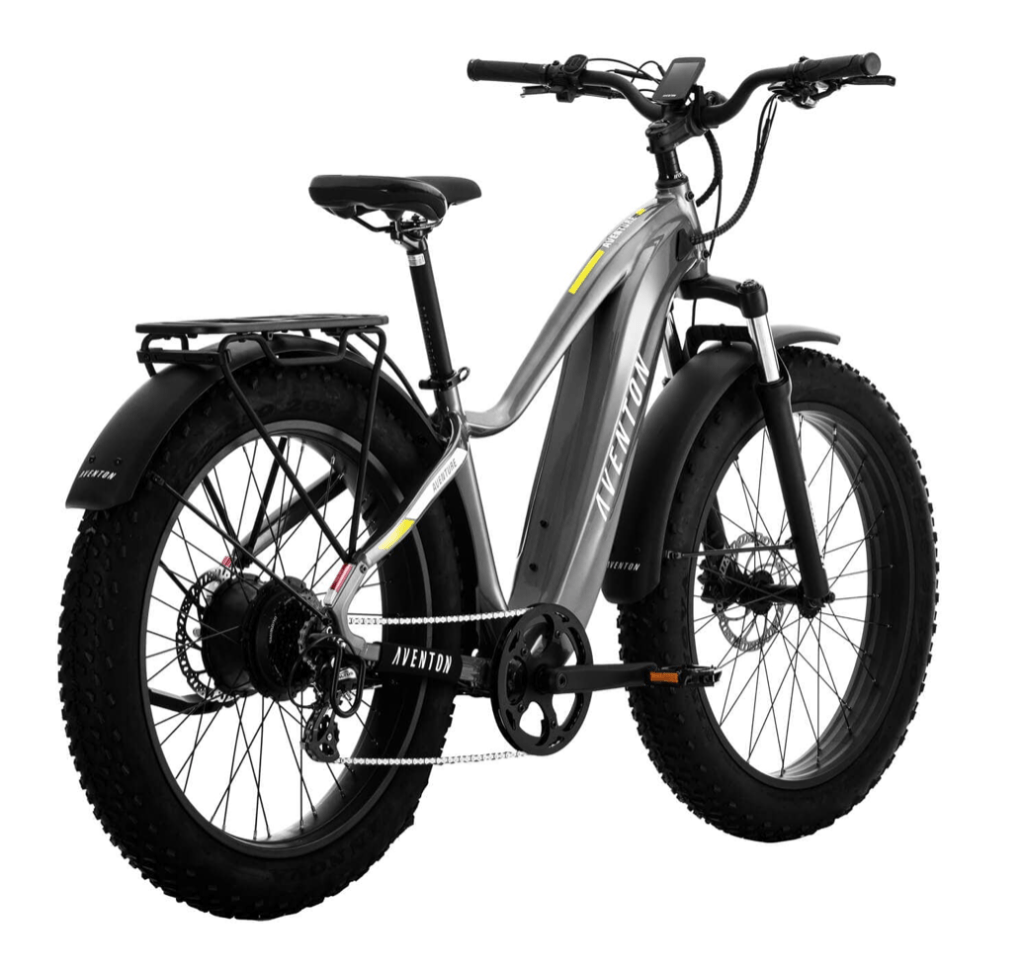 Features
The Aventon Adventure.2 comes with the following included features:
Full color display- Aventon's upgraded consoles are backlit and brightly-colored for easy visibility, making it easy to view all your riding stats. This LCD console is also bluetooth compatible with the Aventon app, allowing you to save ride info and share with the online community.
Torque sensor- the console is nice, but it's the inclusion of a torque sensor that sets this all-terrain e-bike apart from most in its price range. The torque sensor (as opposed to a cadence sensor) gauges how hard you're pedaling and gives you motor output to match your effort. The result is a smoother, more natural pedaling feel, but it also helps extend your range as well.
Thumb throttle- but sometimes you don't want to pedal at all and that's ok. The Adventure.2 comes with a thumb throttle that'll give you all the motor you want, anytime you want it.
8-speed shifter- with 8 gears at your disposal, you'll have a lot of room to fine tune your effort while pedaling.
4 levels of PAS- and with 4 levels of PAS, you can control how much motor assist you get as well. Cranking the PAS all the way up gives you a lot of motor, while keeping it low makes you work harder while pedaling.
Hydraulic disc brakes- hydraulic disc brakes offer the best stopping power, so the Adventure.2 is well-equipped for powerful braking regardless of how fast you're going.
Suspension fork- there's a shock-absorbing fork in the front that'll help reduce the bumpiness you'll feel when going off-road (80mm travel), but you can also lock it out when you don't need it.
26″ x 4″ tires- it's hard to miss the huge tires on this e-bike. They look cool, but they are what really make this e-bike "all terrain". These puncture-resistant tires are really fat, making them great when it comes to handling rough and sloppy terrains.
3 amp charger- Aventon includes a fast charger, allowing you to get this e-bike charged up a few hours faster than the 2 amp chargers most brands include.
Headlight- there's an integrated headlight, making travel at night a lot safer.
Fenders- the included fenders will help keep you clean and dry during rides.
Rear rack- and finally, there's an included rear rack, giving you a place to put cargo. The rear rack isn't as heavy-duty as some others and it isn't compatible with a passenger kit.
Comps
I've mentioned a few comps throughout this review, but let's get into a little more detail here.
As I'm writing this, Aventon has the Adventure.2 on sale for $1799, which is a little cheaper than the regular listing price of $1999.
I'm not sure how long this price will last, but I'm still gonna use it to choose the comps.
The first one I want to mention is Juiced Bikes' RipCurrent S, which is on sale for $1699 as I'm writing this.
The RipCurrent S comes with great performance specs, including a 995Wh battery, a 1000W hub motor (90Nm torque) and a 9-speed shifter.
It also comes with a torque sensor, which again is pretty surprising for this price range.
This e-bike is very similar to the Adventure.2 with its other features, although Aventon's console is nicer and I think the Adventure.2 is a better looking bike cosmetically.
The next comp I want to bring up is Ride1Up's Rift, which is selling for $1895 at the time of writing this.
The Rift comes with a 750W hub motor (95Nm torque), a 960Wh battery, and an 8-speed shifter.
It uses a cadence sensor, but it comes with a heavier-duty rear rack that can handle loads of up to 150 lb – and it is compatible with passenger kits, in case you want to take a loved one along for rides.
The last bike I want to mention is Rad Power Bikes' RadRover 6 Plus, which is on sale for $1399 at the time of writing this (normal price closer to $2k).
The RadRover 6 Plus comes with a 750W hub motor (80Nm torque), a 672Wh battery, and a 7-speed shifter.
It only comes with a 275 lb payload and is a Class II e-bike, but for the price, it has a ton of great features.
Final Thoughts
Alright, I think that'll about do it.
As I came out and said at the beginning, I think the Adventure.2 is easily one of the best all-terrain e-bikes under $2k.
The bike comes with a powerful motor, a large battery, a heavy-duty frame, and a lot of great additional features you can't take for granted (like an upgraded console and a torque sensor).
The biggest downsides I see are that this is a heavy bike, so it's not gonna be that easy to move around and the fact that the rear rack isn't heavy-duty enough for a passenger kit.
So, if you like the idea of taking passengers for a ride, the Adventure.2 isn't the best option for ya.
And as I think I illustrated above, there are some other great all-terrain e-bikes in this price range.
Personally, I think I like the RipCurrent S and Rift a little better than the Adventure.2, but there's no wrong answer here – it just depends on what you're looking for.
If you're looking a sleek looking all-terrain e-bike with a torque sensor and a sophisticated console, the Adventure.2 makes a lot of sense.