With huge tires, a powerful rear hub motor, and surprisingly large battery capacity, Ride1Up's Rift is the perfect example of what an all-terrain e-bike should offer.
Specifically, this impressive specimen comes with a 750W motor that can be used as either a Class II or III e-bike and a 960Wh battery that'll get most riders between 45 – 60 miles per charge.
And with 26″ x 4″, puncture-resistant tires, there really isn't anywhere the Rift can't go.
Considering this bike also comes in 2 frame styles, includes a robust rear rack, and has a weight capacity of 350 lb, I feel pretty confident saying the Rift is likely one of the best all-terrain e-bikes in its class.
But that doesn't necessarily mean it's the right bike for you.
We have a lot of electric bikes to choose from these days, so before you make any decisions, you really need to do your homework to make sure you're making the right decision.
But don't worry, I'm here to help.
In this review, I'll go over everything the Rift has to offer, but I'll also compare it to some of the other top options in this price range.
This way, you can really figure out whether or not this e-bike is the right fit for ya.
Let's begin.
Quick Stats
| | |
| --- | --- |
| Motor | 750W rear hub, 95Nm torque |
| Top Speed | 28 mph |
| Battery | 960Wh |
| Range | 45 - 60 miles |
| Weight Limit | 350 lb |
| Weight | 84.5 lb |
The Ride1Up Rift All-Terrain E-Bike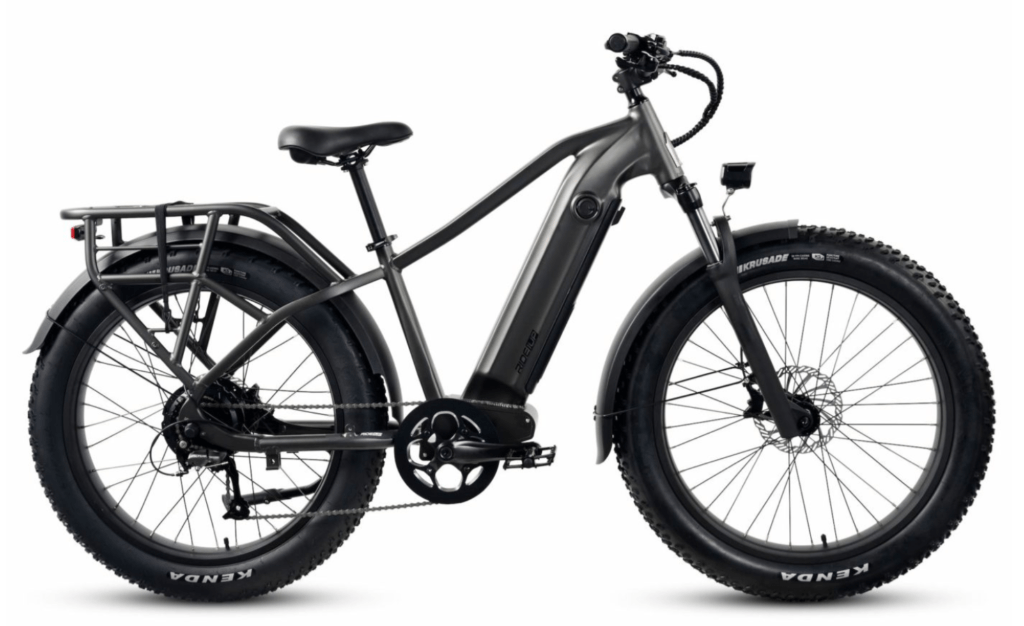 Ride1Up isn't the oldest e-bike brand in the game (they've only been around since 2018), but they've certainly been making a name for themself since they hit the scene.
I'm not really sure why they've become so popular… I guess people like getting fun bikes with quality components that are reasonably priced.
Who would've guessed?
Jokes aside, I get the feeling they're business is booming and as e-bikes become more and more popular, I'm guessing Ride1Up is going to be one of the top brands in the biz.
Anyway, they're lineup is pretty diversified – they offer a little bit of everything when it comes to electric bikes.
And with most of their models costing under $2k, they're priced right in the middle of that sweet spot where you tend to find solid bikes that don't completely destroy your budget.
Speaking of which, I've got their affordable Turris in my garage as we speak and it's been a complete delight.
The Rift we're here to talk about now is one of their newer all-terrain models and it wouldn't surprise me if it becomes one of their most popular bikes.
Pros
750W rear hub motor
95Nm of torque
960Wh battery
45 – 60 miles per charge
Top speed of 28 mph
350 lb weight limit
Choice of frame
5 levels of PAS
8-speed shifter
Color console
Hydraulic disc brakes
Suspension fork
Front/rear lighting
Front/rear fenders
Integrated rear rack (150 lb limit)
26″ x 4″ tires
Compatible with additional accessories
Reasonably priced
Cons
At almost 85 lb, this is a heavy e-bike
Motor
When comparing electric bikes, the motor is usually one of the more fun specs to go over, so I always like to start there.
After all, the electric motor is what sets these bikes apart from the traditional bicycles we all grew up riding, so it's a pretty important piece of the puzzle.
The Rift comes with a 750W, rear hub motor, which is generally as strong a motor as you can expect to find on an e-bike priced under $2k.
Although, Juiced Bikes' Rip Current S does pack a 1,000W rear hub motor, so technically speaking, there are stronger motors out there in this price range.
But not many.
And you might have to be careful with a 1,000W motor anyway because they might not exactly be street legal everywhere – you definitely need to check your local rules and regulations regarding e-bikes to make sure you don't get any trouble.
Regardless, the Rift is packing some pretty serious muscle.
Besides the wattage, it can also be advantageous to compare the amount of torque different motors offer.
Torque refers to the rotational power the motor can provide and seeing higher torque outputs usually means the e-bike will come with faster acceleration and better overall hill climbing capabilities.
Well, the Rift comes with 95Nm of torque, which is also about as high as you can expect to find from any rear hub motor in this price range (and is even more than the Rip Current S's 90Nm of torque).
And considering anything over 60Nm is usually enough to tackle even steeper inclines, the Rift should have more than enough muscle to ascend hills smoothly.
The Rift ships out programmed as a Class II e-bike with a top speed of 20 mph regardless of whether you're using pedal assist or the throttle.
But it can be unlocked to a Class III e-bike with a top pedal assist speed of 28 mph for the riders who are looking for more speed (but if not legal in your area, you can keep it in Class II mode and be fine).
Overall, there's nothing to complain about when it comes to the Rift's motor. This bike comes with a powerful rear hub motor that offers more than enough torque to accelerate rapidly and crush steep inclines.
Battery
But let's be real, it's not all about power – after all, you need a battery that'll be able to get ya where you're going without running out of juice.
Well, the Ride1Up doesn't ask you to choose between power and range because with the Rift you get both.
This e-bike comes with a 960Wh (48V, 20Ah) battery that, according to Ride1Up, should get most riders somewhere between 45 – 60 miles per charge.
FYI, there are several specs you can use to compare electric bike batteries, but most find the watt-hours (Wh) spec the easiest to use because it gives a convenient number to compare between models.
And seeing a bigger Wh rating generally means a larger battery capacity.
Anyway, 960Wh is an impressive capacity.
For the sake of comparison, the RipCurrent S mentioned above comes with a larger 998Wh capacity, but most all-terrain e-bikes come with battery capacities somewhere between 672 – 720Wh.
So, at 960Wh, the Rift comes with a larger battery than most.
And an expected range of 45 – 60 miles is impressive for any e-bike, but it's especially impressive for one with such fat tires.
Keep in mind though, that real world range is vary greatly depending on several things, including terrain, rider weight, and how much pedal assist you use.
But all of that's true for any e-bike.
Overall, the Rift comes with a very large battery and impressive range for an all-terrain bike.
Frame
The Rift is certainly a sleek-looking thing, but when considering the frame, there are probably more important things to consider besides appearances.
I guess we should go over things like weight capacities, weights, and so forth… so here we go.
For starters, the Rift comes in frame styles – the 'XR' or step-over and the 'ST' or step-thru.
The assembled weights (84.5 lb) and weight capacities (350 lb) are the same for both models, but the rider heights that each can accommodate differ quite a bit.
The 'XR' is designed to fit most riders 5'6″ – 6'4″, while the 'ST' will likely fit most folks between 5'1 – 6'2″.
Which makes sense when you think about how much lower the stand-over height on a step-thru bike is.
Either way, I like that Ride1Up offers this bike in both frame designs because it gives us the option to choose the style that's most comfortable for us.
Both frames are also roughly 75″ in total length too, which is pretty average for an all-terrain bike.
But back to those weights.
And damn near 85 lb with the battery, the Rift is quite heavy (all those components, features, and tires add significantly to the weight).
This'l give the bike a stable feel while riding at faster speeds, but it'll also make it more difficult to transport – I know I wouldn't want to be carrying this thing up/down any stairs on the reg.
So definitely something to think about.
On the other hand, this added bulk allows the Rift to safely hold folks weighing up to 350 lb, which is pretty impressive for any e-bike.
Overall, I like that this bike comes in 2 frame styles and has such an impressive weight limit, but it's heavy for an e-bike.
Warranty
Ride1Up offers the following warranty on the Rift:
Yup, that's about it.
They only cover the Rift for a year from manufacturing defects and I know that doesn't sound like a very long guarantee, but it's kinda the norm when it comes to e-bikes in this price range.
Juiced Bikes and Rad Power Bikes, for example, also only offer a single year of warranty.
That said, there are better warranties out there.
EVELO backs their e-bikes with a 4 year/20,000 mile guarantee and Electric Bike Company offers 10 year motor and 5 year battery guarantees (with limitations).
So, there are certainly better warranties out there, but again, a year isn't out of the ordinary here.
Features
The Ride1Up Rift comes with the following included features:
Color LCD display- the console is just over 2″, in color, and brightly lit, making it easy to see how fast you're going, which PAS level you're in, and even how much battery you've got left.
5 levels of pedal assist (PAS)- the Rift comes with 5 levels of PAS, giving you a lot of control over how hard you have to work to keep this bike moving. Using a higher PAS setting means more motor assistance, while a lower setting means less.
Thumb throttle- there's also a thumb throttle mounted on the left handle which you can use at any time (in any PAS level) to get instant motor assist.
8-speed shifter- this bike also comes with 8 gears, so you can make adjustments to change your pedaling efficiency, but with a rear hub motor, the gears won't effect motor performance (unlike a mid-drive motor).
Hydraulic disc brakes- with hydraulic disc braking, this e-bike comes with powerful stopping capabilities.
Suspension fork- there's an adjustable suspension fork with the front tire for added comfort when riding over uneven terrain. It can also be locked out depending on your preferences.
Huge tires- the Rift comes with 26″ x 4″ tires, which are large and fat enough to handle any terrain you'll come across. These are about the largest tires you can expect to find on any e-bike.
Front/rear fenders- the included fenders will help keep you cleaner when riding over dirt, mud, or wet surfaces.
Front/rear lighting- this bike also comes with a headlight and integrated rear light for added safety.
Rear rack- the built-on rear rack is robust enough to handle loads of up to 150 lb and is compatible with baskets and passenger kits, depending on your needs.
Price/Comps
Ok, that about does it for all the specs and features the Rift has to offer, so let's move on and talk a little about price and the other comps that are out there.
Because, yes, the Rift is an impressive e-bike, but there are other impressive bikes out there too.
As I'm writing this, Ride1Up has the Rift listed for $1895, regardless of which frame or color you go with.
Given the specs and features the Rift has to offer, I think this is a great price, but there's still a fair amount of competition out there.
The first comp I want to mention is Juiced Bikes' RipCurrent S, which is priced at $1999 (at the time of writing this).
The RipCurrent S comes with a 1000W rear hub motor (90Nm) and a 998Wh battery that'll give you an expected range up to 70 miles (if you only used it on PAS 1).
The RipCurrent also comes with a 9-speed shifter, a torque/cadence sensor, and the same sized tires.
It's also about 10 lb lighter, but it can only handle riders up to 300 lb and its rear rack can only handle 50 lb loads (isn't compatible with passenger kits).
There's also Aventon's Adventure.2, which is priced similarly at $1999.
The Adventure.2 comes with a 750W rear hub motor and a 720Wh battery that'll give ya up to 60 miles of range and it also comes with an upgraded torque sensor.
Its features are very similar and it come with an even better 400 lb weight capacity, making it another great option.
Finally, I want to mention the RadRover 6 by Rad Power Bikes.
As I'm writing this, the RadRover 6 is on sale for $1399 (normal price around $2k) and it comes with a 750W rear hub motor (80Nm torque) and a 672Wh battery that'll get ya 25 – 45 miles per charge.
The other features are similar, but it doesn't come with an included rear rack and its weight limit is only 275 lb.
Final Thoughts
Based on the comps mentioned above, I think the Rift holds its own quite well for this class of all-terrain, fat tire e-bikes.
It doesn't come with a torque sensor like some of its competitors do, but it's got a great combination of power, battery capacity, and included features.
And with 95Nm of torque, the Rift will likely be the best hill climber of the bunch.
The biggest downside I see here is the Rift's weight – this is a heavy bike.
This added bulk will make it more challenging to move around and transport, but it also makes for a robust bike with an impressive weight capacity.
I also love how heavy-duty the built-on rear rack is and that it can support a passenger kit.
Overall, I think Ride1Up's Rift is a home run and easily one of the best all-terrain e-bikes in its price range. Highly recommended.