The cleverly-named Turris is Ride1Up's take on an electric touring bike and for the price, it's gonna be tough to find a finer specimen.
This comfortable ride comes with impressive specs for its price range, including a 750W motor, a 614Wh battery, a 7-speed Shimano shifter, and hydraulic disc brakes.
And as a Class III e-bike, the Turris is zippy enough to hang with the best of 'em.
As a budget-friendly bike though, it's missing out on some of the higher-end features – most notably, it doesn't come with rear lighting and the console is a little basic.
The assembly is also a little more involved, so it isn't quite as turn-key as some of the more expensive options out there.
But all things considered, I think the Turris is a great e-bike and easily one of the best options in its price range.
But I should probably regress because I'm getting a little ahead of myself here.
In this review, I'll be going over everything this electric bike has to offer, as well as where it falls a bit short.
After reading, you'll know everything you need to in order to decide for yourself whether or not the Turris is worth investing in.
Let's roll.
Disclaimer- Ride1Up was kind enough to send me a Turris to try out for this review, but I haven't been compensated in any other way. This review is based solely on my experience using this e-bike. If you decide to make a purchase through the links in this review, I will receive a commission, but that doesn't affect your price.
Quick Stats
| | |
| --- | --- |
| Motor | 750W rear hub |
| Top Speed | 28 mph |
| Battery | 614Wh |
| Range | 25 - 45 miles |
| Weight Limit | 300 lb |
| Weight | 55 lb |
The Ride1Up Turris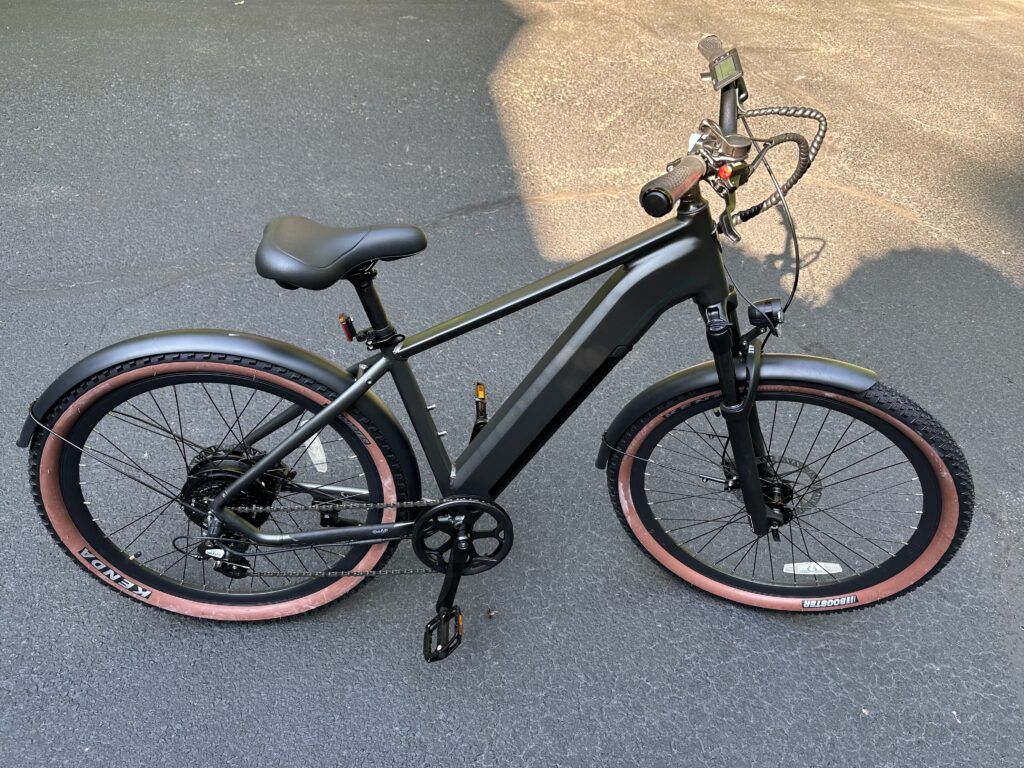 Ride1Up's a respected brand known for providing quality e-bikes that are reasonably priced.
As I'm writing this, they offer 8 different models to choose from and 6 of 'em are priced under $2k. And their most expensive bike, the highly-popular Revv 1, is still under $2500, which is great for a high-end electric bike.
In that lineup, they offer bikes of all varieties and the Turris we're here to go over now is what Ride1Up refers to as "an adventure touring-style bike".
After using the Turris, I think Ride1Up's description is pretty spot-on.
Traditionally, a touring bike is one in which you can comfortably ride for extended periods, carrying whatever cargo you need to get by (basically the same thing as a commuter bike).
You know, a bike you could ride from site to site while touring an area.
Personally, I like to think of a touring bike as the product you'd get if you combined a road bike with a utility bike – and that's basically how I'd describe the Turris.
The Turris is sleek and maneuverable like a road bike, but it has slightly thicker tires that can handle some off-roading when the need arises.
And as a Class III e-bike, this thing has enough power and speed to cover longer distances in a hurry, but more on that in a minute.
Let's start this review off from the very beginning…
Pros
750W rear hub motor
Top speed 28 mph (pedal assist)
614.4Wh battery
25 – 45 mile range
7-speed shifter
5 levels of pedal assist
Thumb throttle
Hydraulic disc brakes
Front suspension fork
Fenders
Headlight
Comfortable seat
Fairly lightweight frame
Puncture-resistant tires
Compatible with front/rear racks, baskets, etc
Great price
Cons
Assembly a little more involved
May have to fine tune derailleur for optimal shifting
Console a bit basic
Assembly
I was actually out of town when the Turris was delivered to my house, but my mother-in-law and kids were kind enough to bring it inside for me (thanks again guys).
Like Rad Power Bikes, Ride1Up's boxes come with a fun design on the outside that adds to the thrill of wanting to open it up and get rolling.
Ride1Up does a great job of packaging their bikes up and everything arrived in great condition.
But that said, their assembly manuals could use a little work.
The written manual is very brief and basically summarizes each step for ya, without including the finer details – luckily, they include a link to an assembly video that shows you how to do everything.
I found the video much easier to follow, but I still had to stop it frequently to make sure I was doing everything correctly.
The assembly process itself isn't super complicated, but it's certainly more involved than some other e-bikes I've used in the past.
For example, with the Turris, you have to attach the front fork and front brake yourself, steps that some other brands have already completed for ya.
You'll also be responsible for attaching the crankset yourself – again, not a challenging task, but something some bikes will already have completed for ya before arriving at your home.
Speaking of which, I should mention that my Turris was missing the crankshaft bolt necessary to attach the crankset.
I'm sure Ride1Up would've shipped one off to me at no charge if I had contacted 'em, but I was eager to test drive this e-bike, so I just went to a bike shop nearby and they gave me one for free.
Otherwise, the assembly process was pretty straightforward, but there was a little fine-tuning that was necessary after getting everything put together.
As mentioned in the assembly guide, you might have to adjust the height of the fenders to make sure the tires don't make contact with 'em.
I had to do this and it was a quick and easy adjustment.
You also might have to tune the derailleur to make sure it shifts smoothly between gears – I also had to do this and it takes a little more time, but it wasn't too difficult to complete.
Ride1Up offers a link to a great instructional video that walks you through the whole process.
Overall, with assembly and adjustments, it took me about 2 hrs or so to get the Turris ready for the road.
Motor
The Turris comes with a 750W rear hub motor that can reach a top motor-assisted speed of 28 mph in pedal assist (PAS) and 20 mph via the thumb throttle.
These speeds make the Turris a Class III e-bike, so it's a good idea to check with your local regulations to make sure it's street legal in your area.
In this price range, rear hub motors are expected, but getting a 750W motor certainly isn't a given – this is a powerful motor for a $1300 e-bike.
A lot of similarly-priced e-bikes come with 500W motors, which is more the norm for this price point (examples include Velotric's Discover 1 and Aventon's Pace 500.2).
So, the Turris comes with a strong motor and it's evident when riding.
The acceleration on this bike is impressive, as is its hill climbing capabilities.
I live in a very hilly neighborhood and we have a few hills (most notably the one to our neighborhood lake) that can be humbling on a non-motorized bike.
I'm proud to say that I can make it up said hill on my traditional mountain bike, but it isn't easy.
Anyway, the Turris made it up this same hill on throttle alone… it slowed down to about 5 mph, but it made it up this challenging hill all the same.
I apologize that I don't know the specific slope of this incline, but it's quite challenging to walk or bicycle up and I'm impressed that the Turris got up it so easily.
This bike also reaches 20 mph easily with the throttle alone, only taking a few seconds on flat paved ground to get there.
I have a pretty long, steep incline to get from my garage to the cul-de-sac and the Turris was going just north of 15 mph on throttle alone by the time I got out of my driveway.
Again, impressive.
This e-bike also comes with 5 levels of PAS, so you can choose how much assistance the motor gives ya and on PAS level 5, it can comfortably reach 28 mph.
While pedaling, I was able to get this bad boy up to 32 mph and it felt great – I think this is the fastest I've ever been on a bike before and it handles the speed marvelously.
Overall, I'm really impressed with how the motor on the Turris performs. It' strong enough to get up steep inclines and it accelerates rapidly to reach its top motor-assisted speed limits.
Oh, and it doesn't sound very loud to me either – it whirls along on PAS level 5, but nothing loud enough to disturb any of my neighbors.
Battery
When comparing e-bike batteries, there are several specs you can compare, but I find it easiest to just look for the watt-hour (Wh) rating because this combines the voltage and amp-hour ratings, giving you an easy way to compare battery ranges.
And seeing higher Wh ratings usually means a longer range, but keep in mind bike weight, rider weight, road conditions, motor usage, and a bunch of other variables play a role in how much real world range you'll get.
Anyway, the Turris comes with a 614.4Wh (48V, 12.8Ah) battery that, according to Ride1Up, should get you somewhere between 25 – 45 miles per charge.
Based on my experience, I think their estimates are pretty accurate.
I'm a 200 lb dude and I was riding with full throttle or PAS level 5 the entire time and I got 22 miles out of a full charge.
And this was with me actively trying to drain the battery as fast as I could.
I was riding on paved roads, but as I mentioned earlier, I live in a hilly neighborhood and I wasn't shy about going up and down some of our steepest inclines.
Based on my experience, I think it's realistic to expect the Turris to get double that range on flatter terrain and with a much lower PAS level.
Based on some of the comps, I would say the battery capacity for the Turris is pretty average.
For example, Denago's City Model 2 comes with a 652.8Wh battery and Aventon's Pace 500.2 also comes with a 614Wh battery.
Velotric's Discover 1 actually comes with a 691.2Wh battery, which is impressive for the price, but overall, I'd say the Turris falls somewhere in the middle in terms of range.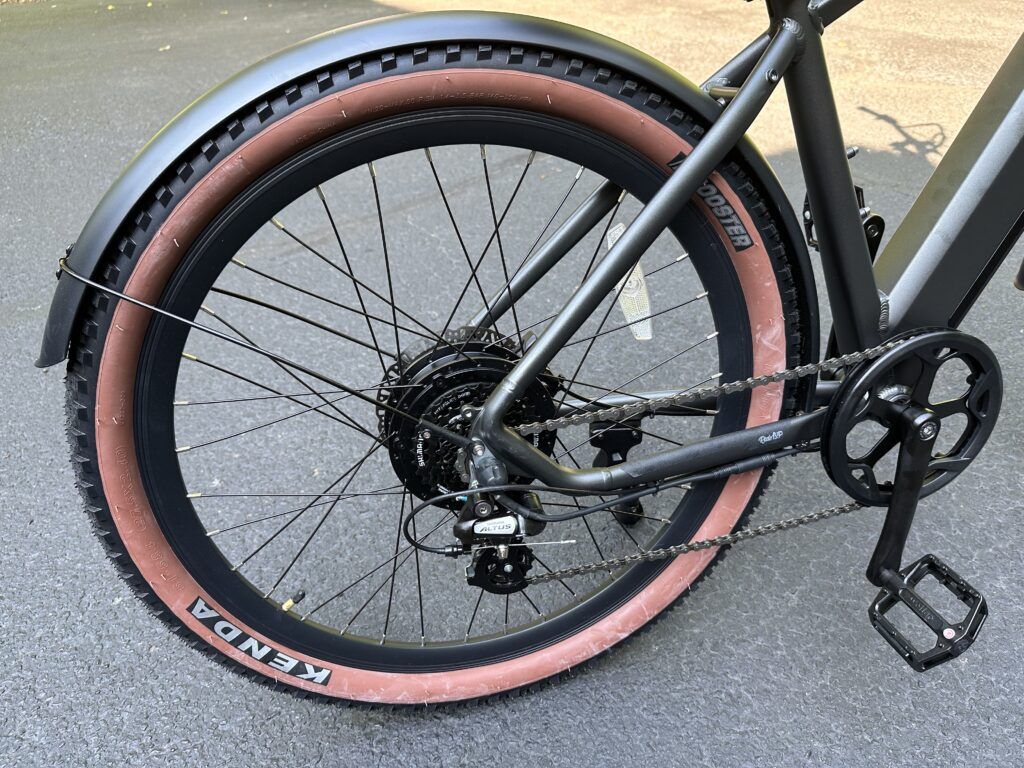 Frame
The Turris is designed as a touring bike, so it comes with a lighter-weight frame that looks a lot like what you'd see on a traditional road bike.
More specifically, it weighs in at 55 lb, making it easy to manage, especially if you pop the battery out.
And at 71.5″ long, it's easy enough to maneuver and doesn't take up a ton of space.
This bike comes in both a step-over and a step-thru design (I got the step-over option) and you can choose between 3 different colors.
The stand-over height on the step-over version is around 30″, so shorter folks might want to consider the step-thru option (stand-over height of 23″).
The seat can adjust from a minimum height of 32″ to a maximum height of 42.5″, allowing it to accommodate riders of most heights.
Personally, I'm 6'1″ and I find it very comfortable to ride on.
The Turris also comes with a max weight limit of 300 lb, which would include the rider and any cargo being carried.
This limit is pretty average for a bike of this variety, but there are similarly-priced e-bikes with higher weight limits for larger riders or folks who see themselves hauling a lot of cargo.
Overall, I find the frame to feel very sturdy and its size makes it easy enough to handle and maneuver while riding.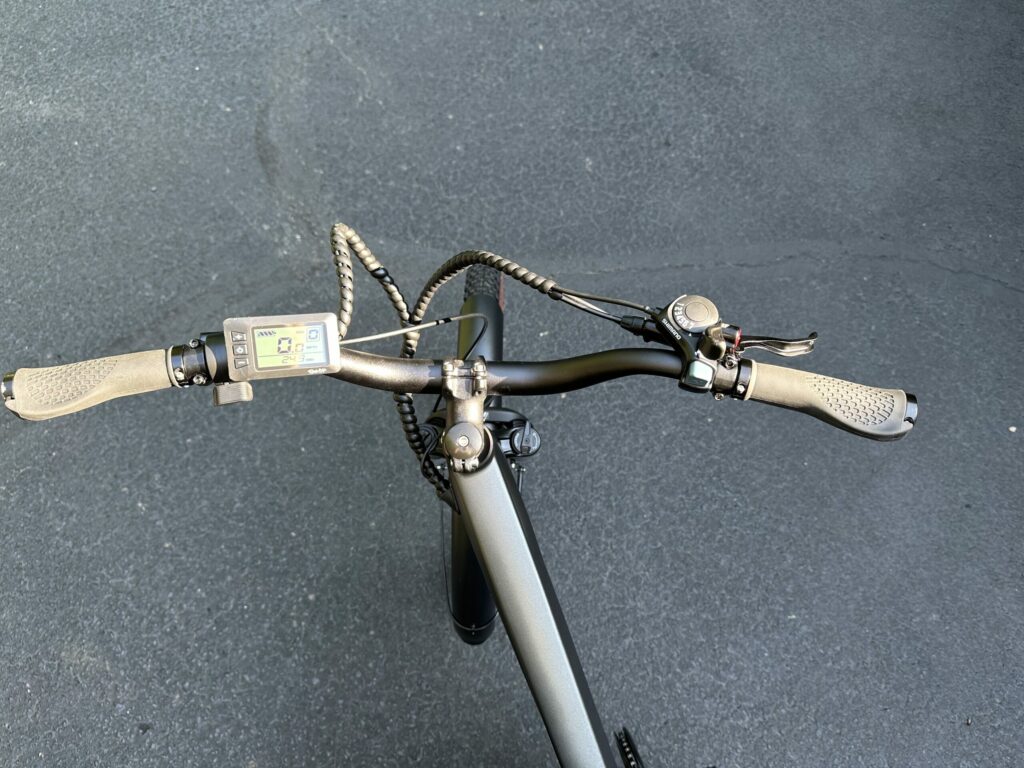 Features
For the sake of my fingers, I'm not going to type out every component and specification the Turris comes with (you can check out Ride1Up's website for all the fine details), but I do want to point out the following features:
LCD console- the Turris comes with a pretty simple display. It isn't color, but it still shows all the pertinent info during rides, including distance, riding time, your speed, PAS level, and even the motor's watt output. I'm not sure if this is a common issue or not, but the speedometer froze on me 2x while riding and I had to turn the console off and on again to get it working. Not a huge deal, but I would say the console is one of the weakest parts of this e-bike.
Hydraulic disc brakes- there's nothing weak about the brakes though. These hydraulic disc brakes have great stopping power and are smooth and quiet during operation.
7-speed shifter- the Turris comes with a 7-speed shifter that's easy to use. As I mentioned earlier, you might have to fine tune the derailleur for optimal performance, but once tuned, they work great.
Thumb throttle- there's a thumb throttle on the left handle, allowing you to get instant motor assistance any time you want it.
5 levels of PAS- you can choose between 5 different levels of motor assistance (0 is no assistance, 5 is most), so you can work as much or as little as you like during rides.
Walk mode- there's also a walk mode, that gives a little motor assistance when walking the bike (hold the 'down' button for it to kick on).
Kenda tires- the Turris comes with large tires (27.5″ x 2.4″) that are thicker than standard road tires, but not nearly as fat as "fat tire" bikes. These tires are a great size to offer both speed and some grip on rougher terrain. I found them to be smooth acting on pavement, grass, and gravel. They're also puncture-resistant, which is always nice for longer rides.
Front suspension fork- this e-bike also comes with a front suspension fork with 100mm of total travel and the ability to be locked out, depending on your preferences. Seeing a front suspension is great for this price range.
Adjustable height seat- the seat is pretty comfortable and can easily be height adjusted.
Headlight- there's an included headlight that's operated from the console.
Fenders- front and rear fenders are included with purchase, again, not a given in this price range.
Rubber grips- the handle grips are rubber and comfortable on the hands during rides.
Accessories- the Turris is compatible with a few additional accessories as well, including front/rear racks, baskets, pouches, and water bottle holders.
Overall Performance
Ok, I've gone over all the most prominent features and components, but I also want to offer my overall impression of the Turris.
After I got it assembled and tuned, I was excited to hit the road.
The first test I gave it was ascending my rather steep driveway on throttle assist only and it passed this test with flying colors – I think I mentioned earlier that I clocked it at 15 mph by the time I reached my mailbox.
Anyway, the acceleration is great and I can easily reach 30 mph pedaling on flat road with PAS level 5.
The throttle is smooth acting and comfortably hits 20 mph (sometimes 21 mph) before the motor cuts off.
I really like the tire size on this bike because they allow it to accelerate fast, but they're still thick enough to handle some light off-roading.
I took it down to our lake and tried it out on the grassy and gravel terrain we have down there and it handled wonderfully. The roads were actually a little wet from it raining earlier in the day and the tires gripped the wet pavement without any issues as well.
I put 22 miles on it in an hour, so that tells ya how fast I was cruising around my neighborhood and the seat and handles were comfortable for the whole ride.
The only issue I've noticed thus far is with the speedometer occasionally freezing at times – the other metrics continue tracking, it's just the speed that got stuck a couple times.
It was easy enough to fix with a quick restart, so I wouldn't consider it a dealbreaker by any means.
But in general, the console isn't super sophisticated, but it gets the job done.
Overall, I think the Turris offers a great ride and is a blast to use.
Price/Comps
Before I wrap this review up, I want to mention a few of the other top competitors in this price range so we can get an idea of how the Turris really stacks up against the competition.
As I'm writing this, Ride1Up has the Turris listed for $1,295 and there are a couple comps in this range I'd like to mention.
First, there's Velotric's Discover 1, which is priced almost identically at $1,250.
The Discover 1 comes with a 500W motor, a 691Wh battery, a 7-speed shifter, and a lot of other features found on the Turris.
It's a little heavier (65 lb), but does come with a 440 lb payload.
The second e-bike I want to mention is Aventon's Pace 500.2, which is priced a little higher at $1,399.
The Pace also comes with a 500W motor, a 614Wh battery, and it comes with an 8-speed shifter.
This bike comes with an included front rack, but it's missing the front suspension and doesn't come with fenders.
Finally, I'd like to mention the Denago City Model 2, which is also priced at $1,399.
The Model 2 is a Class III bike that comes with a 500W motor, a 652.8Wh battery, and hydraulic disc brakes. It also comes with an 8-speed shifter, but it comes with a solid fork (no suspension).
Final Thoughts
Based on the comps mentioned above, I think the Turris holds its own quite well and then some for its price range.
There aren't many bikes in this price range that come with a 750W motor, a front suspension fork, a multi-speed shifter, and hydraulic disc brakes.
It's battery and range are pretty average, but it's going to be hard to find a better configuration of components at this price point.
And to me, this is what sets the Turris apart from any other similarly-pried e-bike I've come across thus far.
This bike's power and feel while riding is awesome (especially considering how affordable it is) and more importantly, it's fun to ride.
The only downsides I've encountered is that the assembly is a bit more involved and the rather simple console it comes with.
But personally, I don't consider either one of these small offenses to be a dealbreaker – no e-bike is perfect, especially one that costs just a little over $1k.
Overall, I think Ride1Up has a great bike here and it's easily a top contender for best in its class.
So, if you're looking for an affordable e-bike that'll get ya anywhere you need to go, you can't go wrong with Ride1Up's Turris.
And I'd like to thank Ride1Up again for giving me the change to try out and review this e-bike. I love your bike and you guys are awesome!