Electric bikes offer a healthy, fun way to get around for folks of all ages and this includes seniors looking to get more exercise or simply enjoy the freedom of the open road.
These days we have a lot of e-bikes to choose from though, and some are certainly more senior-friendly than others.
When shopping for an electric bike for yourself or a senior in your life, it's important to know what to look for to make sure you find a comfortable, safe option that'll be enjoyable to use.
And that's exactly what I'm here to help with.
In this guide, I'll go over everything seniors should consider before choosing an electric bike; I'll offer my 2 cents regarding the best electric bikes for seniors currently on the market.
After reading, you'll be ready to find the right e-bike and hit the road.
But let's start from the beginning.
Choosing An Electric Bike For Seniors
Before we get too far down the rabbit hole here, I want to acknowledge that all seniors are not built the same.
We all age differently and everyone over the age of 65 isn't suffering from arthritis, dealing with mobility issues, or limited by pain or cognitive decline.
That said, as we age, our balance and mobility do tend to decline, making it a little harder for us to get around and do the things we used to take for granted.
As a physical therapist, I deal with this on a weekly-basis.
So, when coming up with this list, I was thinking of e-bikes that would be stable, easy to access, and comfortable to ride for seniors who may be dealing with some mobility issues.
But if you're lucky enough to not be dealing with any of these issues, you may not have to pay as much attention to some of the considerations mentioned below.
Anyway, here are some of the top considerations I think seniors should be making as they search for the right electric bike:
Access/Stability
The most important thing seniors should be thinking about when looking for the right e-bike is whether or not it'll be safe to get on and use.
This is true for all seniors, but especially those who have stiff joints that could make it difficult to step over the frame or balance issues that could make starting from a cold start challenging.
In these cases, it could make sense to go with a bike with a step-through frame or even an electric tricycle.
Bike frames basically come in two designs, step-over or step-through.
Step-through bikes have a much lower frame, making it easier to access the seat, while step-over bikes come with a higher, more traditional frame design.
If you're really concerned about being able to comfortably get on the seat, you can even compare standover heights (the distance from the ground to the lowest part of the frame, indicating how high you'll have to raise your leg to get on the seat).
And when it comes to max stability, you can't beat an electric tricycle.
The third wheel means you can sit on it without having to balance yourself, making trikes a lot easier to get started – not to mention the extra stability you get while riding.
Electric tricycles are a great choice for seniors with balance concerns.
Weight
Electric bikes are awesome, but the motor and all the other accessories and features they have can make 'em pretty heavy.
If you think you'll be having to carry your e-bike or transport it in and out of vehicles often, it's a good idea to check out those assembled weights.
A lot of e-bikes weigh somewhere between 50 – 65 lb, but there are lighter-weight options out there too.
Bikes with large batteries, fat tires, baskets, racks, fenders, and other goodies will weigh more; bikes with fewer accessories will weigh less.
Keep in mind most bikes let you remove the battery as well, which can drop 6-8 lb off the total weight.
Oh, there are also plenty of great folding e-bikes out there and these could make smart choices for seniors with smaller homes or who plan on traveling with their e-bikes regularly.
Comfort
Everyone wants a comfortable e-bike, so this one isn't specific to seniors, but it can be more crucial if you're prone to aches and pains.
When looking for a comfortable e-bike, things to look for include larger seats, quality hand grips, and the sitting position.
And by sitting position, I mean how upright or flexed forward the bike puts ya while riding.
Traditional road bikes and commuters tend to have lower handles, requiring you to lean forward more while riding; on the other hand, cruisers and utility e-bikes usually have higher handles, allowing you to sit more upright.
One isn't necessarily better than the other, but the upright sitting position tends to be more comfortable for folks dealing with back issues.
Power/Range
Seniors should look for a comfortable bike that's easy to access, but you also want to make sure you have a quality bike that can perform.
And when it comes to performance, the motor strength and battery range are paramount.
E-bike motors come in various strengths, measured in watts, but most will be 250W, 500W, or 750W.
Having a stronger motor makes it easier to get up hills and reach top speeds, but keep in mind stronger motors will also drain your battery faster.
The motor can be located around the rear tire (rear hub) or in the middle of the bike with the pedals (mid-drive) and each has its advantages.
Rear hub motors are more affordable, but mid-drive motors usually make for smoother operation and offer a more balanced bike.
E-bike batteries also come in a lot of different sizes and capacities and there are several different specs you can look at when comparing these batteries, but I find it easiest to just look for the watt-hour (Wh) ranking.
Batteries with higher Wh rankings will offer a longer range, but again, motor strength plays a big part too.
Most e-bikes today can get 20 – 40 miles on a single charge, depending on how much motor you're using.
But there are e-bikes out there with dual-battery options that can go upwards of 100 miles between charges.
When comparing options, it's a good idea to think about where and how you'll be riding your new e-bike and which specs are most important to ya.
Ok, let's get to the fun stuff already…
The 7 Best Electric Bikes For Seniors
#1 RadTrike Electric Tricycle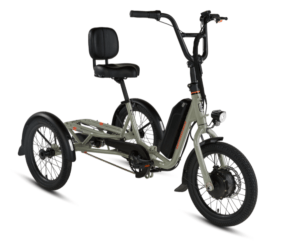 The RadTrike is Rad Power Bike's take on an electric tricycle and it checks all the boxes for a great senior-friendly e-bike.
As a tricycle, you get the stability of the third wheel, making it easy to get on/off it and keep it balanced while riding.
And this being Rad, this trike is equipped with high-end components all around.
Highlights of this electric vehicle include a 750W rear hub motor, a 480Wh battery, 5 levels of pedal assist, a half throttle, and included front/rear lighting.
The RadTrike also has a step-through frame and a standover height of only about 13″, so it'll be easy to access for most mobile seniors.
You'll also notice that the seat comes with a small backrest, giving you a little more support while you ride.
This, combined with the upright position, makes for a comfortable ride.
A full charge should get ya somewhere between 20 – 50 miles, depending on how much you use the motor and with a top speed of only 14 mph, you don't have to worry about this trike getting out of control on you.
It also comes with a direct drive train (single speed), so you don't have to worry about changing gears while riding.
And with a 425 lb weight limit and the ability to fit most folks between 4'10" and 6'4″, the RadTrike can accommodate riders of all sizes.
The biggest downside is that this tricycle isn't light – with the battery, this bad boy weighs about 82 lb (but the handlebars do fold down to make it easier to store and transport).
But if you're looking for a reasonably-priced e-bike that's safe and comfortable to use, the RadTrike is definitely worth considering.

#2 Aventon Pace 500.3 Step-Through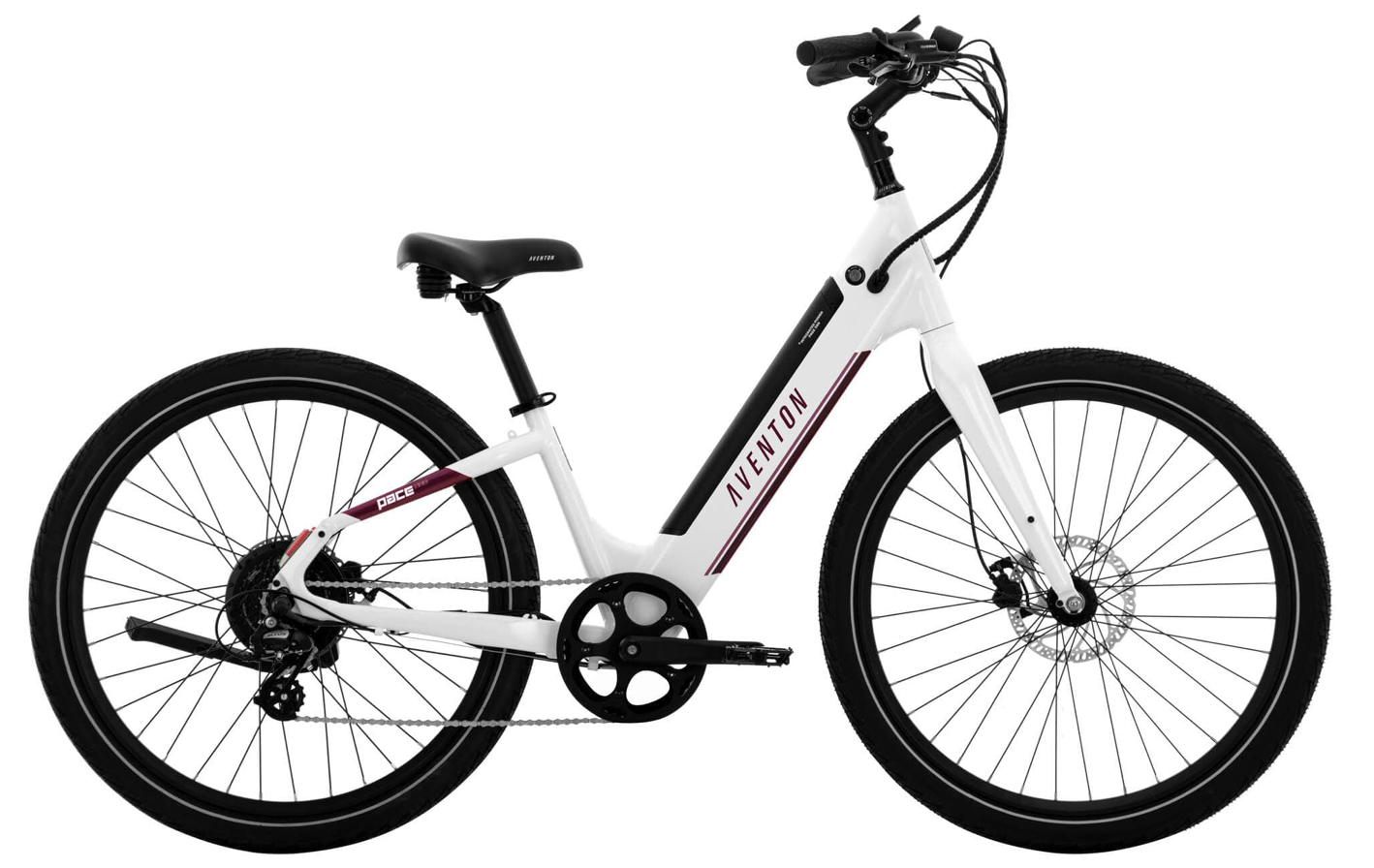 If tricycles aren't your thing and you're looking for a more traditional e-bike experience, Aventon's Pace 500.3 might be more your speed.
The Pace 500.3 is classified as a cruiser, so you get the more upright sitting position, but it's got a more modern style, lacking the beachy vibes a lot of cruisers exude.
As the name suggests, this e-bike has a step-through frame for easier access and it also comes in 2 frame sizes to ensure a better fit.
The 'regular' frame has a standover height of about 16.3″, making it quite easy to get on/off the seat.
When it comes to performance, the Pace has a 500W rear hub motor that can reach a top speed of 28 mph, making it a Class III e-bike (although it arrives programmed as a Class II).
It comes with a 614Wh battery that'll get most riders somewhere between 30 – 60 miles per charge as well, which is pretty impressive for any bike.
Other highlights include a backlit LCD console, 4 levels of pedal assist, a torque sensor, an 8-speed shifter, hydraulic disc brakes, and 27.5″ puncture-resistant tires.
The Pace 500.3 only has a 300 lb weight limit, so not quite as impressive as the trike mentioned above, but that's still plenty to hold most riders.
And with an assembled weight of only 52 lb, this e-bike is a lot easier to haul around too.
Oh, and with an asking price south of $2k, this sporty cruiser is priced to move as well.  All things considered, an all around great e-bike.

#3 Electric Bike Company Model S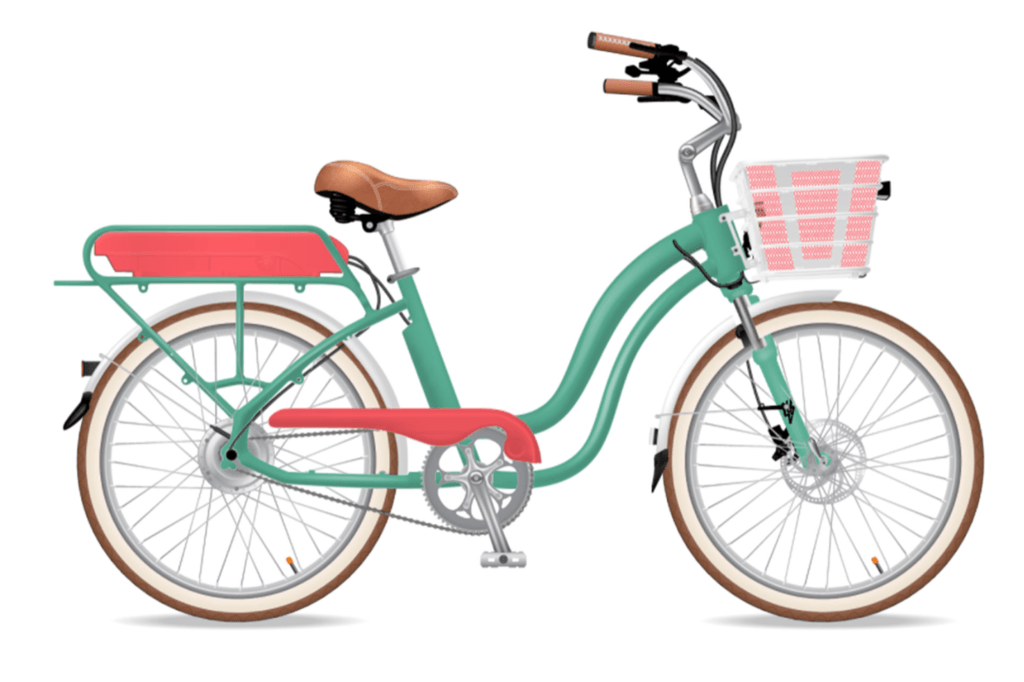 If customization is your thing, you need to check out Electric Bike Company (EBC) because these guys basically let you design your own bike.
Not only are their bikes compatible with tons of different accessories, but you get to choose the color of pretty much every component the bike comes with.
Very cool.
Anyway, EBC specializes in electric cruisers and unlike the Pace mentioned above, their Model S is as beachy as a cruiser can be.
We're talking wide handles, elongated frame, and a large rear rack – but more importantly, a step-through frame with a standover height of roughly 18″.
The Model S comes with a 750W rear hub motor that can reach a top speed of 28 mph (arrives as Class II bike with top speed of 20 mph) and 5 levels of power assist.
When it comes to the battery, you get to choose your configuration, ranging from a 576Wh single battery to multiple batteries with a combined capacity of 1,728W, giving you a max range of up to 200 miles.
Yeah, crazy.
The standard battery on the Model S is housed under the rear rack and it comes with a retractable cord, allowing you to charge it without removing the battery.
This is awesome because you can simply roll up and plug your bike in without having to worry about an external charger.
Other highlights include a large comfortable seat, a color LCD console, hydraulic disc brakes, and 26″ puncture-resistance tires.
As I mentioned, you can pick all your own colors or choose from pre-designed options and you can choose to upgrade your ride with features like suspension seat posts, 7-speed shifters, suspension forks, baskets, fenders, torque sensors, locks, and even alarms.
And with the (single) battery, the Model S only weighs 57 lb and it can handle loads up to 420 lb.
Oh, and this e-bike arrives fully assembled, so you don't have to worry about putting anything together.
Overall, if you're looking for a gorgeous, highly-customizable cruiser, EBC's Model S is a great choice. See full review.

#4 EVELO Compass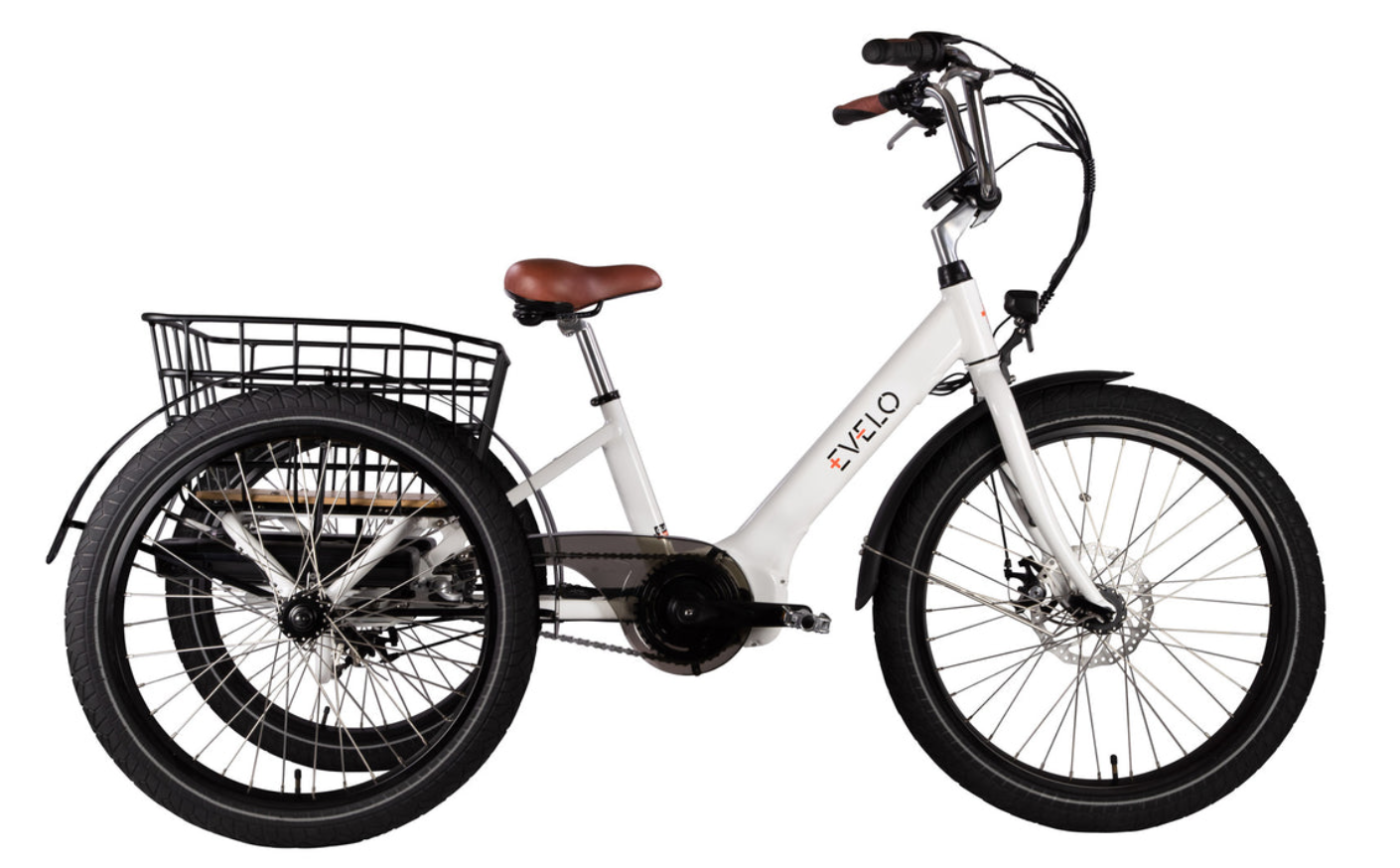 EVELO's another top brand with some reasonably-priced mid-drive bikes and I love that they back their rides up with 4-year/20,000 mile warranties.
This is a lot longer than most other brands and it goes to show how much confidence they have in their products.
Anyway, their Compass is another electric tricycle, but unlike the RadTrike, this model comes with a 500W, mid-drive motor for even higher-end performance.
This trike also comes with a faster top speed (20 mph) and a 3-speed shifter, giving you a little more control over your pedaling.
The Compass comes standard with a 504Wh battery and an expected range of up to 40 miles, but you can opt to add an additional battery for double the range.
The fact that this is a tricycle makes it easier to get on, but the step-through frame and 15″ standover height make it accessible for seniors of all fitness levels.
And with an assembled weight of 77 lb (with battery), it's a little lighter than many electric tricycles.
Additional features include a color console, hydraulic disc brakes, front/rear lighting, an included wood-lined rear basket, and a memory foam seat.
All of these included features come with a larger price tag, but with an asking price of around $3500, I would say the Compass is still well-priced for a mid-drive vehicle.
Overall, if you're looking for a high-performing electric trike, EVELO has got ya covered.

#5 Ride1Up 700 Series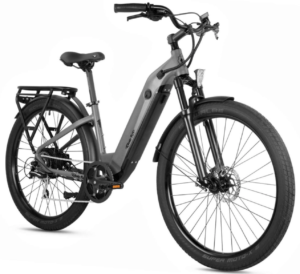 Ride1Up has some of the highest-quality, affordable e-bikes on the market and even though their lineup isn't huge, they do offer a little bit of everything.
I think the 700 Series would make a nice option for seniors looking for a commuter bike because it's easy to access and comes with some nice features for the price.
This e-bike can come as a step-through frame with a 17″ standover height, so most active seniors should be able to get on it fairly easily.
And with a weight of only 62 lb, it isn't overly heavy either.
When it comes to performance, this e-bike comes with a powerful 750W rear hub motor that can reach a top speed of 28 mph with pedal assist.
And with a 720Wh battery, the 700 Series has a surprisingly large battery for this price range (expected range 30 – 50 miles).
Additional included components include an 8-speed shifter, a cadence sensor, a color display, a suspension fork, fenders, hydraulic disc brakes, and front/rear lighting.
It also comes with a large rear rack with a 50 lb capacity.
According to Ride1Up, the 700 Series is best suited for folks up to 6'2″ tall and it comes with a total weight capacity of 300 lb.
This e-bike only comes with a 1 year warranty, but for $1500, it'll be hard to find a better commuter bike. See full review.

#6 EVRYjourney Electric Tricycle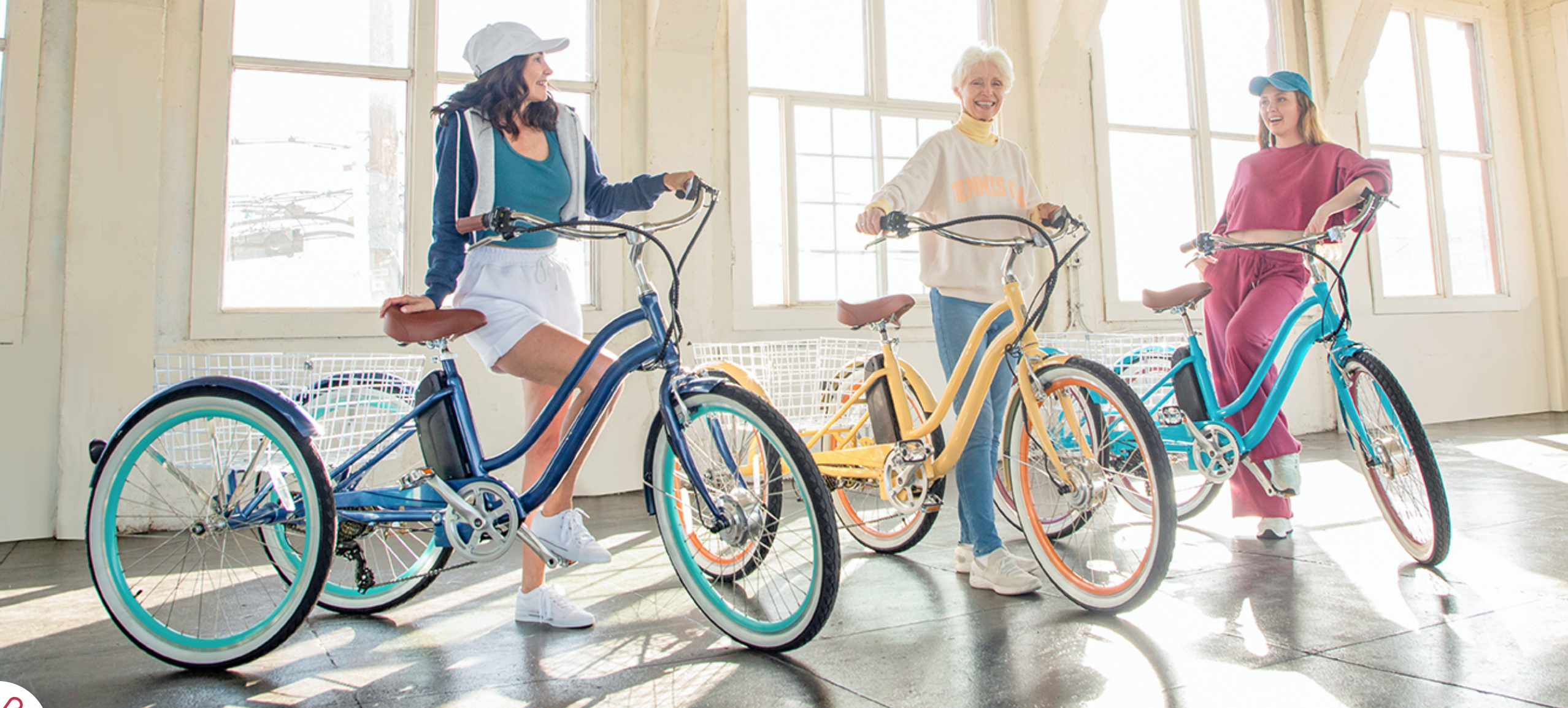 I wanted to sneak one more electric tricycle onto this list because they just make so much sense for seniors looking for a safe, comfortable ride.
And the EVRYjourney Electric Tricycle is a budget-friendly one with some nice features.
This electric trike comes with an enlarged, cushioned seat and an upright sitting position for added comfort, but they also designed the pedals to be a little more in front of the bike.
This design reduces strain through the knees, but it also helps keep this trike a little closer to the ground, while still allowing riders up to 6′ tall to pedal with full extension.
And with a standover height of about 19″, this electric vehicle should be pretty easy to access.
When it comes to performance, this tricycle comes with a 250W motor that can reach a top speed of 15 mph in throttle mode or 28 mph with pedal assist.
And it comes with a 250Wh battery that'll get ya around 15 miles with throttle only and upwards of 50 miles with minimal pedal assist.
Other highlights include a 7-speed shifter, an LCD console, 26″ tires, fenders, and an included rear basket for hauling.
This trike weighs in at around 76 lb, so it's not the lightest thing around, but it does come with a respectable 300 lb weight limit.
Overall, EVRYjourney's Electric Tricycle isn't the highest performing e-bike, but it's safe, comfortable, and takes it pretty easy on the budget.

#7 EVELO Dash
Finishing off my list here is a sophisticated folding e-bike by EVELO.
As a folder, the Dash could be a smart choice for seniors who travel a lot and want an electric bike that can easily be hauled, stored, and taken on the road.
The folding frame and light weight (44 lb without battery) make the Dash easy to move around, but this bike comes with high-end performance features too.
For starters, this e-bike has a 350W, mid-drive motor and a torque sensor to create a natural pedaling feel and a top speed of 20 mph (Class II e-bike).
Seeing a mid-drive motor on a folding bike in this price range is rare, but the Dash also comes with a 5-speed internal gearing system which is even rarer.
With an internal gear hub, you don't have to worry about the chain getting knocked off track or grease messing up your vehicle as you move it around.
Speaking of which, the Dash doesn't use a chain drive either- it uses a carbon belt drive that's maintenance free.
It also comes with a 378Wh battery that integrates seamlessly inside the frame, giving you upwards of 40 miles of range per charge.
Other features include 5 levels of pedal assist, hydraulic disc brakes, a color LCD console, front/rear lighting, fenders, and an included rear rack.
There's not much to complain about here, but the standover height is a bit taller – at 24.5″, seniors with mobility issues might have a hard time stepping over the frame.
The sitting position is also a little more flexed forward, so seniors with back issues may also have difficulty staying in this position for too long.
Overall though, the Dash is one of the nicest folding e-bikes on the market and it could be a great choice for seniors looking for a bike that's easy to move.

Final Thoughts
Electric bikes are fun to ride, but you can still use them for exercise too.
The motor is there to help as much or as little as you like and if you use them on the lowest pedal assist setting, you're still doing the majority of the work.
Having that motor though, especially with a throttle, means you can get a little extra assistance when you need it, like when ascending a steeper incline.
This makes electric bikes great options for seniors because they can ride without having to worry about whether or not they'll be able to make it up a hill.
With that motor assist, you can continue pedaling casually and still make it up steeper inclines.
Personally, I think electric bikes make a lot of sense for our seniors, but safety is still the top priority.
Biking is pretty low impact already, but the motor makes it even more so – so the top issue is really getting on/off the bike and being able to maintain balance while riding.
If either of these is a concern, I encourage you to consider an electric tricycle because the extra wheel makes it a lot more stable and much easier to access.
Anyway, I guess that'll about do it.
I hope you found this guide helpful and as always, if you have any questions or know of e-bikes (or trikes) that deserve a spot on this list, I'd love to hear from ya.
Just leave a comment below and I'll get back to you shortly.
Happy riding!