The Lit Bike is Freebeat's most advanced indoor cycle to date and it would seem it's on a mission to compete directly with Peloton, the OG of streaming cycling.
And, honestly, as budget-friendly competitors go, I could see Freebeat being one of the better choices.
With a 28.6 lb flywheel, 100 magnetic resistance levels, and a belt drive, the Lit has the specs to provide a smooth workout experience.
And with a 21.5″ HD touchscreen console and access to instructor-led workouts geared towards keeping you on beat to the instructor's guidance, this cycle offers a different spin on the traditional streaming workout.
Other highlights include automatic resistance adjustments during workouts, a fully-adjustable seat, and a surprisingly generous warranty.
The only real downside I see here is that I don't think this style of workout is gonna be for everyone – some might find the flashing lights and changing backgrounds a bit distracting.
But if you're trying to distract yourself from watching every minute click off the timer until your workout's finished, this could also be a good thing.
Overall, if you're thinking about investing in an affordable streaming cycle, I think Freebeat's Lit is a pretty solid choice, but before you decide, you should know the full story.
And that's where I can help.
In this review, I'll go over everything this cycle does and doesn't have going for it.
After reading, you'll know once and for all whether or not the Lit Bike is the right option for your home.
Alright, let's do this.
The Freebeat Lit Bike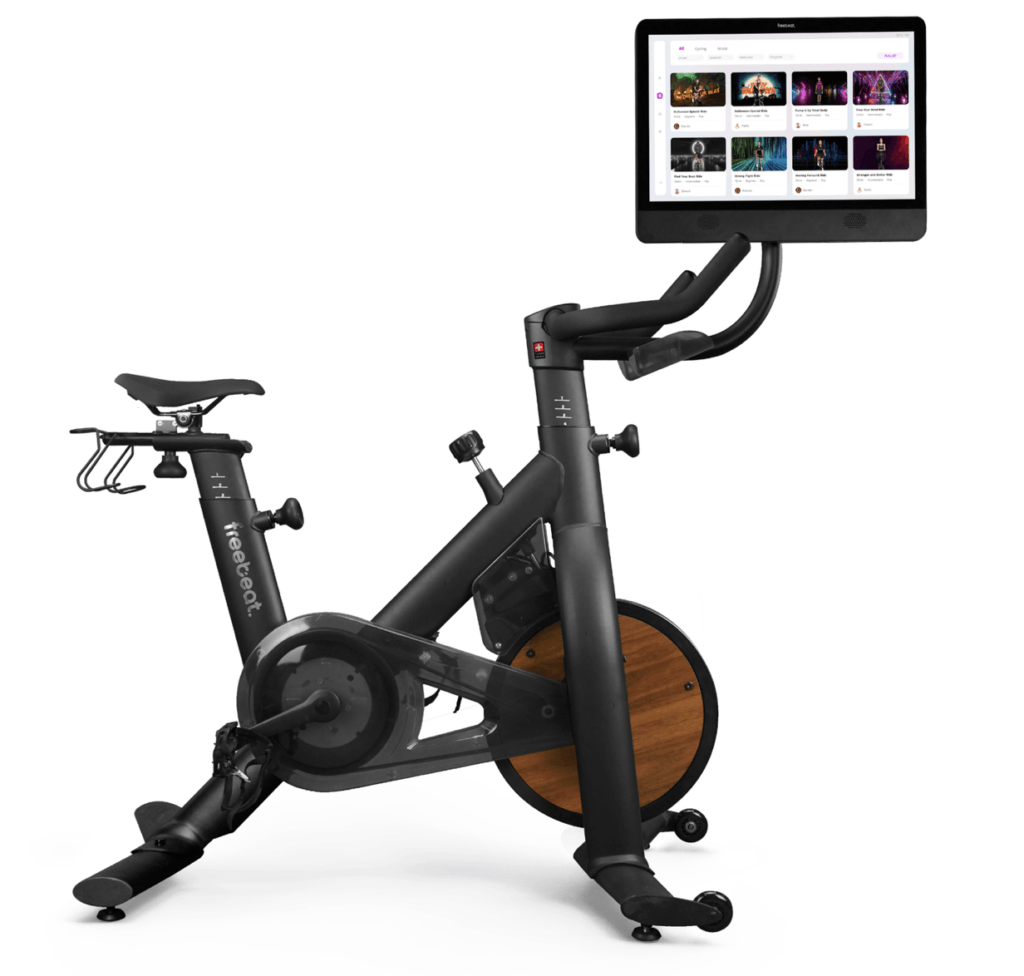 Freebeat is one of the newer streaming brands to hit the market and they're differentiating themselves and their bikes in a couple of ways.
For starters, you'll notice that their Lit Bike's flywheel comes with a wood paneling cover – it obviously doesn't add anything to your workout, but it does look cool.
More importantly, Freebeat's workouts are designed around the rider trying to stay in rhythm with the instructor's cues and music playing during workouts.
And you score points based on how well you stay synced with your instructor.
This is a lot different than the workouts you'll find through Peloton and iFit and this alone could be reason enough for some folks to opt for the Freebeat.
Anyway, as I'm writing this, Freebeat offers two different cycles – the budget-friendlier Boom Bike and the higher-end Lit Bike we're here to discuss now (they've also got a unique, 2-in-1 e-bike known as the MorphRover which is pretty cool).
Let's start things off with a rundown on the performance specs.
Pros
28.6 lb flywheel
100 levels of magnetic resistance
21.5″ HD touchscreen console
Sleek design
Access to gamified workouts
Scenic routes
Bluetooth
Fully adjustable seat
Auto Resistance feature
Weight rack
Pretty heavy-duty frame
300 lb weight limit
Good warranty
Cons
No dual-compatible pedals
Dumbbells not included
Resistance
The Lit Bike comes with a 28.6 lb, front-mounted flywheel and 100 levels of magnetic resistance.
I mentioned that I like the wood paneling on the flywheel, but more importantly, I like that Freebeat gave this cycle a flywheel with some substantial weight to it.
Having a heavier flywheel is usually a good thing (especially for more affordable bikes) because the extra weight helps create a smoother pedaling motion.
That said, I think some brands are going a little overboard with the whole "heavy flywheel" thing and just adding weight to 'em for the sake of marketing.
I mean, do you really need a 45 lb flywheel to get a smooth feel?
I would say no.
Personally, I like to see flywheels that are around 30 lb or so because this is plenty of weight to provide a smooth pedaling motion.
And at roughly 29 lb, the Lit Bike hits this mark nicely.
This bike has enough weight under the hood for smooth pedaling, but I also like that it comes with 100 resistance levels.
This is the same scale Peloton uses and I've come to love it.
Having so many resistance levels gives you a lot of play over the intensity of your workouts, allowing you to make really small adjustments throughout.
The Lit Bike also uses a belt drive, which is preferred over chains because they're quieter and require less maintenance.
In terms of the comps, ProForm's Studio Bike Pro 22 also comes with a 28 lb flywheel, but it only offers 24 resistance levels.
There's also Echelon's EX-5s-22, which comes with a 29 lb flywheel and 32 levels of resistance.
So, based on similarly-priced comps that also come with 22″ touchscreens, I'd say the Lit Bike holds its own nicely.
Frame
In terms of size, the Lit Bike is pretty standard, taking up a footprint of roughly 4′ x 2′, give or take a few inches here or there.
It'll fit anywhere any other indoor cycle will and it's easy enough to move around with its built-in transport wheels.
More importantly though, this bike has got some weight to it.
More specifically, the Lit Bike weighs about 113 lb assembled, which is reasonably heavy for a cycle in this price range.
I like to check out the assembled weight for any exercise bike because I think it gives us a good idea as to how stable we can expect it to feel when riding.
And I like to see heavier bikes because heavier bikes are more likely to feel stable and secure (and wobble less) during use.
In terms of the comps, the Studio Bike Pro 22 mentioned above weighs around 115 lb and Echelon's EX-5s-22 weighs around 124 lb.
So, the Lit Bike is in the right ballpark in terms of weight, so no concerns there.
This cycle also comes with a weight capacity of 300 lb, which is pretty standard for most exercise bikes, but it does allow the cycle to safely fit most riders.
And according to Freebeat, the Lit can handle riders between 5′ – 6'7″ tall.
This might be exaggerated a little (most brands do), but it's still an impressive range.
Overall, I think the Lit Bike scores well in this department. It has a pretty heavy-duty frame and it can safely hold riders of various sizes.
Warranty
Freebeat backs their Lit Bike with the following home warranty:
10 year frame
2 year parts
1 year touchscreen
Ok, all things considered, a pretty darn good warranty here.
Ten years on the frame matches what ProForm and NordicTrack offer on their streaming cycles and it's better than what Peloton offers (5 years).
Two years on parts is also pretty good – this agin matches ProForm and NordicTrack and beats out Peloton (1 year parts).
A year for the touchscreen is pretty average, nothing too exciting going on there.
Overall though, I think Freebeat offers a great warranty for this cycle.
Features
The Freebeat Lit Bike comes with the following included features:
21.5″ HD touchscreen- there's a large, HD touchscreen console mounted front and center making it easy to access all your workouts and metrics. The console can also rotate, making it easier to see while performing all the bike workouts.
Gamified classes- that large console is there because the Lit is designed to be used with Freebeat's streaming service, which gives you access to instructor-led workouts. These workouts are designed so that you earn points by keeping in rhythm with the instructor's cues and they include brightly-lit, changing backgrounds. Some riders will love this, others may find it annoying, but the point-based workouts are a fun way to compete with others. And you can also compete in challenges to win gift cards and other stuff as well.
Membership- you need a membership to Freebeat's platform to access all their workouts and whatnot and they include a free 45 day trial with purchase. After that, it'll cost ya $39/month.
Auto Resistance- the Lit Bike comes with a feature that lets the instructors automatically adjust your resistance during workouts (just like NordicTrack), but you can always adjust it manually too. The workouts are also suppose to adjust to your skill level, helping to keep things challenging for ya so you continue to make gains.
Smart Saddle Detection- there's a sensor in the seat that can tell when you're sitting and when you're standing. This is used to help track your rhythm and keep score during workouts.
Just Ride/Scenic routes- if you don't feel like doing an instructor-led workout, you can always ride manually or enjoy a scenic ride as well.
Fully adjustable seat- you can adjust the height and fore/aft position of the seat, making it easier to find a comfortable position during workouts.
Adjustable handlebars- you can't adjust the fore/aft position of the handlebars, but you can adjust the height.
Toe cage pedals- this cycle comes with toe cage pedals designed to be used with sneakers. This is great if you don't want to mess around with cleats, but it may be a bummer if you like using them. It would be nice to see dual-compatible pedals here.
Bluetooth- the console is compatible with bluetooth headphones and heart rate monitors, but neither is included.
Weight rack- the Lit Bike also comes with a rack for storing small dumbbells, but the dumbbells themselves are sold separately.
Water bottle holder- and finally, there's a place to hold your water bottle.
Price
Alright, let's talk numbers a little now.
As I'm writing this, the Lit Bike is selling for $1,299 – that price may change a little by the time you read this, but I'm hoping Freebeat keeps it there because I think that's a competitive price point for 'em.
At this price though, the Lit Bike does have some competition.
I've mentioned ProForm's Studio Bike Pro 22 already, but I want to mention 'em again because they're likely one of Freebeat's biggest competitors.
As I'm writing this, the Pro 22 is priced almost identically and it comes with a 22″ HD touchscreen, a 28 lb flywheel, and a 10 year frame/2 year parts warranty.
It only comes with 24 resistance levels, but it does come with an included pair of 3 lb dumbbells which is nice.
This cycle uses iFit for its streaming purposes, which is more of a traditional, instructor-led platform without the points and changing backgrounds.
I also want to mention Echelon's Ex-5s-22 again.
It also comes with a 22″ HD touchscreen, a 29 lb flywheel, and 32 levels of resistance. But it's priced a bit higher at roughly $1500 and only offers a 1 year warranty.
Finally, I want to bring up the elephant in the room – the Original Peloton Bike.
The OG is selling for around $1450 these days and it still has a lot to offer – 35 lb flywheel, 100 levels of resistance, heavy-duty frame…
And personally, I still think Peloton's workouts have the best production value, plus they offer tons of on-demand and live workouts of all varieties.
So, considering how much more affordable the Original Peloton is these days, there's plenty to think about…
Final Thoughts
Based on the comps we've looked at it, I think it's fair to say the Lit Bike can hold its own with pretty much any affordable streaming bike out there.
I like that this bike comes with a heavy flywheel and 100 resistance levels and I really like the generous warranty (something we don't usually see on these more affordable cycles).
The only real downside I see is that it would be nice if it came with dual-compatible pedals, but that's far from being a dealbreaker.
So, in terms of the bike itself, I think the Lit is legit… so it really all boils down to the workouts.
If you're looking for something different from the same ol' instructor-led workouts, I could see Freebeat's game-inspired take being refreshing.
At the same time, I could also see all the flashing lights and changing backgrounds getting old after a while.
But I'm old school – I like my traditional cycling workouts where the instructors just tell me what to do and I complain the whole time while doing it.
Overall though, if you're looking for a hip indoor cycle with a fresh take on streaming workouts, I think Freebeat's Lit Bike is a smart choice.