Electric Bike Company's Model S is about as classic a beach cruiser as they come – long frame, wide handles, step-through frame… gorgeous.
But beachy vibes aside, the Model S is rocking some awesome specs and features too.
This sophisticated e-bike comes with a 750W rear hub motor that can reach a top speed of 28 mph, hydraulic disc brakes, and the option to upgrade your battery configuration for a mind blowing range of up to 200 miles.
And this is Electric Bike Company we're talking about here, so of course you can customize damn near every aspect of the bike and choose between several upgrades.
Long-story-short, if you're on the hunt for a powerful beach cruiser with some serious range, I think the Model S is a perfect choice.
If you're interested in the longer story though, keep reading.
In this review, I'll be going over everything this electric bike has to offer; I'll also compare it to a few of the other top options in its price range to see how it stacks up against the competition.
After reading, you'll know whether or not the Model S is the right e-bike for you.
Let's roll.
The Electric Bike Company Model S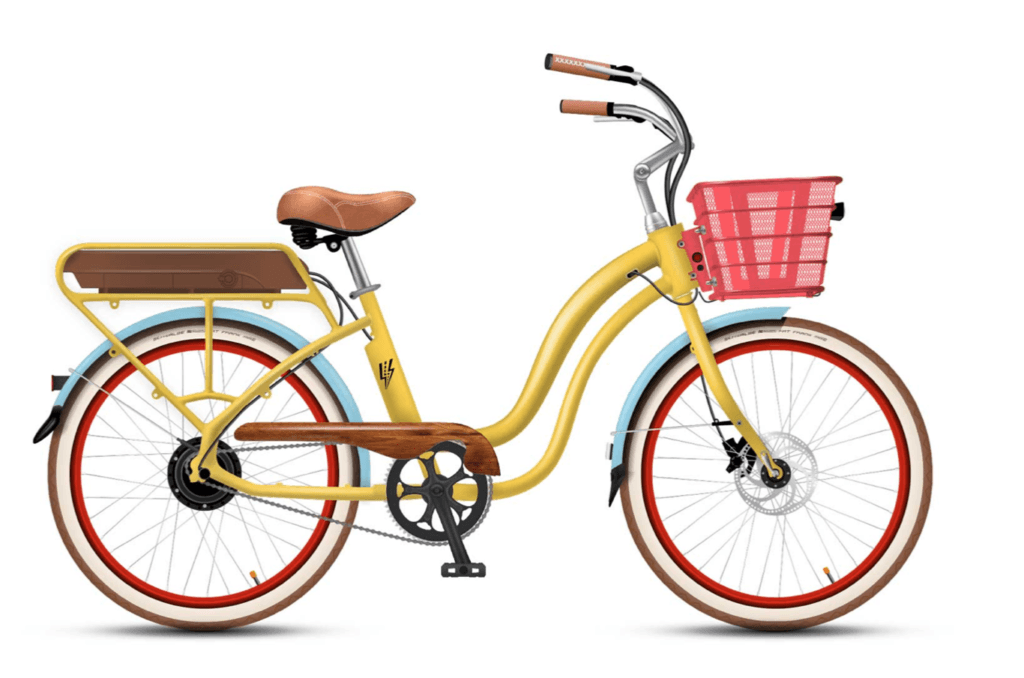 Electric Bike Company (EBC) is one of the more popular e-bike brands here in the US and they're known for their cruiser-style e-bikes that are highly customizable.
Actually, I can't think of any other brand that offers as many options as EBC – you basically get to build your own bike with these guys.
This is great for the folks who like playing with color combinations and designing, but you can also choose from a collection of pre-built bikes if you're not the creative type.
Either route you go, you can rest assured that you'll be getting a quality product.
Oh, and EBC ships their e-bikes pre-assembled too, so you don't have to worry about putting your bike together, which is also nice.
The Model S we're here to go over now is one of EBC's classic cruisers and I know it looks like they offer several similarly styled e-bikes, but at closer glance you'll notice subtle differences in frame styles and battery options.
Although their newer bike, the Model J, certainly stands out as it's more of a motorcycle-inspired e-bike.
Anyway, let's start things off by going over the main performance specs the Model S has to offer.
Pros
750W rear hub motor
Class II/III modes
Choice between several different battery configurations
Max ranges between 60 – 200 miles
420 lb weight limit
5 levels of pedal assist
Retractable charging cord
Welded rear rack
Choice between 24″/26″ tires
Highly customizable
Can choose between pre-designed options as well
Tons of additional features
Gorgeous design
Hydraulic disc brakes
Front/rear lighting
LCD console
Great warranty
Cons
Can get pricey with custom options
Fenders, suspension not included standard
Motor
E-bike motors come in various sizes (strengths) and the location can vary between being located at one of the wheels (rear/front hub) or in the middle of the bike with the pedals (mid-drive).
In general, having a stronger motor is helpful when it comes to acceleration and climbing steeper inclines, but keep in mind that stronger motors will usually drain your battery faster too.
So, depending on what your goals are, a stronger motor may not always be a priority.
And in terms of motor location, mid-drive motors tend to offer smoother output and better balancing, but they're also more expensive.
Rear hub motors are more affordable and they can still perform great.
With all of this in mind, the Model S comes with a 750W, rear hub motor.
This is about as strong a motor as you'll normally see on any e-bike in this price range, especially a beach cruiser.
Although Juiced Bikes does use 1000W motors in their similarly-priced e-bikes, but they don't offer any cruisers.
Regardless, with a 750W motor underneath ya, you won't have to worry about being able to get up hills.
The Model S is a Class III e-bike, meaning it comes with a top pedal assist speed of 28 mph and a top throttle only speed of 20 mph.
Just know that EBC ships these bikes out in Class II mode (20 mph top speed) and they ask you to check with your local biking laws before reprogramming to Class III mode.
Which I find very thoughtful because Class III e-bikes aren't street legal in all areas.
Overall though, the Model S scores highly with such a powerful motor and the option to reach Class III speeds.
Battery
The Model S's motor is nice, but its battery options are even more impressive.
E-bike batteries are essential for determining your total range and if you like the idea of being able to go longer distances between charges, this is a key spec to consider.
E-bike batteries come in various sizes and configurations and there are several specs you can look at when comparing options (voltage, watts, amps, amp-hours, watt-hours, etc).
But personally, I find it easiest to compare watt-hours (Wh) between batteries because this spec gives you a good down and dirty measurement of their capacity.
Basically, seeing a battery with a higher Wh rating means the battery should last longer between charges (but keep in mind motor size and riding conditions will always affect this as well).
Well, with the Model S, you get to choose between several different battery configurations.
The standard option this bike comes with is a 48V, 12Ah (576Wh) battery that gives a max range of up to 60 miles, but you can upgrade that up to an 18Ah (864Wh) battery for a max range of around 100 miles.
And if that isn't enough range for ya, you can also add 1 or 2 additional basket batteries, giving you the option to go all-in with a combined 36Ah (1,728Wh) battery configuration.
With that battery combination, you can go upwards of 200 miles per charge, which is insane for any e-bike.
This is impressive range, but keep in mind upgrading the battery and adding 2 additional basket batteries is going to increase the price of the Model S by about $1300.
But still, pretty cool EBC gives us that option.
Also, keep in mind that these estimates are based on small riders riding with the lowest level of pedal assist on flat, paved ground, so real world conditions will likely result in lower total range.
Regardless, I like that the Model S gives us the option to upgrade the battery capacity.
Frame
As I mentioned earlier, the Model S is designed to look like a classic beach cruiser and I would say EBC was quite successful in doing that.
As a cruiser, the Model S is a little longer than your average e-bike, measuring in at just over 74″ long.
But with a weight of 57 lb (with single battery), it's not overly heavy (for the sake of comparisons Rad Power Bikes' RadCity 5 Plus weighs around 65 lb).
And according to EBC, this bike is able to comfortably fit most riders between 5'2″ – 6'10".
This is a large range and, honestly, EBC is probably being a little optimistic with this estimation, but it's still ridable by folks of most heights.
Plus, keep in mind, as a cruiser, the expectation isn't that you'll be doing a lot of highly technical routes on this thing – this is a leisure bike with cruising around town in mind.
The Model S only comes in one frame size, but shorter riders can choose to go with smaller, 24″ tires for easier access.
It also comes with a max weight limit of 420 lb, which is great for any e-bike.
Overall, the Model S is a longer bike that can accommodate riders of most heights and weights.
Warranty
EBC backs their Model S with the following warranty:
10 year motor
5 year battery
30 day paint
These are generous warranties.
Ten years on the motor is as long as I've come across so far and 5 years on the battery is equally impressive.
For the sake of comparison, Rad backs their bikes with a 1 year guarantee and Aventon offers 2 years on their motors and batteries.
So, anyway you look at it, EBC's warranties are top notch.
Features
EBC's Model S comes with the following features:
LCD console- the color LCD screen makes it easy to see which pedal assist level you're on, as well as keep track of your speed and time. There's also a USB charging port, so you can charge your phone as you ride.
Retractable cord- one of the cooler features on this cruiser is the built-in charger. The battery's located in the rear rack and it comes with a retractable cord that pulls out for easy charging. This means you don't have to take the battery off the bike to charge it.
Direct drive train- the Model S comes standard with a direct (single speed) drive train, but you can upgrade to a 7-speed shifter if you prefer. As a beach cruiser, a direct drive train is expected. And keep in mind, this doesn't affect the motors performance, it just makes it easier or harder for you to pedal.
5 levels of pedal assist- with 5 levels of pedal assist to choose from, you can work as much or as little as you see fit. This is pretty standard for any e-bike these days.
Choice of throttle- you get to choose between a thumb or half-twist throttle.
Optional torque sensor- the Model S doesn't come standard with one, but you can add a torque sensor for additional cost if you like.
Hydraulic disc brakes- hydraulic brakes offer better braking power than traditional mechanical friction brakes, so you'll have great stopping power on this bike.
Choice of handle grips- you can choose between leather or rubber hand grips, depending on your style.
Puncture-resistant tires- this bike comes with 26″ standard tires, but you can choose to go with smaller, 24″ tires if you prefer.
Rigid fork- the Model S comes with a standard rigid fork, but for additional cost you can upgrade to a suspension fork for added comfort when riding over rougher terrain. It would be nice if the suspension fork was included standard, as it is on most comps.
Lighting- front and rear LED lighting is included standard, but you can upgrade to get turn signals and high/low beams.
Large seat- the seat is large and cushiony and you can choose between black or brown for the color.
Seat post- the Model S comes standard with a solid seat post, but you can choose between 2 shock absorbing posts for added comfort.
You also get to choose the paint colors for pretty much every component of the bike, but know that certain colors cost more than others.
There are also a lot of other additional add-ons to choose from, including security systems, fenders, front baskets, locks, helmets, etc.
Cost/Comps
As I'm writing this, the Model S comes with a starting price of $2399, but that can go up pretty significantly depending on which features and upgrades you go with.
But let's use this starting price when looking at some of the other top cruisers in this price range.
I mentioned Rad's RadCity 5 Plus earlier, but I want to go into a little more detail here.
The RadCity 5 Plus isn't nearly as "beachy" looking as the Model S, but it can still be considered a modern cruiser.
It goes for around $1900 and it comes with a 750W rear hub motor (Class II), a 672Wh battery with a top range of 50 miles, and some other cool features.
Most notably, it comes with regenerative braking, that helps charge your battery every time you hit the brakes.
But as I mentioned earlier, Rad's warranty isn't nearly as generous as EBC's.
I also want to mention Aventon's Level.2 Step-Through – again, not as beachy looking, but it still has a lot of the features found on cruiser style bikes.
The Level.2 comes with a 500W rear hub motor that can reach a top speed of 28 mph and a 672Wh battery that'll last for upwards of 60 miles or so.
It isn't nearly as customizable, but it does come standard with included fenders, a front suspension fork, an 8-speed shifter, and an included torque sensor.
And with an asking price of only $1800, it's certainly one of the best deals in cruisers.
But again, not nearly as customizable and if I may be so bold – not nearly as attractive looking as the Model S.
Final Thoughts
Alright, that's about all I got regarding the Model S.
After looking at all the specs and features, it's easy to see why the Model S has become one of EBC's most popular models.
This bike is the quintessential example of what a beach cruiser should look like and it comes with some great performance specs.
The motor and battery options are impressive, but what really sets this bike apart is its appearance and all the customization EBC offers.
That, plus the retractable cord and amazing warranty.
The only downsides I see is that the Model S can get a little pricey depending on which features and upgrades you choose – for example, I'd like to see the fenders, front suspension, and torque sensor included for the base price.
But overall, I think the Model S is a great option and easily one of the best looking e-bikes on the market.
Just looking at it makes me want to hit the beach.