With the release of their new Portola, Ride1Up now officially offers a folding e-bike.
Like most folding e-bikes, the Portola is compact and easy to travel with, but unlike most competitors, it also comes with a surprisingly powerful motor.
It's true – with a 750W rear hub motor that can provide 65Nm of torque, the Portola is more capable than you'd expect when it comes to performance.
And with the option to choose your battery size, you can opt to spend a little more for added range.
Additional highlights include a built-in rear rack that can handle up to 130 lb, an 8-speed shifter, a front suspension fork, hydraulic disc brakes, and integrated front/rear lighting.
If this sounds like a lot for an e-bike under $1k, I'd agree that it is.
Cutting to the chase, if you're looking for a compact folding e-bike, I think Ride1Up's Portola is easily one of the top options out there.
But before you buy, check out my full review because in it, I'll be going over everything this e-bike has to offer; I'll also compare it some of its top competitors to see how it stacks up.
After reading, you'll know whether or not the Portola is the right e-bike for you.
The Portola could be a great option if you're looking for a powerful folding e-bike that handle a lit a bit of everything, but with a weight of 60 lb, it isn't the lightest bike in its class.
Quick Stats
| | |
| --- | --- |
| Motor | 750W rear hub |
| Top Speed | 28 mph |
| Battery | 499Wh or 643Wh |
| Range | 20 - 45 miles |
| Weight Limit | 300 lb |
| Weight | 60 lb |
Ride1Up's Portola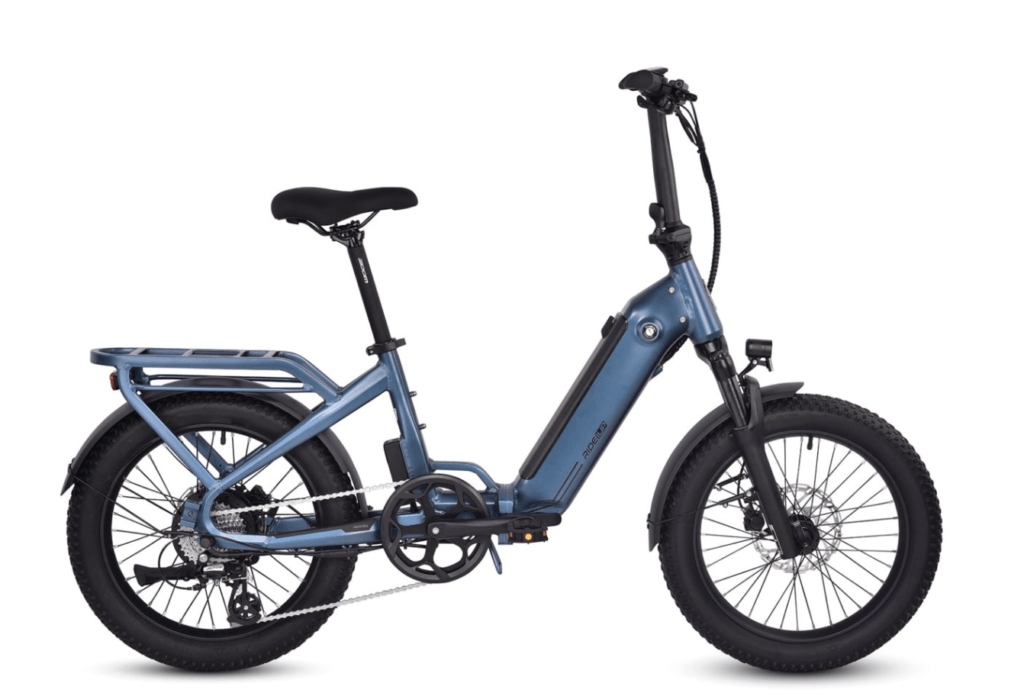 The Portola is Ride1Up's newest e-bike to date and it's also the first folding model to hit their lineup.
It's also usurping the Turris as the most affordable e-bike on their lineup.
Regardless, with the addition of the Portola, Ride1Up's lineup becomes even more diverse, as they offer e-bikes in pretty much every category now.
And even though their different models vary in terms of specs and features, one thing they all have in common is that they use the highest components you can expect to find in their respective price ranges.
This is something Ride1Up prides themselves in.
Their mission is to bring quality e-biking to the masses by making affordable bikes that use high-end components and to that end, I'd say they've been quite successful.
But back to the Portola.
Pros
Compact, folding frame
750W rear hub motor
65Nm of torque
Choice of battery
20 – 45 mile range per charge
Choose between Class I, II, or III riding modes
5 levels of PAS
Thumb throttle
8-speed shifter
Hydraulic disc brakes
20″ x 3″ tires
Front suspension fork
Integrated rear rack (130 lb weight limit)
300 lb total weight capacity
Front/rear lighting
Front/rear fenders
Passenger kit compatible
Cons
At 60 lb, may be hard for some users to carry
Motor
Powerful motors and fast top speeds aren't necessarily qualities we usually expect to see when talking about affordable folding e-bikes, but the Portola shows us that this doesn't need to be the case.
With a 750W rear hub motor, the Portola can reach a top speed of 28 mph with pedal assist (PAS) and 20 mph with throttle control, making it a Class III e-bike.
That said, Ride1Up gives you the option to change the bike's class from the console, allowing you to ride in Class I or II mode, depending on your needs (and your local e-bike laws).
The Portola actually comes out of the box in Class II mode.
The fact that you can switch between riding classes is great, but I want to say again that a 28 mph top speed shouldn't be taken for granted when talking about folding e-bikes under $1k.
Plenty of respectable bikes in this class come with weaker motors and slower top speeds.
Lectric's XP Lite for example, which is generally considered one of the best options in this class, comes with a 300W nominal (720W peak) rear hub motor that'll reach a top speed of 20 mph.
So, if you're looking for a little more power from your e-bike, you'll appreciate the larger motor found on the Portola.
I also want to mention that the Portola's motor can put out 65Nm of torque, which again, is impressive for a folding e-bike under $1k.
FYI, torque refers to the rotational power of the motor and seeing higher torque ratings means better acceleration and better hill climbing capabilities.
And if you're planning on tackling steeper hills, having a motor with at least 60Nm of torque is a good idea.
Well, with a rating of 65Nm, the Portola is well-equipped for climbing hills and the fact that it comes with an 8-speed shifter helps with this as well.
But more on that later.
Overall, the Portola comes with a surprisingly impressive motor, offering more power and torque than most e-bikes in this class.

Battery
Power and torque are important qualities for any e-bike, but they mean nothing if you don't have enough battery capacity to fuel that motor.
And unfortunately, large batteries and generous ranges aren't usually a given when talking about budget-friendly folding e-bikes.
But again, Ride1Up is changing our expectations.
With the Portola, you get to choose between 2 battery configurations: you can go with the standard 48V, 10.4Ah (499.2Wh) option or for an additional $100, upgrade to a 48V, 13.4Ah (643.2Wh) option.
According to Ride1Up's estimates (which tend to be pretty accurate), you can expect a range of 20 – 40 miles with the 499Wh battery and a range of 25 – 45 miles with the 643Wh battery.
Both of which are pretty good for a folding e-bike.
Regardless of which battery option you're considering, keep in mind that real world range depends greatly on a bunch of factors, including your size, riding conditions, and how much throttle/PAS you use.
But again, 20 – 40 miles is the norm for pretty much any e-bike with a single battery and a cadence sensor, so it's impressive to see these numbers for a folding option.
In terms of what else is out there, I'd say the Portola's batteries are about as good as any I've seen in this price range.
For example, the XP Lite mentioned above comes with a 374.4Wh battery (48V, 7.8Ah), but Rattan's LM 750 Pro uses a 624Wh (48V, 13Ah) battery standard.
And Vitilan's V3 also uses a 643.2Wh battery as well.
So, in terms of capacity and range, it's going to be hard to find better battery options that what the Portola comes with (and I like that Ride1Up only charges an additional $200 or so for the upgraded battery).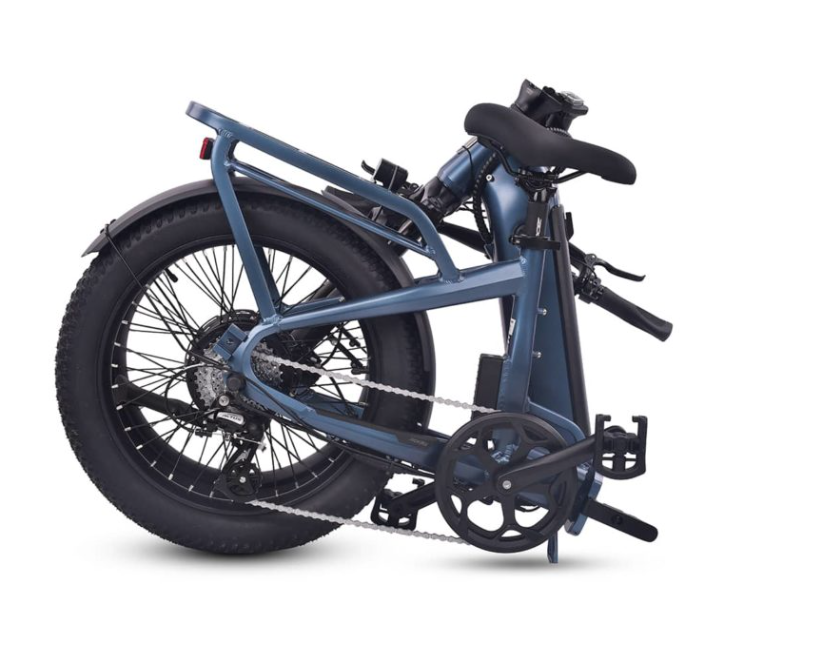 Frame
When it comes to the frame, it's a good idea to consider the dimensions, especially if you're looking to travel with your e-bike, but you also want to consider the weight and the height ranges it can accommodate.
In terms of size, the Portola is 66.2″ long when being used, which is pretty average for an e-bike like this.
Folding up, the Portola only takes up a space of 19″ x 29.5″ x 33″ (W x H x L), allowing it to fit nicely into most car trunks and the backs of SUV's.
Its compact nature also allows it to be stored easily in closets as well, making it a smart option for smaller homes, apartments, and RV's.
That said, the Portola weighs in at 60 lb, which is a little heavy for a folding e-bike.
For the sake of comparison, Lectric's XP Lite only weighs 46 lb, so it's quite a bit lighter.
At 60 lb, compact or not, the Portola could be a little challenging for some folks to lift and transport it, so this is definitely something to consider before purchasing.
But that extra bulk comes in handy because this e-bike comes with an impressive 300 lb weight limit and a robust rear rack that can handle impressive loads (more on that later).
The Portola should be able to handle most riders who are between 4'10 – 6'4″, which is great for a folding e-bike.
But like all folding e-bikes in this class, if you're over 6′ tall, don't expect to get full leg extension while pedaling – that's just the nature of the beast when talking about compact bikes.
Warranty
Ride1Up backs their Portola E-Bike with the following warranty:
This basically means that if the motor, battery, or any other part stops working due to malfunction in that first year, you're covered under the warranty.
This doesn't include cosmetic damage and it doesn't include issues you may have from not taking care of your bike correctly.
In terms of warranty period, this isn't a long guarantee, but it's the norm for this price range.
Lectric and Rattan offer the same 1 year guarantee on their folding e-bikes as well.
So, not a spectacular warranty here, but this is what we should expect for a bike in this price range.
Features
Ride1Up's Portola comes with the following included features:
2″ LCD console- the console isn't especially fancy, but it allows you to see your riding metrics, switch between PAS levels, and choose your riding Class.
5 levels of PAS- speaking of levels, the Portola comes with 5 levels of PAS, giving you a lot of control over how much motor assistance you get during your rides.
Thumb throttle- and when you want to let the motor do all the work, you can simply use the thumb throttle mounted on the left handlebar, regardless of which PAS level you're in.
8-speed shifter- this bike comes with 8 speeds, which is fantastic for a folding e-bike in this price range. Having these adjustable gears gives you a lot more control over your pedaling performance and it's rare to see so many gears in this price range.
Hydraulic disc brakes- this feature is also awesome to see because hydraulic disc braking isn't a given in this price range, but it certainly makes for more impressive stopping power.
Integrated rear rack- the rear rack on the Portola comes standard and is built-into the bike's frame itself, allowing it to hold up to 130 lb safely. This means the Portola can handle second passengers, as long as the total weight of the 2 riders doesn't surpass the 300 lb total payload capacity. The rack also makes for a handy handle when carrying the Portola.
20″ x 3″ tires- these tires are just fat enough to offer some solid off-rounding capabilities, but while still being able to handle nicely on paved surfaces as well. With these all-terrain tires, the Portola can go just about anywhere you want to.
Front suspension fork- the fork offers shock-absorbing suspension, making for a more comfortable ride when riding off-road, but you can also lock it out when you don't need it.
Front/rear lighting- the Portola comes with front and rear lights included for added safety when riding in dark conditions.
Fenders- front and rear fenders are included to keep you clean when riding the road less traveled.
2-amp charger- and finally, Ride1Up includes a standard 2-amp charger that'll get you fully charged in around 5-7 hours, depending on which battery you choose.
Comps
As I'm writing this, Ride1Up has the Portola listed as follows:
Portola with 10.4Ah battery: $895
Portola with 13.4Ah battery: $1,095
These prices may change of course, but generally speaking, the Portola is priced around $1k, give or take a little depending on your choice of battery.
Using this as our price range, there are a few comps worth mentioning to see how the Portola really holds up against the other bikes out there.
The most obvious comp is one I've mentioned a few times already – Lectric's XP Lite.
The XP Lite is usually priced around $800 – $900 at it's become one of the most popular folding e-bikes on the planet.
The XP Lite comes with a 300W nominal motor, a top speed of 20 mph, a 374.4Wh battery, and a single-speed transmission.
So, the Portola comes with more impressive performance specs, but the XP Lite, at only 46 lb, is a good 14 lb lighter, making it easier to move around.
Another comp I want to mention is Rattan's LM 750 Pro, which usually sells for somewhere between $800 – $1050, depending on where you find it.
The LM 750 Pro comes with a 750W rear hub motor that can reach a top speed of 28 mph (80Nm torque), a 624Wh battery, 20″ x 4″ tires, a 7-speed shifter, and an included rear seat.
But it's also pretty heavy, weighing in at around 61 lb.
Finally, I want to mention the Vitilan V3, which usually goes for $700 – $800 on Amazon.
The V3 comes with a 750W rear hub motor (80Nm torque) that can reach 28+ mph, a 643Wh battery, a 7-speed shifter, an integrated rear rack, and an impressive 330 lb weight limit.
But again, at 64 lb, the V3 is even heavier than the Portola.
Final Thoughts
Based on everything the Portola comes with and after looking at the comps mentioned above, I'd say the Portola can hold its own with any folding e-bike in its price range.
I think the Portola offers a great combination of power and battery capacity, as well as a nice selection of higher-end features not often found in this price range.
And even though there are more powerful/faster folding e-bikes out there, I'm not sure I'd want to go any faster than 28 mph on 20″ tires to begin with…
And again, it's nice that Ride1Up doesn't ask for a huge up charge for the larger battery.
The only real downside I see here is that at 60 lb, the Portola is a little heavy for a folding e-bike, which could make it harder to handle for some users.
Otherwise, I think the Portola is easily one of the best folding e-bikes to hit the market and I'd be surprised if it isn't a smashing success.