With BowFlex's latest exercise bike, the IC Bike SE, they basically took their popular C6 cycle and gave it a facelift.
The result is a surprisingly sleek indoor cycle with some great specs and features.
For starters, the IC Bike SE comes with a modern V-shaped frame, a rear-mounted, 36 lb flywheel, and 100 magnetic resistance levels.
Bowflex also gave this new bike an enlarged color LCD console, making it easier to view stats and pair with fitness apps.
The IC Bike SE also comes with all the best features found on the C6, like dual-compatible pedals, a heavy-duty frame, and an included pair of dumbbells.
Considering what this indoor cycle has to offer, I could see the IC Bike SE becoming one of the most popular exercise bikes in its class.
But before we get too ahead of ourselves, let's slow down and take a look at what this bike is all about.
In this review, I'll go over everything the IC Bike SE has to offer, but I'll also compare it to some of the other top models in its price range.
After reading, you'll know whether or not this is the right exercise bike for your home.
All things considered, I think BowFlex's IC Bike SE has a lot to offer and is likely one of the best new indoor cycles in the ~$1k price range.
The BowFlex IC Bike SE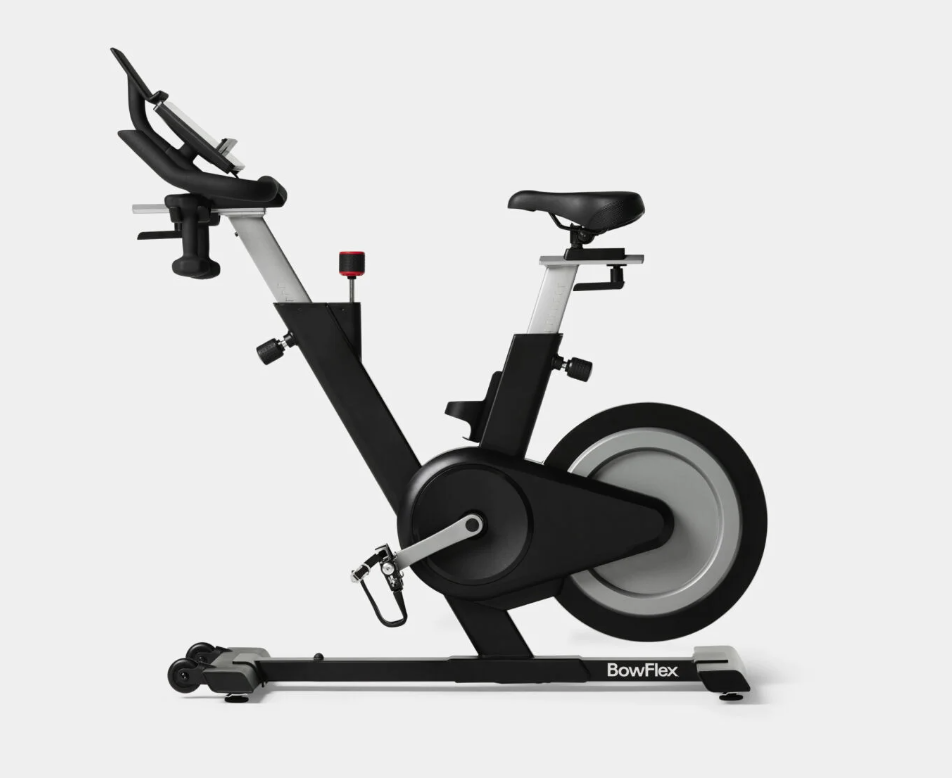 BowFlex's a respected brand, but I have to get one thing off my chest before we really get rolling here – I don't like this bike's name.
I mean come on, "IC Bike SE" doesn't exactly roll off the tongue.
Seems a little redundant to me – if we lose the "IC" or the "Bike" I think it would be better (especially if we lose the "Bike")… the BowFlex IC SE, now that's sleek.
Jokes aside, BowFlex has been a good brand over the years and while some models have been better than others, they've certainly been innovative.
SelectTech, TreadClimbers, the VeloCore Bike, not to mention their original power rod home gyms… they've definitely come out with some interesting products.
Well, the IC Bike SE is their latest exercise bike to date and it's pretty ordinary compared to some of their other products.
In other words, this is more of a good ol' fashioned indoor cycle and I mean that in the best way.
Let's start things off with a rundown on the performance specs, then we'll shift gears and take a look at what features it has to offer.
Pros
36 lb flywheel
100 magnetic resistance levels
Heavy-duty frame
330 lb weight limit
Fits riders 4'10" – 6'5″ tall
Sleek design
Large console
Bluetooth compatible with apps and heart rate monitors
2 months of JRNY included
Dual-compatible pedals
Fully-adjustable seat
Fully-adjustable handlebars
Pair of 3 lb dumbbells included
Media rack
Good warranty
Cons
No built-in workout programs
Competitive price range
Resistance
The IC Bike SE is an indoor cycle, meaning it's designed with the intention of being able to provide fast-pace, higher-intensity workouts.
And with a 36 lb flywheel and 100 levels of magnetic resistance, this cycle is well-equipped to do just that.
Most indoor cycles benefit from having a heavier flywheel (flywheel weighing >20 lb) because the extra weight tends to provide a smoother pedaling feel.
The extra weight basically builds more momentum as the flywheel spins and this momentum helps keep the pedals moving throughout the full motion.
Well, at 36 lb, the IC Bike SE has plenty of flywheel weight to accomplish this, so you won't have to worry about the SE providing a lackluster workout.
And with 100 resistance levels, this cycle gives you a lot of control over the intensity of each workout.
Now it's true that more resistance levels doesn't necessarily mean more overall resistance, but it does mean you can make smaller adjustments between resistance levels.
Which personally, I think is a good benefit in its own right.
Having 100 resistance levels will also come in handy if you like the idea of pairing the SE with Peloton's Digital App.
Peloton also uses a 100 resistance level scale, so it'll be easy to follow what the instructors are saying with regards to resistance levels and adjustments during workouts.
You'll also notice that the flywheel is mounted in the rear of the bike.
This certainly gives the IC Bike SE a more modern appearance, but having the flywheel in the back doesn't really offer any additional benefits (although I guess it does protect the flywheel from sweat during workouts).
Overall, I think the IC Bike SE scores highly here – I like that it comes with a heavy flywheel and as a Peloton user myself, I like that is comes with 100 resistance levels.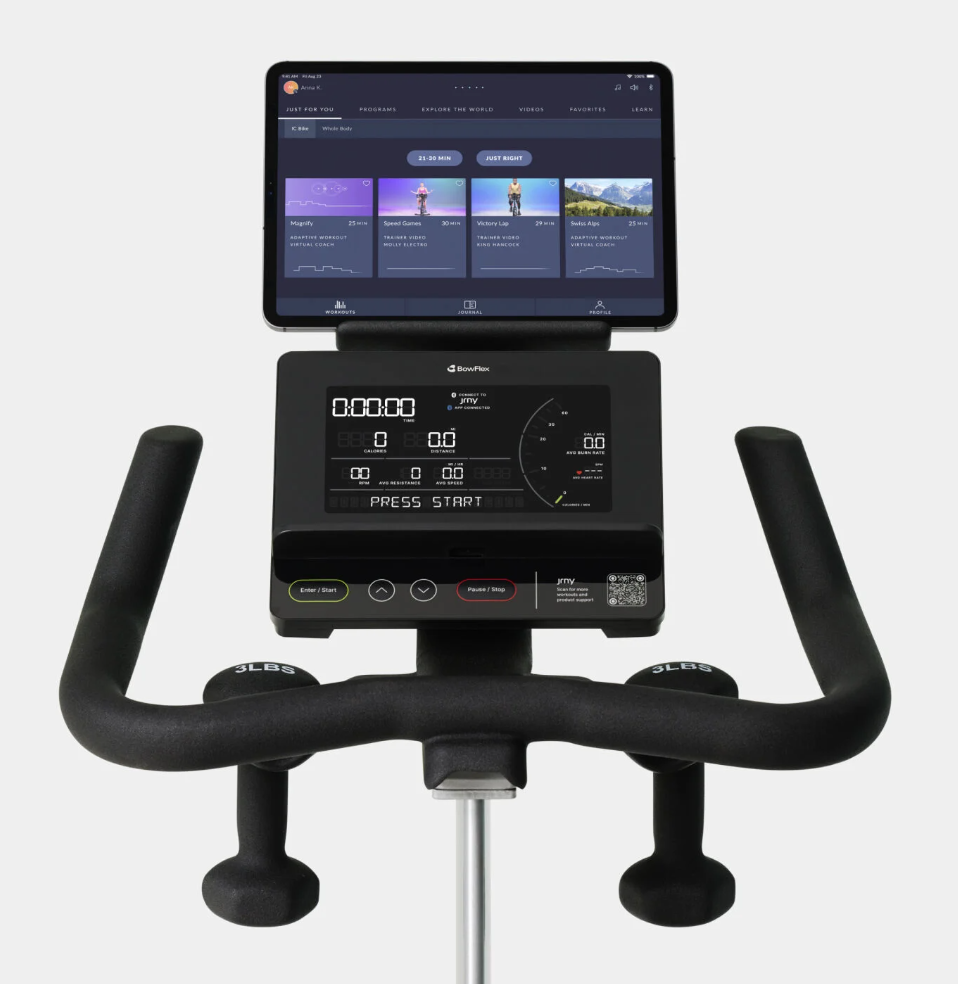 Frame
In terms of aesthetics, it would appear as though BowFlex was inspired by ICG and their rear-flywheel designs.
And I don't blame 'em, it's a good look.
The black and silver color scheme never goes out of style and I think the rear-mounted flywheel definitely adds a more modern appearance.
But looks aside, there are a few more important details I wanna go over here.
For starters, I want you to notice the V-shaped frame that's created by having the seat post and the console mast angled in opposing directions.
Again, this looks sleek as all get out, but it also allows the IC Bike SE to be highly adjustable and accommodate folks of all heights.
More specifically, according to BowFlex, this cycle should be able to comfortably fit most riders between 4'10" – 6'5″, which is impressive for a bike in this price range.
I also want to point out that the SE comes with an assembled weight of roughly 129 lb (135 lb total weight, minus 6 lb of dumbbell weight).
This is heavy-duty for any indoor cycle, but especially for one that doesn't come with a huge HD touchscreen.
For the sake of comparison, Scwinn's IC4 weighs in at around 112 lb, as does BowFlex's own C6; and Sole's SB900 only tops out at 123 lb.
The fact that the SE is so heavy is a good thing because it means it'll feel more stable during rides – and don't worry, the built-in transport wheels will make it easy enough to roll around.
This added bulk also allows the SE to safely hold riders weighing up to 330 lb.
Overall, the IC Bike SE scores highly with a sleek frame that can hold riders of most heights and weights comfortably.
Warranty
BowFlex covers their IC Bike SE with the following home warranty:
10 year frame
2 year parts
1 year electronics
1 year labor
All things considered, this is a really good warranty for an indoor cycle in this price range.
Sole still offers lifetime frame warranties, but not many other brands in this price range do.
Schwinn offers 10 year frame warranties, as does NordicTrack; and ICG only backs their Ride CX with a 5 year frame warranty (as does Peloton).
Two years on parts is pretty average, although this matches what Sole offers on their SB900.
Schwinn offers 3 year parts warranties.
A year on labor is standard across the board, so that's fine.
So yeah, I think BowFlex's warranty here is pretty good compared to what other brands are offering, but I should mention that they offer a longer warranty on their more affordable C6.
BowFlex backs their C6 with a 10 year frame, 3 year parts/electronics guarantee, which is interesting considering the more expensive models usually come with longer warranties.
Features
The BowFlex IC Bike SE comes with the following included features:
7″ color LCD console- the console on the SE isn't a touchscreen and it doesn't come with any built-in apps or anything like that, but it's large and brightly-lit, making it easy to see all your workout stats at once. And I like that it shows your "burn rate" or how many calories you're burning per minute (it's great for motivation).
2 months of JRNY- the console is bluetooth compatible with JRNY, BowFlex's fitness streaming app, and you get a free 2 month trial with purchase. Through JRNY, you can get access to instructor-led workouts, scenic routes, metric tracking, and all that kind of stuff. But since this isn't a touchscreen, you'd have to use your own phone or tablet to access JRNY. After your free trial ends, you don't have to maintain a membership to use this cycle, but if you like JRNY, you can continue for a $99/year membership fee.
Bluetooth- the SE is also bluetooth compatible with other fitness apps like Peloton and Zwift, as well as bluetooth heart rate monitors.
Dual-compatible pedals- this cycle comes with pedals that have a toe cage on one side and SPD compatible clips on the other. This is nice because you can use sneakers or riding cleats, depending on your preferences.
Pair of 3 lb dumbbells- BowFlex includes a pair of 3 lb dumbbells with purchase and there's a small dumbbell rack located below the handlebars, making it easy to grab 'em during workouts.
Fully adjustable seat- the seat is fully adjustable, meaning you can adjust both the height and fore/aft position easily.
Fully adjustable handlebars- you can also adjust the height and horizontal position of the handlebars, making it easier to find a comfortable fit.
Media rack- there's a large media rack located conveniently above the handlebars, giving you a good place to put your phone or tablet incase you want to watch Netflix of access streaming apps.
Water bottle holder- and finally, there's a water bottle holder located on the seat post, so you'll be able to stay hydrated during workouts.
Price & Comps
Ok, so the IC Bike SE comes with some great performance specs and some nice features, but that doesn't necessarily mean it's the best option in its price range.
So, before we wrap things up here, I want to provide a brief comparison to some of the other top cycles in this price range so we can get an idea as to how the SE holds up against the competition.
Now prices change, but as I'm writing this, the IC Bike SE is selling for $1,099.
This is a competitive price range for indoor cycles and there are some very solid bikes available in this class.
The first one I want to mention is Sole's SB900, which is selling for $1,199 at the time of writing this.
The SB900 is generally considered one of the best indoor cycles around and it comes with a 35 lb flywheel, 100 magnetic resistance levels, dual-compatible pedals, and a heavy-duty frame.
It also comes with 9 pre-loaded workout programs, but unlike the SE, it isn't bluetooth compatible with fitness apps or heart rate monitors.
There's also Schwinn's IC4, which costs around $1000 (fyi, the IC4 and BowFlex's C6 are the same bike, so if you like one, it's a good idea to compare prices because they will vary).
The IC4 comes with a 40 lb flywheel, 100 resistance levels, a pair of dumbbells, dual-compatible pedals, and a slightly longer warranty (3 year parts).
The IC4 is also bluetooth compatible, but its console is smaller and its frame isn't quite as heavy-duty (not to mention not nearly as good looking).
Finally, I want to mention Diamondback's 1260sc, which usually costs around $999.
The 1260sc comes with a 31 lb, rear-mounted flywheel, 16 magnetic resistance levels, dual-compatible pedals, and an even heavier-duty frame (assembled weight 130 lb).
It doesn't come with any workout programs (other than a watt trainer), but it is bluetooth and ANT+ compatible with apps and heart rate monitors.
Final Thoughts
There are a lot of great cycles in this price range, but based on the comps mentioned above, I think BowFlex's new IC Bike SE holds its own quite well with all of them.
I also think it offers a nice combination of performance specs and features, basically combining the best parts of all the cycles mentioned above.
With a heavy, rear-mounted flywheel and 100 resistance levels, the SE is well-equipped to offer impressive performance during workouts.
And with its V-shaped frame, dual-compatible pedals, and fully adjustable everything, it's well-equipped to make users of all sizes feel comfortable.
And unlike so many new cycles coming out, BowFlex actually gave the SE a heavy-duty frame, allowing it to provide a stable feel.
I also think the upgraded console is a nice touch and it's awesome that this bike can connect with several different fitness apps.
The only real downside I see here is that this bike doesn't come with any built-in workouts.
Otherwise, I think it could make a great choice for folks looking for affordable streaming as well as those simply looking for a quality, budget-friendly indoor cycle.
Any way you look at it, I think BowFlex's IC Bike SE is one of the most exciting new cycles to hit the market.