Say what you want about Bowflex, but they aren't afraid to think outside the box. And their newest series of VeloCore Bikes is a perfect example of what I'm talking about.
In a market where it can get hard to tell exercise bikes apart, the VeloCore (for better or worse) certainly stands out.
And that's because the VeloCore is the first bike that can actually move with you, allowing you to lean into it as you might when making a turn on a road bike.
The idea being that this engages your core more and ultimately provides a better total body workout than your traditional stationary bikes.
But besides the awe factor that comes with such a novelty, the VeloCore has plenty else to be proud of.
Like 100 levels of magnetic resistance, a 16″ or 22″ HD touchscreen console, dual-sided pedals, an included heart rate band, and an included pair of 3 lb dumbbells.
Overall, I think the VeloCore bike has a lot going for it, but I don't think it's going to be for everyone.
In this review, I'll go over everything this bike does and doesn't have going for it. I'll also provide my two cents regarding who I think the bike would be best suited for.
After reading, you'll know whether or not this interesting cycle is worth investing in.
Let's begin.
The Bowflex VeloCore Bike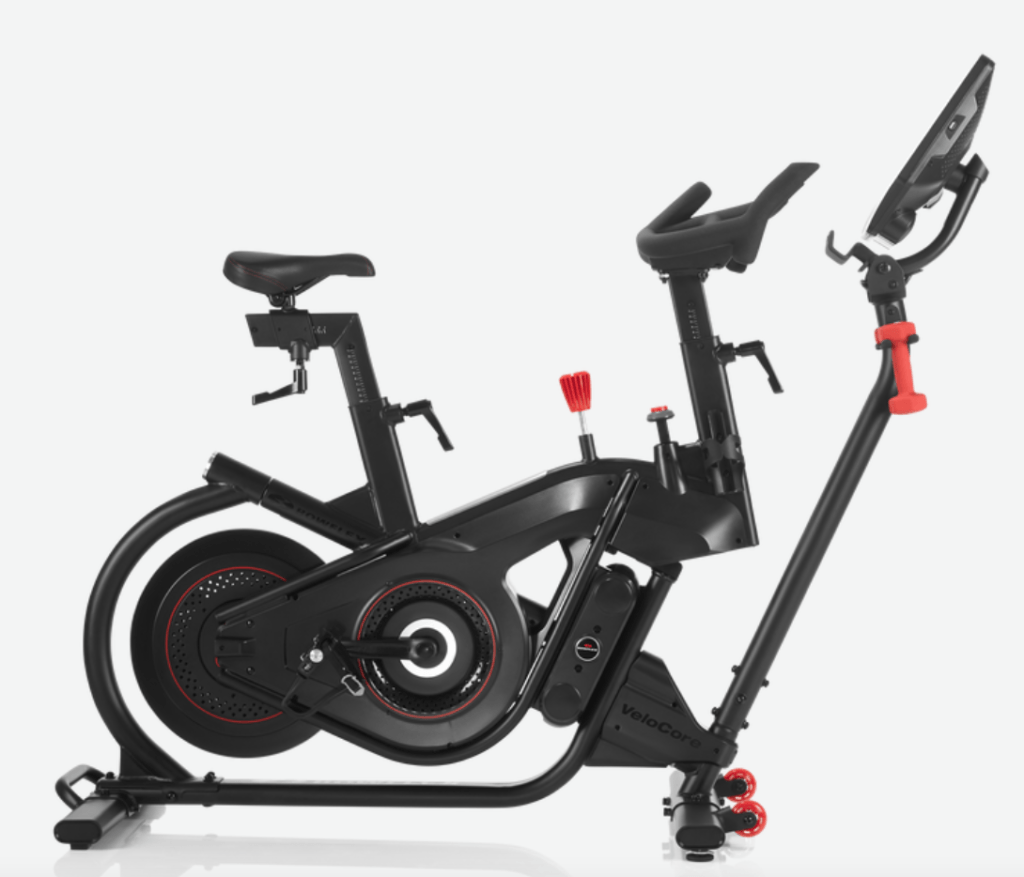 Innovation is in Bowflex's blood.
This is a company that started out by creating their own type of home gyms and they've been coming up with new and interesting products ever since.
To be fair, not all of 'em have been winners – even though they've had great success, I'm not a big fan of the SelectTech Dumbbells (I find 'em clunky and awkward to use).
Those LateralX machines didn't seem to last that long either, but think about all the awesome products Bowflex has come out with.
Their power rod gyms are awesome; their HIIT trainers are awesome; their treadmills…awesome.
Anyway, my point is we can depend on Bowflex to bring us new and interesting fitness machines and I applaud them for it.
The VeloCore is one of their newest innovations and I think the idea of having a moving frame is intriguing, especially since there can't be that many more ways to change the indoor cycling experience.
When it comes to indoor cycles, Bowflex also offers their popular C6 (which I think is one of the best cycles in its price range) and the lesser known C7 (same as C6, but comes with a small touchscreen).
Pros
Leaning frame mode
16″ or 22″ HD touchscreen console
Access to tons of workouts through JRNY
Built-in entertainment apps (JRNY)
Scenic rides (JRNY)
Heavy-duty frame
325 lb weight limit
Fully adjustable seat
Fully adjustable handlebars
Bluetooth speakers
Compatible with other fitness apps
Armband heart rate monitor included
Pair of 3 lb dumbbells included
Dual-compatible pedals
Dual water bottle holders
Cons
Short warranty
Some user complaints regarding JRNY platform
Resistance
When it comes to indoor cycles, it's all about the resistance system.
I mean these bikes are designed to mimic the feel and sensation of riding a road bike and a bike's ability to do this depends entirely on how sophisticated the resistance system is.
Because keep in mind, the resistance system obviously provides the resistance for you to work against, but it also determines how smooth the pedaling motion will feel.
Indoor cycles create resistance through the use of weighted flywheels and either a friction brake or magnetic resistance mechanism.
Some bikes, like the Keiser M3i and ICG cycles, are designed to use light flywheels and they do it superbly; most other home cycles are designed to benefit from heavier flywheels.
Because the extra weight helps build more momentum, which creates a smoother pedaling motion.
And the VeloCore uses a magnetic resistance mechanism, so we can skip the friction brake talk for now (I prefer magnetic systems because I think they feel smoother).
But back to flywheel weight.
If you look at the FAQ section on Bowflex, you'll see that they say the flywheel on this bike weighs 33 lb, but when I reached out to them and asked, I was told it weighs 16.45 lb.
So, there's a bit of a difference there.
I'm going to have to go by what Bowflex told me directly, so 16 lb it is.
This is pretty light weight as indoor cycles go, but it's not as light as the "light weight on purpose" bikes mentioned above.
(Most quality bikes that are opting for heavy flywheels come with flywheels in the 30 lb+ range, while light weight on purpose bikes come with flywheels in the 7 – 8 lb range).
Bikes that utilize lighter flywheels achieve the momentum necessary for smooth pedaling by getting that flywheel spinning really fast through enhance gear ratios.
And the VeloCore doesn't do that.
So, the VeloCore comes with a light weight flywheel, which isn't a great look for a bike when it comes to overall performance, but I think Bowflex had to keep that flywheel weight down so they could make it easier to get the frame to lean.
And let's be honest, the leaning frame is the biggest reason most of us would be interested in this bike to begin with.
What I do like is that the VeloCore comes with 100 resistance levels.
This is the same type of resistance scale the Peloton uses and it's awesome because it gives you a ton of control over the intensity – you can make very small changes to the resistance.
And most users seem to agree that the pedaling motion on the VeloCore feels pretty smooth.
Overall, the actual weight of the flywheel on this bike is a little questionable, but I like that it uses a magnetic resistance system and comes with so many levels to work with.
Frame
Now the frame is where things get more interesting for the VeloCore because as far as I'm aware, this is the only bike on the market that allows you to lean from side to side during workouts.
This could sound like a novelty, but think about how challenging that could make your workouts – having to keep yourself on the bike, while leaning, while trying to continue pedaling.
If nothing else, it'll definitely get your core working harder, but it could also add an extra level of entertainment to your workouts.
Which is a good thing if you ask me – as an indoor cyclist for the last several years, I know from experience how boring things on an exercise bike can get.
Anyway, the VeloCore gives you the option to use the leaning feature, but you don't have to.
You can also lock the frame in place and ride it as you would any other stationary bike.
The frame is unlocked by pushing a red knob in the front of the bike and locked back up by pulling the grey ring back up.
It should be pretty easy to switch between leaning and stationary modes as you please during workouts.
Leaning features aside, the VeloCore is also a pretty heavy-duty bike.
With an assembled weight of about 158 lb, this is one of the heavier indoor cycles around (I'm guess the extra frame components to make the leaning feature work is where the extra weight comes from).
Regardless, all this extra weight is going to make the bike feel stable during workouts (except for when you're in leaning mode).
The VeloCore also comes with a max weight limit of 325 lb, which is impressive considering how mobile the frame is.
Something worth mentioning, this bike is a bit longer than most indoor cycles – at roughly 5′ long, it takes up a bigger footprint than most.
Otherwise, I think the VeloCore scores highly when it comes to its heavy-duty, yet mobile frame.
Plus I like the idea of being able to lock the frame in place and ride it as a normal cycle – you know, in case the excitement of the leaning frame gets old.
Warranty
Bowflex offers the following residential warranty on the VeloCore Bikes:
2 year frame
2 year parts
1 year electronics
1 year labor
There's no getting around the fact that this is a lousy warranty, especially when it comes to the frame.
Two years on the frame is very short compared to the industry average of 5 years (and some cycles offer 10 year and lifetime frame guarantees).
I'm not sure why Bowflex offers such a short frame guarantee, but it could be a red flag.
Two years on the parts is pretty average, no real concerns there.
And a year on labor is also pretty standard.
Overall, the VeloCore's warranty could use some work.
Features
The Bowflex VeloCore comes with the following features:
16″/22″ touchscreen console- the most notable feature on this bike, except of course for the leaning frame, is the huge HD touchscreen display in front. With the VeloCore, you get to choose between a 16″ or 22″ console, but both are pretty big if you ask me.
JRNY- JRNY is Bowflex's streaming platform and the VeloCore is designed to pair seamlessly with it (that's what those huge HD consoles are for). Through JRNY, you get access to all kinds of instructor-led workouts, including both live and on-demand options, virtual coaching, customized workouts, scenic rides, and metric tracking. You get a free year of JRNY with your purchase, after that it's $19.99/month or $149/year.
Entertainment apps- through JRNY, you can also access entertainment apps directly through the console, including Netflix, Prime, Hulu, Disney+, and HBO Max (you have to use your own subscriptions).
Fully adjustable seat- you can adjust both the height and fore/aft position of the seat, making it easier to find your optimal riding position.
Fully adjustable handlebars- you can also adjust the height and horizontal position of the handlebars for even more customization.
Dual-compatible pedals- the pedals on the VeloCore have a toe cage on one side and SPD compatible clips on the other, allowing you to choose between sneakers or riding cleats.
Bluetooth speakers- the console comes with built-in bluetooth speakers, allowing you to listen to your favorite music wirelessly if you like.
Heart rate band- Bowflex includes a bluetooth armband heart rate monitor with purchase, making it easy for you to track your pulse during workouts.
3 lb dumbbells- a pair of 3 lb dumbbells are also included with purchase, so you'll be ready to participate with any and all workouts from day one.
App compatibility- the VeloCore is also compatible with Zwift and the Peloton app, giving you access to other streaming workouts too. You can't access these other apps through the console though, you'll have to use your own tablet or phone.
Water bottle holder- yup, there's storage for not one, but 2 water bottles.
Price
Ok, let's talk price.
At the time of writing this, the VeloCore 16″ is going for $1699 and the VeloCore 22″ is going for $2199.
As I've mentioned before, I don't think there are any other bikes on the market that come with anything like the leaning frame found on the VeloCore, but the most obvious comps would be the Peloton and the NordicTrack Commercial S22i.
Both of which come with 22″ HD consoles.
The original Peloton goes for around $1495, but that for the bike only (most folks will likely need the cleats and dumbbells too, bumping that cost up to $1720).
And the Commercial S22i goes for around $1899.
Considering how many additional features the VeloCore comes with and looking at these comps, I think this cycle is priced pretty fairly.
It's definitely in the right ballpark.
Keep in mind though, there's the JRNY membership too – which really is a necessity if you purchase this bike.
All of the best features are only available through JRNY, so it really makes no sense to buy this bike if you aren't ok with the monthly streaming fee.
Again, JRNY costs $19.99/month (or $146/year), which is quite reasonable compared to Peloton's and NordicTrack's $39/month fees.
Final Thoughts
I think the VeloCore is a very interesting bike.
When it comes to features, it's going to be hard to find a bike with more going on.
The leaning frame is unique, but this bike also comes with a large HD touchscreen console, access to streaming workouts, and access to entertainment apps.
And Bowflex isn't skimpy with additional goodies either – it's awesome that they throw in a pair of dumbbells and an included heart rate monitor.
When it comes to performance, I like that the VeloCore has a very heavy-duty frame and that it comes with 100 magnetic resistance levels.
The flywheel isn't the heaviest, but users don't seem to mind – most agree this bike offers a smooth pedaling motion.
But I do have 2 concerns regarding this bike:
I could see the leaning frame schtick getting old after a few workouts (it looks pretty awkward to use)
that warranty is really short
Luckily, if you do get tired of the whole leaning thing, you can always lock the frame and keep it in stationary mode, which does add some peace of mind.
When it comes to user complaints, most are regarding quality control and the JRNY platform itself – it sounds like the software is a little buggy.
But I would assume Bowflex will get that cleaned up.
Overall, this cycle is far from perfect, but yes, I think the VeloCore would be worth buying if you're looking for a new take on indoor cycling (but only if you're cool with subscribing to JRNY because again, you need JRNY to access all the good stuff).