The AD6 is Schwinn's mid-level Airdyne bike and as such, it comes with an interesting ratio of performance specs to price.
Basically, if the higher-end AD7 and the entry-level AD2 got it on, the AD6 would be the result.
And like the other Airdyne models, the AD6 is a true air bike, meaning the harder you push, the more resistance you get, making it a great option for interval style workouts.
Highlights of the AD6 include infinite levels of air resistance, a quiet belt drive, and a surprisingly heavy-duty frame.
It's also backed by one of the best warranties you'll find on an air bike, especially in this price range.
But this bike has it's fair share of downsides too – most notably the fact that the seat isn't fully adjustable and that there have been some complaints about quality control.
Long-story-short, if you're looking for a decent air bike that won't break the budget, I think the AD6 is a pretty good buy.
If you're interested in the longer story, keep reading.
In this review, I'll go over all the specs and features the AD6 has to offer. I'll also try to compare it to some of the other top names in this price range to see how it stacks up.
After reading, you'll know whether or not the Airdyne AD6 is worth buying.
Ok, off we go.
The Schwinn Airdyne AD6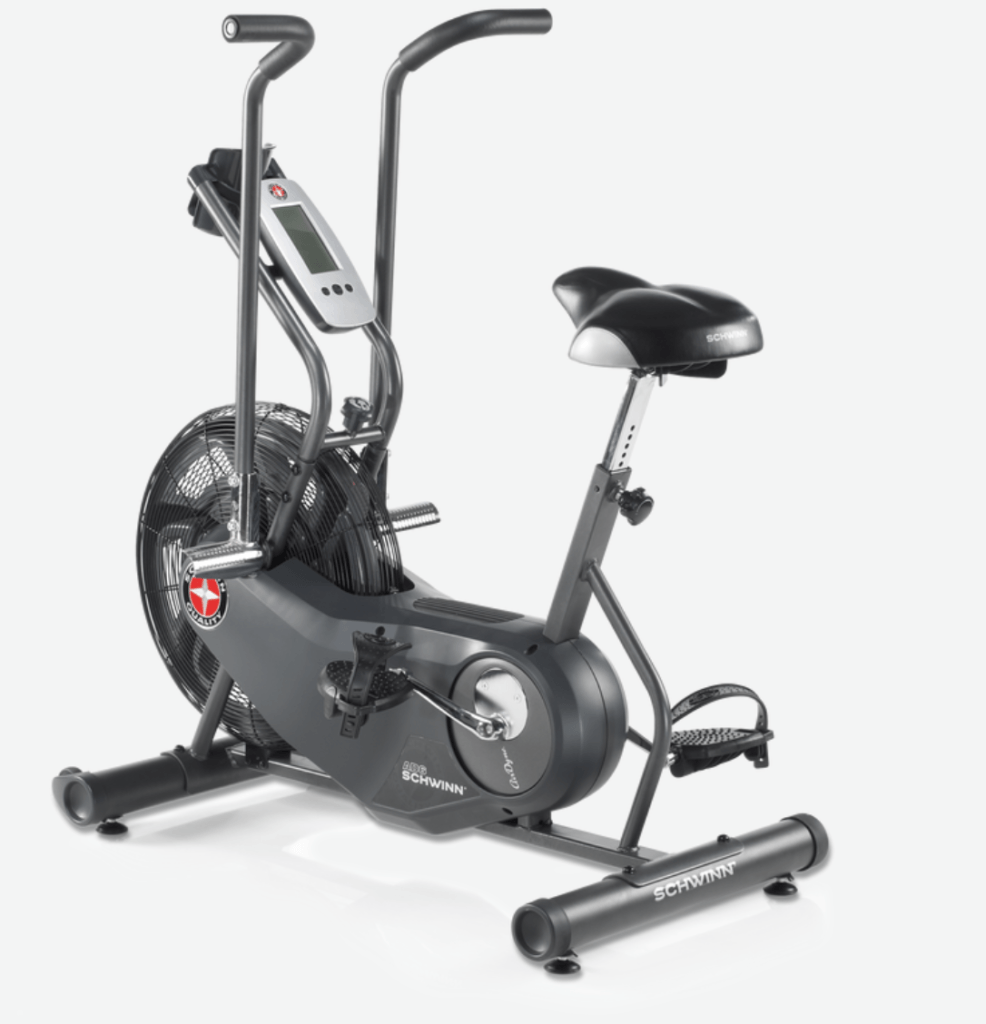 Schwinn's one of those brands we've all heard of so I don't think we need to spend a lot of time here introducing them.
What I would like to say though, is that as a brand, Schwinn is generally pretty well-regarded.
Schwinn is pretty budget-friendly brand, meaning most of their bikes fall into what I'd consider to be the affordable category, especially when compared to elite brands.
And as budget-brands go, Schwinn is easily one of the top dogs.
Like many large brands, their customer service doesn't have the best reputation, but that tends to go with the territory- so I can't hold that against them too much.
When it comes to their air bike lineup, they've only offering 3 Airdynes to choose from these days – the AD2, the AD6, and the higher-end AD7.
The AD6 we're here to talk about now falls right in the middle in terms of both price and features.
Pros
Infinite air resistance
Quiet belt drive
Heavy-duty frame
300 lb weight capacity
RevMeter RPM gauge
Displays watt output
Heart rate monitor compatible
Good warranty
Well priced
Cons
Smaller fan
Seat not fully adjustable
Resistance
The AD6 is an air bike (aka fan bike), meaning it uses spinning fan blades to produce the resistance you work against.
One of the biggest perks of opting for an air bike is the fact that there are no resistance levels to mess with- the resistance you feel is directly related to how hard/fast you pedal.
The faster you pedal, the more resistance you feel – and vice versa.
This means the only thing limiting how much resistance your air bike can provide is you.
This is why air bikes have become so popular with Cross Fit athletes and other folks who do a lot of HIIT style workouts because these bikes can provide intense amounts of resistance, which can exhaust you rapidly.
That, and the fact that they can provide a full-body workout, what with the moving handles and whatnot.
Ok, so the above is true for all air bikes, which means there's not a lot to compare between air bikes in terms of the resistance systems.
But I still like to compare fan sizes.
Technically speaking, the bigger the fan is, the more overall resistance it'll be able to provide (bigger fan = more air = more resistance).
And if you've searched around for air bikes before, you might've noticed that the fans on these bikes do vary in size.
The biggest fan size I've come across is 27″ and all the top air bikes seem to come with fans of this size (the Assault Bikes, the Rogue Echo, Schwinn's own AD7).
That said, Schwinn doesn't provide the diameter measurement for the fan on the AD6, but from the images it's notably smaller than the one found on the AD7.
The smaller fan means the AD6 wouldn't technically be able to provide as much resistance as the AD7 and those other bikes mentioned above.
But depending on your skill level and needs, this might not be that big a deal.
Advanced users looking for the utmost challenge should probably go with a bike with a larger, 27″ fan.
Folks more in the beginning to moderate fitness level will likely do just fine with the smaller fan.
Overall, the AD6 is a fan bike and the resistance you feel depends on how hard you pedal, but it does come with a smaller fan than some of the other top air bikes.
Frame
The fan on the AD6 is a bit smaller than those found on some of the other top models, but what about the frame?
And when I talk about a bike's frame, I mostly interested in how robust or heavy-duty it's gonna feel during use.
To me, having a heavy bike is a good thing because the extra weight is going to make for a more secure base during your workouts.
Heavy bikes are going to be less likely to feel wobbly or shaky during use.
The best way I've found to determine this trait without being able to actually take a bike for a test drive first, is to look at the assembled weight.
This spec tells you exactly how heavy the bike is and remember – heavier is a good thing when it comes to bikes.
The AD6 comes with an assembled weight of 112 lb, which is quite good for an air bike (especially one in this price range).
For the sake of comparison, the more expensive AD7 only weighs 1 lb more; the Assault Bike Classic only weighs in at around 96 lb; and the Rogue Echo has 'em all beat weighing in at 127 lb.
So, compared to these other elite bikes, I would say the AD6 is pretty heavy-duty.
It also comes with a max weight limit of 300 lb, which is pretty standard for most quality bikes.
In terms of assembled dimensions, the AD6 is pretty standard as well, requiring a footprint of roughly 4′ x 2′, give or take a few inches.
Overall, I'm impressed with how heavy the AD6 is when compared to these other more expensive bikes.
Warranty
Schwinn backs the Airdyne AD6 with the following residential warranty:
10 year frame
2 year mechanical parts
1 year electrical
6 month labor
Ok, all things considered, this is a pretty good warranty here.
Ten years on the frame is very good compared to the 5 year frame warranty most bikes come with these days (including the Assault Bike Classic).
Two years on mechanical parts is also pretty good, especially for this price range.
6 months on labor is pretty short, but Assault doesn't offer any labor warranty on their Classic model and neither does Rogue.
Overall, I think Schwinn should be proud of this warranty.
Features
The AirDyne AD6 comes with the following features:
LCD console- the console on the AD6 is very simple and it really only displays your workout metrics- there aren't any built-in workouts or anything like that. It does show watt output though, which is nice and it also has a RevMeter RPM gauge that shows your RPMs in a speedometer style format which is kinda cool.
Heart rate monitoring- the AD6 is compatible with Polar chest strap heart rate monitors for accurate readings during workouts.
Height adjustable seat- you can adjust the height position of the seat, but unfortunately you can't adjust the horizontal (fore/aft) position.
Water bottle holder- there's a convenient place to store your beverage of choice.
Optional wind guard- you can also purchase a wind guard separately to help keep the air out of your face during workouts (but I'm not sure why you'd want to, that air helps cool ya down).
Price
I've mentioned how this bike holds up "for its price range" a few times, but now it's time to get a little more specific.
At the time of writing this, the AD6 costs about $699 when purchased through Schwinn directly (prices may vary a little, so I apologize if this isn't true by the time you read this).
Sometimes you can also find it a little cheaper on Amazon, so it's always a good idea to compare prices.
But generally speaking, about $700 for this air bike.
It's biggest competitors are the bikes I've already mentioned a few times, namely the Assault Bike Classic ($749), the Rogue Echo ($795) and Schwinn's own AD7 ($999).
The Assault Bike Classic is closest to the AD6 in price, costing only about $50 more.
The AD6 comes with a better warranty than the Assault Bike and is actually a little heavier-duty, but the Assault Bike does come with a larger, 27″ fan.
Tough call.
Personally, if I had to choose between the Assault Bike and the AD6, I'd go for the slightly more expensive Assault Bike for the larger fan.
Either way though, I think it's safe to say the AD6 is priced competitively based on the comps.
Final Thoughts
That about does it for Schwinn's AD6.
You know, these air bikes are really very simple machines – not a lot of bells and whistles to compare between models.
But it's the simple machines that seem to work the best.
And as air bikes go, I think the AD6 is a pretty good one.
I like how heavy-duty this air bike is and I also like the warranty Schwinn backs it up with.
And I also think the AD6 is priced pretty fairly, based on the comps mentioned above and how generous that warranty is.
The biggest downsides I see are that the fan is a little smaller than the fans found on these other top bikes and that the seat isn't fully adjustable.
And even though I think it's priced fairly, it's tough that the AD6 is priced so closely to the Assault Bike Classic, because I do think the Assault Bike is a better buy.
But that said, if you're looking to save a few bucks, I think the AD6 is a great air bike for the price. Recommended.