Air bikes have enjoyed quite the revival over the last few years and for good reason – these things work.
Even so, I doubt they'd be experiencing the heightened popularity without Assault's AirBike and the CrossFit athletes that showed us just how effective these bikes can be.
These days, there are tons of air bikes to choose from, but Assault's original AirBike (or aptly named AirBike Classic as it goes by now) is still one of the finest out there.
With a 27″ fan, a heavy-duty frame, and sealed ball bearings all around, this simple device is well-equipped to provide and withstand the most intense workouts you can think of.
It's also fairly priced, something we don't always see these days.
Overall, if you're looking for a great air bike that won't destroy your budget, I think Assault's AirBike is a great choice, but with so many great bikes to choose from these days things can get complicated.
But I'm here to help.
In this review, I'll go over everything the AirBike has to offer, including areas where it could be improved upon.
After reading, you'll know whether or not this is the right bike for your home.
The Assault AirBike Classic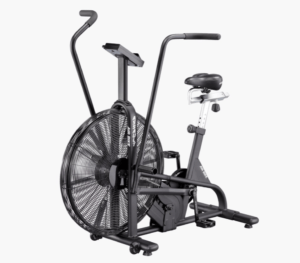 I mentioned CrossFit in the intro because those athletes use air bikes all the time in their workouts and the Assault AirBike used to be their official bike.
It actually could still be, I'm not sure.
Either way, folks could see these crazy fit athletes workin' their butts off on Assault bikes during the televised CrossFit Games and it had to play a part in how popular air bikes have become.
Which is kinda funny, because air bikes go way back.
I think Schwinn's original AirDyne was the first mass produced air bike for home use and it came out back in the late '70s.
Air bikes seemed to disappear there for awhile, but they're back and going as strong as ever now.
Years ago, Assault only had the 1 AirBike to choose from, but these days they've got 3 models: the Classic, the Pro, and the Elite.
The Pro and Elite are basically just bigger, heavier-duty versions of the Classic we're here to discuss now.
And yes, they do come with some legit upgrades, but honestly, I think the Classic will get the job done just fine for most of us.
Pros
Unlimited air resistance
27″ fan
Full body workout
20 sealed ball bearings
Durable frame
7 workout programs
Polar strap heart rate monitor compatible
Good warranty
Fairly priced
Cons
Simple console
Wind guard sold separately
Frame not as heavy-duty as some competitors
Resistance
When you think about it, air bikes are very simple devices by design.
You've got your pedals and handles that are connected to the same flywheel, which spins as you pedal.
But unlike traditional exercise bikes that use weighted flywheels and magnetic resistance systems, air bikes come with fan blades that cut through the air as you pedal.
Which is why these bikes are called "air" bikes – because they use air to create the resistance.
As simple as these bikes are, they can still provide the hardest workouts you've ever done.
This is because the harder/faster you pedal, the more resistance you get.
There aren't any resistance levels to mess with or anything like that – want more resistance, push harder.
This makes air bikes great devices for interval or high intensity training because there is no max resistance, meaning you can get your heart rate up really fast.
But if all air bikes operate the same way, can we really compare the resistance systems between models?
Sure you can.
When comparing air bikes, I always start with the size of the fan itself.
The size of the fans on these bikes will vary and generally speaking, more affordable air bikes come with smaller fans.
And even though all air bikes work by the same general principle, bikes with larger fans will be able to provide more overall resistance (bigger fan = more air = more resistance).
With this in mind, the Assault AirBike comes with a 27″ fan, which is the largest fan I've come across on any air bike.
This is the same size fan found on other top models like Schwinn's AirDyne AD7 and Rogue's Echo Bike as well.
If you're looking for an air bike that can provide an elite workout, the AirBike Classic is up to the task. With a 27″ fan, it can provide as much resistance as any air bike on the market.
Oh, I almost forgot.
Something else worth mentioning is that the Classic uses a chain drive as opposed to a belt drive.
Belt drives tend to be a little quieter and maybe even a little more responsive, although the fan makes so much noise, in this case I don't think it makes much difference.
Users certainly don't seem to have many complaints regarding the performance of the AirBike.
Frame
Another factor that separates nicer bikes from the less nice is how heavy-duty their frame is.
Simply put, cheaper bikes usually come with lighter frames that might not be up to the task of keeping up with more intense workouts.
Lighter frames also tend to feel less stable and will be more likely to wobble or wiggle during workouts, especially for larger users.
Like any other exercise bike, when comparing air bikes I like to check out the assembled weights to get an idea as to how stable I can expect it to feel.
And I think heavier is better when it comes to assembled weights because the extra weight usually provides added stability.
With this in mind, the AirBike Classic comes with an assembled weight of about 96 lb, which isn't bad for an exercise bike (especially one without a weighted flywheel), but it's actually a lot lighter than some of its competitors.
Like the Rogue Echo Bike that weighs in at 127 lb.
If you're looking for the heaviest-duty air bike around, the AirBike Classic is certainly not it, but something it does have on its side is the fact that it's been used by CrossFitters for years.
And let's be real- if it wasn't standing up to the challenge, they would've stopped using it.
The AirBike Classic also comes with a 300 lb weight limit, which is pretty standard for most decent exercise bikes.
Overall, the AirBike Classic isn't the heaviest-duty air bike on the market, but it's heavy-duty enough to offer a secure workout for most of us home gymers.
P.S.- Assault must've decided they wanted to make heavier-duty models because both their Pro and Elite AirBikes weigh significantly more.
Warranty
Assault Fitness backs their AirBike Classic with the following residential warranty:
5 year frame
2 year parts
Ok, so 5 years on the frame seems pretty short when compared to the lifetime frames found on elite treadmills and even some other exercise bikes.
But when compared to other air bikes, it's pretty good.
For the sake of comparison, Rogue only offers 2 years on their Echo Bike's frame.
Schwinn beats 'em all out with a 10 year frame warranty for their AD6/AD7, but I still think Assault's frame guarantee is fair considering the price.
Two years on parts is solid too, given the price and the comps (Schwinn offers the same).
It would be nice if Assault offered a labor warranty on the Classic, but they don't.
Overall, I think the warranty on this bike is pretty good.
Features
I mentioned earlier that air bikes are pretty simple devices, so there aren't a lot of features to discuss, but the AirBike Classic does come with the following features:
LCD console- the display on this bike is very basic: it's small and isn't backlit, so it's a good idea to use it in well-lit rooms. It displays all the standard metrics you'd expect and it also measures watt output, which is nice. It's very easy to use, so if you're looking for a console that isn't overly complicated, its simplicity could be a benefit.
7 workout programs- there aren't a ton of preprogrammed workouts included, but the Classic does come with 7 workout options to choose from. These include 3 interval options, and 4 goal oriented workouts (including a heart rate option).
Heart rate monitoring- the console on the Classic is compatible with Polar strap heart rate monitors, although one isn't included with purchase.
Fully adjustable seat- you can adjust both the height and horizontal (fore/aft) position of the seat, making it easy to find a comfortable riding position.
Standard pedals- this bike comes with standard pedals that are compatible with sneakers or any other shoe you'd wanna wear during workouts. You could easily swap 'em out for SPD or any other cleat compatible pedal if you wanted to.
The Classic is also compatible with a wind guard that helps block the air from blowing in your face during workouts, but it's sold separately.
Price
Before we wrap this review up, I want to briefly discuss price.
I hesitate to quote a specific price because knowing my luck as soon as I publish it the price will change and my info won't be accurate.
The AirBike's prices have been pretty stable though, so I'm probably pretty safe here.
Anyway, if the price of this bike is a little different by the time you read this, I apologize.
At the time of writing this, the Assault AirBike Classic costs $749.
This is well under $1000, so I would consider this to be a fairly budget friendly exercise bike.
It's certainly one of the more affordable air bikes out there and the cheapest of the "big 3" (Rogue Echo, AirDyne AD7, and Assault AirBike).
Personally, I think the Classic is priced very well considering its quality and reputation.
Final Thoughts
Ok, that's about all I got regarding the AirBike Classic.
As I've mentioned before, this is a well-priced, high end air bike that's been time tested by elite CrossFit athletes around the world.
It scores highly with its 27″ fan, solid frame, and good warranty.
The console is a bit basic and it would be nice if Assault included the fan shield with purchase, but otherwise I don't have much to complain about here.
The Classic is also a bit lighter-duty than some of the other high-end air bikes out there, but I still think it's more than enough bike for most of us.
Especially considering the Classic is more affordable than most of the other elite comps.
Overall, I think Assault AirBike Classic is still one of the best air bikes around and certainly a smart buy. Highly recommended.