The AssaultBike Elite is Assault Fitness' highest-end air bike to date and honestly, I think it's unlikely they'll ever make a tougher model.
I mean, let's be real – how could the Elite get any heavier-duty?
As the name implies, this is an air bike designed to provide intense workouts and withstand intense punishment from elite users.
Highlights of this beast include a 27″ steel fan, a ridiculously heavy-duty frame, and an updated, bluetooth compatible console.
It's also backed by a fairly generous home warranty too.
Overall, if you're looking for one of the toughest air bikes on the market, the AssaultBike Elite isn't going to disappoint.
The real question though, is whether or not it's really worth the investment, considering there are so many more affordable options out there.
Well, that's what I'm hoping this review will help you answer.
In this article, I'll go over everything the Elite has to offer – we're talking specs, features, warranties, and pretty much everything else too.
After reading, you'll know whether or not this is the right bike for your home.
Let's begin.
The AssaultBike Elite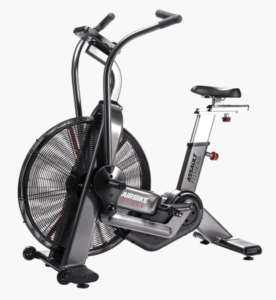 Assault Fitness is a brand with a great reputation for providing high-end fitness equipment, thanks mostly to the success of their AssaultBikes.
Their original AssaultBike, which is now known as the AssaultBike Classic, became a popular training tool for CrossFit athletes around the world.
Assault Fitness gradually expanded their lineup to include a few curved treadmills, as well as expanding their air bike collection.
These days, you can choose between 3 different AssaultBikes: the Classic, the Pro, and the Elite we're here to discuss now.
All of these bikes share some common core characteristics, like the fact that they're all air bikes, but each subsequent model comes with a few key upgrades.
These upgrades generally include heavier-duty frames and longer warranties, as well as a few more subtle changes.
As the name implies, the Elite is Assault's highest-end and most expensive bike to date.
Pros
Fully body workout
Unlimited resistance
27″ steel fan
Very heavy-duty frame
Bluetooth compatible
Heart rate strap compatible
Fully adjustable seat
Built-in workout programs
Wind screen included
Great warranty
Cons
A bit expensive
Chain drive
Resistance
The great thing about all air bikes is that they can provide a lot of resistance.
This is because the resistance you feel is dependent on how fast/hard you pedal – pedal harder, get more resistance (and vice versa).
This is due to the fact that air bikes use spinning fan blades cutting through air to create the resistance you feel (hence their name).
And since the resistance the bike provides depends on how fast you're pedaling, the only real limit on how much resistance it can provide is you.
All air bikes operate under this same principle, so you don't have to compare resistance levels or flywheel weights when looking at different air bikes.
But I do like to compare the size of the fans because this spec can vary between bikes.
And technically speaking, having a larger fan allows the bike to provide more overall resistance- bigger fan = more air = more resistance.
Most high-end air bikes come with a 27″ fan, which is the largest I've ever seen. The AssaultBike Elite also comes with a 27″ fan, so no complaints there.
Cheaper fan bikes tend to come with smaller fans, but this rule isn't written in stone.
Something else you might want to consider is whether the bike comes with a chain drive or a belt drive.
Belt drives are usually preferred because they're quieter and usually a little more responsive.
The Elite comes with a chain drive, which will be a little louder than a belt drive air bike (like the Rogue Echo or AirDyne AD7), but to be honest, the wind coming off these bikes is pretty loud to begin with.
So if you're looking for a quiet bike, an air bike might not be the right option to begin with.
Overall though, the Elite scores highly with its large, steel fan that's capable of providing unlimited resistance during workouts.
Frame
The resistance system on the Elite is pretty standard for any decent air bike, but that's not the case when it comes to its frame.
The frame on this bike is as heavy-duty as they come.
And yes, I realize that term gets thrown around a lot and doesn't always mean that much, but when I use it, I mean it literally – this bike weighs a ton.
More specifically, the Elite comes with an assembled weight of roughly 139 lb.
This is about 45 lb more than the Classic, 25 lb more than the AD7, and even about 10 lb more than the tank that is the Rogue Echo Bike.
This is, without exaggeration, the heaviest air bike I've come across yet.
All this extra weight is going to make for a rock solid feel during workouts, so you certainly won't have to worry about the Elite rocking or wobbling during hard workouts.
And when thinking about the weight of this thing, keep in mind there aren't any weighted flywheels jacking that number up – it's all frame.
In terms of dimensions, the Elite is about 6″ longer than the Classic and Pro, so it does take up a little more floor space -assembled dimensions: 55″ x 26″ x 55″ (L x W x H).
All of this extra bulk allows the Elite to safely hold folks weighing up to 350 lb, which is a very impressive weight capacity.
Overall, the sheer size and weight of the Elite is certainly impressive, but it could also be overkill for most home users – most average sized men and women won't need so much bulk to ensure a stable ride.
On the other hand, homes or gyms with multiple users might gain peace of mind with the extra heavydutiness the Elite offers.
Warranty
The AssaultBike Elite comes with the following residential warranty:
10 year frame
3 year parts
1 year labor
Overall, this is a very good warranty.
Ten years on the frame is as long as you're likely going to find on an air bike.
Schwinn also offers 10 years on their AD7, but Rogue only offers 2 years.
Three years on the parts is also quite good and longer than the 2 years parts warranties offered by most competitors (Schwinn included).
A year on labor is pretty standard.
All things considered, Assault offers a great warranty on their Elite.
Features
Air bikes are pretty simple devices by design, but the AssaultBike Elite does come with the following features:
LCD console- the console on the Elite isn't fancy or anything, but it's bright and easy to read during workouts. It also allows you to clearly view all workout stats at the same time, which is nice. There are a few built-in interval workouts, as well as a few goal oriented and heart rate oriented workouts to choose from.
Bluetooth- the console is also bluetooth compatible, allowing you to connect with other fitness apps for metric tracking and whatnot. Assault has their own free fitness app as well, giving you access to some workouts and goal tracking.
Heart rate monitoring- this bike is compatible with bluetooth and ANT+ strap heart rate monitors for accurate tracking during workouts. A monitor isn't included with purchase though.
Wind screen- the Elite is the only AssaultBike that comes with an included wind screen to help defer some of the wind from blowing in your face.
Fully adjustable seat- you can adjust both the height and horizontal (fore/aft) position of the seat, making it easier to find the right fit during use.
Upgraded seat- speaking of the seat, the Elite comes with an upgraded saddle that's a little larger and more comfortable than the seat found on the Classic and Pro models.
Standard pedals- the pedals on this bike are standard pedals designed for use with sneakers. It's like your basic toe cage, but without the cage. You could easily swap 'em out for cleat specific pedals if you wanted to.
Price
Alright, let's talk numbers a little here.
At the time of writing this, the AssaultBike Elite goes for $1299 (this could change a little, but probably not that much – the price seems pretty stable).
This price is a little high when compared to the other top air bikes on the market – Schwinn's AD7 goes for about $999 and Rogue's Echo goes for about $795.
Is the Elite worth that much?
Maybe.
It's certainly the most heavy-duty air bike I've seen and it's also backed by a great warranty.
But I'm just not sure the upgrades are worth the cost for most users.
Final Thoughts
Ok, that's about all I got regarding the AssaultBike Elite.
There's no denying this air bike is legit – I mean if this thing were any more heavy-duty it would literally be a tank.
The overbuilt frame is the star of the show here, but there's also the 27″ steel frame, sealed ball bearings at every pivot, and the upgraded seat to consider.
I also appreciate the extended warranty Assault offers on this model.
But as I was alluding to up above, I think this is a lot more bike than most home users will ever need.
I could see going all in with the Elite if you had several people using your garage gym or if you had several elite athletes living in your home.
But I think the rest of us could save some cash and go with a less expensive air bike.
And I love Assault Fitness, but I think their AssaultBike Pro is a better buy – it's heavy-duty enough, but also more affordable.