The Assault Bike Pro is an upgraded version of the brand's popular Assault Bike Classic, which gained fame with CrossFit athletes around the globe.
The Pro version comes with all of the same features that made the Classic such a success, like a large steel fan and ball bearings at every pivot, but it comes with a few key upgrades as well.
Like a heavier-duty frame, a bluetooth friendly console, and a longer warranty.
Put all this together and you've got the makings for one hell of an air bike, but is the Assault Bike Pro really the best bike for your home?
Well, that's what I plan on helping you figure out.
In this review, I'll go over everything the Pro has to offer.
After reading, you'll know whether or not this is the right air bike to meet your needs.
The AssaultBike Pro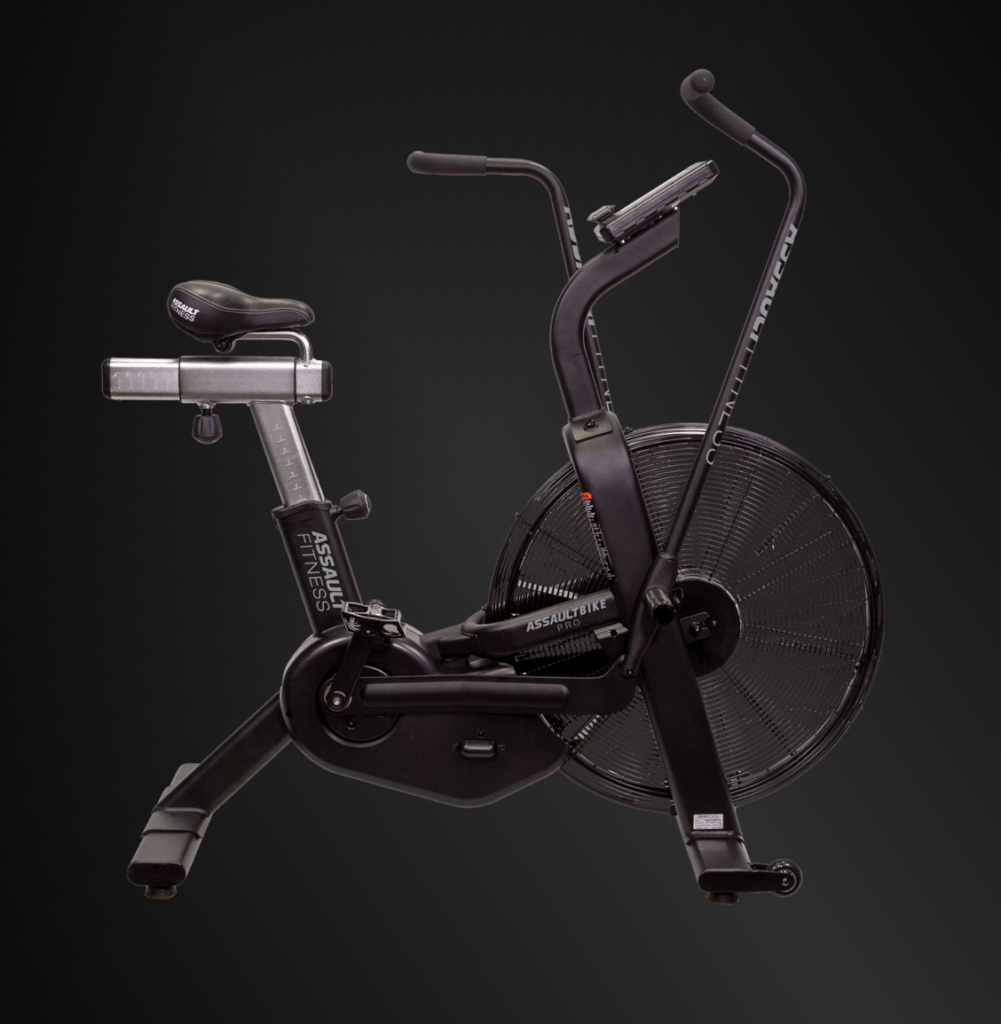 Assault Fitness has a stellar reputation and it's largely due to the overwhelming success of their original AssaultBike (now aptly referred to as the AssaultBike Classic).
Over the years, Assault has gradually expanded their lineup and they now offer a couple of elite manual curved treadmills, as well as a rowing machine.
But I think the air bikes are still their bread 'n butter.
Assault offers 3 air bikes to choose from- the Classic, Pro, and Elite.
The differences between the models are fairly subtle, but generally speaking, the higher-end models are heavier-duty and come with longer warranties.
The "Pro" version we're here to discuss falls right in the middle of the pack, both in terms of cost and heavydutiness.
Pros
Capable of providing intense, full body workouts
Unlimited resistance
Large fan
7 workout programs
Bluetooth compatible
Heart rate monitor compatible (bluetooth & ANT+)
Heavy-duty frame
Fully adjustable seat
Good warranty
Fair price
Cons
Chain drive
Wind screen not included
Resistance
The AssaultBike Pro, like all of the other versions, is an air bike (aka, "fan" bike).
This means the resistance is created through the use of fan blades cutting through the air as you pedal.
This is a remarkably simple system in terms of technology, certainly less sophisticated than most magnetic resistance systems, but it's also a highly effective one.
And I say that because with air bikes, there is no messing with resistance levels or anything like that- if you want more resistance, you simply pedal harder.
The beauty with these bikes is that the resistance you feel is directly related to how fast/hard you pedal.
This makes air bikes potent weapons for burning calories and getting your heart rate elevated fast because they can technically provide unlimited amounts of resistance.
Since all air bikes work the same, there isn't a lot to compare between these bikes when it comes to the resistance systems, but there's still a few things to look for.
For one, I like to check out the size of the fan.
Bigger fans will be able to provide more overall resistance than smaller ones: bigger fan = more air = more resistance.
And yes, fan size does vary some between air bikes.
There's a little confusion over the size of the fan on the Pro and I've reached out to Assault in an attempt to clear things up.
The product description for the Pro on their site states the fan size as 25.25″, but on their comparison page it states that all the bikes come with the same 27″ diameter.
So which is it: 25.25″ or 27″?
My gut instinct is that all the bikes come with the same 27″ fan and the difference might be because of a different measurement technique (measuring from inside the cage vs outside or something like that).
And honestly, a 1.75″ difference in fan size probably wouldn't make that much difference either way.
But it would be weird for the more affordable "Classic" to come with a larger fan than the "Pro" model.
Something else to consider is belt vs chain drive.
Belt drives are usually preferred because they're a bit quieter, but personally, I don't mind a chain drive – especially for an air bike which makes a lot of noise from the wind it produces anyway.
The Pro uses a chain drive though, so if that's something you're worried about, definitely something to consider.
Frame
Ok, moving on, let's check out the frame.
All air bikes come with more or less the same dimensions, give or take a few inches, so you shouldn't expect a big difference in terms of the floor space these bikes take up (the Pro takes up roughly a 4′ x 2′ footprint).
But something that varies greatly is how heavy-duty these bikes are.
And the best way to compare this characteristic is to look at the assembled weight – because this spec tells you literally how heavy the bike is.
And generally speaking, heavier bikes will feel more stable during workouts.
With this in mind, the AssaultBike Pro comes in with an assembled weight of 118 lb, which is impressive considering there's no weighted flywheel to help jack that number up.
It's also well over 20 lb heavier than the AssaultBike Classic.
With an assembled weight this high, you shouldn't have to worry about the Pro wobbling or feeling unstable during use.
It also comes with a max weight limit of 300 lb, which is pretty standard for most high-end bikes.
The Pro comes with built-in transport wheels, so even though this bike is heavier, it'll still be pretty easy to roll around when necessary.
Overall, the Pro scores highly in this department. With a heavy-duty, thick frame, it's well-designed to feel stable and hold up against intense workouts.
Warranty
Assault Fitness backs the AssaultBike Pro with the following residential warranty:
7 year frame
3 year parts
Ok, not bad.
Seven years on the frame is pretty impressive for a bike costing under $1k, especially considering the types of workouts this bike is designed to provide.
For the sake of comparison, Schwinn does offer a 10 year frame guarantee on their Airdyne AD7, but many other brands max out at 5 years.
Three years on parts is better than the 2 years most other top brands offer though (including Schwinn).
Assault doesn't offer a labor warranty on the Pro.
Overall, I think the warranty on this bike is pretty good.
Features
The AssaultBike Pro comes with the following features:
LCD console- the console on the Pro isn't particularly hi-tech or anything, but the high-contrast LCD screen is easy to view during workouts. It's also designed so that you can see all your workout metrics simultaneously without having to push any buttons.
7 workout programs- the console on this bike comes with 7 workout options, including intervals, goal oriented workouts, and heart rate programs. There's also a competition mode on this model.
Bluetooth- the console on the Pro is bluetooth compatible with fitness apps for metric tracking and all that. Assault Fitness also has their own free fitness app that offers different workouts to choose from and which also tracks stats and achievements.
Heart rate monitoring- the Pro is compatible with both bluetooth and ANT+ strap heart rate monitors, although one isn't included.
Fully adjustable seat- you can adjust both the height and fore/aft position of the seat, making it easier to find a comfortable riding position.
Standard pedals- the pedals on the Pro are designed to be used with sneakers, so you don't have to worry about finding compatible riding cleats.
Price
Before we wrap this review up, I want to discuss cost a bit.
At the time of writing this, the AssaultBike Pro costs around $899, making it about $150 more than the Classic, about $100 less than Schwinn's AD7, and roughly $100 more than Rogue's Echo.
In other words, it's competitively priced based on the comps.
I also think the extra cost is warranted over the Classic, given the upgrades to the console and the fact that this model is so much heavier-duty (you can check out my full comparison between the Classic and the Pro here).
Overall, I think the Pro is priced fairly based on what the other elite air bikes on the market cost.
Final Thoughts
Well, that about does it for the AssaultBike Pro.
As I mentioned earlier, air bikes really are simple devices – but don't let them fool you, they can still provide some of the best workouts around.
And as air bikes go, I think the AssaultBike Pro is easily one of the finer specimens out there.
I like that the Pro comes with a large fan and upgraded console, but it's the added bulk that I think is most impressive (it isn't nearly as heavy-duty as the Echo or AssaultBike Elite, but it is heavier than the AD7).
I also like that it comes with a generous warranty.
Overall, I don't have many complaints.
If I'm really nitpicking, I guess it would be nice if it came with the wind screen included… but to be honest, I couldn't care less.
All things considered, I think the AssaultBike Pro is a wonderful product and easily one of the best air bikes on the market.