The Rogue Echo Bike is one of the finest air bikes on the market.
I know this is a bit more direct than I tend to be, but Rogue is a no-BS fitness brand, so I feel it's only fair that I do the same with this review.
More specifically though, highlights of the Echo include a severely heavy-duty frame, a 27″ steel fan, and a fully adjustable seat.
It also comes with an LCD console with built-in workout options and heart rate monitoring.
Throw in a sleek black powder coating and you've got the makings for arguably the best air bike around.
But as much as I respect the Rogue Echo, like any other bike, it's not perfect – the warranty could be longer and it would be nice if we didn't have to pay extra for some of the available add-ons.
Overall, if you're looking for a quality air bike, I think the Echo Bike is a great option, but is it really the right bike for you?
Well, that's what we're here to help you figure out.
In this review, I'll go over everything this bike has to offer, including the areas where there's room for improvement.
After reading, you'll know whether or not the Echo is worth investing in.
Ok, let's do this.
The Rogue Echo Bike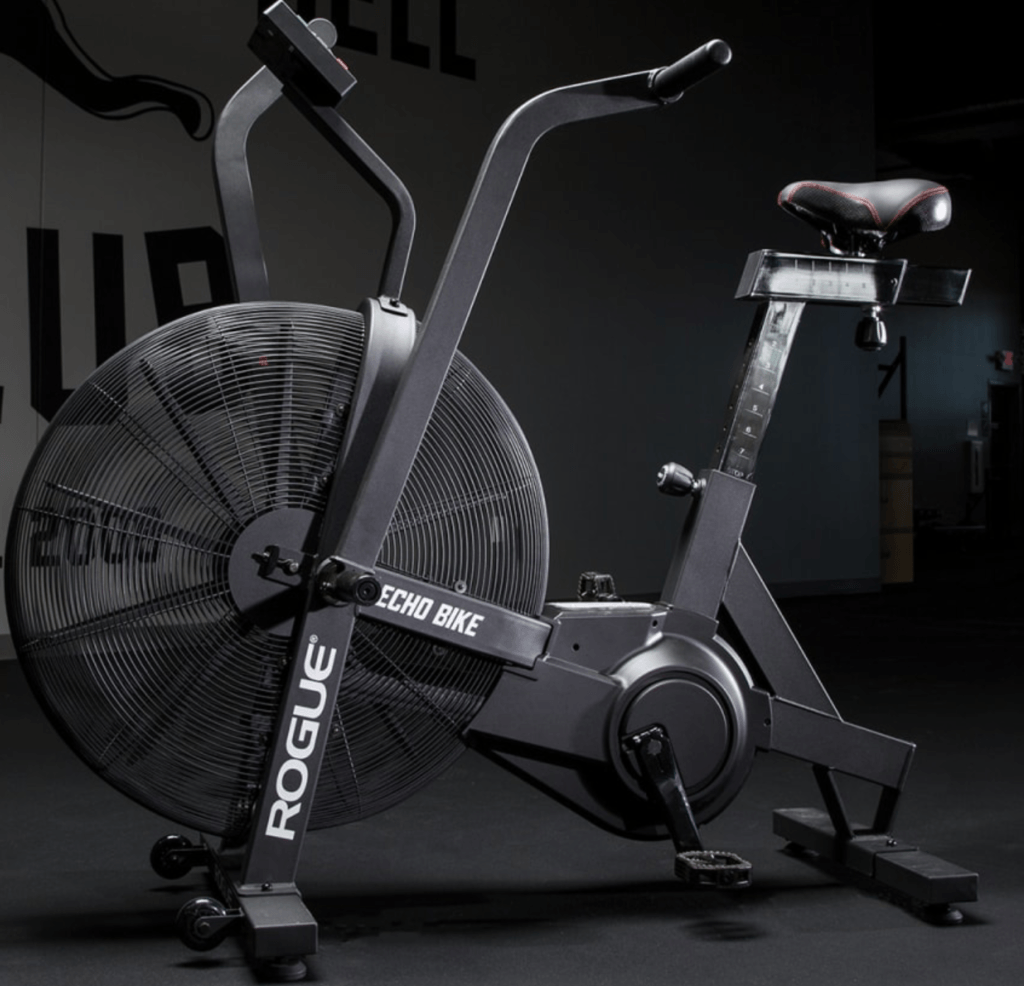 I love Rogue as a brand – there, I said it.
They've earned one of the best reputations in the biz for providing remarkably well-built equipment that's reasonably priced.
They basically build the heaviest-duty gear around.
Rogue is mostly known for their power racks and lifting gear and I think they're easily one of (if not the) best home brands when it comes to this stuff.
They don't offer that many cardio machines, although you can buy some of Concept2's and Assault's machines through 'em (which is interesting because the AssaultBike is one of the Echo's biggest competitors).
I guess it's just a case of game recognizing game.
Anyway, the Echo Bike is the only cardio machine sporting the Rogue brand name and there's only 1 model to choose from (like I said earlier, no-BS).
Pros
27″ steel fan
Belt drive
Very heavy-duty frame
Textured black powder coating
350 lb weight limit
Thick, welded handles
Fully adjustable seat
Easy to use console
7 workout options
Heart rate monitor compatible
Well-priced
Cons
Warranty could be longer
Wind guard/water bottle holder not included
May be too large for smaller users
Resistance
The Echo Bike is obviously an air bike, meaning it uses fans cutting through the air to provide the resistance you work against.
Like all other air bikes, the resistance you feel depends entirely on how hard/fast you pedal – push harder and you get more resistance; slow down and you get less resistance.
This is awesome for high intensity workouts because you can go all out against insane amounts of resistance and be out of breath in seconds.
Not that you have to use an air bike for intense interval training- you could just as easily pedal at a slower, steady rate for a more conventional cardio workout.
But let's be real- air bikes are designed for intense, full-body workouts.
Anyway, all air bikes operate under this principle, so there aren't a ton of specs to consider when comparing the resistance systems of air bikes.
That said, I do think it's a good idea to consider the size of the fan itself.
Even though all air bikes can theoretically provide "unlimited" resistance because the output is related to how hard you pedal, having a bigger fan means more overall resistance.
Bigger fan = more air = more resistance.
The Echo comes with a 27″ fan, which is as large as you'll find on any air bike.
Something else worth knowing is that the fan blades on the Echo are steel and welded to the flywheel – I'm not sayin' they're indestructible, but you shouldn't have to worry about them ever breaking down.
Oh, one more thing – the Echo uses a belt drive too (as opposed to a chain drive).
Belt drives create a little less noise than chains and don't really require any maintenance.
For the sake of comparison, all the AssaultBikes use chain drives; Schwinn's AirDyne AD7 also uses a belt drive.
Maybe not a deal breaker either way, but something to consider when comparing models.
Overall, the Echo scores highly with its large, 27″ steel fan and belt drive. Like everything else on this bike, the fan is built to last a lifetime.
Frame
The frame department is where we see the biggest difference between the Echo and most other air bikes.
Simply put, the Echo is heavier-duty than most competitors.
And yes, I know that terms like "heavy-duty" and "built like a tank" are widely overused by us fitness bloggers, so much to the point where they kind of lose all meaning.
Well, when I say "heavy-duty", I mean it literally.
I always check out a bike's assembled weight spec because this simple stat tells us exactly how robust the bike is (and it takes all subjectivity out of the equation).
And heavier bikes will feel more stable and be less likely to wobble during use.
With this in mind, consider that the Echo comes with an assembled weight of 127 lb.
For the sake of comparison, the AssaultBike Classic weighs in at about 95 lb and the Airdyne AD7 weighs about 113 lb… and these are also 2 of the best air bikes around.
Now looks can be deceiving, but when you look at images of the Echo it does just look thick and solid.
And that's because there's no hiding from the fact that the frame is constructed out of large steel components.
It also comes with a textured black powder coating that looks great, sure, but also helps protect the bike from knicks and dings.
The Echo also comes with an impressive 350 lb weight limit, allowing folks of all sizes to ride safely.
Speaking of size, with a footprint of roughly 59″ x 30″ (L x W), the Echo is quite a bit larger than most of the other air bikes around.
This is a good thing for larger, stronger users and for gyms where space isn't an issue, but some smaller folks have complained that the Echo is a little too big for them.
Overall though, the Echo is one of the strongest, heaviest-duty bikes on the market.
Its overbuilt frame allows it to handle any punishment you can throw at it, but smaller folks might find it too large for a comfortable fit.
Warranty
Rogue Fitness covers their Echo Bike with the following residential warranty:
Ok, so remember when I said no bike is perfect?
Well, the warranty is one of the few areas where this bike could use some improving.
I think 2 years is too short for this bike, especially for the frame.
Based on the comps, I'd like to see at least a 5 year frame warranty; 2 years on parts alone is actually pretty good compared to what Assault and Schwinn offer.
Even though the warranty on this bike is a bit short, I don't think you have to worry about the Echo breaking down.
As we've discussed above, this bike is rock solid from top to bottom – I don't think most of us could damage this bike if we tried.
Even so, a generous warranty still adds peace of mind.
Features
The Rogue Echo Bike comes with the following features:
LCD console- the console on this bike isn't fancy or anything, but it's easy to read and track your stats during workouts. It displays all the classic workout metrics you'd expect, including watt output, and you can see all metrics at the same time. It isn't bluetooth compatible with fitness apps.
7 workout options- you can choose between 7 different workout modes, including 3 different interval workouts and 4 goal oriented workouts. The buttons on the side of the console make it easy to select between them.
Heart rate monitoring- the Echo is compatible with strap heart rate monitors, although one isn't included with purchase.
1.5″ handles- the handles on this bike are thick and welded to the arms for a comfortable and durable feel. There are no multi-grip options, so you're stuck with the standard grip.
Fully adjustable seat- you can adjust both the height and horizontal (fore/aft) position of the seat, making it easier to find a comfortable riding position.
Standard pedals- the Echo comes with standard pedals designed to be used with sneakers, so you don't have to worry about riding cleats or anything like that.
Optional accessories- there are a few optional add-ons you can purchase separately, including a wind guard, a phone holder, and a water bottle holder. There's also a turf kit that includes larger wheels and a handle, making it easier to push the Echo around outside.
Price
As we wind down to the end of this review, I think it's a good idea to talk about price.
Now the prices for exercise bikes can vary from year to year, so please keep that in mind if the numbers I'm about to quote aren't 100% accurate by the time you read this.
Although that said, the price for the Rogue Echo has been very stable over the last few years, so I doubt it'll change too drastically any time soon.
At the time of writing this, the Echo costs $795 for the bike alone.
Not only is this pretty affordable for exercise equipment, I think it's well-priced based on the comps.
The AssaultBike Classic goes for around $749, the AssaultBike Pro goes for about $899, and Schwinn's AirDyne AD7 costs about $999.
So, based on these numbers, I think it's fair to say the Echo is reasonably priced (especially considering how robust it is).
Final Thoughts
Ok, that's about all I've got regarding the Rogue Echo.
As I said at the beginning of this review, I think this beast of a bike is easily one of the best air bikes on the market.
Rogue fans and folks simply looking for a heavy-duty model will appreciate how bulky and overbuilt this bike is, although this could be an issue for smaller users or homes with smaller workout spaces.
The only real downsides I see are that the warranty could be longer and it would be nice if some of those optional accessories were included with purchase (like the wind guard and water bottle holder).
I guess it would be nice if the handles were multi-grip too, although I don't think this is going to bother most users.
But I consider these offenses small.
With a large fan, a belt drive, and one of the heaviest-duty frames on the market, I think the Echo is a smart investment for gifted athletes, homes with multiple users, or simply anyone looking for a rock solid air bike.
In other words, Rogue's Echo Bike is a grand slam and easily one of the best air bikes on the market. Highly recommended.