When it comes to performance, there aren't many budget friendly cycles that can compete with Bowflex's C6.
With a 40 lb flywheel, 100 levels of magnetic resistance, and a surprisingly heavy-duty frame, the C6 is capable of kicking some serious butt.
And it's no slouch when it comes to features either.
This bikecomes with fully adjustable seat/handlebars, a backlit LCD console, bluetooth compatibility, and an included pair of 3 lb dumbbells.
And to make things even better, Bowflex backs this bike with one of the most generous warranties you'll find on any indoor cycle.
Put all this together and I think it's fair to say the C6 is one of the best buys in its price range, but before you start pulling out credit cards, you have to make sure this is the right bike for you.
And that's where I come in.
In this review, I'll provide a thorough run down of everything the C6 has to offer; I'll also try to compare it to some of the other top bikes in this price range to see how it stacks up.
After reading, you'll know everything you need to in order to decide for yourself whether or not the C6 is worth investing in.
Let's begin.
The Bowflex C6 Bike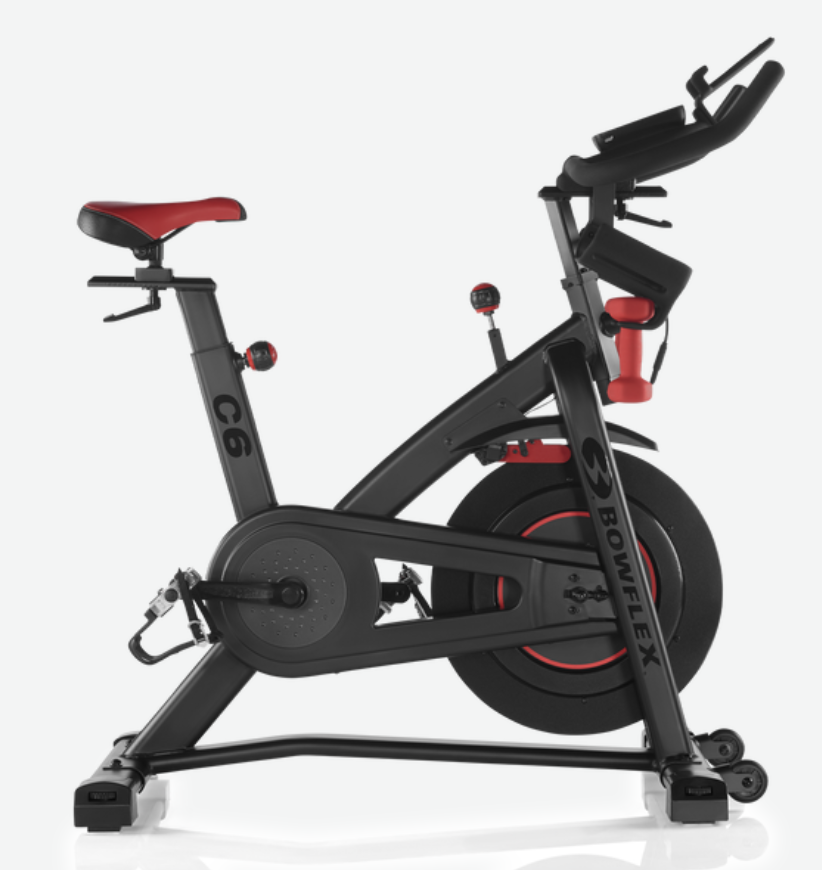 Bowflex is a popular brand that's been around for a long time.
It all started with their unique power rod based home gyms (a few of which they still offer by the way), but you don't see much talk about them anymore.
These days, it seems like Bowflex is focusing more on their cardio equipment than anything else.
And like every other brand it seems, Bowflex is also doubling down on the whole streaming fitness platform idea – if you look at their lineup, it's obvious, all of their cardio gear is JRNY compatible.
Well, I guess that's how it goes now.
Anyway, when it comes to indoor cycles, they've only got a few to choose from.
There's the VeloCore, the C6 we're here to talk about now, and the C7 (which I have a feeling is on it's way out, based on the way they've been pricing it).
We'll talk more about specific pricing in a little bit, but at well under $1k, the C6 is quite budget friendly for an indoor cycle.
Pros
40 lb flywheel
100 levels of magnetic resistance
Belt drive
Fairly heavy-duty frame
330 lb weight limit
LCD console
Bluetooth heart rate strap included
Pair of 3 lb dumbbells included
Fully adjustable seat
Fully adjustable handlebars
Dual-compatible pedals
Dual water bottle holders
Tablet holder
Great price
Great warranty
Cons
Bowflex's customer service can be difficult
Frame could be heavier
Resistance
I always start my reviews by going over the resistance system because I think this is the heart of the bike – not only does it give you something to push against, but it also determines how smooth your pedal motion is gonna feel.
The C6 is an indoor cycle and as such, it's designed to give the feel of riding a road bike.
Bowflex achieves this goal by giving the C6 a 40 lb flywheel and pairing that flywheel with a magnetic resistance system.
At 40 lb, the C6's flywheel is heavy by anyone's standards and easily heavy enough to build enough momentum to provide a smooth pedaling action.
And users generally agree that this is true.
The C6 also uses a belt drive, which makes for a very quiet workout (and doesn't require any maintenance).
The flywheel weight is great, but what I really like about this bike is that it comes with 100 levels of resistance.
Not only does this give you a ton of control over the intensity of your workouts and allow you to make really small resistance change, but it's also the same scale Peloton uses.
So, if you like the idea of purchasing a more affordable cycle and simply pairing it with Peloton's digital app, the fact that the C6 uses the same resistance scale would make it really easy to do this.
And I can't think of many bikes in this price range that offer this, except for Schwinn's IC4 that is (which is identical to the C6 by the way, but more on that later).
Overall, the C6 scores very highly in the resistance department – it's packing a massive flywheel and comes with 100 resistance levels which gives you total control over your workouts.
Frame
The resistance system is the star of the show for me, but it's always a good idea to check out how robust the frame is too.
After all, nobody wants to purchase a new bike only to find it feels lightweight and flimsy during use.
It can be hard to figure this out before buying, unless you get the chance to try one out beforehand (which is rarely an option these days), but there are a few things you can look for.
Most notably, the assembled weight and the weight limit.
Seeing higher numbers in these 2 categories (especially the assembled weight) usually means the bike is heavier-duty and less likely to feel shaky.
The C6 comes with an assembled weight of 112 lb, which is pretty good for a bike in this price range.
Yes, there are plenty of similarly priced bikes that weigh more (like Sole's ridiculously heavy-duty SB900), but there are a lot of bikes that weigh less too.
Personally, I think anything weighing over 100 lb in this price range is pretty good, but again, heavier is better.
The C6 also comes with a solid weight limit of 330 lb, allowing to safely hold users of most sizes safely.
And with a footprint of only about 49″ x 21″, the C6 is pretty average sized for a spin bike.
Overall, when it comes to the frame, the C6 isn't the heaviest-duty cycle around, but it's not lightweight either – I'd say it falls somewhere in the middle.
More importantly, users generally agree that it feels stable during workouts.
Warranty
Bowflex backs their C6 Bike with the following residential warranty:
10 year frame
3 year parts
1 year labor
I mentioned in the intro that Bowflex doesn't mess around with their warranties and this is my proof.
This is seriously one of the best warranties you're going to find on an indoor cycle, in this price range or any.
Ten years on the frame is 2x as long as the 5 year guarantee most brands offer (including the elite cycles like Peloton).
And 3 years on parts is also about as good as it gets, matching what Sole offers on their indoor cycles.
A year on labor is pretty standard across all price ranges.
Overall, I think Bowflex offers a great warranty on this bike, which is a great sign regarding its quality of build.
Features
The Bowflex C6 Bike comes with the following features:
LCD console- the console on the C6 isn't particularly fancy or anything, but it's backlit and large enough for easy viewing during workouts. And the fact that it displays your resistance level and cadence (along with time, distance, calories, heart rate, and speed) makes it easier to use along with other cycling apps.
JRNY compatible- speaking of cycling apps, the C6 is compatible with Bowflex's JRNY app, which gives you access to instructor-led workouts, metric tracking, and all that stuff. Bowflex includes a free year of JRNY with purchase, but then you'd be responsible for a monthly subscription fee. The C6 also pairs easily with Peloton digital, Zwift, and several other fitness apps, giving you a lot of workout options.
Bluetooth heart rate band- the C6 isn't only compatible with heart rate straps, but Bowflex includes a arm band monitor with purchase.
Fully adjustable seat- you can adjust the height and fore/aft position of the seat, making it easy to find a comfortable riding position.
Fully adjustable handlebars- you can also adjust the height and fore/aft position of the handlebars for a more customized fit.
Dual-compatible pedals- the pedals have a toe cage on one side and SPD compatible clips on the other, giving you the option to use sneakers or riding cleats.
Tablet holder- there's a built-in tablet holder located above the console, so you don't have to block your view of your workout stats if you want to use a fitness app or watch Netflix.
Pair of 3 lb dumbbells- the C6 also includes a free pair of 3 lb dumbbells, ensuring you'll have everything you need to get started right away with streaming workouts.
Dual water bottle holders- last but not last, there's a pair of water bottle holders to ensure you stay hydrated during workouts.
Price
I realize I saved cost to talk about for the end but realistically this is probably one of the first things we consider for any bike.
Luckily, the C6 is pretty budget-friendly as indoor cycles go.
At the time of writing this, Bowflex has the C6 on sale for $799, with its full retail price listed as $999.
When I first saw the C6 it was priced at $999 and I thought that was a fair price, all things considered.
So at $799, I think the C6 is a no-brainer.
In terms of comps, there's Schwinn's IC4 which I already mentioned, which is usually priced the same as the C6 (which makes sense considering they're the same bike).
There's also Bowflex's other affordable cycle, the C7, which is actually a little cheaper than the C6 at the time of writing this.
The C7 is identical to the C6 in terms of frame and performance, but it actually comes with a 7″ HD console designed for viewing JRNY workouts.
I'm not sure how much longer the C7 is gonna be around, it kinda feels like they're phasing it out, but I could be wrong.
Either way, the C7 could make more sense if it's more affordable than the C6, especially if you're planning on taking advantage of JRNY.
Final Thoughts
Ok, that about does it.
If you can't tell by now, I think the C6 is a great bike.
I like that it comes with such a heavy flywheel and I love that it comes with 100 levels of magnetic resistance.
The frame is also heavy-duty enough to provide a stable feel and the belt drive provides a quiet ride.
I also love that Bowflex offers such a generous warranty on it.
I really don't have much to complain about here, which is disappointing because I enjoy complaining.
Overall, I think the C6 is easily one of the best indoor cycles under $1k and a steal for around $800. Highly recommended.
Before purchasing though, I would compare prices between the C6, the C7, and Schwinn's IC4 – again, all bikes are nearly identical in terms of performance (the C7 comes with touchscreen though).