If you're looking for a reasonably priced indoor cycle designed perfectly for connecting with streaming fitness apps, Schwinn's IC4 should be on your short list.
This sophisticated cycle scores highly in both performance specs and console features – something even many more expensive bikes can't claim.
With a 40 lb flywheel, 100 levels of magnetic resistance, a heavy-duty frame, and dual-compatible pedals, the IC4 is capable of providing legit workouts.
And with bluetooth compatibility, a built-in USB charger, and an included strap heart rate monitor, it also delivers in the features department.
Add in the fact that Schwinn backs it with one of the best warranties you'll find on a spin bike and you've got the makings for one of the best indoor cycles around.
If you can't tell by now, I think the IC4 is a great bike, but is it the right bike for you?
Well, that's what I'm here to help you decide.
In this review, I'll go over everything this bike has to offer. After reading, you'll be able to decide for yourself whether or not it's worthing investing in.
Let's do this.
The Schwinn IC4 Indoor Cycling Bike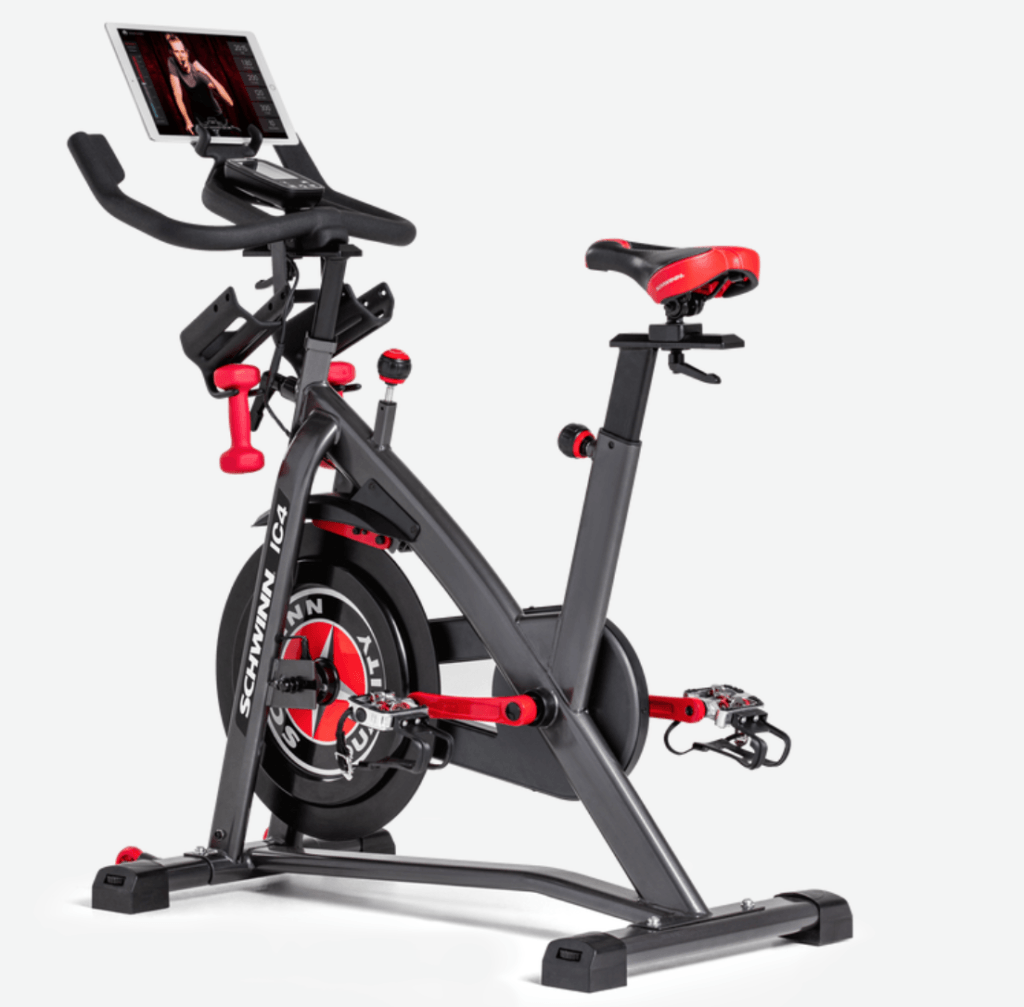 The Schwinn brand needs no intro – they've been around forever and I doubt there's anyone out there that's never heard of 'em before.
Something worth mentioning though, is that Schwinn Fitness is owned by Nautilus, Inc., the same company that owns Bowflex and the Nautilus brand.
You'll notice a lot of similarities between these brands, although there are subtle differences too.
Anyway, Schwinn's a solid brand when it comes to affordable to moderately priced exercise bikes – you always find their models near the top of each year's "best of" lists for their respective price ranges.
When it comes to indoor cycles, Schwinn only offers 2 directly: the budget-friendlier IC3 and the IC4.
The IC4 comes with some significant upgrades over the IC3 and is a much better buy if you ask me, but you can find my full comparison between the 2 cycles here if you like.
Let's start this review with a rundown on the what I consider the most important consideration for any spin bike – the resistance system.
Pros
40 lb flywheel
100 levels of magnetic resistance
Belt drive
330 lb weight capacity
Fairly heavy frame
Color console
Bluetooth compatible with apps
Armband heart rate monitor included
USB charging port
Fully adjustable seat
Fully adjustable handlebars
Pair of 3 lb dumbbells included
Dual-compatible pedals
Tablet holder
Dual water bottle holders
Great warranty
Cons
No built-in workout programs
Resistance
The resistance is important to consider because it determines how much, uh, resistance you'll have access to during workouts, but it's also important because it creates the feel of the pedal motion too.
You know, how smooth (or not smooth) it is as you pedal, regardless of how much resistance is selected.
Most home spin bikes, especially in this price range, are designed to benefit from a heavy flywheel.
This is because the extra weight helps the flywheel create more momentum as it spins.
And this extra momentum helps keep the flywheel (and pedals) moving, which decreases any awkward lag between pedal strokes.
Ok, so heavy flywheels are a good thing, but how heavy is heavy enough?
I think anything around 30 lb or heavier is easily heavy enough to create a smooth action.
With this in mind, consider that the IC4 comes with a 40 lb flywheel – so easily surpassing the 30 lb limit just mentioned.
Heavy flywheels are good, but let's be real – there are a ton of affordable cycles out there packing massive flywheels.
Well, what sets the IC4 apart from pretty much all of these other bikes is the fact that Schwinn pairs this heavy flywheel with a magnetic resistance system with 100 levels.
Magnetic resistance systems are smoother (and require less maintenance) than friction brake systems and having 100 levels gives you a ton of control over that resistance.
Keep in mind that having more resistance levels doesn't necessarily give you more total resistance, it just means you can make smaller changes to that available resistance.
And if you plan on using Peloton's digital app, you'll like this too because this is the same resistance scale the Peloton Bikes use – making it easy to follow along with the instructor's instructions.
The IC4 uses a belt drive as well, making for a smooth and quiet ride.
Overall, I love that the IC4 comes with a heavy flywheel, but it's the 100 levels of magnetic resistance that really sets this bike apart from most of the competition.
Frame
A bike's resistance system is very important, but so is its frame.
After all, nobody wants to purposely invest in a lightweight bike that's going to feel shaky and flimsy.
It can be hard to determine how heavy-duty a bike's gonna feel without getting on it and taking it for a test spin first, but luckily, there are a few specs you can look at to get a better idea.
Like the assembled weight and weight capacity.
Seeing higher values for both specs is a good sign the bike is going to feel more stable during use.
I look for assembled weights north of 100 lb and weight capacities of at least 300 lb – check off both of these boxes and you should have yourself a pretty secure bike.
With this in mind, the IC4 comes with an assembled weight of 106 lb and a weight limit of 330 lb.
The IC4's assembled weight just squeaks by, but the 330 lb weight capacity is well over the 300 lb limit I look for.
When compared to other bikes in this price range, 100 – 110 lb is pretty standard, so the IC4 is about average.
The IC4 isn't as heavy-duty as Sole's SB900, which has an astounding 160 lb assembled weight, but few are.
Overall, I think the IC4 scores pretty highly in this department. With a 106 lb weight and 330 lb weight limit, I feel comfortable referring to it as heavy-duty.
Warranty
Schwinn backs their IC4 Indoor Cycling Bike with the following residential warranty:
10 year frame
3 year parts
1 year labor
Ten years is generous on the frame considering many spin bikes only offer 5 years (regardless of price range).
Three years on parts is also better than the 1-2 years most other cycles come with.
A year on labor is pretty standard across all price ranges.
Overall, I think the IC4 comes with a great warranty. It's easily one of the longest warranties you'll find in this price range.
Features
The IC4 comes with the following included features:
LCD console- this bike comes with a small, color console that makes it easy to see all of your stats during workouts. The console is powered via an AC adapter, so no messing with batteries. The fact that the IC4 comes with a console is a big perk for me over bikes like Echelon that rely only on your tablet because sometimes you may have issues connecting with your tablet and in those cases, you can't access your metrics.
Bluetooth- the above console is bluetooth compatible with fitness apps, allowing you to connect with Peloton Digital or any other streaming app you like. Speaking of which, at the time of writing this Schwinn includes a year membership to JRNY with purchase.
USB charging port- you can plug your phone or tablet into this port and keep it charged during workouts.
Armband heart rate monitor- bluetooth can also be used for heart rate monitors and Schwinn includes a free armband monitor with purchase.
3 lb dumbbells- many streaming services include workouts that use dumbbells. Well, the IC4 has got ya covered. This bike comes with a pair of included 3 lb dumbbells, so you'll be ready to grab 'em during the arm sections of your workouts.
Dual compatible pedals- the pedals on this bike come with a toe cage designed to be used with sneakers on one side, and SPD compatible clips on the other. This way, you can choose which type of shoe you ride in (you can swap the pedals out for others too if you prefer a different cleat).
Fully adjustable seat- you can adjust both the height and horizontal (fore/aft) position of the seat, making it easier to find a comfortable riding position.
Fully adjustable handlebars- you can also adjust the height and fore/aft position of the handlebars for even more customization.
Tablet holder- there's a large, built-in tablet holder conveniently located above the handlebars making it easy to watch workouts (or Netflix) while on the bike.
Dual water bottle holders- and finally, there are 2 water bottle holders, so there's no excuse for not staying hydrated.
Price
Ok, time to discuss price.
The prices on these bikes can vary a little depending on time of year and current promotions, but at the time of writing this, the IC4 goes for around $999.
That said, as I write this I noticed that Amazon has it on sale for about $800, which is an even better price – so it's definitely a good idea to check prices.
Anyway, with a price of roughly $1k or a little less, the IC4 is still a fairly budget-friendly indoor cycle.
But there's a lot of competition at this price point.
Sunny Health & Fitness has several nice models with really heavy flywheels, although Sunny's warranties kinda suck.
Bowflex's C6 is identical to the IC4 (like literally), so if there's a promotion and one is cheaper than the other, it makes sense to go with that model.
Sole's SB900 is also priced at $999 and it comes with a heavier flywheel, heavier-duty frame, and even better warranty, but it's console doesn't come with as many features.
Overall, I think the IC4 is priced to move and has more to offer than most cycles in its price range.
Final Thoughts
Well, that about does it for the IC4.
I really don't have much to complain about here.
This cycle comes with a heavy flywheel, a sophisticated magnetic resistance system, a surprisingly advanced console, and a great warranty.
If I had to nitpick and find something to complain about, I'd say it would be nice if the IC4 had another 10 lb or so of bulk added to the frame for more heavy-dutiness.
But even as so, the IC4 is still heavy enough for a stable feel.
The star of the show here is still the 100 levels of magnetic resistance though – I think that's what really sets this bike apart.
If you like the idea of using Peloton's Digital app for streaming workouts, the IC4's resistance system is going to pair with it perfectly.
All things considered, I think the IC4 is a great buy. I'd even go as far as saying it's one of the best cycles $1k can get ya.