The SB700 is an affordable indoor cycle by Sole, one of the best home fitness brands in the biz. And as affordable spin bikes go, this model has a lot going for it.
The highlight of the SB700 is probably its massive, 48 lb flywheel located in the front, but it's also packing a ridiculously heavy frame.
And I mean that in the best way possible.
The console on the SB700 is pretty simple, but it displays all your key metrics and is compatible with chest strap heart rate monitors.
And since this is Sole we're talking about here, of course this bike is backed by a great home warranty.
Long story short: the biggest downside I see to this spin bike is the fact that it uses a friction pad resistance system (I'm not a fan), but if you're cool with that, the SB700 could be a smart buy.
If you're interested in the longer story, keep reading.
In this review, I'll go over everything this bike has to offer, including areas where it falls a bit short.
After reading, you'll know whether or not the SB700 is worth investing in.
Let's do this.
The Sole SB700 Bike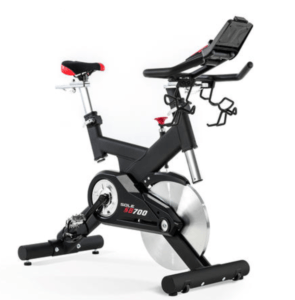 If you're not familiar with Sole, they're certainly a brand worth getting to know.
I think they're easily one of the best mid-range home fitness brands around, especially if you don't care about fitness streaming and HD screens and all that stuff (although now Sole has their own streaming platform, although they aren't pushing it too hard yet).
Anyway, I like Sole because their machines are heavy-duty and they back them with some of the longest warranties around.
They've also got a pretty extensive lineup to choose from, especially when it comes to treadmills.
When it comes to indoor cycles, they've got 3 to choose from- the SB700, the SB900, and the higher-end Johnny G Cycle.
The SB700 we're here to talk about now is their most budget-friendly cycle, but we'll talk more about price in a little bit.
Pros
48 lb flywheel
Heavy-duty frame
300 lb weight limit
Fully adjustable seat
Fully adjustable handlebars
Heart rate strap compatible
Tablet holder
Affordable
Great warranty
Cons
Friction brake resistance
Very simple console
Resistance
Spin bikes can either use friction pads or magnetic systems to create the resistance you work against and each has their advantages and disadvantages.
Friction pads, as the name suggests, consist of a felt brake pad that makes physical contact with the spinning flywheel.
And the resistance is adjusted by pushing that pad farther into the flywheel (more resistance) or pulling it farther away (less resistance).
With a magnetic system, you have a series of magnets around the flywheel and resistance is increased or decreased by adjusting how close those magnets are to the spinning flywheel.
The benefit of a friction pad system is that they are usually more affordable; the disadvantage however is that they aren't quite as smooth as magnetic systems and you have to occasionally replace those brake pads.
Magnetic systems are smoother and quieter, but they tend to cost a little more.
With all of this in mind, the SB700 uses a friction pad to create the resistance.
Another advantage I didn't mention is that with friction pads, you don't have any set resistance levels.
This means you have "unlimited" resistance levels because you can make micro-adjustments to the resistance.
But this also means that you have to rely on feel to select the correct resistance for your workouts – you can't simply set it to level 12, etc.
Personally, I'm not a big fan of friction brake systems, I prefer magnetic systems. Again, because you don't have to mess with replacing brake pads and because they tend to be a bit smoother.
But to be fair, a lot of cycling studios use friction pad bikes and they can provide very good workouts.
Anyway, regardless of what kind of resistance system a bike is using, flywheel weight is still important.
Most home spin bikes are designed to benefit from having a heavier flywheel and this is because the extra weight creates more momentum, which makes for a smoother pedaling motion.
Well, with a 48 lb flywheel, the SB700 is certainly packing enough weight to provide a smooth feel.
This bike also uses a belt drive train (as opposed to a chain), which helps keep noise to a minimum.
Overall, the SB700 scores highly with its very heavy flywheel, but I'm not personally a fan of friction brake resistance systems, so I see this as a flaw (if you don't mind friction brakes, you won't have any complaints here).
Frame
Something I don't have any issues with is how robust the SB700's frame is.
I'm of the opinion that heavier-duty is always a good thing because heavier bikes will be less likely to move or wiggle during workouts (especially when standing and working against heavier resistances).
It can be hard to determine how heavy-duty a bike is without trying it out first, but I've found that looking at the assembled weight spec is the next best thing.
After all, this number tells you exactly how heavy the bike is.
With this in mind, consider that the SB700 weighs in at 141 lb fully assembled.
This is very heavy for a spin bike.
For the sake of comparison, Schwinn's popular IC4 (which is packing a 40 lb flywheel I believe) only weighs in at 106 lb.
Hell, the Peloton only weighs in at around 135 lb and it has a huge console adding 10 lb to its weight.
My point is, the SB700 is heavy- which I consider a very redeeming factor.
And with a footprint of only 40″ x 21″, the SB700 is also pretty compact as indoor cycles go.
The combination of a compact footprint and a high assembled weight makes for a very dense bike, so you shouldn't have to worry a bit about this cycle feeling wobbly during workouts.
The SB700 also comes with a weight limit of 300 lb, which is pretty average for high-quality cycles.
Overall, I love the fact that this bike is so heavy-duty, but it could make it more challenging to move around your home (although there are built-in transport wheels).
Warranty
Sole backs their SB700 Bike with the following residential warranty:
Lifetime frame
3 year parts/electronics
1 year labor
I told ya Sole doesn't mess around with their warranties.
I love seeing a lifetime frame guarantee and believe it or not, there aren't many spin bikes offering this anymore – most max out at 5 years, regardless of price.
Three years on parts is also quite good, especially for a bike in this price range.
A year on labor is pretty standard, nothing too special there.
Overall though, this is easily one of the best warranties you'll see on an indoor cycle.
Sole actually offers a light commercial warranty on the SB700 too, which is crazy considering how affordable it is.
The light commercial warranty is identical to the residential warranty and "light commercial" means a setting where it would be used 5 hrs/day or less.
Features
The Sole SB700 comes with the following additional features:
LCD console- the console is very small and very basic, but it will display all your key metrics (including cadence). There aren't any built-in workouts and the console isn't backlit, so you'd want to keep it in a well-lit area.
Heart rate monitoring- the console is compatible with strap heart rate monitors though, allowing you to track your pulse during workouts if you so choose.
Fully adjustable seat- you can adjust both the height and fore/aft position of the seat, making it easy to find a comfortable position during workouts.
Fully adjustable handlebars- you can also adjust the height and fore/aft position of the multi-grip handlebars for even more customization.
Toe cage pedals- the pedals come with toe cages which are designed to work with sneakers (or any other non-cleat shoe), but you could easily swap 'em out for cleat compatible pedals if you want.
Tablet holder- there's a built-in place to hold your device in case you want to access streaming workouts or watch a movie during your workout.
Water bottle holder- there's a convenient place to store your beverage of choice too.
Price
Keep in mind that prices on exercise bikes can vary depending on time of year, current promotions, and inflation.
That said, at the time of writing this review, the SB700 costs about $699 through Sole (it's a good idea to compare prices with Amazon too because they can vary).
At $699, I feel comfortable calling the SB700 a budget friendly cycle. You know, considering indoor cycles can easily cost $2k and more.
Of course there are plenty of even more affordable cycles out there that cost about half that much.
Usually, I wouldn't recommend paying $700 for a friction brake bike because there are plenty of magnetic resistance cycles out there in this price range.
But considering how heavy-duty the frame is and how long that warranty is, things get a little more complicated.
Final Thoughts
Well, that about does it.
As far as the SB700 goes, I think it definitely has a lot going for it.
I love the massive flywheel and I also love how ridiculously heavy-duty the frame is. And that warranty is obviously amazing.
The only real problem I have is that friction brake resistance – I'm a magnetic resistance guy all the way.
But to be fair, in this price range, friction brakes are still pretty common, so there's that.
That said, I'm not aware of any other bikes in this price range that are as heavy-duty as the SB700.
And the warranties aren't even in the same league.
Overall, I think the SB700 is easily one of the best indoor cycles in this price range.
As long as you're ok with the friction brake, I don't think you'll be disappointed.