According to Electric Bike Company, the Model E is their second most popular bike and after checking it out, this is easy to believe.
Labeled "E" for everyone, the Model E is EBC's take on a utility cruiser and it comes with some awesome features.
These include a 750W rear hub motor that can reach a top speed of 28 mph and the option to choose between several battery configurations, depending on your range needs.
It also comes with a sleek, step-through frame, integrated front/rear lighting, fenders, and a MIK compatible rear rack system.
And like all EBC models, you can customize just about every aspect of the bike to your liking.
Overall, I think the Model E is a versatile electric cruiser that could be used for just about anything, but you have to be careful with those customizable upgrades because they can significantly increase the price.
There are also a lot of nice utility e-bikes in this price range, so the competition is pretty high.
So, it's a good idea to know the full story before making a decision – and that's where I can help.
In this review, I'll go over all the in's and out's this electric bike has to offer, but I'll also compare it to a few comps in its price range so you can see how it stacks up.
After reading, you'll know whether or not the Model E's the right electric bike for you.
Let's roll.
Quick Stats
| | |
| --- | --- |
| Motor | 750W rear hub |
| Top Speed | 28 mph |
| Battery | 576Wh (standard) |
| Range | Up to 60 miles |
| Weight Limit | 420 lb |
| Weight | 53 lb |
Electric Bike Company's 'Model E'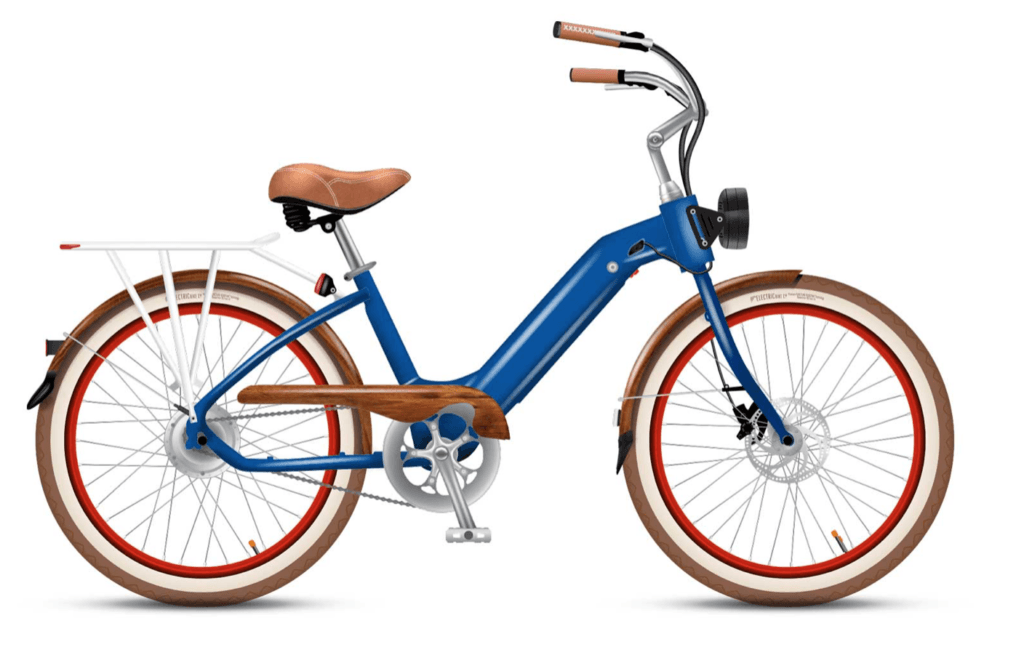 Electric Bike Company (EBC) is a southern California based brand that prides themselves in making every bike they sell right here in the USA.
This alone makes them fairly unique, but they take it a step further – every bike is made to order.
Yup, just like a sandwich at Subway.
This allows you to customize your e-bike the way you want it, but it also gives EBC a lot of control over the quality of their products.
Speaking of which, EBC has a great reputation for creating high-quality bikes.
They specialize in beach cruisers (hey, they're from California, what do you expect?) and they offer several variations to choose from.
The Model E we're here to talk about now is their economy utility bike, meaning it can be used for a little bit of everything.
Pros
750W rear hub motor
Top speed of 28 mph
5 levels of PAS
Choice of battery configurations
Max weight limit of 420 lb
Highly customizable
Compatible with torque sensor
Comes with integrated lighting
Hydraulic disc brakes
Fenders
Compatible with rear rack and basket
Color console
Choice of tire size
Made in the USA
Quality components
Great warranty
Cons
Comes standard with direct drivetrain
Adding additional features can get pricey
Motor
Let's start this review off with a rundown on the motor, which is one of the most important specs to consider when checking out a new e-bike.
The Model E comes with a 750w, rear-hub motor that can reach a top speed of 28 mph (Class III e-bike).
When it arrives at your home though, it'll be programmed to reach a top speed of 20 mph, making it a Class II bike – you can reprogram the console to get access to Class III mode after contacting EBC to ensure you'll be safe.
In terms of power, 750w is about as powerful as we can expect to see on any street legal e-bike.
There are some brands out there using 1000w motors (like Juiced Bikes), but it's a good idea to make sure they're street legal in your area before buying.
Anyway, it's also a good idea to look at the motor's torque rating, which gives you another measurement of functional strength while riding.
Seeing higher torque ratings indicates the bike will be better at climbing hills and will offer faster accelerations.
Generally speaking, torque ratings of 60Nm or higher indicate the e-bike will be pretty good at climbing hills.
With this in mind, the Model E comes with a torque rating of around 60Nm, meaning it'll do pretty well getting up moderate slopes and will be pretty zippy on flat grounds.
This isn't bad, but there are certainly torque-ier e-bikes in this price range (like the RadRunner 3 Plus, which comes with 80Nm of torque).
So, if you plan on riding in especially hilly areas, this is something to consider – as is the fact that this bike comes standard as a single speed, but more on that later.
Overall, the Model E comes with a pretty strong motor and I like that it can used in either Class II or III mode, depending on your needs.
It doesn't have the most torque out there, but as a utility e-bike, it isn't designed with climbing aggressive hills in mind.
Battery
The motor's important, but so is the battery – after all, this is what powers everything on your bike.
When comparing batteries, it's important to get a good idea as to what their true capacity and range will be and the easiest way to do this is to look for the watt-hour (Wh) ratings.
The Wh rating is found by multiplying the voltage by the amp-hours (Wh = V x Ah) and it gives you a nice and neat number to compare between batteries.
And seeing higher Wh ratings will indicate greater battery capacity, but keep in mind that real world range depends on a lot of things.
These include rider weight, riding terrain, the amount of motor assistance used, and so on.
With all of this in mind, the Model E comes standard with a 576Wh (48V, 12Ah) battery that could theoretically get you upwards of 60 miles on a single charge.
Now you'd have to be small, riding on flat terrain, and using only pedal assist (PAS) level 1, but it's possible.
The way most riders will likely ride, using plenty of motor assist and throttle, will more realistically get you somewhere in the 20 – 25 mile range, which is pretty average for an electric bike.
But this EBC we're talking about, so of course they give you the option to customize your battery configuration.
You can pay extra to upgrade to a 14Ah battery (bringing it up to 672Wh) or even add 1 or 2 additional batteries to the basket.
The 14Ah battery brings the max range up to 70 miles and with both extra basket batteries you'd be talking a range of around 150 miles.
This is crazy range, but adding all those batteries adds about $1200 to the asking price.
But it's still nice EBC gives us this option.
Overall, with a 576Wh battery coming standard, the Model E is pretty average in terms of battery capacity and range.
Frame
The Model E only comes in one frame option, which is a little surprising considering how customizable everything else is.
But with the option to choose your tire size, it'll still fit most riders between 5′ – 6'10" tall.
In terms of size, the Model E is pretty average, coming with a wheel base of 46 – 48″ and the step-thru frame offers an approachable stand-over height of 16-17″ (depending on tire size chosen).
The Model E weighs in at around 53 lb, which isn't bad for a utility e-bike, but keep in mind that adding fenders, racks, and baskets will bump that weight up.
What's really impressive here though is that this bike comes with a max weight capacity of 420 lb, giving it one of the highest payloads I've seen on any e-bike.
Even the robust RadRunner 3 Plus mentioned earlier only tops out at 350 lb.
Having a weight limit this high allows riders of all sizes to use this e-bike, but it also gives you the option of hauling significant loads safely.
Overall, the Model E comes with a sleek frame, a reasonable assembled weight, and an impressive weight capacity.
Warranty
Electric Bike Company backs their Model E with the following warranty:
10 year motor/frame
5 year battery
Alright, I'm pretty sure this is the longest warranty I've come across for any e-bike.
Ten years on the motor and frame is great, but so is the 5 year guarantee for the battery.
For the sake of comparison, a lot of brands, even legit ones, only offer 1-2 year warranties (like Rad Power Bikes and Aventon).
That said, if you read the fine print, there are a few caveats.
For starters, you have to register your warranty within 30 days of purchase for it to be valid.
Also, there will likely be a few charges (shipping, parts, etc) even during the warranty period.
If malfunction occurs within the first 30 days, you don't have to pay for anything; but if the battery stops working correctly after 30 days, you'd have to pay to ship it back and pay for labor costs (but won't have to pay for parts).
Oh, the battery is also not covered for water damage, so make sure you keep it dry.
Otherwise, this is still a great warranty for an e-bike.
Features
EBC's Model E comes with the following features/options:
Choice of colors- you get to choose the color of pretty much every component on this bike and with over 40 colors to choose from, you can design your heart out. Just know that some colors cost more than others.
Fork type- this bike comes standard with a rigid front fork, but you can upgrade to a suspension for added cost.
Choice of tires- the Model E comes standard with 26″ x 2.25″ tires, but you can opt for smaller, 24″ tires if you like. Both are puncture-resistant and come in either black or brown.
Fenders- you can opt for front and rear fenders at no extra cost, but going all in with the premium wood fenders will cost extra.
Basket- the Model E doesn't come standard with a basket, but you can add one for additional cost (you get to choose your color as well).
Rear rack- this bike is compatible with a MIK Click System rear rack, which allows you to easily swap between various baskets, saddles, and other accessories, however it doesn't come with one standard.
Choice of handlebars- you can go with the classic cruiser handles, or opt for a more BMX, mountain, or high chopper style at no added cost.
Seat- you get to pick your seat and options include standard, jumbo, and chopper (small backrest) with each coming in 2 colors.
Seat post- the Model E comes with a standard fixed seat post, but you can opt for an upgraded suspension post for added cost.
Drivetrain- this bike comes standard with a direct drivetrain, meaning there are no adjustable gears. This is easy to use and fine for flat roads, but if you're looking for higher pedaling performance, you might want to upgrade to the 7-speed shifter (it's only an extra $50 or so).
Throttle- you can choose between a thumb or twist throttle at no added cost.
Choice of sensor- the Model E comes with a cadence sensor included, but you can upgrade to a torque sensor at an additional cost. A torque sensor senses how hard you're pedaling and provides motor assistance to match your output. The result is a smoother ride and improved range.
5 levels of PAS- regardless of which sensor you go with, you'll get access to 5 levels of pedal assist, giving you plenty of control over how hard you have to work.
Color console- the Model E comes standard with a color LCD console, making it easy to see your PAS level, speed, and other stats.
Hydraulic disc brakes- this bike comes standard with hydraulic disc brakes for optimal braking power.
Integrated lighting- and finally, the Model E also comes standard with front and rear safety lighting.
Comps
Before I wrap things up here, I want to go over a couple of other similarly-priced utility e-bikes so we can see how the Model E stacks up against the competition.
Doing this with EBC bikes is a little tough though because their e-bikes are so customizable
With these e-bikes, you basically get a blank slate and add whatever features you like (although you can also purchase pre-designed options if you don't feel like designing your own).
And of course the price varies greatly on which features and upgrades you choose.
That said, I'm gonna still try and do this.
As I'm writing this, the Model E base model comes with a starting price of $1499 – but this is with like no features whatsoever.
If you only add the basket and rear rack and keep everything else standard, you're looking at a price of around $1787, which actually is pretty good considering you still get to pick your colors.
So, this is the price range I'll be using to choose our comps.
The first comp that comes to mind is the RadRunner 3 Plus, which I mentioned earlier on.
The RadRunner 3 Plus costs around $2300, so it's a bit more expensive.
It comes with a 750W rear hub motor, a top speed of 20 mph, a 672Wh battery, and a weight capacity of 350 lb.
It also comes with an integrated rear rack, a 7-speed shifter, an included suspension fork, and fat tires for optimal performance off-road.
Aventon's Abound is another top competitor and it costs somewhere around $1800- $2000, depending on promotions.
The Abound is a true utility e-bike designed for hauling large cargoes around town.
It comes with a 750W rear hub motor, a top speed of 20 mph, a 720Wh battery, and an elongated rear rack for hauling.
The Abound comes with an impressive, 440 lb payload capacity, a torque sensor, and a 7-speed shifter standard.
But at 81 lb, the Abound is quite a bit heavier than the Model E, which could make it harder to handle.
The last comp I want to mention is Blix's newer Dubbel, that comes with the option to get 2 batteries for a total capacity of 1,344Wh, giving you some crazy range.
The Dubbel costs around $2249 and it comes with a 750W rear hub motor with an astounding 90Nm of torque, an 8-speed shifter, a cadence sensor, and integrated lighting.
With 2 batteries, it weighs around 78 lb, so it's a little heavier.
But this bike is great for hauling kids or cargo wherever you need to go.
Final Thoughts
Alright, that'll do it when it comes to the Model E.
Based on what this e-bike comes with and what some of the top comps in this price range have to offer, I'd say the Model E holds its own quite well.
When it comes to the motor and battery departments, the Model E is fairly average – it has enough power and range to get the job done, but there are e-bikes in this price range with more impressive specs.
And the fact that it comes standard with a direct drive train means you'll have to pay a little extra for the performance enhancing, 7-speed shifter (if you want more control over your performance).
But where the Model E really shines is when it comes to customizing your ride.
If you like choosing your accessories and playing with paint color combos, you're going to love EBC.
And in terms of quality, EBC's as good as you're gonna find in this price range.
Speaking of cost, I think the Model E is priced fairly for what you get, but if you start adding a lot of additional features, that price can get north of $2k pretty fast.
All things considered though, I think EBC's Model E is one of the best electric utility bikes in its class.
If you're looking for a sleek, versatile ride, it's a great choice.