With a 350 lb payload, an accessible step-thru frame, and fat all-terrain tires, Rad Power Bikes' new RadRunner 3 Plus is well-equipped for hauling cargo or performing errands around town.
But that's only the half of it.
The RadRunner 3 Plus is a powerful Class II e-bike that's comfortable to ride and handles surprisingly well for a utility bike.
And it's loaded with higher-tech features, including a semi-integrated battery, a front suspension fork, hydraulic disc brakes, dual LCD displays, and front/rear lighting.
This is all great stuff, but probably most importantly – this thing is fun to ride!
If you're looking for a reasonably priced electric utility bike that can do just about anything you need it to, I think the RadRunner 3 Plus would be a wonderful choice.
But before you decide, you need to know what you're getting yourself into – and that's where I can help.
In this up close and personal review, I'll go over everything you need to know about this e-bike, including my own personal experience with riding it.
After reading, you'll know whether or not this is the right e-bike for you.
Well, let's get to it already.
Disclaimer – the good folks at Rad Power Bikes were kind enough to send me a RadRunner 3 Plus to try out for this review (as well as the passenger package and large front basket), but I wasn't compensated in any other way. This review is based solely on my experience with this e-bike.
Quick Stats
| | |
| --- | --- |
| Motor | 750W rear hub |
| Top Speed | 20 mph |
| Battery | 672Wh |
| Range | 25 - 45 miles |
| Payload | 350 lb |
| Weight | 75.5 lb |
The RadRunner 3 Plus Electric Utility Bike
Rad Power Bikes has become the top selling e-bike brand in the US and it all started when their founder decided to convert his own bicycle into an e-bike to make it easier to get to/from high school.
Talk about innovation…
Anyway, the rest as they say is history and Rad Power Bikes has been on a mission to change the way folks get around ever since.
These days, they've got several e-bikes to choose from and even though they do offer folding and commuter models, I feel like the utility bike is their true speciality.
The RadRunner 3 Plus we're here to talk about now is the newest addition to their utility e-bike lineup, joining the RadRunner Plus, RadRunner 2, and the RadWagon 4.
Let's start things off here with a rundown on the top performance specs; then I'll go over the features this e-bike has to offer, as well as overall performance.
Pros
750W motor
672Wh battery
Gentle acceleration
7-speed transmission
5 levels of pedal assist
Walk mode
Hydraulic disc brakes
Fat tires
Heavy-duty frame
350 lb weight limit
Dual LCD consoles
Headlight/tail light
Front suspension fork
Front/rear fenders
Large rear rack
Comfortable seat
Bell
Compatible with tons of optional accessories
Great looking e-bike
Cons
Need to re-route braking cable to attach large front basket
Motor a little noisy at top speed
Assembly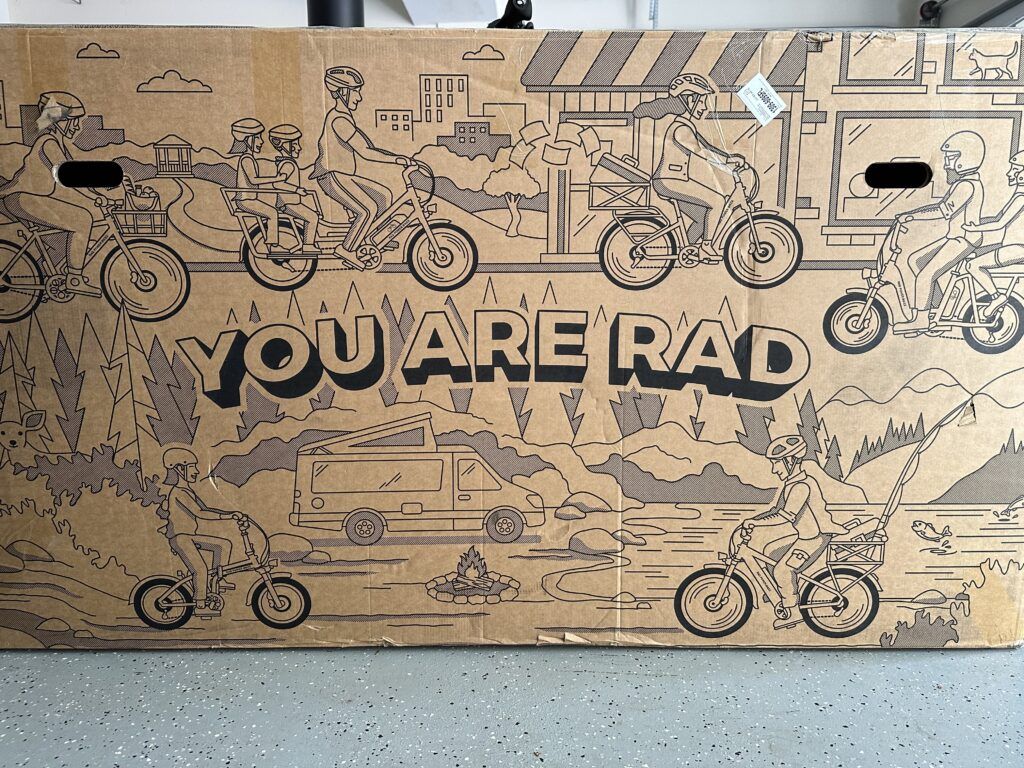 I was supposed to be home to sign for the delivery of this e-bike and I knew there was very little chance of that happening.
The weekend it was supposed to arrive was especially busy for us – between my son's soccer game and the spring festival at my daughter's school, there was no way anyone was gonna be home between 10 – 2.
So, when I got the call from the delivery driver that he was waiting outside my house, my heart sank… but when he offered to leave it by my garage anyway (due to customer request), I was on top of the world.
I'd like to formally thank my Fed Ex driver for a job well-done!
Anyway, when we got home I was excited to get the RadRunner 3 Plus up and running, but when I saw the box, I was even more excited than before.
I mean how could I not be, look at that design… it just exudes fun.
Well, I got the box opened up, unpacked everything, and got to work on the assembly.
I'd like to shout out to Rad for a job well done in the packaging – everything is packed up neatly and very securely and there were no issues with anything being damaged on arrival.
I was able to do it by myself, but it's a good idea to have a second person around to help with assembly because the bike is pretty heavy and you have to lift it out of the box to get started.
When it comes to assembly though, it's a pretty straightforward task.
Rad includes written instructions, but they also have assembly videos that walk you through the whole process – I followed a video to make sure I didn't mess anything up and everything turned out great.
Most of the bike comes pre-assembled, but you'll be responsible for attaching the handlebars, attaching the front tire, connecting the pedals, adjusting your seat, and connecting the headlight/front fender.
Attaching the front tire is probably the most technical part of the whole procedure because you have to make sure you get that brake disc lined up just right, but even that isn't too challenging (with a second person).
All in, it took me about an hour or so… in other words, it was a 2 beer job.
The attachments (large basket and passenger kit) arrived a few days later and it took me another hour or so to get those attached to the bike.
Hooking up the passenger kit was easy, but getting the large basket connected was a little more time consuming than it should've been.
Mostly because I had to re-route the left braking cable to the rear of the suspension fork before attaching the basket to the front of the frame.
The process isn't that difficult and the instruction manual shows you how to do it, but I'm not sure why Rad didn't route the cable in the rear of the fork to begin with?
Seems like it would be easier to have that cable out of the way from the get go, so folks wouldn't have to mess with it when attaching the large basket.
Speaking of which, the instructions said to remove the handle and slide the brake off the bar (so you can re-route it and reattach) – it's a lot easier to just remove the brake completely without messing with the handle.
I started to try and pry the handle off the bar, but that thing wasn't budging… and there was no way I was going to risk messing up that gorgeous leather handle.
So, I just completely loosened the bracket holding the brake to the handlebars and it came right off without any issue.
Otherwise, overall assembly was pretty easy to get through. And if you don't opt for the large front basket, you won't have to worry about re-routing the brake cable anyway.
Motor
The RadRunner 3 Plus comes with a 750W geared rear hub motor that can reach a top speed of 20 mph with either pedal assist or via throttle (half twist).
This makes this a Class II e-bike.
FYI, Rad Power Bikes only builds Class II e-bikes because they're safer to use, more likely to last longer, and generally legal to use in more areas.
This doesn't mean that the RadRunner 3 Plus can't go faster than 20 mph, it just means the motor cuts off at 20 mph – you can still pedal and go as fast as you like.
Personally, I've had this bad boy going 29 mph downhill and it handles great… but more on that in a bit.
This e-bike comes with 5 levels of pedal assist, as well as the ability to turn it off completely (level '0').
There's also a "walk mode" designed to give you a little motor assist when pushing the bike and it makes transporting it quite a bit easier.
With a 750W motor, the RadRunner 3 Plus has plenty of power and can easily reach that top speed in a few seconds on flat ground, but it can also handle inclines like a champ.
And I love that the motor gradually kicks in, gently increasing the power as you pedal or use the throttle, instead of shooting off like a rocket.
Rad Power Bikes uses a cadence sensor to activate the motor and I find it to be quite responsive – the motor starts kicking in after about 1 full rotation of the pedals.
The RadRunner 3 Plus comes with a 7-speed drivetrain, allowing you to shift to match the terrain and keep up with the motor, depending on how much effort you're looking to put in.
On pedal assist level 5, I found it pretty comfortable to pedal in 7th gear and could easily keep the bike roaring at 20 mph.
I wouldn't necessarily say I need an 8th gear, but I could see an extra gear being beneficial for folks who want to work a little harder.
Overall though, I've found the performance of the motor to be exceptionally smooth and I'm really impressed with how well it handles my neighborhood's hilly terrain.
The only minor complaint I want to mention is that it is a little loud – I don't think it would be noticeable in town with other vehicles going by, but in my quiet neighborhood you can certainly hear the motor whirring as you cruise with max throttle or pedal assist level 5.
Battery
This e-bike comes standard with a 672Wh (48V, 14Ah) battery that locks into place in the middle of the frame.
It's considered "semi-integrated" because you can easily unlock the battery from the frame (2 keys included) to remove it for charging, or keep it in place and charge it while still attached to the bike.
Rad even includes a wall mount for the charger, in case you want to set up a more permanent charging station in your garage.
Roll in, park, plug it up… done and done.
Which reminds me, Rad's attention to detail is next level.
It's the little things that make the most difference and Rad is a master when it comes to thinking about the little details that just make the overall experience more enjoyable.
From the cool design on their box, to the wall mount and neatly packaged assembly tools, I just want to commend Rad for a job well-done.
Anyway, back to the battery.
According to Rad, that 672Wh battery should give you an estimated range somewhere between 25 – 45+ miles, depending on how you ride.
In other words, if you keep it at level 5 pedal assist and depend on that throttle a lot, you're looking at somewhere around 25 miles per full charge; pedal assist level 1 and minimal throttle usage and you're looking somewhere around 45 miles or more.
And of course rider size and terrain play a big part too.
Anyway, I did a range test and I was able to get about 30 miles out of a fully charged battery.
I'm 6'1″, 200 lb and I was riding on all paved roads – but the terrain was quite hilly.
I even took it down to our neighborhood's lake.
The access road has the steepest hill in our neighborhood and I don't know the exact grade, but I can barely get up it on my mountain bike and the RadRunner 3 Plus was able to get up it on throttle alone.
It slowed down to about 5 miles per hour, but it still got up it, which I thought was pretty darn impressive given how steep it is.
So, based on my little test, I think Rad's estimated range is accurate and maybe even a little conservative.
Oh, one more thing about the battery – it has a 10 light indicator built into it to show you how much juice you've got left, another nice touch.
One of the LCD consoles also tells you how much juice you have left in your battery, using the same 10 mark display.
Overall, I'm impressed with how long this bike's battery lasts, even while using max motor assist.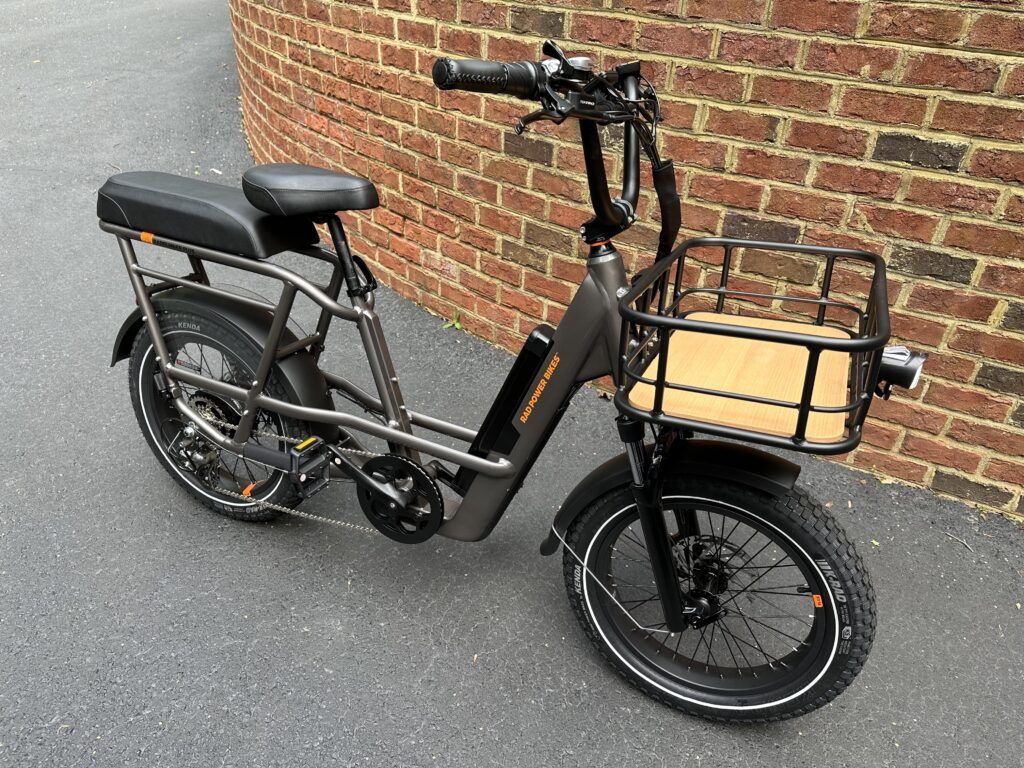 Frame
The RadRunner 3 Plus is designed to be a utility or cargo bike, meaning it should be able to handle carrying various loads, passengers, and just generally be good at running errands.
The large rear rack is an integral part of this, but so is the impressive payload capacity.
The payload, or max weight limit, for the RadRunner 3 Plus is 350 lb and this includes any rider and the cargo they're carrying.
As a 200 lb dude, that means I'd theoretically be able to ride with a 150 lb passenger on the back (or 150 lb of cargo).
You'd have to make sure and check the weight limits for whatever accessories you're using as well though.
Anyway, this is great for an electric utility bike and I would think it would easily meet the needs of most riders.
The bike itself feels very heavy-duty, which makes sense considering it weighs in at just over 75 lb (with the battery).
You can check out all the fine details regarding the different measurements and whatnot on Rad's website, but I do want point out a few things specifically here.
For starters, the low step-thru frame is awesome.
With a standover height of only 17″, the RadRunner 3 Plus is really easy to get on/off of and I can easily disengage the kickstand while hovering over the bike.
Next, I want to point out that Rad claims that most folks between 4'11" – 6'2″ tall should be able to comfortably ride this e-bike.
I'm 6'1″ (32″ inseam) and I'm very comfortable on it, so this height ranges looks pretty accurate to me.
I've heard that some folks have mentioned that they'd like the frame to be a little longer, so they could sit a little farther back from the handlebars, but I like that this bike sits up a little more upright.
It gives it more the feel of riding a moped, which I enjoy.
I could understand wanting a more efficient riding position if you weren't planning on using the motor much, but personally – I use that motor a lot.
As I assume most folks who are going with an electric utility bike would.
I also want to mention that the frame comes with various attachment and mounting points, making it ready for whatever accessories you may want to add to it.
This way you can gradually adapt your bike to meet your needs.
Overall, I really like how robust the frame on this e-bike is and the payload it can handle is impressive. I also enjoy how easy it is to access.
Features
The RadRunner 3 Plus comes with a ton of features and, for the sake of my fingers, I'm not going to copy down all the technical spec info here (I'll refer you again to Rad's website for the fine details).
But I do want to point out a few highlights, including:
Dual-screen display- the e-bike comes with 2 separate LCD screens. The one mounted on the left is where you turn the bike on, control your pedal assist level, and see your battery gauge. The centered mounted display shows you your speed, time, distance, and a couple other stats I believe. Oh, it also shows you a watt meter, indicating how hard the motor's working, which is cool (and helpful if you're worried about working the motor too hard).
Hydraulic disc brakes- the RadRunner 3 Plus uses hydraulic disc brakes, which makes for remarkably smooth braking from any speed. This is an upgrade over the mechanical braking used on their RadRunner 2 and RadRunner Plus.
Fat tires- this bike comes equipped with 3″, puncture resistant tires that can handle any terrain. They easily go over grass, gravel, and dirt and they provide stable handling at faster speeds.
Front suspension fork- the front suspension system makes it a lot more comfortable to go over curbs, bumps, or any other rough terrain you might find on your ride. It has a max travel of 60 mm and can be locked out if you prefer.
Adjustable height seat- you can easily adjust the seat to match your height (riders up to 6'2″) and I find the seat to be comfortable during rides. And if you have the passenger seat and you put your seat all the way down, it mimics the seat found on a moped.
Headlight- the e-bike comes standard with an included LED headlight and it automatically comes on when you turn the bike on. You can control the headlight from the console on your left handle.
Tail light- there's also a tail light that turns on automatically when you hit the brakes for added safety.
Bell- there's even a surprisingly loud bell mounted on the left handle. This is my daughter's favorite part and she's trying to convince me to put it on her bike.
Fenders- front and rear fenders are included with purchase. They look awesome, but they also prevent the tires from throwing any mud or water up on ya as you ride.
Leather handles- ok, so technically they're imitation leather handles, but they still look and feel great.
Accessories- Rad offers a ton of different compatible accessories for this bike, including several storage options, seating options, canopies, wagons, baskets, etc. I got to test out the passenger kit (includes passenger seat, retractable foot pegs, and 2 clear protective wheel skirts for added safety) and the large front basket and I'm impressed by both. The basket is quite large and heavier-duty than I would've expected and it comes with a coated wood bottom that makes it easy to store anything you want in there. The mounting gear for both were included.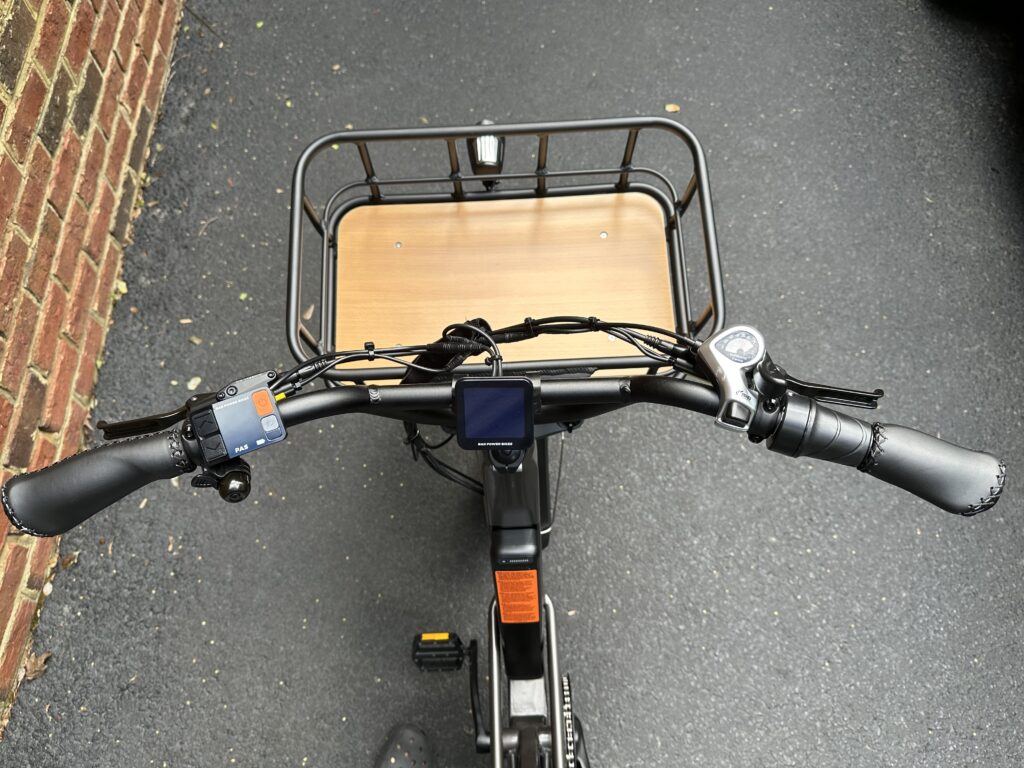 Overall Performance
Ok, I've gone over the major performance specs and a lot of the features the RadRunner 3 Plus comes with, but I wanted to talk a little more about my personal experience riding it.
As I've mentioned, I live in really hilly neighborhood and my house is basically at the bottom of a hill.
We have a pretty long driveway to get to our home and our garage is located on the side, with a really steep incline to get out of.
I apologize because I don't know the slopes or grades of any of these inclines, but all I can say is that it's a challenge to ride my mountain bike out of our driveway.
I basically have to stand the majority of the time to get out and my poor daughter gets frustrated because she has to walk her bike out of our driveway.
Anyway, the RadRunner 3 Plus makes it out of my driveway easily on throttle alone.
I mentioned our neighborhood lake earlier because the road to it is the steepest road in our neighborhood and again, the RadRunner 3 Plus can get up it on throttle alone.
And this is with carrying me, a 200 lb payload.
I'm really impressed with this bike's power, but I'm equally impressed with how comfortable it is to ride.
The large tires, suspension system, and handles make for a comfortable riding experience and the bike itself handles surprisingly well for such a robust utility e-bike.
The Shimano shifter makes it easy to switch between gears and switching between the different levels of pedal assist can be done seamlessly while riding.
And regardless of what pedal assist level you're on, you can always use the throttle for extra motor assist.
I haven't done a lot of off-roading with this e-bike yet, mostly because I don't want to mess up the grass we're trying to grow, but I played with it by the lake a little and it goes from pavement to grass to gravel without skipping a beat.
And as I mentioned earlier, I love how gentle the motor is when you first start up – you don't have to worry about the bike shooting out from under you from a cold start.
Overall, I couldn't be happier with this bike's performance. It's smooth, responsive, and easy to ride.
Final Thoughts
Alright, I think that'll about do it.
I'd like to thank Rad Power Bikes again for giving me the chance to try this e-bike out – you guys are awesome and I really enjoyed the experience.
Anyway, if you can't tell by now, I really like the RadRunner 3 Plus.
It has the performance specs and numbers to compete with any e-bike in its price range (by the way, I think it's very reasonably priced at just over $2k), but when it comes to style and attention to the fine details, it's gonna be hard to find a superior bike.
And this versatile e-bike can really be used for anything.
It'll work great for bopping around town or running errands, but it's also got the power and components necessary to get ya off-road.
Or as I find myself using it most – just cruising around the neighborhood or playing with your kids.
And given how easy it is to use and how well it handles, I could see this being a great option for folks who are new to e-bikes all together.
It's also going to be tough to find a more customizable e-bike.
Rad offers a ton of different compatible accessories and if they're all as high-quality as the accessories I tried out are, you've got nothing to worry about.
The only real complaint I have so far is that I found it a little irritating that I had to re-route the brake cable to attach the front basket.
But that was a minor annoyance at best.
All things considered, I think the RadRunner 3 Plus is a home run and I could easily see it becoming one of the most popular e-bikes on the market. Highly recommended.