Matrix's U50 might just be one of the best upright bikes out there – yup, I know, bold statement, but hear me out.
For starters, this upright comes with 30 levels of smooth magnetic resistance, but it's also got a heavy-duty frame, an extra comfortable seat, and the option to choose between 4 different consoles.
Including the option to go all-in with a 22″ HD screen that gives you access to entertainment apps, iFit, scenic routes, and even screen mirroring from your phone.
And, not that this should matter that much (but we all know it does), the U50 is a great looking bike – that dual frame looks sharp, but it also adds an incredible layer of stability to the bike.
And if you're like me and love a good warranty, you'll appreciate that Matrix backs this bike with one of the best warranties on the market.
Oh yea, and did I mention the U50 comes with a starting price under $2k – not bad for a commercial grade bike.
So, all things considered, I think the U50 is a great upright bike for folks looking for a comfortable, high-end option, but I'm probably getting ahead of myself here.
Before you start making any decisions, you need to know the full story, but I think I can help.
In this review, I'll go over everything this upright bike has to offer, as well as where it falls a bit short; I'll also compare it to some of the other top bikes in its price range to see how it stacks up.
After reading, you'll know once and for all whether or not the U50 is worth investing in.
Ok, let's do this.
The Matrix Cycle U50 Upright Bike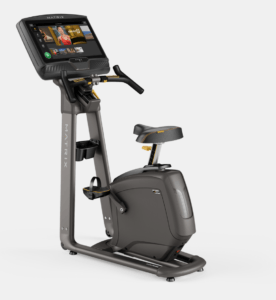 Matrix is a premiere fitness brand that offers both commercial and residential grade machines.
They're the top brand in the Johnson Health Tech family, a huge fitness corporation that also owns Horizon (a great home brand in its own right) and Vision Fitness (another higher-end brand).
You'll find Matrix products in a lot of commercial gyms around the world, but their home use machines are surprisingly well-priced.
They don't have a huge lineup, but they've got a little bit of everything when it comes to cardio – bikes, treadmills, ellipticals, rowers… even a stair climber.
When it comes to bikes, the U50 we're here to go over now is one of two upright models in their lineup – with the other being the more affordable U30.
Let's start this review off with a rundown on the performance specs, then we'll check all the cool features this bike has to offer.
Pros
Exact Force Induction Brake resistance system
30 magnetic resistance levels
Heavy-duty, dual frame design
Comfortable seat
Self-balancing pedals
Adjustable handlebars
Choice of console
iFit ready
Access to entertainment apps
Screen mirroring
350 lb weight limit
Fit riders up to 6'4″
Great warranty
Reasonably priced
Cons
Only 5 built-in workouts on XR console
Resistance
To me, the most important part of any exercise bike is its resistance system because this is what really effects the quality of your workouts.
The resistance system in an exercise bike is really made up of a spinning flywheel and a mechanism that's paired with that flywheel to create resistance.
That mechanism can be magnetic, as is the case with the U50, or friction based through the use of a brake pad.
Since the U50 uses a magnetic system, I'll skip the friction brake spiel, but the point is that magnetic systems are better.
So, the U50 uses a magnetic system, but to be more specific, they use their own "Exact Force Induction Brake" to control the resistance.
Brands are notorious for coming up with clever terms to make their tech sound more fancy than it really is, but Matrix's Exact Force system is a bit different than what you'll find in most exercise bikes.
Most magnetic resistance systems work by moving magnets closer or farther away from the spinning flywheel to control the resistance you feel, however the U50 doesn't have a moving magnet – it's stationary.
I'm guessing the magnetic field created by the stationary battery is increased or decreased by sending more power to the magnet, but I'm no engineer.
The point is, since there aren't any moving parts with Matrix's system, the resistance changes are instantaneous – the resistance goes up or down as soon as you push the button, there is no lag.
This is nice, but more importantly the U50's resistance system is remarkably smooth and quiet.
And since there aren't any moving magnets, theoretically, there's less chance for malfunction – resistance magnets can easily get stuck in one position or another and it can be frustrating to fix.
And with 30 levels to work with, you have a wide range of intensities at your disposal, so you can make your workouts as casual or as intense as you can handle.
Matrix doesn't disclose the flywheel weight for this bike, but given the sophistication of their induction brake, I would assume it's on the lighter side (20 lb or less).
Commercial grade bikes often use lighter flywheels because they don't need the extra weight to create a smooth pedaling motion because again, their resistance systems are more advanced.
Using a heavier flywheel is an affordable way to create a smooth feel, so this is why most budget-friendlier home bikes go this route.
Anyway, the U50 scores highly with its advanced resistance system – it's smooth, quiet, and able to provide enough resistance to challenge users of all skill levels.
Frame
The U50 comes with an impressive resistance system, but its frame is just as impressive.
I said it before, but I'm gonna say it again – this is a good lookin' bike.
I love the dual frame design in the front because it looks great, but it also adds a lot of stability to this bike. With this setup, you won't have to worry about the U50 rocking, wiggling, wobbling, or doing any other unwanted movement during workouts.
This extra frame adds quite a bit of bulk to the bike as well, which is a good thing if you ask me – the extra weight is going to make this bike feel even more secure while you're on it.
The U50 weighs roughly 132 lb assembled, which is pretty darn heavy for a home upright bike.
For the sake of comparison, Life Fitness' similarly priced C1 Lifecycle weighs in at around 116 lb and Sole's heavy-duty LCB weighs in at around 130 lb.
And all of these are much heavier-duty than your average budget-friendly upright bike, like Schwinn's 190 that weighs around 80 lb.
The U50 also comes with a max weight capacity of 350 lb and the ability to handle folks as tall as 6'4″, allowing it to safely accommodate riders of most sizes.
And in terms of physical dimensions, this bike is pretty average, taking up a footprint of roughly 4′ x 2′.
Overall, I like the look of this bike, but I love how heavy-duty the frame is.
Warranty
Matrix backs their Cycle U50 with the following home warranty:
Lifetime frame
7 year parts
2 year labor
Yeah, I told ya, Matrix doesn't mess around with their warranties.
It's great to see a lifetime frame guarantee, but it's the 7 years on parts that really gets my attention.
For the sake of comparison, Life Fitness only backs their C1 with a 3 year parts guarantee and Sole backs their LCB with a 5 year parts guarantee (which is amazing for the price).
Off the top of my head, the only brand I can think of who offers a better parts warranty is Spirit, who offers 10 years on their XBU55.
Oh, yeah, there's also the 3G Cardio Elite Upright Bike – it too comes with a 7 year parts warranty.
And 2 years on labor is also great, considering most brands only offer 1 year.
Overall, the warranty on the U50 is amazing.
Features
The Cycle U50 Upright Bike comes with the following features:
Choice of console- one of the nicest features about this bike is that you get to choose between 4 consoles: the XR, XER, XIR, and XUR. The XR is the simplest, consisting of just an LCD screen, while the others consist of HD touchscreen displays of varying size (10″, 16″, or 22″). Each comes with a certain number of built-in workouts, while the HD options come with wifi, bluetooth, and the ability to access entertainment apps and screen mirroring from your other devices.
iFit- the XER, XIR, and XUR consoles are also setup for iFit, allowing you to access instructor-led workouts and metric tracking directly from your console. Matrix throws in 30 days of iFit for free, then you'll have to pay the monthly fee to keep using it. FYI, with screen mirroring, you can use any fitness app you want through your phone and see it on your console (same goes for movies, etc).
Enlarged seat- the U50 comes with one of the most comfortable seats you're gonna find on an exercise bike. It's large, cushiony (is that a word?), and easily height adjustable. And if for some odd reason you don't like it, you can easily swap it out for another of your choosing.
Adjustable handles- the handlebars offer multiple grips and you can adjust their position as well for optimal comfort.
Self-balancing pedals- the pedals are large and weighted, making it easy to get your foot in and start going.
Water bottle holder- and finally, there's even a place to put your water bottle.
Price
Ok, time to talk cash money.
The price for the U50 will vary greatly depending on which console you choose – after all, there's a big difference between a 22″ HD console and an 8″ LCD display.
Anyway, at the time of writing this, the U50 will likely cost ya somewhere between $1,899 (XR console) and $3,899 (XUR console).
And there's roughly a $600 jump in price each time you go up a notch with the console.
So, big range there, but keep in mind the performance for the U50 will be the same regardless of which console it comes with.
In terms of comps, I've mentioned a couple already, but I want to go in a little more detail here.
One of the most obvious comps to me is Life Fitness' C1 Lifecycle – it's priced similarly and it too comes from a prestigious, commercial grade brand.
The C1 goes for between $1,800 – $2,400, depending on console choice, and it comes with 20 levels of resistance, a reasonably heavy-duty frame, and a solid warranty.
But the U50 comes with much nicer consoles, a heavier-duty frame, and a much better warranty.
I also want to mention Spirit's XBU55 again because it's easily one of the best upright bikes in its class as well.
The XBU55 is going for around $1400 as I'm writing this and it comes with a 30 lb flywheel, 20 levels of resistance, and an amazing warranty.
But it's console is dated, it isn't nearly as heavy-duty, and it's seat isn't nearly as comfortable.
Finally, I should mention Precor, another commercial grade brand with some great products.
Their UBK 600 line is heavy-duty, self-powered (depending on model), comes with 25 resistance levels, and is backed by a great warranty, but you're looking at $3k – $6k depending on the console.
So, my point is, I think the U50 is a bargain considering what it offers.
Final Thoughts
Ok, I feel like I'm starting to ramble on here, so it's probably time to wrap this up.
There's not much to complain about here, the U50 is kinda the total package.
In terms of performance, this upright bike comes with a commercial grade resistance system and its about as heavy-duty as any home upright bike out there.
And with that dual frame design, you aren't gonna have to worry about this bike rocking, no matter how hard you crank that resistance up.
And I love that the you get to pick your poison when it comes to the console.
And yes, the 22″ HD touchscreen console is pricey, but it's also more advanced than what most of these other premiere brands are offering on their bikes.
And at under $4k, I'd argue the U50 with its XUR console is still a good deal compared to some of the $6k options out there.
Yeah, I stand by what I said at the beginning – I think Matrix's U50 is easily one of the nicest home upright bikes on the market at the moment.
If you're looking for a comfortable upright that's built to last, it's a great choice.