The U30 is Matrix's entry-level upright bike, which is kinda hard to believe considering it puts a lot of brands' top level models to shame.
That's because this impressive exercise bike comes with a 23 lb flywheel, 20 levels of resistance, and a dual form step-thru frame that can handle riders weighing up to 350 lb.
And with the option to choose between 3 different consoles (including the XIR which comes with a 16″ HD touchscreen and access to entertainment apps), you can go as tech savvy or as simple as you like.
And the fact that Matrix covers the U30 with one of the longest warranties in the biz is just the cherry on top.
All things considered, I think the U30 is high-end upright bike with a lot to offer, but that doesn't necessarily mean it's the right exercise bike for your home.
Before you decide, it's a good idea to learn as much as you can about it and that's where I can help.
In this review, I'll be going over everything this upright bike has to offer, but I'll do ya one better and also compare it to some of the other top options in its price range.
That way you can see how it really stacks up to the competition.
After reading, you'll know whether or not the U30 is the right exercise bike for you.
The Matrix Cycle U30 Upright Bike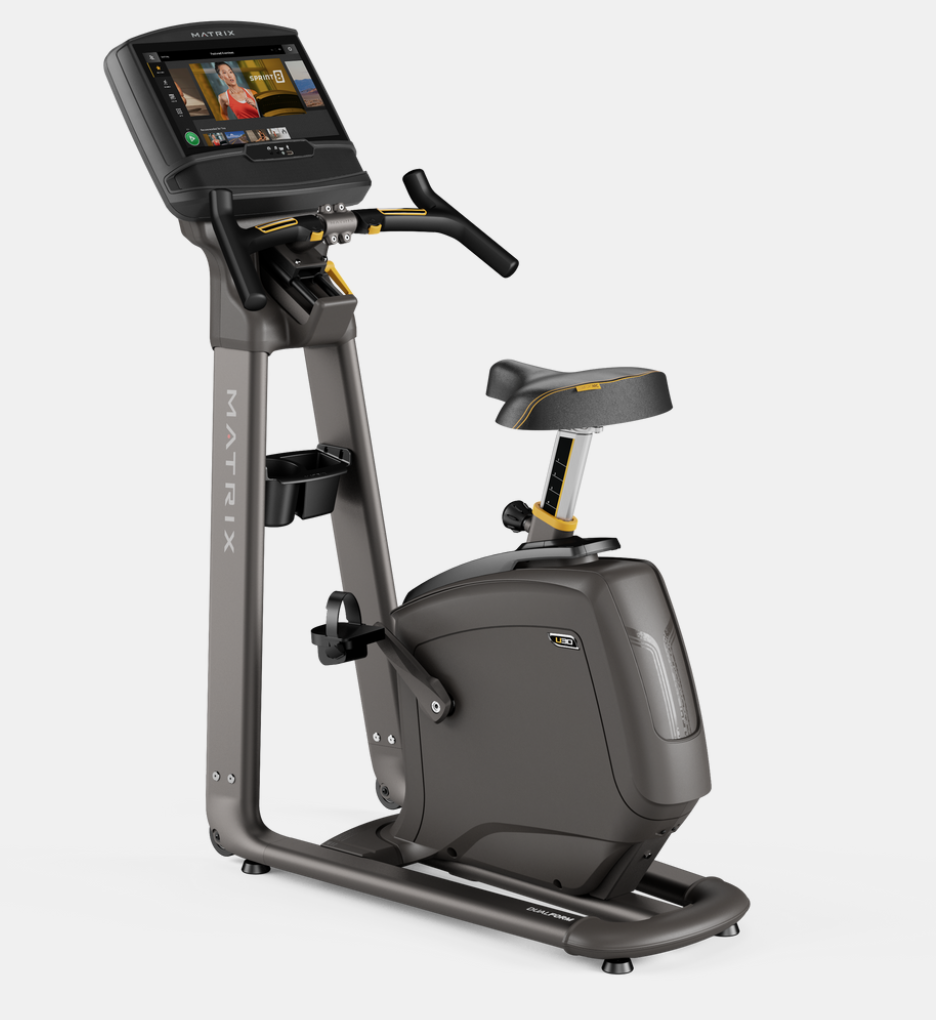 Matrix is a higher-end fitness brand and even though they don't technically offer commercial-grade products, they're pretty darn close.
And even though they don't offer commercial warranties, their top tier cardio machines would likely hold up well in any commercial gym.
When compared to other home fitness brands, in terms of quality, I'd say they're a step or two ahead of brands like NordicTrack and Sole, but may not quite as high-end as brands like Precor and Life Fitness.
In other words, they're a very nice home fitness brand.
Anyway, they don't have a huge lineup to speak of, but they do offer a handful or so of each type of cardio machine and they even offer a stair climber.
When it comes to upright bikes, they offer two – the U30 we're here to talk about now and the higher-end Cycle U50.
Pros
Very heavy-duty frame
350 lb weight limit
23 lb flywheel
20 levels of magnetic resistance
Step-thru frame
Choice of 3 consoles
Access to entertainment apps
iFit compatible
30 days of iFit included
Heart rate monitor compatible
Comfortable seat
Self-balancing pedals
Water bottle holder
Great warranty
Cons
Upgraded consoles significantly increase price
No cooling fan
Resistance
When it comes to exercise bikes and resistance systems, most bikes all pretty much work the same way.
They all basically use a flywheel of some weight and pair it with a resistance mechanism (usually magnetic) to create the resistance you work against.
When it comes to flywheel weight, having a heavier flywheel is usually an advantage because the extra weight helps build momentum as it spins, which in turn creates a smoother feel.
That said, higher-end bikes with more sophisticated magnetic resistances will often use lighter-weight flywheels because they can create a smooth pedaling motion without the need for the bulky flywheel.
With all of this in mind, the U30 comes with a 23 lb flywheel and as upright bikes go, this is pretty heavy.
For the sake of comparison, NordicTrack's Commercial VU29 comes with a 19 lb flywheel and Life Fitness' C1 Lifecycle uses a 15 lb flywheel.
Sole's LCB is packing a heavier flywheel with 31 lb under the hood, but overall, the U30 has a respectable sized flywheel and it's certainly heavy enough to provide a smooth pedaling motion.
With the U30, Matrix uses a standard magnetic resistance system (their U50 comes with a more advanced system) with 20 levels to work with.
Having more resistance levels is usually a good thing because it gives you more control over the intensity of your workouts, allowing you to make smaller adjustments between levels.
And with 20 levels, you'll have a lot of control over your workouts.
Overall, the U30 scores highly with its heavy flywheel and smooth acting magnetic resistance. It can also provide enough total resistance to challenge riders of all skill levels.
Frame
The U30 comes with an interesting looking frame, unlike anything I've really seen on any other upright bikes before.
You'll notice the front end of the frame is divided, with two supports coming up to meet the console.
I think this looks cool, but it also serves a couple of purposes.
For starters, this design gives the U30 a true step-thru function, allowing you to easily walk across the machine or access it from the front.
But it also adds an extra layer of stability to the bike, which is always a good thing.
With this dual form frame, the U30 is capable of safely holding folks weighing up to 350 lb, allowing riders of all sizes the ability to safely use this bike.
This is an impressive weight limit, but I also want to point out that this upright bike weighs in at 146 lb, which is quite heavy for a home upright bike.
Personally, I love to see a heavy bike because it means it's going to feel more stable and secure during use – more weight means it's going to be harder to move, which should mean it won't move as much when you're on it.
For the sake of comparison, Sole's LCB mentioned earlier weighs in at around 112 lb and Life Fitness' C1 weighs around 116 lb.
So, based on this info, I think it's fair to call the U30 a heavy-duty bike.
This extra weight is likely coming from the dual form frame design, which again is adding to the overall stability of the bike.
Overall, I love how heavy and stable the U30 is. Regardless of your weight, you won't have to worry about this bike feeling unstable on ya.
Warranty
Matrix backs their Cycle U30 with the following home warranty:
Lifetime frame
5 year parts
2 year labor
There's nothing to complain about here because this is a great warranty.
You can't beat a lifetime frame guarantee and not many bikes these days offer more than 5 years on parts.
For the sake of comparison, Sole and Life Fitness are both offering 3 years on parts, as does Diamondback.
NordicTrack only offers 2 years on parts.
One brand that does have 'em beat in the warranty department though is Spirit Fitness, who offers a 10 year parts guarantee on their XBU55.
And 2 years on labor is 2x the 1 year standard offered by most fitness brands.
Yup, overall, Matrix has a great warranty here.
Features
The Matrix Cycle U30 comes with the following features:
Choice of console- with the U30, you get to choose between 3 different consoles: the LCD 'XR', the 10″ touchscreen 'XER', and the 16″ HD touchscreen 'XIR'. The XR is pretty basic, but it comes with some built-in workout programs (5) and is easy to read. The XIR and XER offer larger touchscreen consoles with more workouts and built-in entertainment apps, as well as USB charging and screen mirroring, which allows you to watch anything from your phone on the console. It's great having the option to choose your console, but know that going with one of the upgraded consoles significantly increases the price.
iFit- regardless of which console you choose, you'll still be able to use iFit with the U30. With the XR though, you'll have to connect your phone to the console to use it. Matrix even includes a 30 day iFit trial with purchase. Through iFit, you get access to unlimited instructor-led workouts, scenic routes, and metric tracking. Oh, and you don't need an iFit subscription to use the built-in entertainment apps, which is nice.
Comfort arc seat- the seat on the U30 is large, cushioned, and comfortable. You can't adjust the fore/aft position separately, but you can adjust the height easily.
Self-balancing pedals- this bike comes with self-balancing pedals, meaning they're weighted so they always face the correct position for putting your foot on them. It's a small detail, but it does make for a more enjoyable ride.
Bluetooth- all of the consoles are bluetooth compatible with fitness apps and heart rate monitors.
Water bottle holder- there's also a built-in water bottle holder so you won't have to worry about reaching for hydration during workouts.
Price
Ok, time to talk price specifically.
The price on the U30 will vary quite a bit, depending on which console you go with. At the time of writing this, these prices are as follows:
U30 with XR: $1,499
U30 with XER: $2,299
U30 with XIR: $2,899
I don't know how long these prices will last because they can change at any time (so don't be too mad at me if they aren't accurate by the time you see this), but these are the prices I'll be using for my comparisons here.
So, going with the upgraded consoles significantly increase the price – we see a $700 – $800 jump up in cost for each upgrade here.
I've already mentioned a few the comps up above, but I want to mention them again here in a little more detail.
For this price range, the comp that immediately comes to mind is Life Fitness' C1 Lifecycle, which goes for around $2,400 with the Track Connect 2.0 console.
The C1 comes with a 15 lb flywheel, 20 magnetic resistance levels, and a decent warranty (lifetime frame, 3 years parts), but the console isn't even close.
Their Track Connect 2.0 is just a simple LCD screen with 15 workouts and bluetooth capabilities – it's not even in the same league as Matrix's XER or XIR.
I also want to mention Sole's LCB, which is going for around $1,500.
The LCB isn't quite as heavy-duty, but it comes with a heavier, 31 lb flywheel, 40 levels of resistance, and a 350 lb weight limit.
It also comes with a good warranty (lifetime frame, 3 year parts) and a 10″ touchscreen with bluetooth and screen mirroring capabilities.
Sole's console isn't as sophisticated as Matrix's XER or XIR, but it does have their XR beat.
Spirit's XBU55 is very similar to the LCB in specs and price, but as mentioned earlier, it comes with a 10 year parts warranty and a simple LCD console.
The last bike I want to mention is NordicTrack's Commercial VU29, which is quite a bit cheaper at $1,199.
The VU29 comes with a 14″ HD touchscreen that's iFit compatible, but it doesn't offer the entertainment apps. The VU29 is also quite a bit lighter and comes with a much shorter warranty (10 year frame, 2 year parts).
Final Thoughts
Based on the comps mentioned above, I think the U30 holds its own very well and then some.
The performance specs for this bike are impressive, but what really stands out to me is the dual form frame and how heavy-duty and stable this bike is.
Its seat is also really comfortable, something that can't be said for a lot of exercise bikes.
And the fact that you can access the entertainment apps on the XER and XIR consoles without an iFit membership is great because so many brands force you to pay a subscription fee to use the built-in apps.
Which is great because with the screen mirroring function, you can use any fitness app you want and see it through the console.
Overall, I really don't have much to complain about here – I think the U30 is a great upright bike.
If I had to complain about something, I'd say it would be nice if the upgraded consoles didn't cost quite so much, but even so I think the U30 is reasonably priced.
All things considered, if you're looking for an elite upright bike, I think the U30 is a smart choice.