If you're looking for an electric cruiser bike with some solid off-roading capabilities, Electric Bike Company has got ya covered with their 'Model R'.
The 'R' is short for "rugged enduro" by the way and considering all the options this bike offers, I think the name fits nicely.
Highlights of the Model R include an upright beach cruiser design, a 750W rear hub motor that can reach a top speed of 28 mph, and the option to choose between several different battery configurations depending on your needs.
And since this is Electric Bike Company we're talking about here, of course you can customize everything from the color of the rims to the kind of seat post suspension it comes with.
And with a 10 year motor warranty, the last thing you'll have to worry about is your motor crapping out on ya.
All things considered, if you're looking for a comfortable ride to run errands in that can handle pretty much any terrain you throw at it, I think the Model R is a great choice.
But before you decide, you need to do your homework – after all, there are a lot of e-bikes out there to chooses from these days.
And that's where I can help.
In this review, I'll go over all the specs and features this e-bike has to offer, but I'll also compare it to some of the other top options in this price range.
After reading, you'll know whether or not the Model R is the right e-bike to meet your needs.
Let's roll.
Electric Bike Company's 'Model R'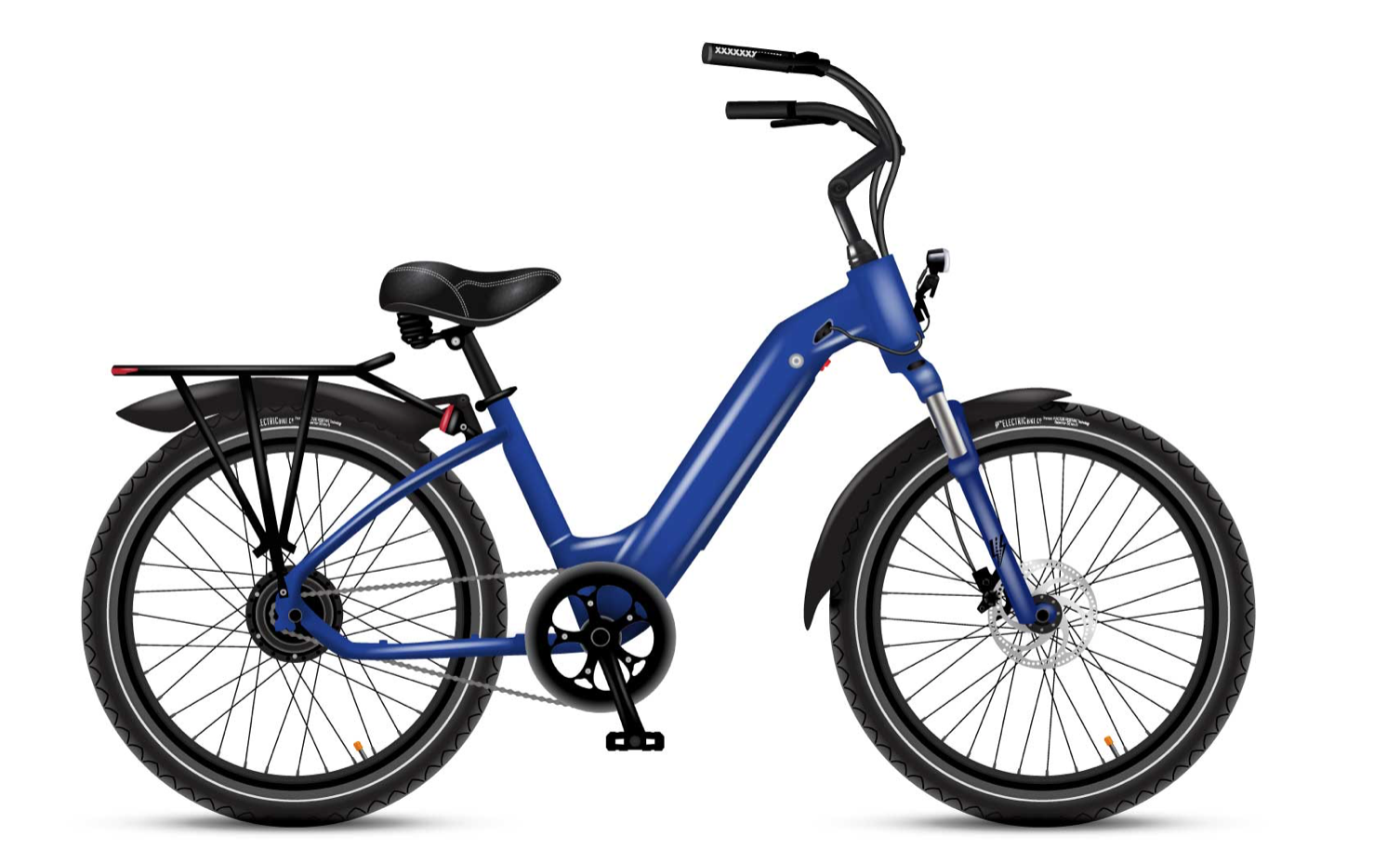 Electric Bike Company (EBC) is on a mission to change the way people get around and they're working toward this goal by offering well-made, reasonably-priced e-bikes.
They offer 8 or so different models to choose from and even though their newer, Model J is moto-inspired, it's safe to say the beach cruiser is their speciality.
I say that because most of their lineup consists of cruiser-style e-bikes of various sorts and sizes.
One thing all of bikes have in common though, is that they're all highly customizable and they all arrive fully assembled.
They all come with great warranties too, but we'll talk about that in more detail later.
The Model R we're here to discuss now is one of EBC's more popular models and it's easy to see why. Anyway, let's start this review off with a rundown on the top performance specs.
Pros
750W rear hub motor
4 different choices for battery
Top speed of 28 mph
Impressive range
Fairly lightweight frame
420 lb max payload
Hydraulic disc brakes
Front suspension
3″ x 26″ tires
5 levels of pedal assist
Half twist/thumb throttle
Front/rear lighting
Highly customizable
Lots of accessories to choose from
Great warranty
Arrives fully assembled
Cons
Pretty long
Would be nice if 14Ah battery came standard
Price can increase rapidly with upgrades
Motor
EBC uses 750W rear hub motors for all their e-bikes these days and this is great because it gives their bikes enough muscle to get up steep inclines and traverse rougher terrain.
Most e-bikes in this price range come with rear hub motors, as opposed to mid-drive motors that are usually a bit more expensive (it's rare to see a mid-drive bike under $3k, although Ride1Up's Prodigy is).
Mid-drive motors tend to provide a smoother feel and more overall torque and since they're located in the middle of the bike, they offer better balance as well.
But again, rear hub motors are the norm for this price range.
Anyway, with its 750W motor, the Model R can reach a top speed of 28 mph, making it a Class III e-bike.
That said, it arrives to your door set as a Class II e-bike, with a top speed of 20 mph (through pedal assist or throttle) – you have to re-program it after confirming it's legal to ride Class III e-bikes in your area.
And you really should check your local rules and regulations regarding e-bikes because the laws are different everywhere.
I know in my area, the rules are very lax and we can ride Class III e-bikes anywhere it's legal to ride a normal bicycle, but some areas don't allow Class III e-bikes at all.
So again, do yourself a favor and make sure you're obeying the law.
In terms of motors though, few e-bikes in this price range come with motors stronger than 750W, although Juiced Bikes' RipCurrent S does come with a 1000W motor.
But to be fair, it isn't a cruiser bike either.
Overall, the Model R scores highly in the motor department, especially for a cruiser.
Battery
It's always a good idea to check out the battery specs before purchasing because the battery tells you how much range you'll get between charges.
And having more range is always a good thing.
Well, with the Model R, you get to choose your battery configuration, depending on how much range you're looking for.
This e-bike comes with a 48V, 12Ah (576Wh) standard battery that'll get you upwards of 60 miles, depending on you ride (riding on paved flat roads with minimal pedal assist would be necessary to get this kind of range).
You can also go with the upgraded 14Ah (672Wh) battery, which will bump that max range up to around 70 miles.
Or you can go with multiple battery options, giving you a max range of up to 150 miles.
All in, the Model R comes with 4 different battery configurations, giving you plenty of options to work with – just know that adding additional batteries will increase the cost of the bike.
It's also worth noting that EBC provides a 3.5 amp charger with the Model R, which will provide a faster charge than the 2.0 amp chargers many other e-bikes come with.
Overall, I like that the Model R offers 4 different battery setups allowing riders to choose how much range they get with their bike.
But again, keep in mind these max ranges are calculated with very little pedal assist and in the easiest of riding conditions.
Frame
The Model R comes with a strong motor and rugged wheels, but it's still a cruiser at heart.
This means it comes with an elongated frame and cruiser style handlebars for a more upright sitting position while riding.
More specifically, this e-bike is just over 76″ long, so it certainly isn't compact, so if your storage space is limited, this is something to think about.
Also know that this extra length can make the Model R a little tougher to navigate through crowded streets and areas.
On the plus side though, this e-bike only weighs in at 56 lb (with the battery), so it shouldn't be that tough to transport.
And the Model R comes with a very impressive weight capacity – with the ability to hold riders weighing up to 420 lb, folks of all sizes will be able to enjoy this cruiser.
And according to EBC, most folks between 4'6″ – 6'8″ should be able to find a comfortable riding position.
Overall, the Model R is a long e-bike, but it's fairly lightweight and it comes with a high weight capacity, allowing it to accommodate riders of all sizes.
Warranty
Electric Bike Company backs their Model R with the following warranty:
10 year frame/motor
5 year battery
These are really long warranties for an e-bike.
For the sake of comparison, Juiced Bikes offers a 1 year warranty on their e-bikes, as do most other similarly-priced brands.
Aventon offers 2 years on their frames, parts, and batteries, although you can get the frame upgraded to a lifetime guarantee if you register your warranty within the first 90 days.
So, by comparison, I think EBC's warranty here is great, but you should know that there will still likely be some repair cost even while you're still under warranty.
Features
The Mode R comes with the following features:
LCD console- this bike comes with a color LCD display that makes it easy to see how fast you're going, as well as which pedal assist level you're in and it even comes with a USB charger so you can charge your phone while you cruise.
5 levels of pedal assist- you can choose between 5 levels of pedal assist, getting as much or as little help from the motor as you like.
Drive train- the Model R comes standard with a direct drive (single speed) transmission, but you can upgrade to a 7-speed shifter if you'd like. You can also upgrade and get an optional torque sensor as well for even smoother integration of motor assist.
Throttle- you can choose between a half-twist or a thumb throttle (no upgrade fee).
Fat tires-  this bike comes with large, 3″ x 26″ puncture-resistance tires that can handle riding over rough terrain or paved streets equally well.
Lights- the Model R comes standard with front and rear safety lighting and you can upgrade for additional features like high/low beams, turn signals, and brake lights.
Hydraulic disc brakes- this bike comes with Tektro hydraulic disc brakes that provide superior stopping power regardless of how fast you're going.
Seat post- you can choose between the standard seat post or two upgraded versions that offer suspension for an even more comfortable experience when riding over bumpy terrain.
Suspension fork- the Model R comes standard with a suspension fork that can easily be locked out at any time, depending on how you prefer to ride.
Grips- you can choose between leather or rubber cushion grips to make sure you get the most comfortable option to meet your needs.
Extras- you can choose to add additional stuff like front baskets, rear racks, fenders, anti-theft systems, locks, repair kits, and even custom helmets too. And you get to choose the color for pretty much every component the Model R has to offer as well.
Cost/Comps
Ok, time to talk cash money.
At the time of writing this article, the Model R starts out with a price of $2499.
I say "starts out" because there are tons of upgrades and additional features and accessories you can add and every time you do that, it's gonna cost you a little more.
So, depending on what colors (yes, some colors cost more than others) and features you choose, your Model R could cost quite a bit more than that.
But I'm still gonna use the standard price as the baseline for my comps here.
The Model R is basically a utility/cruiser e-bike, so let's take a look at some of the other top options in these categories to see how the Model R stacks up.
The first comp I want to mention is Aventon's Level.2.
The Level.2 is a little more affordable, costing around $1800, and it comes with a 500W rear hub motor that can be unlocked to reach a top speed of 28 mph.
It comes with a 672Wh battery and an expected range upwards of 60 miles and it too comes with 5 levels of pedal assist and hydraulic disc brakes.
The Level.2 doesn't offer the same level of customization that the Model R does, but it does come standard with a torque sensor and an 8-gear shifter.
I also want to mention Ride1Up's Cafe Cruiser, which is also more affordable, costing around $1500.
The Cafe Cruiser comes with a 750W rear hub motor that'll reach 28 mph, a 720Wh battery with a range up to 50 miles, and a standard 8-speed shifter.
At 65 lb, it's a bit heavier than the Model R, but it does come with an impressive 350 lb weight capacity.
But again, it isn't nearly as customizable as the Model R and one could argue it doesn't offer the same cruiser aesthetic.
Final Thoughts
Alright, well, there ya have it.
Based on the Model R's specs and features, I'd say it has a lot to offer.
I especially appreciate the strong motor and ability to choose your battery configuration, but what really sets the Model R apart from most competitors is its ability to be customized.
Which is EBC's specialty.
Getting to choose all your different colors and accessories is fun and it really lets you design your own e-bike.
And I know EBC uses high-end components, but for the price, it would be nice to see a few of the upgrades included – most specifically the 14Ah battery and the torque sensor.
Because there are certainly more affordable comps out there that do include some of these extra features.
But again, none of them let you design and customize the way EBC does.
Overall, I think the Model R is a really cool e-bike. If you're looking for a rugged cruiser that you can customize until the cows come home, I think it's a great choice.