It's been awhile since Schwinn updated their lineup, but they've recently come out with a new recumbent bike (the 290) and a new traditional upright bike, the 190.
At first glance, the 190 comes with a completely updated design, which certainly makes for a snazzier looking exercise bike, but the other upgrades are more subtle.
To cut to the chase, this newer upright basically comes with a few new console features and a heavier-duty frame, but otherwise is very similar to their older 170 model.
So, does it make sense to buy Schwinn's 190? Is it a good upright bike for the price?
Well, these are the questions I'm hoping to help you answer.
In this review, I'll go over all the specs and features this bike has to offer, but I'll also compare it to some of the other top options in this price range to show how it really holds up against the competition.
I'll also offer my 2 cents regarding whether or not it's really worth the asking price.
After reading, you'll know everything you need to in order to decide for yourself whether or not the 190 is worth buying.
Aright, let's do this.
The Schwinn 190 Upright Bike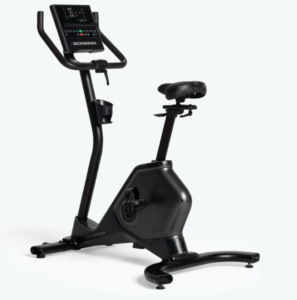 With the exception of some of their higher-end indoor cycles and Airdyne bikes, these days, Schwinn is really more of a budget brand.
Well, when it comes to their exercise bikes anyway.
But, as budget-friendly brands go, Schwinn is easily one of the best.
Their exercise bikes are known for being comfortable and easy to use and they actually offer really good warranties for their price range.
Plus, Schwinn's been around forever and earned a solid reputation, so they've gotta be doing something right.
Anyway, the 190 is one of their newest models to date (along with the 290 Recumbent Bike) and is now their highest-end upright bike.
Let's start this review off with a rundown on the 190's performance specs.
Pros
Sleek design
7″ color console
25 magnetic resistance levels
330 lb weight limit
13 built-in workout programs
Bluetooth compatible with JRNY, Zwift
1 year of JRNY included
Bluetooth speakers
USB charging port
Quick-touch resistance buttons
Fully adjustable seat
Weighted pedals
Solid warranty
Cons
Flywheel could be heavier
Resistance
We don't see a lot of advertising for classic upright bikes these days.
These days, it's all about indoor cycles with jumbo, HD touchscreen displays and streaming apps – actually, I can't judge, I'm a happy Peloton owner myself…
Anyway, my point is, there are still plenty of great traditional upright bikes out there and the humble upright bike can still be a great addition to a home gym.
When compared to indoor cycles, upright bikes are usually a bit more comfortable because they put you in a more upright position (as opposed to having to bend forward more with an indoor cycle).
This can be a nice alternative for folks who want more comfort than an indoor cycle, but still want to be in an upright riding position (as opposed to a recumbent bike).
Even though uprights are more comfortable than indoor cycles, they can still offer great workouts.
And when thinking about an upright bike's performance, we should be looking at the same things we look at for any other exercise bike – the resistance system and the flywheel.
Pretty much all upright bikes these days are using magnetic resistances, so we really shouldn't have to worry about seeing friction brakes here, but it's still a good idea to compare resistance levels.
Mostly, because having more resistance levels gives you the ability to make smaller adjustments to your resistance, fine tuning your workout experience.
All other things being equal, I would go with a bike with more resistance levels.
Anyway, the 190 comes with 25 resistance levels, giving you a lot of control over the intensity of your workouts, so this is pretty good.
The other key spec I encourage you to consider is flywheel weight.
Having a heavier flywheel is usually beneficial, especially in affordable bikes, because the extra weight helps provide a smoother pedaling motion.
Basically, the extra weight builds more momentum as you pedal, which actually helps keep the pedals moving between pedal strokes.
This reduces any unwanted lag between strokes, resulting in a smoother feel.
Now upright bikes aren't know for having really heavy flywheels like indoor cycles are, but weights will still vary between models.
And to be fair, more affordable bikes often come with lighter flywheels, that's just the way it goes.
With all of this in mind, Schwinn actually doesn't disclose the weight of the flywheel in the 190.
This usually means the flywheel is pretty light… and in this case, that would be true.
I reached out to Schwinn and according to their reps, the 190 comes with a flywheel that weighs 8.16 lb.
This is really light if we compare it to the 20 – 30 lb flywheels found on more expensive uprights (like Sole's LCB), but those bikes tend to cost significantly more.
If we compare this to the flywheels found on other similarly priced uprights, it's actually still pretty light, but not quite as bad.
For example, Nautilus' U618 uses a 10 – 13 lb flywheel (depending on which Nautilus rep you speak to), and Sunny's SF-B2883 only uses a 6 lb flywheel.
So, still light, but not embarrassing small compared to these other uprights (unless of course you consider Sole's B94, which isn't that much more expensive and comes with a 20 lb flywheel).
Overall, I think the 190 scores pretty well in the resistance department. I like that it comes with a lot of resistance levels and users seem to agree it offers a smooth pedaling motion.
The flywheel could certainly be heavier, but if you're looking for an upright for low to moderate intensity use, this might not be a deal breaker.
Frame
But there's more to an exercise bike than resistance levels and flywheels – we also need to consider how secure and stable the bike is going to feel while we're sitting on it.
In other words, how "heavy-duty" the bike is.
As a blogger, I've come to dislike that term because every fitness blogger and marketer on the planet uses it to describe every single piece of fitness equipment ever created.
And guess what, everything isn't heavy-duty… you're shocked, I know.
This term gets thrown around so much, it really means nothing these days. So, instead, you have to do a little digging yourself to see how "heavy-duty" a bike really is.
The best way to do this is to look at the assembled weight because this spec tells you literally how heavy the bike is.
And having a heavier bike is usually going to mean the bike will feel more stable during rides.
The 190 comes with an assembled weight of about 81 lb.
Personally, I like to see an assembled weight of at least 100 lb to feel confident, but that's unrealistic when talking about uprights under $1k.
So, let's compare this to some of the other bikes in this price range so we can get a better idea how the 190 stacks up against the comps.
Nautilus' U618 weighs in at around 83 lb; Horizon's Comfort U weighs around 77 lb; Schwinn's own 170 weighs 63 lb; ProForm's Pro C10U weighs around 77 lb.
There's also Sole's B94, which weighs around 120 lb, but that really says more about how heavy-duty Sole is in general than anything else.
Overall, based on these comps, I would argue that the 190 is of average heavy-dutiness for this price range.
That said, it comes with a surprisingly high weight capacity of 330 lb, allowing larger uses to safely use it as well.
So, when it comes to the frame, 190 is by no means the heaviest-duty upright bike in this price range, but it's no lighter-duty than the rest either.
It should be able to provide a stable feel during use.
Warranty
Schwinn backs their 190 Upright Bike with the following home warranty:
10 year frame
2 year parts
1 year electronics
90 day labor
Ok, all things considered, not a bad warranty here.
10 years on the frame is quite generous for this price range, beating out the 3 year warranty offered by brands like Sunny Health & Fitness.
That said, ProForm also offers 10 year frame warranties, Nautilus offers 15 years, and Sole guarantees their frames for life.
2 years on parts is also good, considering all the above brands offer 2-3 years on parts.
The only issue here, and it's a small one, is that the labor warranty could be longer.
1 year is standard operating procedure for labor warranties, so it would be nice to see Schwinn extend that a little.
Otherwise, I think Schwinn offers a pretty good home warranty for this price range.
Features
The Schwinn 190 Upright Bike comes with the following included features:
7″ LCD console- the screen on this bike is of decent size and is backlit and in color for easy viewing. There aren't any touchscreens, but it's easy to get started and use.
13 workout programs- the 190 comes with several built-in workouts to choose from, but this bike is really designed for pairing with the JRNY app, which gives you access to basically unlimited workouts.
Bluetooth- this bike is bluetooth compatible with the Zwift and JRNY apps, giving you access to instructor-led workouts, races, metric tracking, and all that good stuff. You have to pay separately if you want to take advantage of these streaming apps, but Schwinn actually includes a free year of JRNY ($149) with your purchase of the 190. This bike is also bluetooth compatible with heart rate straps, but one isn't included.
Bluetooth speakers- there are also bluetooth speakers built into the console, allowing you to play your music wirelessly through the console.
Quick-touch buttons- you can rapidly select your resistance with one of the 10 preset quick-touch buttons.
USB charging- the charging port allows you to keep your phone or tablet charged up during workouts.
Media shelf- there's a place to put your phone or tablet for easy viewing in case you want to access an app or watch Netflix, but it will block your view of the console.
Fully adjustable seat- you can adjust the height and horizontal (fore/aft) position of the seat, making it easier to find a comfortable riding position.
Weighted pedals- the pedals are weighted, meaning they'll always be facing the right direction for putting your feet on 'em. It's a small thing, but certainly a nice feature.
Water bottle holder- finally, there's a water bottle holder attached to the console mast for convenient hydration during workouts.
Price
I've mentioned several of the other top bikes in this price range briefly already, but I'd like to take a moment and go over the competitions a little more here.
At the time of writing this, Schwinn's 190 is selling for $699.
Using that price as our guide, there are several bikes worth mentioning.
Nautilus' U618 is a top option in this price range and is very similar to the 190 in a lot of ways.
It comes with a 13 lb flywheel, 25 resistance levels, 29 workout programs, bluetooth, and is equally as heavy-duty.
But as mentioned above, the U618 comes with a longer warranty.
Sole's B94 is also similarly priced, but it comes with much better performance specs.
This bike comes with a 20 lb flywheel, 20 resistance levels, a much heavier frame, and a much better warranty. But it only comes with 10 workout programs and a pretty basic console.
ProForm's Pro C10U is also worth mentioning because it comes with a 10″ HD touchscreen console for iFit workouts, 25 resistance levels, and a similarly heavy-duty frame.
But its weight limit is quite a bit smaller at only 275 lb.
I should also mention Schwinn's own 170 Upright, which is going for somewhere in the $400 – $500 range now.
The 170 comes with the 25 resistance levels, 29 workout programs, bluetooth, USB charging, and a cooling fan; plus, it's backed by the same warranty as the 190.
The 190 is a bit heavier-duty and bluetooth compatible with JRNY and also a lot sleeker looking, but in terms of performance, I don't see any major differences.
Final Thoughts
Ok, that's about all I got here, so it's probably time to wrap this thing up.
All things considered, I think the 190 is a nice upright bike for the price, but as I think I've shown, there's a lot of competition in this price range.
In terms of performance, Sole's B94 is superior, but otherwise, I think the 190 holds its own pretty well against most competitors.
It's also got a pretty nice collection of console features to offer.
Something to consider when deciding is the fact that the 190 comes with a full year of JRNY included.
And since this is a $149 value, that basically puts the 190 bike itself somewhere in the $550 range.
Of course, this only matters if you're interested in using the JRNY app to begin with – but since the first year is free, at least it gives you time to play with it and see if you like it.
If you don't, you don't have to keep subscribing, you can still use the 190 without a JRNY membership.
But if you know you don't want to mess with a streaming app from the get go, it would probably make more sense to save the money up front and go with the 170.
Long-story-short, if you want to try your hand at streaming workouts, I could see the 190 making a lot of sense; if not, I think there are better options in this price range.