The sophisticated 290 is the newest addition to Schwinn's lineup of home recumbent bikes and for starters, I'd like to say that I think this is one good looking bike.
Not that looks should really matter that much, especially when choosing exercise equipment, but still – the 290 is pretty darn sleek looking.
Especially for a bike in this price range.
Anyway, more importantly, the Schwinn 290 comes with a lot of impressive specs and features that are likely to make this model a hit.
Highlights include 25 magnetic resistance levels, bluetooth compatibility with fitness apps, USB charging, and a respectably heavy-duty frame.
It's also backed by a pretty solid warranty, which never hurts.
Overall, I think the 290 is going to be a success, but there's a lot of competition in this price range – so, is this bike really worth investing in?
Well, that's what I'm here to help you figure out.
In this review, I'll be going over everything this bike does and doesn't have going for it. And I'll also compare it to some of the other top options in this price range to see how it stacks up.
After reading, you'll know once and for all whether or not Schwinn's 290 is the right recumbent bike for your home.
Let's do this.
The Schwinn 290 Recumbent Bike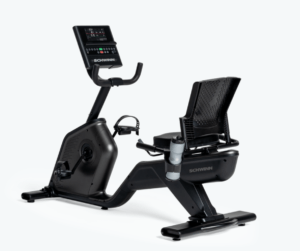 Schwinn's one of the most well-known brand names in the fitness/biking world and for good reason – they've been around forever and their products are pretty good.
When it comes to their exercise machines, they offer a few ellipticals and treadmills, but it's their exercise bikes that they're known for.
And most of their exercise bikes fall in the under $1k range, making them quite affordable as exercise equipment goes.
The 290 is one of their newest additions (along with the 190 Upright Bike), usurping the highly popular 270 as their highest-end recumbent model to date.
I'll be comparing the 290 to the 270 some throughout this review because the 270 is still a great bike in its own right, but to cut to the chase a little – the 290 basically comes with a heavier-duty frame and an updated console.
But I'm getting ahead of myself because I always like to talk performance specs first.
So, without further ado…
Pros
25 magnetic resistance levels
13 built-in workouts
Pretty heavy-duty frame
330 lb weight limit
Sleek design
Bluetooth compatible
1 year of JRNY membership included
Bluetooth speakers
USB charging port
Weighted pedals
Padded, ventilated seat
Good warranty
Cons
Flywheel could be heavier
Resistance
I could be wrong, but I assume we're all looking for an exercise bike that offers a smooth, quiet pedaling motion during workouts.
If you're not, please accept my apologies for making assumptions.
Well, when it comes to smoothness of operation, the flywheel weight is one of the most important specs to consider.
And just to make sure we're all on the same page, the flywheel is what spins as you pedal the pedals and yes, recumbent bikes use weighted flywheels too, just like indoor cycles.
You just can't see 'em usually because they're housed inside the frame.
Now recumbent bikes don't usually come with flywheels as heavy as indoor cycles do, but having a little extra weight is helpful for a recumbent bike as well.
Generally speaking, a heavier flywheel is preferred because the extra weight builds more momentum while it spins.
And this momentum helps keep the flywheel (and pedals) moving throughout the entire pedaling motion, reducing any lag between the up and down stroke between feet.
Flywheel weights will vary, but higher-end models tend to come with heavier flywheels (20 lb+) and affordable recumbents tend to come with lighter flywheels (less than 15 lb).
With all of this info in mind, Schwinn actually doesn't disclose the weight of the 290's flywheel.
But, I'd bet dollars to donuts that it uses the same 13 lb flywheel found on the Schwinn 270 and Nautilus R618 (by the way, Nautilus owns Schwinn, as well as Bowflex).
Well, turns out I'd lose that bet.
I reached out to Schwinn and according to their rep, the flywheel on the 290 only weighs 8.16 lb.
I find this reallllly surprising because I'm not sure why Schwinn would be a lighter flywheel on their upgraded model…hmm, very interesting.
But, if this rep is correct, the 290 comes with a really light flywheel.
I mentioned Nautilus' R618, which also uses a 13 lb flywheel, but there's also ProForm's ProC10R which only uses an 11 lb flywheel.
There are some though, in this price range, that do come with more weight under the hood.
There's XTERRA's SB2.5r which is usually priced somewhere around $700 and it comes with a 22 lb flywheel; there's also Diamondback's 910Sr which is similarly priced at times, which comes with a massive 32 lb flywheel.
So, it's possible to get heavier flywheels in this price range, but of course these other bikes don't necessary come with the same features, etc.
Moving on.
Schwinn pairs that flywheel with 25 magnetic resistance levels, giving the rider a lot of control over their workouts.
I'm of the opinion that having more resistance levels is always a good thing because it allows you to make smaller adjustments to the resistance throughout your workout.
Just know that having more resistance levels doesn't necessarily mean more overall resistance.
Overall, I think the 290 could score a little better in the resistance department.
It would be nice to see a heavier flywheel, but I do like that it comes with so many resistance levels to work with.
Frame
Having a smooth pedaling motion is important, but it's also important that a bike doesn't feel rickety and wobbly the second you sit on it.
Again, I'm assuming here, but I don't think any of us are looking for that "could fall apart at any moment" feel from our recumbent bikes.
"Heavy-dutiness" is a hard quality to objectify, but I think looking at the assembled weight and weight limit is a good place to start.
My thinking being that a heavier bike is more likely to feel stable because the heavier it is, the harder it'll be to move – which in this case, is a good thing.
And the same goes for weight limits – seeing higher numbers here is a sign of superior overall build quality (usually).
Anyway, the 290 comes with an assembled weight of roughly 108 lb, which is pretty good for a recumbent in this price range.
This is right there with the SB2.5r (108 lb) and Nautilus' R618 (107 lb) and it's a good 20 lb or so heavier than Schwinn's own 270 (87 lb).
Diamondback's 910sr is a lot heavier than all of them, weighing in at 130 lb, but that's certainly not the norm for this price range (honestly, the 910sr is a really nice recumbent that's recently been priced much lower than it used to be.. I'm not sure how long its price will last, but it's a good deal).
So, with an assembled weight well over 100 lb, the 290 should feel stable's and secure during use, so no worries there.
And with an impressive weight limit of 330 lb, the 290 is also able to safely accommodate most riders as well.
And in terms of dimensions, the 290 is pretty standard for a recumbent bike, taking up a footprint of roughly 66″ x 28″.
And as I mentioned at the beginning, I really like Schwinn's new take on the frame.
I think the angled frame between the seat and the flywheel looks sharp and the black pain job makes it look sleeker and more up to date.
Anyway, when it comes to the frame, I think the 290 scores very well. I like that it comes with a pretty high assembled weight and weight limit.
Warranty
Schwinn backs their 290 Recumbent Bike with the following home warranty:
10 year frame
2 year parts
1 year electronics
90 day labor
Ok, not bad, not bad.
10 years on the frame isn't quite as generous as Nautilus' 15 year frame guarantee for the R618, but it's better than XTERRA's and Diamondback's 5 year guarantees.
Two years on parts is pretty average for this price range, where most will come with guarantees in the 1-3 year range.
90 days on labor is pretty short though, considering most offer a full year here.
Overall though, I think Schwinn's warranty is pretty good.
Features
The Schwinn 290 Recumbent Bike comes with the following features:
7″ LCD console- the console is large and updated on the 290, making it clear and easy to see during workouts. You can track all the expected metrics on the brightly lit screen.
13 built-in workouts- the 290 comes with 13 built-in workouts, giving you several profiles to choose from and if you opt for the JRNY membership, you get access to basically unlimited on-demand and coaching workouts.
JRNY- speaking of which, JRNY is the streaming fitness app Nautilus uses with their brands and the 290 is designed to pair with JRNY for metric tracking and workout access (using your own smart phone or tablet). Schwinn includes a free year of JRNY with purchase and then it costs $149/year (or $19.99/month).
Bluetooth- the 290 is bluetooth compatible with JRNY and other streaming fitness workouts, so you'll be able to see your cadence displayed through the app.
Bluetooth speakers- this recumbent also comes with built-in bluetooth speakers, so you can listen to your workout playlists wirelessly through the console if you like.
Heart rate monitoring- the 290 is compatible with bluetooth heart rate straps, allowing you to keep an accurate eye on your pulse throughout workouts.
Padded, ventilated seat- the seat is padded and the backrest is ventilated for a more comfortable experience.
USB charging- you can also charge your device up during workouts so you won't have to worry about draining your battery.
Weighted pedals- the pedals are weighted, which keeps them always facing the right direction. It's a small thing, but it does make it more convenient to get on.
Tablet holder- there's a tablet shelf included in the console, giving you a place to put your tablet for easy viewing during workouts. It does block your view of the console however.
Water bottle holder- and finally, there's even a place to put your water bottle for easy reaching.
Price
Ok, before I wrap this review up, I want to spend a little more time talking about the other top recumbent bikes in this price range.
At the time of writing this, Schwinn is selling their 290 for $799.
This price could change in the future, but if we use this price as our guide, there are several great recumbents that come to mind.
One is the Nautilus R618, which is priced identically and comes with many similar specs: 13 lb flywheel, 25 resistance levels, 325 lb weight limit.
The R618 has 29 built-in workouts and a longer warranty (15 year frame, 3 year parts), but it's console is dated looking and it doesn't come with bluetooth speakers.
There's also XTERRA's SB2.5r which I mentioned earlier.
As I'm writing this, the SB2.5r is priced a little cheaper at $650 and it comes with a 22 lb flywheel, 24 resistance levels, and 12 workout programs.
But it comes with a dated console, isn't bluetooth friendly, and only comes with a 5 year frame/1 year parts guarantee.
Finally, I want to mention Diamondback's 910sr again, which is currently priced at $799 (again, I don't know how long they'll keep it there).
The 910sr comes with a 32 lb flywheel, 32 resistance levels, and 32 built-in workout programs.
It's also much heavier-duty and backed by a 5 year frame/3 year parts guarantee, but it's not bluetooth friendly.
Finally, I should probably mention Schwinn's own 270.
The 270 is priced at around $550 at the moment (through Amazon, can't get it through Schwinn anymore) and it's pretty identical to the 290 in terms of performance – same flywheel and same 25 levels of resistance, but the 290 is a good 20 lb bulkier.
The biggest difference between these models, as far as I can tell, is the updated console and the redesigned frame (the 290 also has a higher weight limit, 330 lb vs 300 lb).
Final Thoughts
Ok, I think that about does it.
There's really not much to complain about there when it comes to the 290.
I think this recumbent has a lot to offer, especially when it comes to the redesigned console and features.
It isn't the highest performing recumbent in this price range, but few bikes offer the same kind of combination of performance specs and features that this one does.
Plus, the fact that it includes an entire year of JRNY basically makes up for the price difference between it and Schwinn's 270.
So, if you like the idea of accessing streaming workouts and metric tracking with your recumbent bike, I think the 290 could make a good investment.
If you don't care about streaming apps or a nice looking console, you might be better off with one of the recumbents mentioned above that's packing a heavier flywheel.
Either way, I think it's fair to say Schwinn's 290 holds its own well against the other top recumbents mentioned above.
Long-story-short, I think Schwinn has a winner here.