ProForm's Pro C10R is an affordable home recumbent bike that comes equipped with a 10″ HD touchscreen console for iFit workout streaming.
We don't come across that many streaming recumbent bikes these days – actually now that I think about it, NordicTrack and ProForm are the only ones I know of.
And that's a shame because recumbent bikes are so much more comfortable to use than indoor cycles or treadmills and some folks simply can't use those other machines due to pain or mobility issues…
Anyway, if you're looking for a budget-friendly recumbent bike with streaming capabilities up the wazoo, ProForm's Pro C10R is a pretty good choice.
But like in other bike in this price range, it's got its fair share of downsides too.
Most notably, a really light flywheel and a warranty that could be longer.
Regardless, before you decide, it's a good idea to learn as much as you can – and that's where I believe I can help.
In this review, I'll be going over all the specs and features this recumbent bike has to offer. I'll also try to compare it to some other recumbents in this price range so you can see how it stacks up.
After reading, you'll know whether or not the Pro C10R is the right option for your home.
Let's do this.
The ProForm Pro C10R Recumbent Bike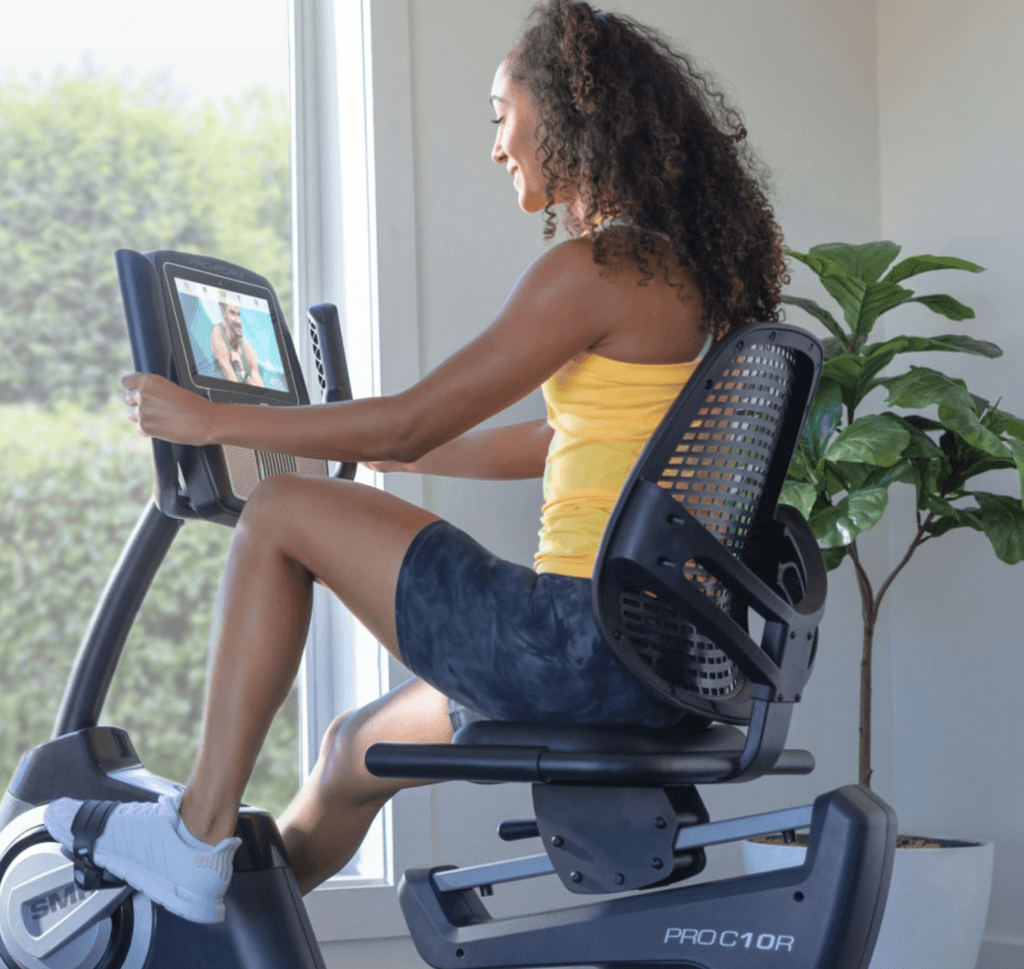 ProForm's basically NordicTrack's little brother.
Both brands are owned by the same company (ICON Health & Fitness) and both brands offer similar features, especially when it comes to their touchscreen consoles and streaming capabilities.
But ProForm machines are generally a little lighter-duty and more affordable.
It reminds me a little of Chris and Liam Hemsworth (and isn't there even a 3rd Hemsworth brother that nobody ever remembers?)…
Anyway, ProForm's a pretty well-respected brand, especially when it comes to more budget friendly alternatives.
Their treadmills are very well received, but their exercise bikes are pretty solid too.
The Pro C10R we're here to go over now is the only recumbent bike in their current lineup, but they've got a few indoor cycles and an upright bike (the Pro C10U) to choose from as well.
Let's start things off by going over the performance side of things, then we'll switch gears and discuss features.
Pros
10″ HD touchscreen console
iFit ready
Access to unlimited instructor-led workouts (iFit)
Interactive training feature (iFit)
Scenic routes (iFit)
25 levels of resistance
Bluetooth compatible
Quick touch resistance buttons
Comfortable seat
300 lb weight limit
Cooling fan
Reasonable price
Cons
Flywheel could be heavier
Parts warranty could be longer
Resistance
If you're opting for a recumbent bike, you might not be as concerned with its ability to provide a huge amount of resistance, but it's still a good idea to consider this part of the bike.
Mostly because it's the resistance system that largely affects how smooth the pedaling motion's gonna feel.
Plus, who said a recumbent bike shouldn't still be able to provide a killer workout?
Well, it turns out recumbent bikes work just like most indoor cycles and upright bikes in terms of how it produces resistance.
Like these other styles of bike, recumbent bikes rely on a weighted flywheel and a magnetic resistance mechanism to create the resistance you get to work against.
And just like these other types of bike, having a heavier flywheel is usually a good thing for recumbent bikes too.
And that's mostly because heavier flywheels tend to provide a smoother pedaling motion than lighter flywheels (this is especially true for affordable bikes).
That's because the extra weight create more momentum as the flywheel spins and this momentum actually helps the pedals keep moving a little between pedal strokes.
The result is a smoother pedaling motion with less awkwardness between the transition of upstroke and downstroke.
Flywheel weights on recumbent bikes vary a lot, but you don't usually see massive flywheels on recumbents like you do on indoor cycles.
Most high-end home recumbent bikes only come with 20 – 30 lb flywheels, which is nothing compared to the 40 – 50 lb flywheels found on many indoor cycles these days.
Anyway, with all of that in mind, according to Best Buy, the Pro C10R comes with an 11.2 lb flywheel, which is quite light even for an affordable recumbent.
For the sake of comparison, Schwinn's 270 comes with a 13 lb flywheel and it costs $100 – $200 less than the Pro C10R; Nautilus' R616 also comes with a 13 lb flywheel and that costs even less.
Usually, I wouldn't say a 2 lb difference would make that much difference, but these flywheels are so light to begin with, I would say every pound counts.
Not to say the Pro C10R can't offer a decent pedaling motion with that light flywheel, but it would still be nice to see a heavier flywheel.
Especially since heavier flywheels usually provide more overall resistance too.
Anyway, the Pro C10R pairs that flywheel with 25 levels of magnetic resistance, giving you a lot of control over the intensity of each workout.
When it comes to resistance levels, I like to see higher numbers because that means you can make smaller adjustments between levels.
And with 25 levels, the Pro C10R is right up there with the popular Schwinn 270 mentioned above.
Overall, the Pro C10R isn't the highest-performing recumbent bike around – its flywheel is light even for an affordable recumbent.
But with 25 resistance levels, you do get a lot of control over your workouts, which is a good thing in itself.
Frame
I don't want to put too much emphasis on flywheel weight because in reality, there are other things you have to consider too – especially for a bike where it's probably its streaming capabilities that you're most interested in anyway.
But it's still a good idea to think about how heavy-duty the bike's gonna feel too.
This is a vague quality that can be hard to determine without trying the bike out first, but there are some things you can look for when test driving isn't an option.
Like assembled weights and weight capacities.
I like to see higher numbers in both these specs because higher numbers generally indicate a tougher, more stable bike.
When it comes to affordable recumbent bikes, anything around 100 lb or higher is pretty good for the assembled weight and anything 300 lb+ is good for the weight limit.
With this in mind, the Pro C10R comes with an assembled weight of around 110 lb (according to a ProForm rep) and a weight capacity of 300 lb.
These are both impressive numbers for a recumbent bike in this price range.
Assuming this assembled weight is accurate (with sales reps, you really never know), this would make the Pro C10R heavier than the 270 and its 87 lb weight and very similar to the almost identically priced Nautilus R618 (107 lb assembled weight).
So, no complaints there.
And a 300 lb weight limit is high enough to indicate solid frame construction, but also high enough to accommodate most riders.
And, with a footprint of only around 25″ x 57″, the Pro C10R is pretty compact too.
Overall, I think this recumbent scores highly in this department; I like that it comes with a relatively high assembled weight and a generous weight limit.
Warranty
ProForm backs their Pro C10R Recumbent Bike with the following home warranty:
10 year frame
1 year parts
1 year labor
10 years on the frame is solid for a bike in this price range, matching what Schwinn offers on their 270.
Nautilus backs their R618 with a 15 year frame guarantee, but most in this price range are far shorter.
No, the only complaint I have here is that 1 year parts warranty – based on what Schwinn and Nautilus offer (2 and 3 years respectively), I'd like to see at least 2 years on parts.
But a year on labor is standard procedure, so no complaints there.
All things considered, a decent warranty, but the parts guarantee could be longer.
Features
The ProForm Pro C10R Recumbent Bike comes with the following features:
10″ HD touchscreen console- it's pretty cool to see a 10″ HD display on a bike well under $1k and I dare say this is the most impressive feature this bike has to offer. With a touchscreen this large, you won't have any problems seeing everything clearly whether you're on the bike or doing a floor workout.
iFit- of course, that large console is designed to pair with iFit, although it's completely optional. iFit is ProForm's streaming service and having a membership is necessary in order to access all the workouts, metric tracking, scenic routes, and everything else it has to offer. ProForm throws in a 30 day trial with purchase and then it'll cost ya $39/month.
Interactive training- iFit also gives you access to ProForm's interactive training feature, which allows the resistance to automatically adjust to match what the instructors are telling you to do. Most folks like this feature, but you can always adjust your resistance manually too.
Bluetooth- the console is compatible with bluetooth headphones, which comes in handy when you're trying to get your workout on when family members are sleeping. It's also compatible with bluetooth heart rate monitors, so you can keep an eye on your pulse too.
Comfortable seat- the seat is large, cushioned, and comes with built-in lumbar support for a more comfortable experience.
Cooling fan- the built-in fan helps keep ya more comfortable during workouts.
Quick touch buttons- you can instantly set your resistance with the push of one of these convenient buttons located on the console.
Water bottle holder- and finally, yes, there's a place to store your water bottle (hydration is very important).
Price
At the time of writing this, ProForm has their Pro C10R listed for $899, although I've seen it as low as $799 online before through other retailers.
Considering you get a 10″ HD console with this recumbent, I don't think $899 is an unreasonable price (but of course $799 is always better).
Anyway, let's take a look at some of the top competitors in the $700 – $900 range to see how the Pro C10R holds up.
I've already mentioned Schwinn's 270 a few times and that's because this is one of the most popular home recumbents around.
It costs around $650 and it isn't quite as heavy-duty as this bike, but it comes with a heavier, 13 lb flywheel, 29 workout programs, 25 resistance levels, and a solid 10 year frame, 2 year parts guarantee.
But of course, no HD console.
There's also Nautilus' R618, which also comes with a 13 lb flywheel, 29 workout programs, an equally heavy-duty frame, and an even better warranty (15 year frame, 3 year parts).
The R618 is priced almost identically too at around $799 – but again, no HD console (even though I still consider the R618 one of the best recumbents of the year).
If we want to compare this bike to another streaming recumbent, we have to up our price range significantly and compare it to NordicTrack's VR25, which is going for around $1200 at the time of writing this.
The VR25 is significantly heavier-duty, coming with a 25 lb flywheel, much heavier frame, and a 350 lb weight limit – but the warranty is almost identical and the HD console is only 7″.
So, as recumbent bikes in this price range go, I'd say the Pro C10R holds its own fairly well.
Final Thoughts
But is it really worth investing in?
I think the answer to that question depends entirely on whether or not you really want a recumbent bike with streaming options.
If you're confident you want to participate with iFit workouts and you want to keep your budget under $1k, then I think the Pro C10R makes a lot of sense.
Yes, there are comparable recumbents out there with heavier flywheels and better warranties, but I haven't come across any other streaming recumbents in this price range rocking a 10″ HD touchscreen display.
If you're not sold on the streaming features and don't want to mess with a monthly iFit subscription, I think it makes sense to go with a different bike.
That's my long-winded way of saying I think the 10″ console is what really sets the Pro C10R apart from any other comps in this price range.
All things considered though, I think ProForm has a pretty sweat deal here.