If you like the idea of getting your hands on a free indoor cycle, it's a smart idea to check out ProForm's Studio Bike Pro.
Well, technically you have to commit to a 3 year iFit membership first, but that's something you'd have to pay for anyway in order to take advantage of all the good stuff this cycle has to offer.
But I'm getting a little ahead of myself here.
Highlights of this affordable cycle include a 10″ HD touchscreen console, a 32 lb flywheel, 22 levels of resistance, and an included pair of 3 lb dumbbells.
It's true, the Studio Bike Pro isn't the heaviest-duty cycle by any means, but considering you can get it for no additional cost through ProForm+, I think it's a pretty sweet deal for folks looking for an affordable way to get their streaming on.
But first things first.
In this review, I'll be going over everything the Studio Bike Pro has to offer – we're talking performance specs, features, price, and pretty much anything else you'd want to know about this bike.
I'll also compare it to some of the other indoor cycles in its price range so you can get an idea of how it measures up against the competition.
After reading, you'll know once and for all whether or not this is the right indoor cycle for your home.
Let's begin.
The ProForm Studio Bike Pro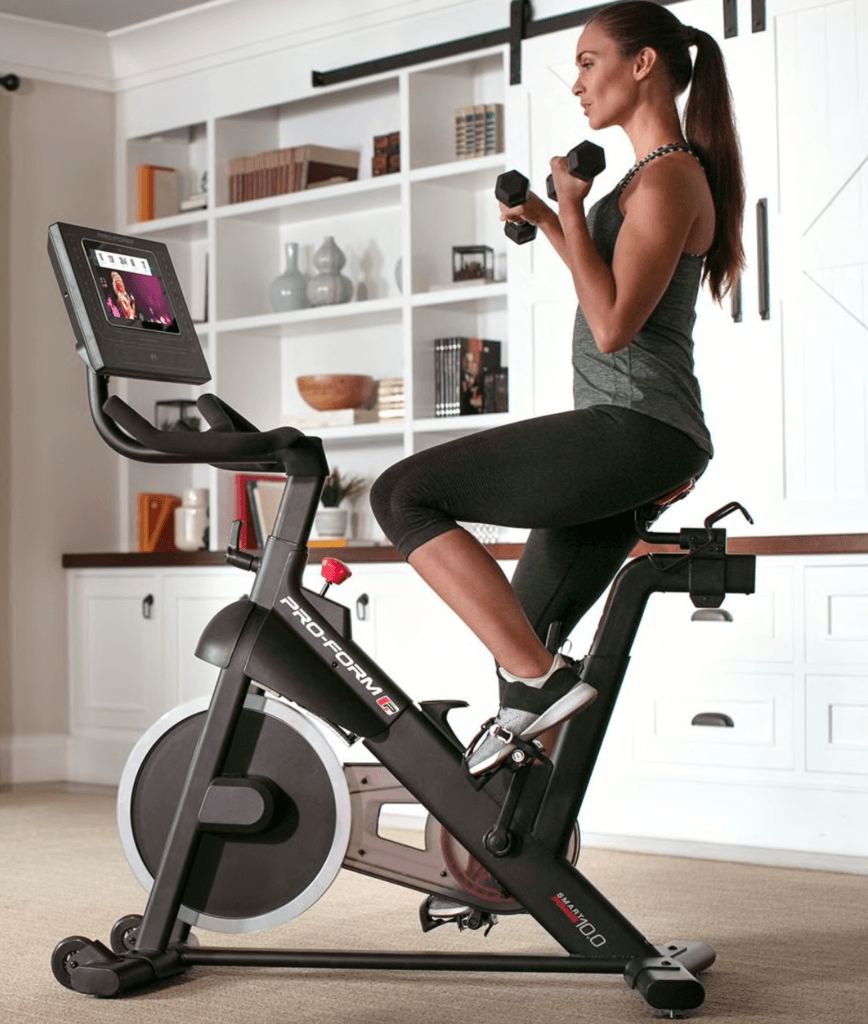 ProForm's a pretty solid brand that's been around for a long time now (~45 years, give or take) and when it comes to affordable cardio equipment, I'd say they're easily one of the top names in the biz.
I'm not sure if you were aware, but ProForm is owned by ICON, the same parent company that owns NordicTrack.
This is why you'll notice so many similarities between the 2 brands in terms of lineups and warranties and it's also why both brands are equipped to pair with iFit.
That said, ProForm is generally a lighter-duty, more affordable brand, where NordicTrack offers heavier-duty, more expensive products.
Regardless, ProForm is good at what they do.
The Studio Bike Pro we're here to discuss now is part of the ProForm+ program, where you basically get a free piece of fitness equipment when you agree to a 3 year iFit membership… but more on that later.
Let's start this review off with a rundown of the performance specs this bike has to offer.
Pros
10″ HD touchscreen console
32 lb flywheel
22 levels of magnetic resistance
Access to unlimited instructor-led workouts
Interactive training
Scenic routes
Fully adjustable seat
Quick touch resistance buttons
Pair of 3 lb dumbbells included
Good warranty
Free with 3 year iFit membership
Cons
250 lb weight limit
Handlebars not fully adjustable
Resistance
I enjoy comparing flywheel weights and resistance levels between bikes because I find it interesting, but I think it's also helpful to think about this stuff in an objective way because it makes it easier to see how different bikes stack up against each other.
You know, compare bikes on equal ground – apples vs apples and whatnot.
Well, pretty much all indoor cycles use belt drive trains these days, so when thinking about resistance systems, it mostly about the size of the flywheel and the type of resistance mechanism used.
Most bikes these days also use magnetic resistances (the Studio Bike Pro included), although there are still plenty of friction brake systems out there.
Especially on more affordable cycles.
But again, the bike we're talking about here uses a magnetic resistance, so we can skip the whole friction brake discussion for now.
So back to flywheels.
The Studio Bike Pro comes with a 32 lb flywheel, which isn't the heaviest hitter in town (far from it), but it's still easily heavy enough to provide a smooth pedaling motion.
You'll hear a lot of talk and discussion regarding indoor cycles and flywheel weights and whether or not you really need a heavy flywheel to create a smooth experience.
Opinions vary of course, but in reality – it depends on the bike.
Most indoor cycles for home use, especially affordable ones, do benefit from having a heavy flywheel because it's an affordable way to create a smoother pedaling motion.
And that's because the added momentum a heavy flywheel creates helps keep the pedals moving in between pedal strokes, thus reducing any awkward lags.
That said, there are higher-end cycles, like Keiser's M3i, which are designed specifically for lightweight flywheels and these bikes can also provide an amazingly smooth experience.
But like I said, most home bikes benefit from having a heavy flywheel.
Flywheels these days are going up as heavy as 50 lb, but personally, I think anything over 30 lb is heavy enough to get the job done.
So, at 32 lb, I think the Studio Bike Pro is doing just fine in this department.
This flywheel is paired with 22 levels of resistance, which is pretty average for an indoor cycle.
Having more resistance levels doesn't necessarily give you access to more total resistance, but it does mean you can make smaller adjustments between levels.
Which I think is a benefit in its own right.
As a Peloton owner, I like the idea of having 100 resistance levels because I can make really small changes to my resistance throughout workouts.
With 22 levels, you won't be able to make tiny adjustments like that, but it still gives you plenty of control over your workouts.
Overall, I think the Studio Bike Pro scores highly in this department and users seem to agree its pedaling motion is quite smooth.
Frame
A common feature of most affordable cycles is that they tend to come with lightweight frames.
To be fair, this is one of the reasons they're probably more affordable in the first place, but it's still something to be aware of.
Having a lighter-weight frame isn't the end of the world, especially if you're a smaller person to begin with.
But lighter bikes will be more likely to wobble or move around more during workouts, which isn't something any of us are really looking for in a bike.
The best way to get an idea as to how stable or heavy-duty a bike is is to take it for a test spin before buying.
Unfortunately, this isn't always possible these days, when a lot of our shopping occurs online.
But there's still some stuff you can look for to get an idea of what you're getting into.
I like to compare assembled weights because this spec tells us exactly how heavy a bike is – and to me, seeing a higher number here is always a good thing because a heavy bike is more likely to stay put (and feel stable) during workouts.
With this in mind, the Studio Bike Pro comes with an "in box" weight of 140 lb.
The "in box" weight includes the weight of the box and packaging, so we have to subtract something to estimate what the actual bike weighs.
In this case, I would think 20 lb or so is a nice conservative estimate.
When we subtract this from the in box weight, we're left with an assembled weight for this cycle somewhere in the 120 lb range (give or take).
Which is actually pretty good for an affordable cycle.
For the sake of comparison, Schwinn's IC4 weighs in at around 106 lb and people love that cycle.
The Peloton Bike weighs in at around 135 lb, so a bit more; there's also Sole's ridiculously heavy-duty SB900 that weighs around 160 lb.
When looking at assembled weights, especially for affordable bikes, I think anything over 100 lb is pretty good.
So assuming our estimate is more or less in the right ballpark, I think the Studio Bike Pro should feel solid during workouts.
Something worth noting though, this bike only has a weight capacity of 250 lb.
This is lower than the 300 lb limit we see on most indoor cycles, so heavier users should certainly consider this before purchasing.
Based on this lower weight capacity, it's safe to say the Studio Bike Pro is better suited for smaller riders.
Overall though, this bike isn't as heavy-duty as some of the other cycles out there, but it's heavy enough to provide a stable feel for folks who fall under its weight restrictions.
Warranty
ProForm backs their Studio Bike Pro with the following residential warranty:
10 year frame
2 year parts
1 year labor
Ok, so this is the same warranty ProForm and NordicTrack use for pretty much all their equipment and I think it works a lot better on some products than others.
But in this case, I think it works quite well.
10 years on the frame is surprisingly good considering Peloton only offers 5 years on their frame.
And 2 years on parts is also pretty awesome, considering most indoor cycles top out at around 3 years on parts (even Sole stops at 3 years with their SB900).
And a year on labor is pretty standard stuff across the board.
Overall, I think ProForm offers a really good warranty on the Studio Bike Pro, especially for a bike you can technically get for free.
Features
The Studio Bike Pro comes with the following included features:
10″ HD touchscreen console- it's funny, seeing a 10″ HD touchscreen display used to be a big deal, but these days this is kinda small. But seriously, it's still large enough to easily see all workouts and metrics and this console even rotates for easy viewing when doing off the bike workouts.
iFit- this bike is obviously designed for iFit streaming and considering you have to commit to a 3 year membership to even buy this bike you should make sure you're ready for this kind of a commitment. Through iFit, you get access to unlimited instructor-led workouts of all varieties, metric tracking, scenic routes, and more. It costs $39/month.
Heart rate monitoring- the console is compatible with bluetooth heart rate monitors, but one isn't included with purchase.
Interactive training- iFit also has this cool feature where the instructors can control your resistance levels during workouts, so all you have to do is try and keep up (you can always adjust things manually too).
Quick touch buttons- you can instantly set the resistance to any setting you want with a push of one of these convenient buttons.
Pair of dumbbells- ProForm includes a pair of dumbbells with purchase, so you'll be ready to roll with those iFit workouts from day 1.
Fully adjustable seat- you can adjust the height and horizontal (fore/aft) position of the seat, making it easier to find a comfortable riding position.
Height adjustable handlebars- the handlebars are only height adjustable, so no fore/aft adjustments. It would be nice to see fully adjustable handlebars, but personally, I don't see this as a big deal.
Toe cage pedals- the pedals are designed to be paired with sneakers, so you don't have to worry about using cleats if you don't want to. If you do want to, you could easily swap 'em out for the pedals of your choosing.
Water bottle holder- finally, yes, there's a place to hold your water bottle.
Price
Time to talk dollars.
As I've mentioned earlier, at the time of writing this, ProForm is requiring a 3 year iFit membership to purchase this bike, but there's no added cost for the bike itself.
So, since iFit costs $39/month, that means you end up paying $1404 for the Studio Bike Pro and 3 years of iFit.
You can pay that membership fee via monthly installments, or you can pay up front all at once.
Personally, I think this is a pretty sweet deal considering you'd have to pay that $39/month iFit membership anyway, so as long as you're confident that you'll still using your membership 3 years from now, it is like getting a free bike.
But that does make it a little harder on me when it comes to appropriate comps.
I need a bike cost to use to compare the Studio Bike Pro to other similarly priced cycles – and I'm not sure it makes sense to compare it to other $1400 bikes since that's really the cost of 3 years of iFit.
Considering ProForm's Studio Bike Pro 22 is selling for around $1200 at the time of writing this, I think it's fair to say the Pro would be selling traditionally for well under $1k.
At this price point, Sole's SB900 is a top contender.
The SB900 is much heavier-duty and it comes with a much heavier, 48 lb flywheel, and it comes with a better warranty (lifetime frame, 3 year parts) too.
But it doesn't come with a touchscreen console and isn't streaming friendly.
There's also Bowflex's C7, which at the time of writing this, is going for around $1300 (wow, I remember when that thing was like $700).
The C7 comes with a 7″ touchscreen console and 100 magnetic resistance levels, but it's warranty isn't quite as generous.
Finally, I want to mention NordicTrack's S15i, which you can also get for free, but with a 4 year iFit commitment.
The S15i is significantly heavier duty, comes with a 14″ touchscreen console, incline/decline capabilities, and uses the same 32 lb flywheel (and comes with same warranty).
So, if you're cool with going in on a 3 year iFit commitment, does it make more sense to go all in and make it 4 years?
 Final Thoughts
You know, that's really a personal question.
If you ask me, I would say most definitely because the S15i is a much heavier-duty bike and the idea of getting one of those bad boys for free is really tempting.
But either way, I think ProForm's Studio Bike Pro is also a very good deal.
The Studio Bike Pro comes with a fairly heavy flywheel, a smooth acting resistance system, and even a pretty generous warranty.
The biggest downside I see is the low weight capacity – larger users should really consider another option.
But the fact that you can get this cycle at no added cost for agreeing to a 3 year iFit membership is awesome.
But you really need to be all-in with the whole streaming thing because this bike really needs iFit.
Sure, you can use it manually without an iFit subscription, but there are a lot of other great, cheaper cycles you can get if you don't want streaming workouts.
So it doesn't make any sense to me to invest in this bike unless you know you want to use streaming workouts for the next few years.
But if you do, I think ProForm has a great deal here (I wonder how long it'll last?)