Only NordicTrack would have an entry-level cycle that comes with a 14″ HD touchscreen – I mean, I remember the days when 14″ used to be considered huge.
Well, as Dylan said, "the times, they are a changin'".
Regardless, I still say 14″ is still pretty darn big for any exercise bike, but it turns out the S15i has a lot more to offer than just a flashy console.
Like a 32 lb flywheel, 22 magnetic resistance levels, and a heavy-duty frame capable of holding folks weighing up to 350 lb.
Oh yea, I guess there's also the incline/decline features, the ability to let the resistance adjust automatically to match your workouts, and the fact you can get this bike for free with a 4 year iFit commitment.
In other words, I think the S15i is a pretty impressive specimen, but there's plenty of competition in this price range.
Plus, NordicTrack's customer service doesn't exactly have the best reputation.
Even so, if you're looking for a streaming cycle that won't break the bank, I think NordicTrack's S15i is a great choice, but before you decide, you need to know what to expect.
And that's where I can help.
In this review, I'll be going over everything this cycle does and doesn't have going for it; I'll also compare it to some of the other top cycles in its price range to see how it measures up.
After reading, you'll know whether or not the Commercial S15i is the right option for your home.
The NordicTrack Commercial S15i Studio Bike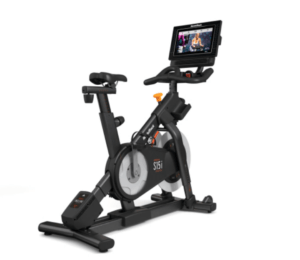 When it comes to streaming bikes, few brands can compete with NordicTrack.
True, they weren't the first- we still have Peloton to thank for introducing the world to streaming cycling workouts, but NordicTrack has certainly done their part to progress the streaming movement.
I could be wrong, but looking back, I think NordicTrack and their Commercial S22i was the first real competitor to the original Peloton Bike.
And now that NordicTrack offers iFit streaming on all of their machines, I have to assume they've become one of (if not the) most popular streaming brands on the planet.
And I like that they've put their own twist on their cycles.
Adding the incline/decline feature and coming out with Automatic Trainer Control  was brilliant – but more on that in a bit.
As I mentioned in the intro, the S15i is their entry-level model and when it comes to indoor cycles, they also have the larger Commercial S22i and largest S27i Studio Bike (yes, it does come with a 27″ console).
Let's start this review off with a rundown of the performance specs and then we'll move on to the more interesting tech features.
Pros
14″ HD touchscreen console
32 lb flywheel
22 levels of resistance
Heavy-duty frame
350 lb weight limit
-10 – 20% incline/decline
Automatic Trainer Control (iFit)
Access to unlimited instructor-led workouts (iFit)
Scenic rides (iFit)
Fully adjustable seat
Bluetooth compatibility
One touch speed/incline buttons
Cooling fan
Pair of 3 lb dumbbells included
Good warranty
Free with 4 year commitment to iFit
Cons
NordicTrack's customer service doesn't have a great reputation
No dual-sided pedals
Resistance
I'm not sure why NordicTrack stopped listing the flywheel weights for their indoor cycles because they've always been competitively heavy.
Maybe they were nervous some folks would get too caught up on comparing flywheel weights and only using that spec to guide their purchasing decision.
Who knows.
Luckily, I know from previous research (when they still did list flywheel weights) that the flywheel on the S15i weighs in at around 32 lb.
Now, that info by itself might not mean much – without proper context it's hard to tell whether that's good or bad.
Luckily, you've got me here to provide some of that context.
These days, brands seem to have gone a little overboard when it comes to throwing really heavy flywheels on their cycles and in many cases, I feel like cheaper brands are doing this just so they can have a shot of competing with the bigger brands.
And honestly, it's not a bad idea.
But realistically, flywheel weight in itself shouldn't be the end all factor to determine whether or not a cycle's worth buying.
Personally, I think once you get over a certain weight (probably somewhere around 30 lb), you're pretty safe when it comes to having a smooth pedaling motion.
I mean could most of us tell much of a difference between a 30 lb flywheel and a 35 lb flywheel?  Or between a 32 lb flywheel and a 38 lb flywheel?
My guess is probably not.
Anyway, at 32 lb, I think the S15i is packing enough weight to offer a smooth pedaling motion, as well as a substantial workout for those who may be looking for it.
There are plenty of indoor cycles in this price range offering significantly heavier flywheels (Sole's SB900 and its 48 lb flywheel comes to mind) and if you prefer the feel a really heavy flywheel offers, this is certainly something to consider.
But again, I think the S15i does have enough weight under the hood to offer a smooth experience.
And with 22 resistance levels, you also get a fair amount of control over your workouts.
I like having a lot of resistance levels to play with because it gives you the ability to make smaller adjustments to your resistance throughout workouts.
I'm a Peloton owner myself, so I've become accustomed to its 100 level scale and I love this.
But having more levels doesn't mean more total resistance – it just means you can make smaller adjustments to that available resistance.
With 22 levels, there are some cycles that offer more; some that offer less – it's more a matter of personal preference.
And let's be real, most folks aren't considering the the S15i for its performance specs – it's that HD touchscreen and all the streaming possibilities it brings with it.
But even so, with a heavy flywheel and plenty of resistance levels to work with, I think the S15i scores pretty highly in the performance department.
Frame
I think it's a good idea to check out a bike's frame too.
And by that, I'm really talking about how heavy-duty (or a light-duty) the bike is.
It can be a little tough to figure this out without getting to hop on and take it for a test spin, but there are a few specs we can check out to get an idea.
And these are the assembled weight and weight limit.
Seeing higher numbers in both these specs is a good thing if you ask me, mostly because a heavier bike should feel more secure and stable during use.
The heavier a bike is, the less it's gonna move (giving it a more commercial like feel).
And the same goes for the weight limit – seeing a higher limit is just another indicator of superior build quality.
With all of this in mind, NordicTrack doesn't actually provide us with the S15i's assembled weight – I know, bummer.
Instead, they tell us the "in box" weight.
I find this a bit annoying because it makes it harder to compare NordicTrack bikes to other brands, but we can still get an idea as to what we're dealing with here.
The in box weight includes the weight of the box and any packaging, so we just have to estimate what this would be and subtract it from the value given.
In this case, the S15i comes with an in box weight of 203 lb.
So, even if the packaging weighs 50 lb (a very conservative estimate), that still means the bike itself weighs somewhere around 150 lb.
Which is very heavy-duty for an indoor cycle.
For the sake of comparison, my Peloton Bike weighs in at around 135 lb and it feels rock solid, so the S15i should be more than heavy enough to provide a secure feel.
The S15i also comes with a max weight limit of 350 lb, which is also very good for an indoor cycle.
The combination of the heavy assembled weight and high weight limit is a very good sign that the S15i is well-built and capable of providing a stable feel during use.
Warranty
NordicTrack backs their Commercial S15i Studio Bike with the following residential warranty:
10 year frame
2 year parts
1 year labor
NordicTrack offers this same warranty on pretty much all of their equipment and it works better with some than others.
In this case, I think it works quite well.
10 years on the frame matches what Keiser offers on their impressive M3i and is 2x as long as what the Peloton comes with.
True, some brands like Spirit and Sole still offer lifetime frame warranties on their indoor cycles, but most don't.
2 years on parts is also pretty good, considering most quality brands offer 2-3 years on parts – so no complaints there.
And a year is standard for labor across the board.
Overall, this is actually one of the better warranties you'll find on an indoor cycle, especially in this price range.
Features
The NordicTrack Commercial S15i Studio Bike comes with the following features:
14″ HD touchscreen console- there's a lot of good stuff going on here, but the 14″ touchscreen display is hard to miss. Even though this is a bit small by NordicTrack standards, it's still really large compared to most. This large screen makes it easy to view all workouts and the fact that it rotates allows you to easily see it when performing off the cycle workouts.
Incline/Decline- the S15i can incline up to 20% and decline down to -10%, mimicking the sensation of riding up/down hill, respectively. This feature doesn't exactly make your workouts any harder (the resistance is still based on the magnetic system), but it can certainly add an extra layer of entertainment to your workouts.
iFit- iFit is NordicTrack's streaming platform and this is what you have to use to access all the workouts and metric tracking that are possible on this cycle. A 4 year iFit membership is kinda required to purchase this bike (but then you get the bike for free), but more on that below.
Automatic Trainer Control- this feature allows the bike to automatically adjust the resistance/incline angle to match whatever workout you're doing. A cool feature that's only available through iFit, but you can always make your adjustments manually as you please.
Bluetooth- the console is bluetooth compatible with headphones and heart rate straps.
One touch controls- you can quickly adjust the speed and/or incline with the push of one of these one touch buttons.
Cooling fan- there's a built-in fan to help keep ya more comfortable during those tougher workouts.
Fully adjustable seat- you can adjust the height and horizontal (fore/aft) position of the seat, making it a lot easier to find an optimal riding position.
Height adjustable handlebars- the handle bars are only height adjustable, so you can't adjust their fore/aft position, but most folks shouldn't have an issue with this (my Peloton doesn't have fully adjustable handlebars either and I've never noticed).
Toe cage pedals- the pedals are compatible with sneakers, so you don't have to worry about wearing cleats. You can easily swap 'em out for other pedals if you prefer though.
3 lb dumbbells- NordicTrack includes a pair of 3 lb dumbbells with purchase, so you'll be ready to roll with those iFit workouts as soon as you get this cycle assembled.
Dual water bottle holders- finally, there's room for not 1, but 2 water bottles on this bike, so there are officially no excuses for not staying fully hydrated while riding!
Price
Ok, time to talk numbers a little.
At the time of writing this, the Commercial S15i is part of NordicTrack+, a program NordicTrack started that basically gives you a free piece of equipment if you commit to 4 years of iFit.
Let's break that down a little though.
iFit costs $39/month, so that's $468/year.
So, 4 years of iFit costs $1,872.
If you purchased a cycle like the S15i, you would hopefully be investing in at least 4 years of iFit anyway (and paying that same $1,872 just to use iFit).
With NordicTrack+ though, you end up getting the cycle for no added cost – sounds like a pretty good deal to me, assuming you're confident that you'll still be interested in streaming workouts for the next 4 years.
You can pay for the S15i with monthly $39 installments, or a single up front payment of $1,872.
Again, this sounds like a good deal to me, but let's take a quick look at some of the other top streaming cycles in this price range.
The Peloton Bike is an obvious comp and at the time of writing this, the original version is selling for $1,445 for the bike only (if you want the necessary cleats and dumbbells, you're looking at $1,645).
The Peloton comes with a 21.5″ console, a 35 lb flywheel, and 100 levels of resistance and a slightly shorter warranty (5 year frame, 1 year parts).
After purchase, you would also be responsible for their $39/month streaming fee as well.
There's also NordicTrack's own S22i, which at the time of writing this, is selling for around $1,899.
The S22i is pretty identical to the S15i in terms of performance specs and warranties (see full comparison here), but it comes with a larger, 22″ console.
And of course, you'd have to pay the iFit streaming fee monthly after purchasing.
Final Thoughts
So, there ya have it.
All things considered, I think the Commercial S15i is a pretty sweet deal if you're cool with a slightly smaller screen (I mean come on, it's still 14″).
When it comes to performance, there are certainly more powerful indoor cycles in this price range, but when it comes to features, few outscore the S15i.
And the fact that you can get one for free with a 4 year iFit commitment is kinda amazing.
There only real difference between the S15i and S22i (and even the S27i for that matter) is the size of the screen – and I think the S22i is easily one of the best indoor cycles currently on the market.
So, considering you can get an S15i free with an iFit membership, it seems like a no-brainer to me, especially if you don't plan on doing a lot of off-bike workouts.
Because realistically, that's where the larger screen really comes in handy.
Nobody needs 27″ of HD goodness slammed in their face while riding on the bike, but that extra size comes in real handy when you're on the floor doing one of the other non-cycling workouts.
Anyway, long story short – I think the S15i likely is the best deal in streaming at the moment.