When it comes to huge HD consoles, NordicTrack's been one of the top names since the get go, but now that they offer an indoor cycle with a 27″ display, I think it's safe to say they rule supreme.
Enter the S27i Studio Bike.
That gorgeous flat screen tv mounted to the front is likely what's going to draw most folks to this bike, but consoles aside, the S27i has a lot to offer when it comes to performance too.
Like a heavy flywheel, 24 resistance levels, and an incline/decline feature that mimics real world biking.
The S27i is also remarkably heavy-duty and backed by a legit warranty.
All things considered, if you're in the market for a serious streaming cycle, I think NordicTrack's S27i is certainly worth considering, but these days there are a lot of streaming cycles to choose from.
Does it really make sense to invest in the S27i?
Well, that's what I'm here to help you figure out.
In this review, I'll be going over everything you need to know about this bike before deciding- we're talking specs, features, cost, and pretty much anything else you can think of.
I'll also try to compare it to some of the other top cycles in this price ranges to see how it holds up.
After reading, you'll know whether or not the S27i is the right bike for your home.
The NordicTrack S27i Studio Bike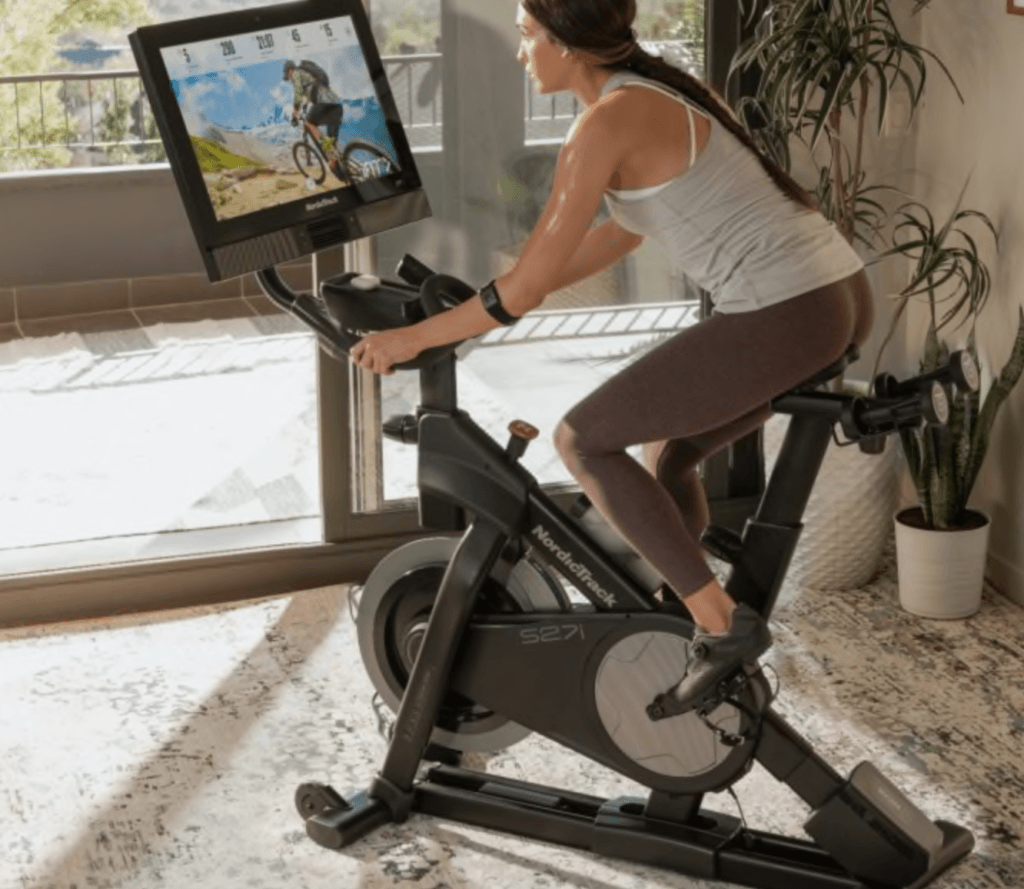 NordicTrack's one of the biggest names in home fitness and they have been for a few decades now.
And like pretty much every other fitness brand these days, it looks like they've gone all-in with the whole streaming thing.
Hey, I get it – you gotta give the people what they want.
And I think the people have been crystal clear that streaming workouts is exactly what they want.
Anyway, you'll notice that all of NordicTrack's new gear now comes with consoles designed for iFit streaming and even though you don't have to join iFit to use NordicTrack machines, it's gotten to the point where it might not make that much sense to buy NordicTrack without using iFit.
PS, you can access iFit through ProForm cardio machines too because NordicTrack and ProForm (and iFit) are all owned by the same company.
But I regress.
The S27i is the newest addition to NordicTrack's Commercial Studio Bike series, which also contains their highly popular S22i and their budget friendly S15i.
Pros
27″ HD touchscreen console
-10 – 20% incline/decline
Heavy flywheel
24 magnetic resistance levels
Heavy-duty frame
350 lb weight limit
Bluetooth compatible
Automatic Trainer Control (iFit)
Unlimited instructor-led workouts (iFit)
Scenic rides (iFit)
Dual-compatible pedals
Fully adjustable seat
Pair of 3 lb dumbbells included
Good warranty
Cons
Handlebars not fully adjustable
Have to pay iFit membership to access all cool features
Resistance
Don't worry, we'll get to that huge console and all the streaming possibilities it brings, but let's start this review off with a rundown on the performance specs.
And when it comes to indoor cycles, it's mostly about the resistance system.
Which really means the flywheel and type of resistance the bike uses.
The S27i, like all of NordicTrack's other bikes, uses a magnetic resistance system, so we can skip the whole friction brake discussion for now.
But basically, just know that most people prefer a magnetic system (myself included) because they usually feel smoother and don't require any maintenance.
So that brings us to flywheels.
Even though flywheel weight certainly isn't the only thing to consider when comparing indoor cycles, I think it's one of the more important considerations.
Especially if you're looking for a cycle that can provide intense workouts.
Long story short, most bikes benefit from having a heavy flywheel because the extra weight makes for a smoother pedaling motion (although Keiser's M3i proves this isn't necessary if the engineering is there).
NordicTrack doesn't disclose their flywheel weights anymore, but they used to (I'm not sure why they stopped because they've always used heavy flywheels).
Anyway, I think the S27i uses the same 32 lb flywheel they use on the S22i, which would make sense considering how heavy this bike is, but more on that in a minute.
Assuming the 32 lb flywheel weight is accurate, this means this cycle is packing plenty of weight under the hood and shouldn't have any problems providing a smooth pedaling motion.
There are plenty of more affordable cycles out there packing heavier flywheels (40 lb+), but realistically, I feel like once you get to a certain point, you can't really tell the difference anymore.
FYI, the Peloton Bike+ uses a 38 lb flywheel, so just a bit heavier.
Personally, I think any flywheel over 30 lb is easily heavy enough to get the job done and I know I wouldn't be able to tell the difference between a 32 lb flywheel and a 36 lb flywheel anyway.
So, the S27i passes the "heavy flywheel test", moving on.
This cycle pairs that flywheel with 24 resistance levels, giving you a fair amount of control over your intensities.
As a Peloton user, I've gotten really used to having 100 resistance levels to work with and I like being able to make really small adjustments to my resistance, so I would like to see a few more resistance levels on the S27i.
But that said, it's all relative.
Having more resistance levels doesn't mean you get more total resistance, it just means you can make smaller adjustments to the available resistance.
Which I think is a good thing, but you get used to what ever system you're using.
Anyway, NordicTrack users generally agree that their cycles offer smooth acting resistances and can provide plenty of resistance.
Overall, the 27i scores highly with a heavy flywheel and smooth acting resistance system – it should be able to challenge riders of all skill levels.
Frame
The S27i scores pretty highly when it comes to its frame too.
More specifically, I like that this is a large, heavy bike with a high weight capacity.
Even more specifically, the S27i comes with an in box weight of 217 lb and a weight capacity of 350 lb.
I really wish NordicTrack would tell us the "assembled weight" instead of the "in box weight" because I'm more interested in how much the bike itself weighs, not how much the total package weighs.
But we gotta work with what we're given.
I look at these specs in the first place because they give us an idea as to how stable we can expect a bike to feel – heavier bikes usually feel more secure during use than lighter ones.
Which makes sense – a heavier bike is going to be harder to move.
Anyway, I'm not sure how much the S27i's packaging weighs, but even if we subtract a very conservative 50 lb from that assembled weight, we're still looking at a 167 lb bike.
Which is very heavy for an indoor cycle.
For the sake of comparison, Peloton's Bike+ weighs 140 lb and Sole's ridiculously heavy-duty SB900 weighs around 160 lb.
This means the S27i is right up there with some of the heaviest-duty cycles around.
I would assume the machinery necessary to provide the incline/decline function adds bulk to this bike (not to mention the weight of the huge console).
Seeing a high weight limit is another good sign of overall build quality and at 350 lb, the S27i comes with about as high a weight limit as you'll see on an indoor cycle.
At 57″ long and 28″ wide though, this bike is a little bigger than most cycles, so if space is a real issue this could be a concern.
But overall, the S27i scores very highly in this department – you shouldn't have to worry about this thing feeling flimsy.
Warranty
NordicTrack backs their S27i Studio Bike with the following residential warranty:
10 year frame
2 year parts
1 year labor
This is the same warranty NordicTrack offers on most of their products and it's not a bad guarantee for an indoor cycle.
10 years on the frame is quite a bit longer than the 5 year warranty Peloton offers (although Sole still offers lifetime frame warranties) and matches the same frame guarantee Keiser offers.
2 years on parts isn't bad either, considering most brands, even in this price range offer somewhere between 1-3 years.
And a year on labor is pretty standard across the board.
Overall, NordicTrack offers a pretty good warranty here – sure, a lifetime frame warranty would be even better, but to be fair, not many brands offer that anymore on indoor cycles.
Features
The NordicTrack S27i Studio Bike comes with the following features:
27″ HD console- ok, time to get to the good stuff. The console on this bike is huge – like, I think this is the biggest console I've seen on any bike so far. Honestly, I'm not sure how a bike could handle a larger console. This huge screen makes it easy to see all workouts and make all selections. It's a touchscreen, so navigating is a piece of cake. It also comes with what is basically a built-in, 30W sound bar, so you shouldn't have any problems hearing what those instructors are instructing. It rotates and tilts, so you can adjust the console for viewing when off the bike.
iFit- iFit is NordicTrack's streaming service and this is what gives you access to all the workouts, metric tracking, scenic routes, and all the other good stuff this bike has to offer. A membership is necessary to really take advantage of anything this bike has to offer ($38/month) and it makes no sense to get this bike if you aren't cool with paying the month membership fee. iFit offers a ton of non-cycling workouts too, allowing you to do any kind of workout you can think of.
Automatic Trainer Control- oh, through iFit, you can also take advantage of the automatic trainer control feature that allows the instructors to control the resistance/incline settings of your bike in real time. It's a cool feature, but you can always make manual adjustments too if you prefer.
Incline/decline- the S27i can incline up to 20% and decline down to -10%, giving riders the sensation of going up/down hill. Again, kind of a neat feature, although I don't see how it really affects the intensity of a workout.
Bluetooth- the console on this bike is bluetooth compatible with headphones and heart rate monitors, always nice.
Dual-compatible pedals- the pedals on this cycle have SPD compatible clips on one side and a toe cage that can be used with sneakers on the other. This way, you can wear any type of shoe you like during workouts.
Fully adjustable seat- you can adjust the height and horizontal position of the seat, making it easier to find the right riding position.
Height adjustable handlebars- the handlebars aren't fully adjustable, but you can still easily adjust the height position (my Peloton doesn't have fully adjustable handles either and I've never noticed any issues).
Cooling fan- unlike most cycles, the S27i comes with a built-in fan to help keep ya cool and comfortable during workouts.
Pair of dumbbells- NordicTrack includes a pair of 3 lb dumbbells with purchase to ensure you're ready for those iFit workouts as soon as you assemble your cycle.
Water bottle holder- and finally, yes, there is a place to store your water bottle.
Price
Time to talk dineros.
Prices change all the time, but as I'm writing this, NordicTrack is offering the S27i for $2499.
This makes the S27i a pretty expensive home indoor cycle, but still in the same ballpark as most of the other elite home cycles around.
Given the S27i's price and features, the Peloton Bike+ is an obvious comp.
At the time of writing this, the Bike+ costs $1995 for the bike itself, but $2220 for the package that includes the dumbbells and necessary cleats.
The Bike+ comes with a 23″ console, a 38 lb flywheel, and 100 levels of resistance; but it's warranty isn't quite as generous (5 year frame, 1 year parts).
There's also Keiser's M3i, which goes for around $2460. It doesn't come with an HD console and it uses a fast-spinning, lightweight flywheel, but it's considered one of the smoothest, most accurate cycles in the world.
There's also the more affordable MYX II (~$1400), but its workouts don't have the same production value and it utilizes a friction brake resistance system.
Based on the comps and the fact that the S27i comes with such a huge HD screen, I think NordicTrack's asking price is pretty fair.
But is it really worth buying?
Final Thoughts
Well, I think that depends entirely on what you're going for.
I think it's safe to say the S27i is a very nice indoor cycle with some impressive performance specs and a solid warranty, but this bike is designed 100% for workout streaming through iFit.
So, if you're looking for a streaming cycle, I think the S27i could be a great option.
It's biggest competitor is Peloton and their Bike+ and as a happy Peloton (original) owner myself, I have to say Peloton is still awesome.
But I only use Peloton for cycling workouts.
If I were going to use Peloton for all my workouts (strength training, stretching, core, etc), it would be nice to have a larger screen.
That's where I think the S27i's massive screen is really going to come in handy – not for the cycling workouts, but for the workouts off the bike.
Because let's be real, nobody needs 27″ of HD awesomeness right in their face just to cycle, but that size (and sound) will come in really handy when off the bike.
So, if you're looking for an all-in-one streaming solution to your workouts, I think the S27i (and iFit) make a lot of sense.
Overall, I think the S27i has a lot to offer and is easily one of the best indoor cycles on the market.