XTERRA's SB4500 might be one of the best deals in recumbent bikes at the moment – there, I said it.
I'll admit, it isn't the sleekest looking exercise bike I've ever seen, but you know what they say about judging a book by its cover and whatnot.
If you can look past its dated appearance, the SB4500 comes with some surprisingly impressive specs and features for such an affordable exercise bike.
We're talking a 22 lb flywheel, 24 resistance levels, a solid frame, and a warranty that's longer than what a lot of bikes costing 2x as much offer.
Oh yeah, and it comes with a touchscreen console… yeah, I know, crazy.
You can't stream workouts through that touchscreen, but it's still a big step up from the simple LCD screens you find on other bikes in this price range.
The biggest downside is probably the fact that it only comes with a 265 lb weight limit, so larger riders are out of luck here.
But otherwise, I stand by my statement that the SB4500 is one of the best deals in recumbent bikes.
But before you decide to buy it, you need to know exactly what you're getting into – and that's where I think I can help.
In this review, I'll not only go over everything spec and feature this bike has to offer, but I'll also compare it to the other top recumbents in this price range.
This way, you can really see how the SB4500 stacks up against the competition.
After reading though, you'll know whether or not this is the right exercise bike for your home.
Alright, let's do this.
The XTERRA SB4500 Recumbent Bike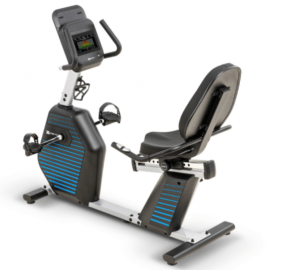 Generally speaking, I'm a fan of XTERRA and I think they're easily one of the best budget fitness brands out there.
For me, I like that their cardio machines tend to have more impressive performance specs, but I also appreciate that they offer much longer warranties too.
If you aren't familiar with this brand, they're actually part of the same group (Dyaco) that owns Sole and Spirit Fitness (2 of my other favorite home brands).
XTERRA is Dyaco's budget-friendlier brand, but it has a lot in common with Sole and Spirit, mostly in terms of the generous warranties.
Anyway, XTERRA has a really big lineup of cardio machines to choose from, especially when it comes to exercise bikes.
The SB4500 we're here to go over now is their highest-end recumbent bike to date and can be purchased directly through XTERRA and is usually offered through Amazon as well.
Pros
22 lb flywheel
24 levels of magnetic resistance
Solid frame
Can accommodate shorter riders
Touchscreen console
Bluetooth
Several built-in workouts
USB charging
Tablet holder
Padded backrest
Great warranty
Cons
Only a 265 lb weight limit
No cooling fan
Resistance
A recumbent bike's resistance system, especially in this price range, is really just a weighted flywheel that's paired with a magnetic resistance mechanism.
And in these rather simple setups, having a heavier flywheel is usually advantageous because the extra weight helps create a smoother feel.
More weight on the flywheel means more momentum is created as it spins, which helps keep the pedals moving a little between pedal strokes.
The result is a more fluid feel throughout the entire pedal motion and a happier rider.
Flywheel weight tends to correlate with price – more expensive recumbents tend to come with heavier flywheels and cheaper options tend to come with lighter flywheels.
That said, the SB4500 comes with a 22 lb flywheel, which is remarkably heavy for a recumbent in this price range.
For the sake of comparison, Schwinn's 290 comes with an 8 lb flywheel and Nautilus' R618 comes with a 13 lb flywheel – and these are 2 of the most popular home recumbents around.
And I'm not trying to shame these two bikes, the fact is, most recumbents in this price range come with a flywheel somewhere in the 10 – 13 lb range.
So, by comparison, the SB4500 is packing a lot more muscle.
The SB4500 also comes with 24 resistance levels, giving you a lot of control over that resistance.
Keep in mind, having more resistance levels doesn't automatically give you more overall resistance, but it does allow you to make smaller adjustments to that resistance.
Which I think is a good thing in itself because you can fine tune the intensity throughout your workouts.
Overall, it's going to be hard to find a heavier flywheel in this price range and I would say this heavy flywheel is one of the SB4500's most remarkable traits.
Frame
But let's be real, there's more to recumbent bikes than the resistance systems – there's also the rest of the bike.
When comparing bike frames, it's important to consider height ranges and weight capacities, but I also like to compare assembled weights.
I do this because I feel this spec gives me a better idea as to how stable or "heavy-duty" I can expect the bike to feel.
The idea being that a heavier bike should feel more secure because it'll be less likely to move while I'm on it.
Well, the SB4500 comes with an assembled weight of about 107 lb.
I realize that info by itself doesn't mean much, so let's take a look at the weights of some of the other recumbents in this price range.
Schwinn's 290, mentioned above, also weighs in at 107 lb, as does Nautilus' R618.
This is all pretty good compared to other generic budget recumbents that usually weigh somewhere between 70-90 lb. In general, I like to see an assembled weight north of 100 lb for any exercise bike.
But for this price range, I'd say the SB4500 is pretty heavy-duty, which makes the fact that it only comes with a 265 lb weight limit a bit disappointing.
Especially considering the 2 recumbents mentioned earlier both have weight limits over 300 lb.
So, the SB4500 isn't the best option for heavier riders, but it should be able to handle most folks between 4'10" – 6'2″ tall, making it a great option for shorter riders.
Overall, the SB4500 has enough weight to it to provide a stable feel during use, but its weight limit is lower than that of the top comps in its price range.
Warranty
XTERRA backs their SB4500 Recumbent Bike with the following home warranty:
Lifetime frame
3 year parts
1 year labor
I really like this warranty.
This looks like the kind of warranty you'd find on a recumbent costing 4 figures – hell, it's better than what NordicTrack offers on their bikes (10 year frame, 2 year parts, 1 year labor).
It's rare to see a lifetime frame guarantee in this price range, but 3 years on parts is equally rare.
Nautilus' warranties are pretty darn close (15 year frame, 3 year parts), but this beats out Schwinn's fair and square (10 year frame, 2 year parts).
A year on labor is pretty standard stuff, although it isn't necessarily a given in this price range.
Overall, XTERRA's warranty is as good as you'll find at this price.
Features
XTERRA's SB4500 Recumbent Bike comes with the following features:
7″ touchscreen display- the console isn't huge, but it's big enough to see and the fact that it's brightly-lit, in color, and a touchscreen makes everything easier. As mentioned in the intro, you can't stream workouts through the console, but being a touchscreen makes it easier to make selections and the display is more advanced than what you'd expect for a bike in this price range. You can even switch between English and Metric units and see your watt output, nice.
11 workout programs- this bike comes with several built-in profiles (8), as well as 3 goal oriented workouts (time, distance, calories) to choose from. This isn't a ton of options, but it's enough to get the job done. The only thing missing is a heart rate guided option.
Bluetooth- but the SB4500 is bluetooth compatible with heart rate monitors and fitness apps and the display will show your pulse during workouts.
USB charging- there's a port where you can plug your device in and keep it charged during workouts.
Padded seat- the seat is cushioned, but the backrest is too for added comfort. The seat is easily adjusted for height by turning a knob.
Tablet holder- there's a little shelf to place your tablet and it's conveniently located above the console, so you won't have to block your view of it if you choose to follow an app or watch your pad.
Water bottle holder- there's also a little water bottle holder, so you'll be able to keep hydration near by during workouts.
Price
Prices can change, but as I'm writing this, XTERRA has the SB4500 listed for $699 (although I've also seen it for under $600 on Amazon).
Personally, given the specs and features we've already discussed, I would say this is a very fair price for this exercise bike – but my opinion doesn't mean anything.
Instead, I say we look at the facts and compare this bike to other similarly-priced recumbents because that's the only objective way to gauge this price.
You probably noticed that I've mentioned Schwinn's 290 and Nautilus' R618 a few times already.
Well, they're 2 of the top recumbents in this price range, so it only makes sense to compare the SB4500 to 'em.
As I'm writing this, the 290 is selling for $799 through Schwinn at it comes with an 8 lb flywheel, 25 resistance levels, and a weight capacity of 330 lb.
Its console isn't touchscreen, but it comes with 13 built-in workouts, bluetooth speakers, USB charging, and is bluetooth compatible with fitness apps (including JRNY, which offers instructor-led workouts).
And as I mentioned above, XTERRA's warranty is a bit better.
The R618 is also going for around $799 and it comes with a 13 lb flywheel, 25 resistance levels, 29 workout programs, bluetooth, and an included heart rate strap.
Its warranty is almost as good as XTERRA's, but its console isn't touchscreen.
There are also a ton of generic affordable recumbents on Amazon, but none of them are as heavy-duty as these recumbents and their warranties aren't even in the same league.
Final Thoughts
So, based on the top comps in this price range, I'd say XTERRA's SB4500 holds its own quite well, especially if you're looking for a recumbent that can perform.
I love that this bike comes with a heavy flywheel because so many in this price range don't.
I also like that XTERRA upgraded the console to a touchscreen display because that just makes the overall experience a little better – and it's the small things that make all the difference.
And I'll say it one more time, that warranty is legit.
And again, this isn't the best looking recumbent bike I've seen, but looks really shouldn't matter.
The biggest real downside I see is the rather low weight capacity – larger folks are going to have to go with another recumbent.
But if you fit the weight requirements and are looking for a high-performing recumbent bike, I think the SB4500 might be the best option in the $500 – $700 price range at the moment.