For the shorter folks out there, it can be challenging to find an exercise bike that comfortably fits.
For some reason, most exercise bikes are designed for folks over 5′ tall, so the options for people shorter than this are quite limited.
And no matter how adjustable the seat is, if it can't go low enough to accommodate a proper pedaling position, things are going to get uncomfortable fast.
Which can not only ruin a workout, but it can put you at increased risk for injury as well.
Luckily, there are exercise bikes out there that can fit folks 5′ tall and under, but you have to know what to look for and where to find it.
And it just so happens this is exactly what I'll be going over here in this article.
In this guide, I'll go over the features and specs shorter individuals should be on the lookout for when comparing exercise bikes.
I'll also offer my two cents regarding the best options out there, based on this information.
After reading, you'll be ready to find the right exercise bike for yourself or a shorter individual in your life.
Let's begin.
For the sake of this article, "short people" will be defined as folks 5'2″ or under.
Height Range
Flywheel
Features
Warranty
Keiser M3i
4'10" - 7'
8 lb
V-shaped frame
Fully adjustable seat & handles
Dual-compatible pedals
10 year frame
3 year parts
90 day wear items
Schwinn IC4
5' - 6'6"
40 lb
100 resistance levels
Bluetooth
Included dumbbells
10 year frame
3 year parts
1 year labor
Peloton Bike
4'11" - 6'4"
35 lb
22" HD touchscreen
100 resistance levels
Great workouts
5 year frame
1 year parts
1 year labor
Matrix Cycle R30
4'11" - 6'4"
23 lb
Choice of console
Entertainment apps
iFit compatible
20 resistance levels
Lifetime frame
5 year parts
2 year labor
3G Cardio Elite RB
5' - 6'5"
?
Compact frame
Adjustable back rest
16 resistance levels
Lifetime frame
7 year parts
1 year labor
XTERRA SB4500
4'10" - 6'2"
22 lb
7" touchscreen
24 resistance levels
Bluetooth
Lifetime frame
3 year parts
1 year labor
Matrix Cycle U30
4'11" - 6'4"
20 lb
Choice of console
Entertainment apps
iFit compatible
20 resistance levels
Lifetime frame
5 year parts
2 year labor
3G Cardio Elite UB
5' - 6'5"
?
16 resistance levels
4 user profiles
Fully adjustable seat
Lifetime frame
7 year parts
1 year warranty
Nautilus U618
5' - 6'4"
13 lb
25 resistance levels
29 workout programs
Bluetooth
15 year frame
3 year parts
1 year labor
Finding An Exercise Bike That Fits
Full disclosure: I'm 6'1″, so I've never had to worry about finding an exercise bike that'll fit me properly.
I fall right in the middle of the expected height range most exercise bikes can accommodate, so I've never had to deal with a bike being to big or too small for me.
But I've gotten messages from a lot of readers over the years (both tall and short) looking for a bike that'll fit 'em, so I have a small idea of how frustrating this can be.
And unfortunately, it can be challenging to determine the height range for different exercise bikes because some brands aren't that forthcoming.
Fitness brands are notorious for exaggerating the height ranges their bikes can accommodate, so you have to be careful if you fall near either limit.
And some brands don't offer this info to begin with, making it even more difficult.
Reading user reviews can be helpful, but we're all built differently, so you can't necessarily rely on another user's experiences.
When trying to determine whether or not an exercise bike will fit comfortably, the best practice is to go the brand directly and try to get the info straight from the source.
Height Range
The first thing to look for when checking to see if a bike will fit ya is the manufacturer's expected height range.
Some brands offer this, others don't, but it's still a good place to start.
Most quality exercise bikes can comfortably fit folks who are between 5'2″ – 6'4″, so if you fall outside of this on either direction, it's a good idea to double check you'll be able to ride it before purchasing.
But as I mentioned above, brands tend to exaggerate this info.
So, when possible, it's best to find the minimum inseam the bike can handle.
Inseam
A bike's inseam refers to the distance from the top of the seat (for an indoor cycle or upright bike anyway) down to the pedal in its lowest position (with your leg in its most extended position).
This correlates with your inseam, which is the measurement from the bottom of your foot, up your inner thigh to your groin.
You can easily measure your own inseam with a tape measure, or you can use your pant size inseam as a general guideline.
Knowing your inseam is the best way to see if an exercise bike can accommodate your size, but again, not all manufacturers provide inseam info.
If you're looking at a really popular exercise bike, you might be able to find specific inseam info from user reviews or from the FAQ section.
Fully Adjustable
Getting a bike with a fully adjustable seat and fully adjustable handlebars is beneficial for shorter riders because it gives you a better chance of being able to find a comfortable position.
And by "fully adjustable", we're talking about seats and handlebars that let you adjust both the height and the fore/aft (horizontal) positions.
This is really only applicable for indoor cycles and upright bikes because most recumbents don't really have adjustable handlebars.
All indoor cycles come with fully adjustable seats these days and many are also coming with fully adjustable handlebars – but not all do.
And even though making sure you can comfortably pedal without over-extending is probably the most important concern for short riders, it's also important to make sure you are a comfortable distance from the handlebars.
And being able to adjust the horizontal position of both the seat and the handlebars is the best way to ensure this.
Ok, that's the down and dirty of how to tell whether or not you're gonna be able to fit on an exercise bike before buying it.
But the most foolproof method is still trying the bike out firsthand to see how it feels – unfortunately though, this is rarely possible these days.
So, we have to do the best we can with what we've got.
Anyway, time to get to the good stuff.
I organized this list based on type of bike, so if you know what style you're looking for, feel free to skip ahead.
The Best Indoor Cycles For Short People
#1 Keiser M3i
Keiser's M3i is one of the most beloved exercise bikes on the planet – like seriously, try and find a negative review, it's not easy.
This indoor cycle is known for its fast-spinning, lightweight rear flywheel and ridiculously-smooth pedal action, but it's highly adjustable as well.
According to the good folks at Keiser, the M3i is able to comfortably fit most riders between 4'10 – 7′ tall, making this cycle approachable for users of all heights.
This is largely due to the V-shaped frame that automatically brings the seat closer to the handlebars as you adjust the seat height down (and vice-versa for elevating seat).
But the M3i comes with a fully adjustable seat and fully adjustable handlebars for even more adjustability.
I already mentioned the lightweight flywheel, but otherwise this indoor cycle comes with a micro-adjustable, magnetic resistance system, dual-compatible pedals, and bluetooth compatibility with fitness apps.
Oh, and this highly versatile cycle is tough too, coming with a weight limit of 350 lb.
The biggest downside is that the M3i doesn't come with any built-in workout programs or water bottle holders.
And at around $2k, it isn't cheap either, but if you're looking for a sophisticated indoor cycle that can handle riders as short as 4'10, you can't go wrong with the M3i. See full review.

#2 Schwinn IC4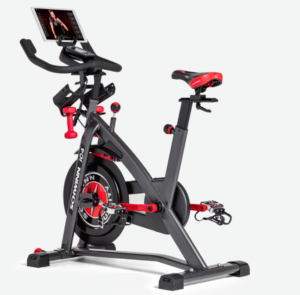 If you're looking for something a bit more affordable, Schwinn's IC4 could be a good fit.
This bike is about half the cost of the M3i and even though it isn't as sophisticated, I still think it has a lot to offer at this price range.
According to Schwinn, they say their IC4 can handle most riders between 4'6″ – 6'6″, but remember when I said a lot of brands exaggerate here?
Yeah, I think Schwinn is being very optimistic with this height range, especially since they say it has a minimum inseam of roughly 29-30″.
But if you look at user info, the results are all over the place- I read a post from one user who reported a 28″ inseam and they have plenty of room to adjust lower.
Based on the data I've seen, I'd expect the IC4 should be able to fit most riders who are at least 5′ – 5'2″ and taller, but shorter than that and it's hard to tell.
Otherwise, the IC4 has a lot of great features.
This cycle comes with a heavy, 40 lb flywheel and 100 levels of magnetic resistance, giving you a ton of control over your workouts.
And with a fully adjustable seat and fully adjustable handlebars, you can make all the adjustments you need to find a comfortable position.
Other great features include a bluetooth compatible console, dual-sided pedals, dual water bottle holders, and an included pair of 3 lb dumbbells.
And since the IC4 uses the same resistance range as Peloton, you could easily pair Peloton's Digital App with this bike for an affordable alternative.
Schwinn's warranty on this cycle is pretty generous as well: 10 year frame, 3 year parts, 1 year labor.
Overall, the height limits for this cycle are a little all over the place, but in terms of the bike itself, it's going to be hard to find a better deal in this price range. See full review.

#3 The Original Peloton Bike
Speaking of Peloton, the OG itself is actually a great bike for shorter riders too.
We have Peloton to thank for the streaming movement that's taken over home fitness and even though there are tons of streaming cycles to choose from these days, the Original Peloton is still a great option.
Especially now that it's priced at only around $1500 (it was like $2500 when my wife bought me one years ago as a birthday surprise).
The 22″ HD touchscreen and awesome streaming workouts are hard to miss, but the Peloton is a high performing cycle too.
With a 35 lb flywheel, 100 levels of resistance, and a quiet belt drive, this cycle offers a smooth ride and can provide enough resistance to challenge folks of all skill levels.
And I may be biased, but I still say Peloton has the best production value of any streaming service.
Anyway, when it comes to short riders, according to Peloton, this bike can comfortably fit folks between 4'11" – 6'4″ and I would say this is pretty accurate based on my experience.
My son's about 4'8″ and he can ride it on the lowest setting – but more specifically, according to my measurements, the lowest inseam is about 26″.
Of course, with the Peloton, you have to be cool with the ongoing monthly membership fee to access all the awesome content.
But if you're looking for an elite streaming cycle that can fit shorter riders, the Original Peloton is still a great option.

The Best Recumbent Bikes For Short People
#1 Matrix Cycle R30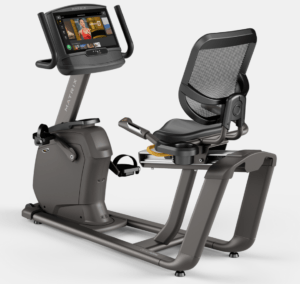 I'm not sure if most people are familiar with Matrix Fitness, but they really should be because as a brand, they kinda rock.
Matrix offers both residential and commercial grade cardio machines and if you're looking for a high-end machine that won't necessarily destroy your budget, they've a great brand to explore.
Anyway, the R30 is one of two recumbents they offer (the other being the upgraded R50) and it's a great option for shorter folks looking for a recumbent that's comfortable and easy to access.
You might notice the dual frame design with its super low walk-thru access, making it easy to get on/off the seat from either side.
In terms of height requirements, the R30 comes with an easily adjusted seat that should be able to fit most riders between 4'11" – 6'4″.
The back rest is also vented and comes with a little built-in lumbar support for added comfort.
When it comes to performance, this recumbent offers smooth operation due to its 23 lb flywheel and magnetic resistance system.
And with 20 levels of resistance to work with, you'll have full control over each workout.
The performance specs are impressive, but what really sets Matrix apart are their consoles.
With the R30, you get to choose between 3 consoles, ranging from the basic LCD display of the 'XR', to the 16″ HD touchscreen 'XIR' (there's also the 'XER', which is a 10″ touchscreen).
The XR is pretty basic and comes with a few built-in workouts, but the touchscreen consoles come with built-in entertainment apps, screen mirroring from your phone, a web browser, and offer access to iFit.
And yes, this is the same iFit NordicTrack and ProForm use, but unlike those brands, with Matrix, you don't have to sign up for a membership to access all the other cool stuff it has to offer.
Going with a touchscreen console is great for the app and iFit workouts, but if you just want a straightforward recumbent that's built to last, you can save a good chunk of change and go with the XR console.
Either way, Matrix's R30 is a great recumbent for tall and short folks alike. See full review.

#2 3G Cardio Elite RB
3G Cardio is another one of those sleeper brands that probably doesn't have the brand recognition they deserve, but I've been praising them for years now.
Mostly because their products are well-built and backed by great warranties.
That said, their lineup is quite small compared to most brands – as I'm writing this, the Elite RB is the only recumbent bike they offer.
Hey, I guess if you get it right the first time, there's no need to try again.
One of the coolest things about this bike is how compact it is – with a footprint of only 49″ x 27″, it's a full foot shorter than the R30 just mentioned.
Making it a great option for homes with limited floor space.
Other than that though, it's got a lot to be proud of.
Highlights include 16 resistance levels, over a dozen built-in workout programs, and a durable frame that can folks weighing up to 350 lb.
And this recumbent can comfortably hold most folks between 5′ – 6'5″, which is impressive for such a compact bike.
Not only does the seat adjust for height, but you can also adjust its tilt position as well as the position of the back rest, giving you full control over your riding position.
And with a lifetime frame and 7 year parts warranty, you can rest a little easier knowing you're well covered in case something goes wrong.
Overall, the Elite RB would make a great choice for shorter folks looking for a compact, durable recumbent (and with a price around $1800, it's priced to move). See full review.

#3 XTERRA SB4500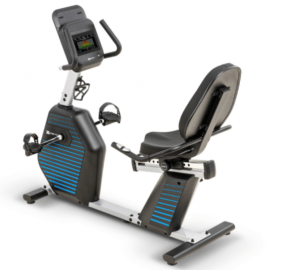 Unlike 3G Cardio, XTERRA has a huge lineup of cardio machines to choose from and most of them are pretty budget-friendly.
For those of you who are unfamiliar, XTERRA is part of the Dyaco family, the same corporation that owns popular brands like Spirit and Sole Fitness.
Talk about an impressive portfolio.
As I mentioned, XTERRA is their budget-friendlier brand, but their machines come with better specs and warranties than most competitors.
The SB4500 goes for around $700 and comes with some great specs.
We're talking a 22 lb flywheel, 24 resistance levels, and a full color backlit LCD console with several built-in workouts and bluetooth capabilities.
But what really got it on this list was the fact that it has a minimum inseam of 25.6″, meaning a lot of folks as short as 4'10" should be able to comfortably use it.
I also like that it's backed by a legit warranty: lifetime frame, 3 year parts, 1 year labor.
Overall, the SB4500 isn't fancy, but it's well built and performs well for the price range (speaking of price, it's available on Amazon too, so you might want to compare prices). See full review.

The Best Upright Bikes For Short People
#1 Matrix Cycle U30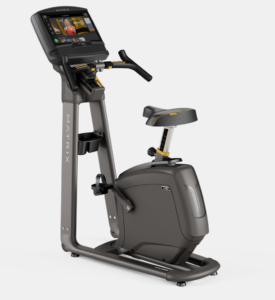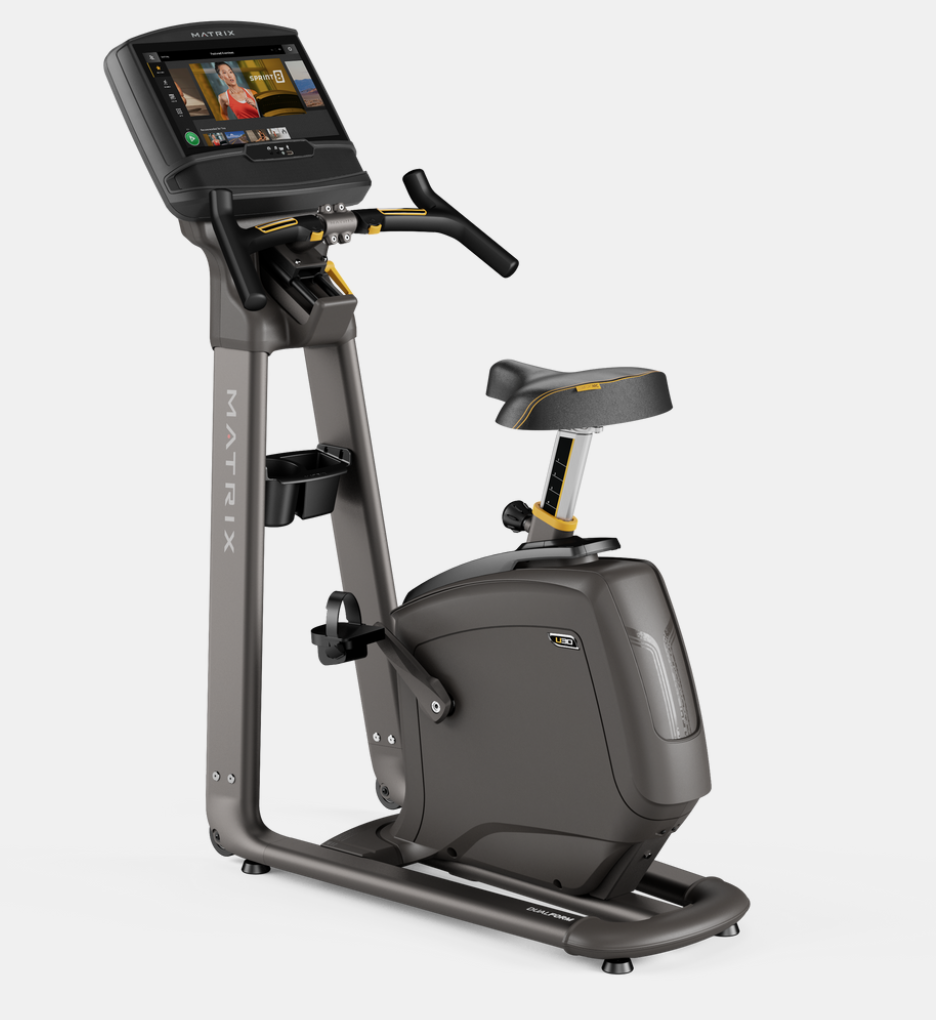 This is the same Matrix we saw up above and their U30 is very similar to the R30 – except that it puts you in an upright position instead of a recumbent one.
The U30 uses a similar dual frame design that makes it remarkably stable, while still offering a step-thru frame making it easier to get on/off of.
This upright bike also uses a 20 lb flywheel and comes with 20 levels of magnetic resistance, just like the R30.
The height limits for this bike are the same too – according to Matrix, folks between 4'11" – 6'4″ should be able to comfortably use it.
And with a max weight limit of 350 lb, the U30 can accommodate folks of all sizes.
This is all great, but again, it's the consoles that really set Matrix apart from most brands.
With the U30, you can choose between 3 different options: the 16″ HD 'XIR', the 10″ touchscreen 'XER', and the 8.5″ LCD 'XR'.
The touchscreen consoles give you access to entertainment apps, screen mirroring, web browsing, and iFit; the 'XR' is a pretty simple console with a few built-in workouts, but it is bluetooth compatible.
Going with a nicer console obviously brings the price up, but the U30 is only around $3k with the 'XIR', which isn't bad for a 16″ HD console (it's well under $2k with the 'XR' console).
Put all this together and you've got one hell of an upright bike. See full review.

#2 3G Cardio Elite UB
I hate to be too repetitive here, but if we're talking about the "best" options here, then that's just how it's gotta be.
I mentioned earlier that 3G Cardio doesn't have a very big lineup – well, here's the only other exercise bike they have.
This is their take on an upright bike and it's very similar to their recumbent bike.
According to 3G Cardio, this upright bike should be able to comfortably accommodate folks who are between 5′ – 6'5″ and it also comes with an impressive 350 lb weight limit.
The handlebars aren't adjustable (few upright bikes offer this feature), but the seat is fully adjustable, so you can adjust both the height and fore/aft positions easily.
The console on this bike is pretty simple, but it does come with 12 or some built-in workout programs, 16 resistance levels, and 4 user profiles.
Oh, it's heart rate compatible and 3G even includes a strap with purchase.
The warranty is also amazing on this upright: lifetime frame, 7 year parts, 1 year labor.
I mean seriously, where else are you going to find a 7 year parts warranty for a bike that costs under $1k?
Overall, the Elite UB is a durable, compact upright bike with some great components. If you're looking for an easy to use bike that'll last, it's a smart choice. See full review.

#3 Nautilus U618
Rounding out my list here is a classic upright by a classic fitness brand.
Nautilus has been around for a long time and their cardio machines are still some of the best options for their respective price ranges.
These days, Nautilus is specializing in more budget-friendly options and their U618 is a perfect example of what they have to offer.
As I'm writing this, the U618 is going for around $400, which I think is an incredible deal considering what this bike comes with.
When it comes to performance, the U618 has a 13 lb flywheel, 25 resistance levels, and can handle folks weighing up to 325 lb.
And according to Nautilus, it should be able to accommodate most riders between 5′ – 6'4″ tall, thanks in part to the fully adjustable seat.
The console is also surprisingly sophisticated for such an affordable bike. This console comes with 29 built-in workouts, 4 user profiles, bluetooth, speakers, USB charging, and even has a cooling fan.
And Nautilus even includes a strap heart rate monitor with purchase.
And Nautilus' warranty on this upright is pretty amazing too: 15 year frame, 3 year parts, and 1 year labor.
I've never seen an upright in this price range that can compete with the U618 and I'm not sure how much longer Nautilus will be producing it.
But if you're looking for an affordable upright with impressive specs and features, the U618 is a no-brainer. See full review.

Final Thoughts
Ok, wow, there ya go.
If nothing else, I hope this shows there are some great bikes out there in all varieties that can accommodate shorter people.
I'm sure there are plenty of other exercise bikes out there that can also fit shorter riders, but I was looking for the best options out there.
And in order to make this list, the bikes needed to have impressive performance specs, great warranties, and overwhelmingly happy users.
I also tried to include options for different price ranges and with various features.
Anyway, I stand by the bikes that made this list, but if I missed any great options for shorter riders, please let me know.
If you know of bikes that deserve a spot on this list (or you have any other comments in general), feel free to leave a comment below and I'll get back to you shortly.
Happy riding!