Sole's LCR is a top of the line home recumbent bike. This is the brand's highest-end recumbent to date and it and when it comes to performance, there aren't many that can hang with it.
I say that because the LCR comes with a 31 lb flywheel and 40 levels of magnetic resistance.
It also comes with a very heavy-duty frame, a 350 lb weight capacity, and an amazing warranty.
And even though it's the performance specs that most impress me, this recumbent is no slouch when it comes to console features either.
With bluetooth speakers, a wireless charging pad, and a 10″ touchscreen display the LCR provides plenty of additional perks as well.
All things considered, I think Sole's LCR is the best home recumbent bike around for the price.
But before you buy, you still have to do your own homework – and this review is here to help.
In this review, I'll go over everything this recumbent has to offer. After reading, you should know whether or not it's the right bike for you.
Let's get to it.
The Sole LCR Recumbent Bike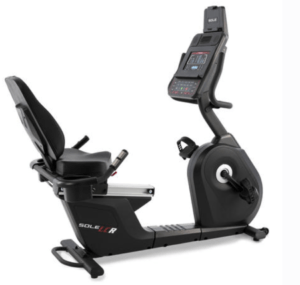 I've been a big fan of Sole for some time now. I'd even go as far as to say they're my favorite home fitness brand.
And that's really because they offer equipment that's heavier-duty than damn near all the competition in their respective price ranges.
Sole bikes tend to come with heavier flywheels and heavier frames and they also back their equipment with longer warranties.
Which is huge for me, because I'm a stickler for a quality warranty.
I also like that their machines are pretty simple to use (which could be a flaw if you're looking for streaming workouts and all that).
Anyway, the LCR is Sole's premiere recumbent bike, although they offer another great model, the R92, which isn't quite as expensive.
By the way, the "LCR" stands for "light commercial recumbent" – and unlike most brands that use the "commercial" term freely with little regard, with Sole they mean it – this bike comes with a light commercial warranty (but more on that later).
Pros
31 lb flywheel
40 levels of magnetic resistance
Heavy-duty frame
350 lb weight capacity
10″ touchscreen console
Easy to use
Bluetooth compatible
Bluetooth speakers
Wireless charging
Cooling fan
Media holder
Chest strap compatible
Great warranty
Cons
Not the best option for streaming workouts
Chest strap heart rate monitor not included
Resistance
There are 2 big differences between high-end recumbent bikes and lower-end bikes: flywheel weight and the heavy-dutiness of their frames.
Cheaper recumbents come with light flywheels and light weight frames.
I know this is simplifying things a lot, but when you boil it all down, this is really what we're left with.
And I don't mean to make it sound like these aren't big things, because they are- a heavy flywheel and heavy frame make all the difference in the world.
When it comes to flywheels, having a heavier one is beneficial because it'll make for a smoother, more substantial feel during workouts.
The heavier a flywheel is, the more momentum it's going to build as it spins (as you pedal).
This momentum helps reduce any lag between your pedal strokes and the result is a smoother feel.
Recumbent bikes aren't known for packing heavy flywheels like indoor cycles are, but both bikes basically function the same way, so the benefits of a heavier flywheel are the same.
Most home recumbent bikes come with flywheels in the 13 – 20 lb range (at least the good ones anyway).
With this in mind, consider that the LCR is packing a 31 lb flywheel.
The extra weight is going to give this bike a more commercial feel when compared to less expensive models with smaller flywheels.
Like any self respecting recumbent, the LCR comes with a magnetic resistance system, but unlike most, it comes with 40 resistance levels.
It's important to note that having more resistance levels doesn't necessarily mean it can provide more resistance (although the heavier flywheel usually means this).
It just means you can make smaller adjustments to the available resistance – which I would argue is a benefit in itself.
Overall, I love that the LCR comes with such a heavy flywheel. I also love that it comes with so many resistance levels to work with.
These are 2 big advantages when it comes to performance, so if you're looking for a recumbent that can deliver great workouts, this is definitely something to consider.
Frame
I mentioned the frame department is the other big area that separates high quality bikes from lower quality bikes- well, let's dive in a little deeper here.
Cheaper bikes are cheaper for good reason.
I mean, if your bike is smaller and lighter weight, I would have to assume it would cost less to produce (less material).
That's all fine and good because we need affordable bikes too, but there's a notable difference between a 60 lb recumbent and a 120 lb recumbent.
Needless to say, the heavier bike is going to feel more stable and secure and be a lot less likely to shake or wobble during workouts.
In other words, the heavier-duty bike is going to feel more commercial like.
With all of this in mind, consider that the Sole LCR comes an assembled weight of 152 lb.
If you're not sure what to expect when it comes to recumbent bike weights, let me assure you this is quite heavy.
For the sake of comparison, two of the most popular home recumbents are Schwinn's 270 and Nautilus' R618, which are both great bikes by the way.
The 270 and R618 weigh 87 lb and 107 lb, respectively.
Looking at these, it's a little easier to see how heavy-duty the LCR is by comparison.
The LCR's heavy-dutiness is also evident when we look at its weight capacity.
Nicer bikes with stronger frames usually come with higher weight limits – makes sense, when you think about it.
Well, the LCR comes with a weight limit of 350 lb, which is a good deal higher than the 300 lb average many bikes offer.
Not only does the higher weight capacity indicate superior frame strength, but it also allows this bike to comfortably fit most users safely.
Otherwise, the LCR takes up a footprint of roughly 60″ x 29″, which is pretty average for home recumbents.
Overall, this bike scores very highly in the frame department. I love how heavy this bike is because it's going to make for a stable, commercial grade feel.
Warranty
Sole Fitness backs their LCR Recumbent Bike with the following residential warranty:
Lifetime frame
3 year electronics/parts
1 year labor
See, I wasn't joking when I said Sole offers great warranties.
You don't see that many lifetime frame warranties any more, but Sole's still rocking' them.
3 years on parts is also great compared to the 2-3 year warranties most other brands in this price range offer.
1 year on labor is standard operating procedure, so nothing too exciting going on there.
Overall, this is easily one of the best warranties out there though.
But wait, Sole also offers a light commercial use (5 hrs/day or less) warranty on the LCR too:
Lifetime frame
3 year parts
1 year labor
Even their commercial warranty is better than most (which is amazing considering the price).
Features
Sole's LCR comes with the following included features:
10″ touchscreen console- the screen on this console is large and brightly lit, making it easy to read. And the fact that it's a touchscreen makes it easy to make all selections. It also comes with a few built-in entertainment apps and screen mirroring, which allows you to see any app from your phone directly on the console.
Workout programs- Sole isn't known for including a ton of workouts with their machines, but they do include enough to get the job done. These workouts include several classic profiles, as well as heart rate guided options and even a few fitness tests.
Bluetooth- this bike is bluetooth friendly, allowing you to sync up with compatible fitness apps for metric tracking.
Bluetooth speakers- you can also use the bluetooth to listen to your workout playlists wirelessly through the built-in speakers.
Heart rate monitoring- the LCR comes with built-in grip heart rate monitors in the handles, but you can also connect with a chest strap heart rate monitor for more accurate readings (although one isn't included, which would be nice).
Wireless charging port- you can easily charge your devices during workouts and now you don't even have to plug 'em in.
Media holder- there's a conveniently located tablet holder above the console, so you don't have to block the console screen to watch your favorite shows.
Cooling fan- the built-in fan can help keep ya comfortable during workouts.
Water bottle holders- these handy devices can store your beverages within reach.
Price
Time to talk dollars.
Keep in mind these prices can change from time to time, so don't hate me if my quoted price is a little different from what you see.
But at the time of writing this, the Sole LCR goes for a full retail price of $1,799.
Based on this price, I would consider the LCR to a moderately priced recumbent bike.
It's more expensive than the affordable bikes that are well under $1000, but it's a lot more affordable than the luxury recumbents that are in the $2 – $3k range too.
When considering price, it's a good idea to think about what you get for the price.
In this case, that being a heavier flywheel, heavier frame, and much longer warranty.
In terms of comps, NordicTrack's Commercial VR25 is probably Sole's biggest competitor.
Last time I checked, the VR25 was priced very similarly to the LCR and is very comparable in a lot of ways.
The LCR comes with a heavier flywheel and much better warranty, although the VR25 comes with a more sophisticated console that can stream iFit workouts.
NordicTrack also has their newer, Commercial R35 to consider, which comes with a 25 lb flywheel, 14″ touchscreen console, and 26 resistance levels.
But again, Sole's warranty is better.
It really all depends on what you're looking for.
Final Thoughts
Well, that's about all I got when it comes to the LCR.
As I mentioned in the intro, I think this recumbent bike is the total package.
In terms of performance, it outshines any bike I've seen in this price range. The LCR comes with a very heavy flywheel and loads of resistance levels to work with.
I also love how heavy this bike is – this bad boy will certainly feel stable during any workout.
But it's that warranty that really sets this bike ahead of the rest.
The biggest downside to going with the LCR is the console – it's touchscreen, but if you're looking for integrated streaming capabilities, it may not be the best fit.
But if you're looking for a heavy-duty recumbent that's easy to use and built to last, there's no finer option in this price range.
In other words, I think Sole's LCR is a very smart buy and easily one of the best home recumbent bikes around. Highly recommended.