Sole's R92 is the best recumbent bike $1000 will get ya – there, I said it.
I'm not used to being so frank, but you know, sometimes you just gotta tell it how it is – no BS, straight to the point, boom – there it is.
And my strong feelings for the R92 are based purely on the facts, I promise I'm not secretly colluding with Sole to help them take over the fitness industry or anything.
More specifically, I like that the R92 comes with a 20 lb flywheel, a heavy-duty frame, and the best warranty you'll find in this price range.
It also doesn't hurt that this bike comes with an included chest strap, a USB charging port, and bluetooth speakers.
I stand by my brash statement above, but if you refuse to simply take my word regarding this bike (and you really shouldn't), keep reading.
In this review, I'll go over everything the Sole R92 has to offer, including specs, features, and pretty much everything else you can think of.
I'll even compare it to a few of the other leading recumbents in this price range so you can see how it stacks up for yourself.
After reading, you'll know whether or not this is the right recumbent bike for your home.
Off we go.
The Sole R92 Recumbent Bike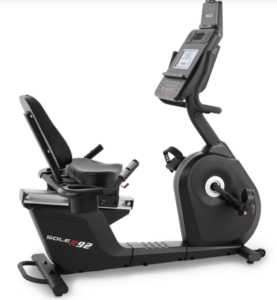 If you've read any of my other Sole reviews, you're probably well aware that I'm a huge fan of the brand.
Again, I don't work for them or anything, I just think they have awesome products.
Their treadmills, bikes, and ellipticals all tend to be heavier-duty than their competitors and Sole's home warranties are almost unbeatable.
I also like that their machines are pretty easy to use – no fumbling through multiple screens to get a workout started.
Their lineup isn't huge, but they have several options to choose from in each category.
The R92 is one of 2 recumbent bikes in their lineup with the other being the higher-end LCR which comes with a light commercial warranty as well.
Pros
20 lb flywheel
20 levels of magnetic resistance
Heavy-duty frame
300 lb weight limit
9″ LCD console
Bluetooth compatible
Bluetooth speakers
USB charging port
Included chest strap heart rate monitor
Tablet holder
Cooling fan
Great warranty
Cons
Limited number of built-in workouts
Resistance
I'm always more interested in performance than features, so I like to start all my reviews with a run down on the resistance system.
Keep in mind the resistance system is what gives your bike it's "feel" too – the smoothness (or lack there of) of the pedal motion comes from the resistance system.
And by resistance system, I'm really talking about the flywheel and the resistance mechanism, which can be magnetic or a friction brake.
The R92, like all other recumbents in this price range, uses a magnetic system, so we can skip the friction brake talk.
When it comes to flywheels, the R92 scores highly.
With a 20 lb flywheel, it's got enough muscle under the hood to provide a smooth pedal motion as well as provide some significant resistance.
I know we don't hear a lot of talk about flywheels when it comes to recumbent bikes, but just like indoor cycles, having a heavier flywheel usually means a smoother pedal motion.
And that's because the extra weight builds more momentum, which improves the fluidity of each pedal stroke.
20 lb is light compared to the massive flywheels found on spin bikes, but it's heavy when compared to the other recumbents in this price range.
For the sake of comparison, Nautilus' R618 (which to be fair is a little more affordable than the R92), is only packing a 13 lb flywheel.
As does Schwinn's popular 270.
Sole pairs this nice heavy flywheel with 20 levels of magnetic resistance, giving you a lot of control over the intensity levels of your workouts.
Having more resistance levels doesn't necessarily mean more overall resistance, but it does mean you can make smaller incremental changes to the available resistance.
Overall, I think the combination of the heavy flywheel and plenty of resistance levels is one of the R92's most redeeming characteristics and certainly something folks looking for a recumbent that can perform will appreciate.
Frame
The term "heavy-duty" gets thrown around a lot.
I'll admit, I've been guilty of using this term recklessly myself in my early days of fitness blogging.
But these days, I've learned that the term means nothing if we don't have an objective way to measure it.
So, I tried to find a way to actually measure a bike's "heavy-dutiness" and what I came up with was remarkably simple – the assembled weight.
This simple spec tells us exactly how much the bike weighs- or in other words, literally how heavy it is.
And having a heavier bike is a good thing because it's going to feel more stable and be less likely to wobble or wiggle during workouts.
Which is what most people mean anyway when they use the term "heavy-duty".
With all of this in mind, the R92 comes in with an assembled weight of 134 lb, which is very heavy for a recumbent in this price range.
Schwinn's 270 and Nautilus' R618 weigh in at 87 lb and 107 lb respectively.
The R92's extra weight is going to make for a more substantial feeling experience – you shouldn't have to worry about this bike feeling insecure during workouts.
And with a weight capacity of 300 lb it's capable of safely holding users of all sizes.
Overall, the R92 scores very highly in the frame department. It's as heavy as any bike in this class, giving it a more commercial feel than you'd expect from this price range.
Warranty
Sole backs their R92 Recumbent Bike with the following residential warranty:
Lifetime frame
3 year parts/electronics
1 year labor
I told ya at the beginning Sole doesn't mess around with their warranties.
You can't beat a lifetime guarantee on the frame, especially considering most other brands max out at 10 years.
Three years on the parts/electronics is also better than the 1-2 years you'll find on most other recumbents.
A year on labor is pretty standard, so nothing too interesting going on there.
Overall, I'm pretty sure I've never seen a better warranty on a recumbent bike in this price range.
Features
The R92 comes with the following included features:
9″ LCD console- you won't find any HD touchscreen displays or anything like that on the R92, but the screen itself is large and backlit, making it easy to read during workouts.
10 workout programs- Sole isn't known for including a ton of built-in workouts, but with 10 options to choose from, there's more than enough to get the job done. These include 6 standard profiles, 2 heart rated guided options, and 2 custom workouts.
Bluetooth- this bike is bluetooth friendly, allowing you to connect with Sole's Studio streaming service which gives you access to on-demand instructor-led workouts, as well as metric tracking and all that. You get a free month of Studio included with purchase and then I think it's $19.99/month (but it's completely optional).
Chest strap- Sole includes a chest strap heart rate monitor with purchase, allowing you to keep an accurate eye on your heart rate during workouts.
Speakers- the built-in speakers are also bluetooth compatible, so you can listen to your workout jams wirelessly if ya like.
USB charging port- you can also keep your phone or tablet fully charged during workouts with the included USB charging port.
Tablet holder- the tablet holder is conveniently located above the console, so you don't have to block view of the console while watching Netflix or any other app you might be using.
Cooling fan- the built-in fan can help keep ya comfortable during those more strenuous workouts.
Water bottle holders- there's a water bottle holder on each side of the seat for convenient hydration (although you could stash any beverage there you like…I'm not judging).
Price
Ok, numbers time.
Before I quote a specific price, please keep in mind that prices can change throughout the year, so if this number isn't accurate when you read this, I apologize.
With that in mind, Sole's R92 comes with a full retail price of $999.
Which in the world of home fitness machines, still makes the R92 pretty affordable.
The biggest competitors for the R92 are likely the Schwinn 270 and Nautilus R618 which I've mentioned a couple of times already.
Those are both a little more affordable, but still in the same price range.
NordicTrack's VR21 (which is no longer offered by NordicTrack, but still available through other retailers) also comes with a $999 price tag, but these days its price can vary greatly.
The VR21 is very comparable to the R92 in a lot of ways, but basically its warranty isn't quite as good, although it comes with a lot more workouts (check out my full comparison between the R92 and VR21 here).
Final Thoughts
Well, that about does it.
Now you know why I think the R92 is the best recumbent bike you can get for $1000.
Sole basically had me at 20 lb flywheel and 20 levels of resistance, but the bluetooth, USB charging, and included chest strap certainly don't hurt.
I also love how heavy this bike is (don't worry, there are built-in transport wheels).
The icing on the cake though, is that awesome warranty.
The biggest downside I see is that there aren't that many built-in workouts.
So if you'd like a more generous selection of workouts, I could see going with NordicTrack's VR21 if you can find it at a decent price (under $1k).
But otherwise, I stand by my opening remark – the R92 is one of the best recumbents in its price range. Highly recommended.