Diamondback's 910sr is a well-priced, heavy-duty recumbent bike with impressive performance specs and some solid console features.
More specifically, we're talking a 32 lb flywheel, 32 levels of magnetic resistance, 32 built-in workout programs, and a frame that can handle users weighing up to 325 lb.
The 910sr can also accommodate folks ranging between 5'2″ and 6'6″ tall, something not all recumbent bikes in this price range can claim.
But alas, nothing is perfect – this recumbent is lacking any sophisticated streaming capabilities and the warranty could be longer.
Long-story-short, I think the 910sr is easily one of the best recumbent bikes under $1k.
If you're interested in the longer story, keep reading.
In this review, I'll go over everything this recumbent bike has to offer, as well as where it falls a bit short. I'll also compare it to some of the other top options in its price range.
After reading, you'll know whether or not the 910sr is worth investing in.
Let's begin.
The Diamondback 910sr Recumbent Exercise Bike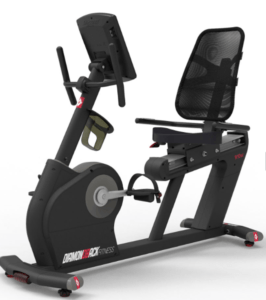 When I started blogging a few years ago, Diamondback always used to be in the conversation when it came to the best indoor cycles and recumbent bikes, but these days I don't feel like they're getting the same attention they used to.
I don't know, maybe I'm wrong, but these days with all the HD touchscreens and streaming options, it feels like good ol' fashioned exercise bikes like Diamondback's are getting lost in the background.
And if this is the case, it's a real shame because Diamondback is still a legit brand.
My first indoor cycle was actually a Diamondback – I owned their 510ic for a few years before my wife surprised me with a Peloton and it worked great.
Smooth ride, rock solid frame, no monthly streaming fees … ah, memories.
Anyway, I regress.
The 910sr we're here to discuss now is the only recumbent bike in their lineup at the moment, now that they've discontinued the 1260sr.
Let's start with a look at the performance specs and then we'll go over all the extra features and whatnot it comes with.
Pros
32 lb flywheel
32 levels of magnetic resistance
32 built-in workout programs
Heavy-duty frame
325 lb weight limit
Fits riders 5'2″ – 6'6″ tall
Brightly-lit console
Built-in speakers
Heart rate monitor compatible
Cooling fan
Adjustable seat
Great price
Cons
No bluetooth
Warranty could be longer
Resistance
Recumbent bikes are awesome because they offer a more comfortable way to get your cardio on, but that doesn't mean you shouldn't still take a serious look at their performance specs.
Regardless of whether or not you're looking to work against heavier resistances, having a heavier flywheel is still a benefit.
Mostly because heavier flywheels (usually) provide smoother pedaling motions.
The idea being that the more weight a flywheel has, the more momentum it builds as it spins – and this momentum keeps the flywheel spinning between between pedal strokes.
The result is a smoother feel with less lag between strokes.
Now recumbent bikes are usually known for having massive flywheels, certainly not like indoor cycles are, but there are still some recumbents packing plenty of muscle under the hood.
Like Diamondback's 910sr for instance.
The flywheel on this recumbent weighs in at 32 lb, which, without exaggeration, is the heaviest flywheel I've come across on any recumbent bike.
This is especially crazy heavy when compared to other recumbents in this price range.
For example, Schwinn's 290 only comes with an 8 lb flywheel and Nautilus' R618 only comes with a 13 lb flywheel (and I'm not hating on these bikes or anything, they're both great options for the price).
There's also Sole's R92, which costs a couple hundred more, and that only comes with a 20 lb flywheel – I say "only" ironically because 20 lb is still great for a recumbent bike, especially a $1k one.
There are other home recumbents out there packing 30 lb flywheels, but they cost 2x as much as the 910sr.
So, my point is, this bike is packing a realllly heavy flywheel, which is awesome for people looking for a recumbent bike that can offer a smooth pedaling motion, but also provide more intense workouts.
Diamondback pairs that massive flywheel with 32 levels of magnetic resistance too, giving you a lot of control over your workouts.
When thinking about resistance levels, it's important to keep in mind that having more levels doesn't necessarily mean more total resistance – it just means you can make smaller adjustments to said resistance.
Which I think is a good thing, because it gives you more control over the intensity of each session.
Overall, you aren't going to find a better performing recumbent bike in this price range… just ain't gonna happen.
Frame
But there's more to performance than simply having a heavy flywheel and a lot of resistance levels – you also need a frame that's going to feel stable while you're sitting on it.
And unfortunately, a lot of affordable bikes suffer from having really lightweight frames.
Lightweight frames are pretty obvious the second you sit on them – they look and feel smaller and tend to wiggle around a bit more than the bikes we've used at commercial gyms.
And I get it – affordable bikes are more times than not affordable for good reason.
But that said, some recumbents are a lot heavier-duty than others.
It's hard to tell how heavy-duty a bike's gonna feel by just looking at it, so I like to check and compare assembled weights to see how heavy these bikes really are.
With the idea being that a heavier bike should feel more stable and secure than a lighter bike – you know, it's harder to move heavy things, so it should wiggle around less during workouts.
Anyway, with all of that in mind, consider that the 910sr comes with an assembled weight of 130 lb.
This is right up there with Sole's R92, which weighs around 134 lb (and Sole tends to make the heaviest-duty machines in their respective price ranges).
The 910sr also weighs quite a bit more than Nautilus' R618 (107 lb) and Schwinn's 290 (108 lb).
Again, I can't think of any recumbents in this price range that weigh more (keep in mind the R92 costs about $200 more).
The 910sr also comes with an impressive, 325 lb weight capacity, making it approachable for users of all sizes.
Speaking of sizes, this bike can accommodate most folks between 5'2″ and 6'6″ tall as well.
And with a footprint of 64″ x 23″, this recumbent is pretty average in terms of physical size.
Overall, I think the 910sr scores very highly in this department. It's going to be very difficult to find a heavier-duty bike in this price range.
Warranty
Diamondback offers the following home warranty on their 910sr Recumbent Bike:
5 year frame
3 year parts/electronics
1 year labor
90 day wear items
Ok, so you have to read the fine print when reviewing this warranty because at first glance, it looks like Diamondback offers a lifetime frame guarantee.
And technically they do… it's just that their definition of "lifetime" is 5 years.
5 years on the frame is quite a bit shorter than what all the other top players offer on their similarly priced recumbents.
Sole offers lifetime frame warranties, Schwinn offers 10 years, ProForm offers 10 years, and Nautilus offers 15 years, so by comparison, Diamondback is a little behind the curve here.
That said, 3 years on parts is as good as what anybody else is offering and a year on labor is standard procedure across the board.
So, overall, the frame warranty on this bike could be longer, but realistically, the frame is the most unlikely part to breakdown on a bike like this.
Features
The Diamondback 910sr comes with the following features:
LCD console- the console on this bike isn't fancy, but it's brightly-lit and in color, making it easy to see all stats and workout profiles. It also comes with numeric keys, making it easier to put in your inputs. There are also quick-touch resistance buttons on the side, allowing you to jump to certain resistances a lot faster.
32 workout programs- the 910sr comes loaded with a lot of workout profiles, so you shouldn't have to worry about getting bored doing the same workouts over and over.
Heart rate monitoring- the console is compatible with Polar heart rate straps (non-coded), allowing you to track your pulse accurately during workouts (one not included with purchase).
Speakers- there are built-in speakers in the console, so if you want to connect your phone or mp3 player up you can listen to your favorite workout jams.
Adjustable seat back- the seat is large and easy to adjust and the backrest comes with built-in lumbar support for added comfort. And unlike most recumbents, you can also adjust the vertical position of the backrest for more customization.
Cooling fan- there's a built-in cooling fan as well to help keep you a little more comfortable during workouts.
Tablet holder- there's a small shelf in the front where you can place a tablet for easy viewing, but it'll block your view of the console.
Water bottle holder- and finally, there's a place to put your water bottle for convenient hydration.
Price
Before I wrap things up here, I want to finish with a quick word on price and go over the other comps in this price range a little more.
As I'm writing this, Diamondback has their 910sr priced at $799.
I don't know how long this price will last, but I know it's been at this price for awhile now, so hopefully it's for the long run.
And personally, I think this is an amazing price for this recumbent bike, considering it could easily go for $1k, based on the specs and whatnot.
Anyway, I've mentioned this bikes biggest competitors a little already, but I want to consolidate my thoughts here a little more.
Sole' R92, which is going for $999 at the time of writing this, comes with a 20 lb flywheel, 20 resistance levels, a similarly heavy-duty frame and a longer frame warranty.
It's also got a bluetooth compatible console.
Schwinn's 290 is very similarly priced ($699 – $799) and it comes with a much lighter flywheel (8 lb), 25 resistance levels, and 13 built-in workouts.
It's also got a bluetooth compatible console and a longer frame warranty.
Nautilus' R618 is pretty similar to the 290, so I won't repeat all that again, but all of that pretty much goes for the R618 as well.
Finally, I want to mention ProForm's C10R.
The C10R is priced identically at the time of writing this and it comes with an 11 lb flywheel, 25 resistance levels, and a lighter-duty frame.
But what the C10R does have, is a 10″ HD touchscreen console for streaming iFit workouts – so definitely a more sophisticated console.
Final Thoughts
Based on the above comps, I think the 910sr can easily hold its own with any recumbent in this price range, and then some.
In terms of performance, I think this recumbent surpasses any mentioned above, coming with a much heavier flywheel, more resistance levels, and a much heavier-duty frame (than most).
It also comes with a lot of built-in workout profiles.
That said, the console isn't bluetooth compatible, so if you're looking for workout streaming or the ability to track metrics with fitness apps, the 910sr isn't the best option.
The frame warranty could also be longer on this recumbent, but given everything else it has going for it, I don't consider that a deal-breaker (especially with Diamondback's stellar reputation).
Overall, I think the 910sr is easily one of the best buys in recumbent bikes at the moment and certainly a smart buy.
P.S. – you can use the promo code HOMEGYM10 for 10% off.