If you're looking to add an affordable, rock-solid indoor cycle to your home, Diamondback's 510ic could be a great fit.
With a 32 lb flywheel and 16 levels of magnetic resistance, the 510ic comes with a smooth pedaling motion and plenty of resistance to work against.
And with a heavy-duty frame that can handle folks up to 300 lb (and up to 6'5″ tall), riders of all sizes can safely use it.
It also comes with several built-in workouts and an easy-to-use console.
That said, if you're looking for streaming workouts or touchscreen consoles, the 510ic isn't for you – it also isn't compatible with wireless heart rate monitors.
Overall though, I think Diamondback's 510ic is a great bike for the price, but before you decide either way, you need to know what to expect.
In this review, I'll be going over everything this indoor cycle does and doesn't have going for it; I'll also compare it to some of the other top options in this price range to see how it stacks up.
After reading, you'll know whether or not the 510ic is the right bike for ya.
Let's begin.
The Diamondback 510ic Indoor Cycle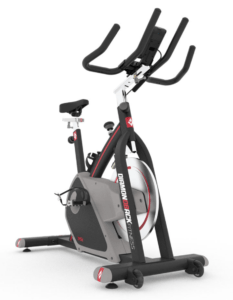 I owned this bike years ago.
It was the first big fitness purchase I made for our new home at the time (which is now our old home…we moved) and I did my fair share of research before deciding.
I ultimately went with the 510ic because of its reputation, how straightforward the console was, and the fact that you controlled the resistance with arrows from the console.
Long-story-short, I thought this cycle worked great and I enjoyed using it.
The only reason I stopped using is because my wife surprised me for my birthday one year and bought me a Peloton – it was an awesome surprise.
But my wife doesn't ride much, so we didn't have the need for 2 bikes and as much as I liked my 510ic, it's not in the same league as the Peloton…
Soooo, I ended up giving it to one of my neighbors.
But I still have fond memories of the 510ic…
Anyway, back to business. Let's start this review off with a rundown on the major performance specs; then we'll move on to the features and whatnot.
Pros
32 lb flywheel
16 levels of magnetic resistance
Heavy-duty frame
12 built-in workout programs
Fully adjustable seat
Fully adjustable handlebars
Toe cage pedals
300 lb weight limit
Good warranty
Great price
Cons
No bluetooth
No wireless heart rate monitoring
Resistance
When it comes to indoor cycles and specs, the first thing I look for is the flywheel weight.
The flywheel is the part of the bike that physically spins as you pedal and it's important because it plays a big role in how smooth your bike is gonna feel during workouts.
Most home exercise bikes, especially affordable ones, are designed so that having a heavier flywheel is beneficial – it's all about the momentum.
As the flywheel builds more momentum, it helps keep the pedals moving throughout your pedal stroke, eliminating any lags or gaps between the upstroke on one side and the down stroke on the other.
This results in a smoother overall ride and a more enjoyable workout.
Well, manufacturers can increase that momentum in 2 ways – make the flywheel heavier or get the flywheel spinning faster.
And adding weight to the flywheel is an easier, more affordable way to improve the pedaling feel.
So, long story short, having a heavier flywheel is usually a good thing.
Anyway, the 510ic comes with a 32 lb flywheel, which is easily enough weight to provide a smooth feel and I would personally agree that this cycle feels very smooth during workouts.
Having a heavier flywheel also means the bike can usually offer a little more overall resistance, but this rule isn't written in stone.
That said, I would say the 510ic can offer enough resistance to challenge riders of all skill levels.
This bike comes with 16 resistance levels and I was rarely going above level 12 – and that's with standing up.
Having more resistance levels is a good thing in my book because it gives you more control to make smaller changes to your intensity – you know, fine tune the feel.
I'm not sure I'd call 16 levels a lot, but it's pretty average for this price range.
ProForm's similarly priced Carbon CX also comes with 16 resistance levels (and a slightly lighter, 28 lb flywheel).
In this price range, there's also the JOROTO X2, which comes with a 35 lb flywheel, but it uses a micro-adjustable magnetic resistance system.
This is what you find on brake pad bikes and it means you don't have any set resistance levels, but you can make really small incremental changes to your resistance.
Some people like these systems because you have a lot of control over the feel, but without set levels, you're completely dependent on the feel of the resistance for replicating workout conditions.
Anyway, I think the 510ic scores very well for a bike in this price range.
It comes with a heavy flywheel and enough resistance levels to offer decent intensity control and I found it to offer a very smooth pedaling motion.
And it could easily offer enough resistance to challenge me.
Frame
But there's more to indoor cycles than flywheels and resistance levels – there's also the feel of the frame itself.
Most indoor cycles take up more or less the same footprint (4′ x 2′), but where they can vary greatly is in how heavy-duty they are.
This attribute can be hard to objectify, especially considering no brand or marketer on the planet would ever admit their bike isn't heavy-duty, but there are some things we can look for.
For starters, I like to look at the bike's assembled weight because this spec tells us exactly how much the bike weighs.
And seeing higher weights is a good thing.
A heavier bike is going to be less likely to wiggle or move around during use, making for a more stable feel.
Personally, I like to see assembled weights above 100 lb to feel confident that they're feel solid, but this isn't always possible (especially with more affordable bikes).
With that in mind, Diamondback's 510ic comes with an assembled weight of 104 lb.
This is quite heavy for a cycle in this price range and I can attest personally to how heavy-duty this bike feels during use.
I'm a 200 lb guy and the 510ic felt rock-solid with me standing up and climbing against heavier resistances – this is actually one of the things I liked best about it.
So, I would say you don't have anything to worry about with this bike when it comes to heavy-dutiness, but let's compare it to a few other bikes in this price range.
JOROTO's X2 weighs in at around 94 lb, ProForm's Carbon CX weighs in somewhere around 100 lb, and Schwinn's IC3 weighs in at around 100 lb too.
There's also XTERRA's MB550, which comes with a full price well above the 510ic, but is sometimes found on sale through Amazon for a much lower price, and it weighs in at 107 lb.
But realistically, it's gonna be hard to find a heavier-duty bike in this price range.
It's weight limit is 300 lb too, which is pretty average for nicer indoor cycles, but again, that's not a given in this price range.
And according to Diamondback, the 510ic can accommodate most folks who are between 5'3″ – 6'5″ tall, which is also good for a budget friendly cycle.
I'm 6'1″ and there were several notches left for adjusting the seat.
Overall, the 510ic scores very highly in this department too – it's a heavy-duty bike that won't move around on ya during workouts.
Warranty
Diamondback covers their 510ic Indoor Cycle with the following home warranty:
5 year frame
3 year parts/electronics
1 year labor
90 day wear items
You have to read the fine print a little on this one because Diamondback calls their frame guarantee a "lifetime warranty"… but then they go on to say that they consider the "lifetime" of this bike to be 5 years and that's how long they cover the frame.
Soooo, that really means the frame has a 5 year warranty.
Which isn't bad for this price range, but it would still be nice to see at least 10 years on the frame.
3 years on parts is actually really good, especially for this price range where 1 year isn't uncommon.
And a year on labor is standard operating procedure across the board.
Overall, the frame warranty could be longer, but I'd still say Diamondback's warranty for this bike is pretty legit.
Features
The Diamondback 510ic comes with the following features:
LCD console- the console on this cycle is pretty basic, but it's brightly-lit and easy to read. You can see all the major workout stats at the same time without having to wait for them to scan through and the simple design makes it easy to make selections.
12 workout programs- the console comes with 12 built-in workout programs to choose from. These are all the classic profiles, so no big surprises here, but there are also 4 different heart rate guided workouts (I never tried these). Not a ton of workouts here, but enough to get the job done.
Fully adjustable seat- the seat is fully adjustable, meaning you can adjust the height and the horizontal (fore/aft) position, making it easy to find a comfortable riding position. I should say that I didn't find the seat to be very comfortable, so I ended up getting a gel seat cover, which helped tremendously.
Fully adjustable handlebars- you can also adjust the height and fore/aft position of the handlebars.
Toe cage pedals- this cycle comes with toe cage pedals that are compatible with sneakers (or any other shoe you'd like to wear), so you don't have to use cleats. You could easily switch 'em out if you want to though.
Heart rate monitoring- there are grip heart rate monitors in the handles, giving you a rough estimate of your heart rate (contact monitors are notoriously inaccurate). The console isn't compatible with wireless heart rate monitors either.
Water bottle holder- but there is a place to put your water bottle, so there's that.
Price
Ok, I've mentioned a few other top bikes in this price range so far, but I want to go over these a little more here.
As I'm writing this, Diamondback has the 510ic on sale for $499.
This is a little infuriating because I'm pretty darn sure I paid like $800 for it, but hey, what can ya do.
Regardless, I think $499 is an amazing price for this bike, but who knows how long it'll last – although I'm guessing it's here to stay, considering they have their newer 1260sc out now.
Anyway, there are a lot of indoor cycles in the $500 price range, but let's take a look at some of the better ones.
JOROTO's X2 is up there and it comes with a 35 lb flywheel, a micro-adjustable magnetic system, and a pretty heavy-duty frame (94 lb weight).
But it only comes with a 1 year warranty.
There's also ProForm's Carbon CX, which is about $100 more.
This cycle comes with a 28 lb flywheel, a decent frame, a 10 year frame warranty, and is compatible with iFit for workout streaming – but the weight limit is only 250 lb.
Schwinn's IC3 is about $200 more and it comes with a 40 lb flywheel, a solid frame, and dual-compatible pedals, but it uses a friction brake resistance system (which is kind of a deal breaker for me).
Finally, I want to mention XTERRA's MB550.
This bike comes with a full price of like $800, but I've seen it on Amazon for under $400, so I'll count it.
The MB550 comes with a massive 48 lb flywheel, a heavy-duty frame (107 lb), and a lifetime frame guarantee… but it also uses a friction brake resistance.
Final Thoughts
So, based on the above comps, I think the 510ic holds its own quite well against other cycles in its price range.
Basically, this is a no-thrills bike designed with performance in mind.
It's heavy-duty from top to bottom, comes with a heavy flywheel, and it's easy to use.
There aren't any higher-tech options (like bluetooth or wireless heart rate monitoring), so if that's what you're looking for this certainly isn't the best bike for ya.
But when it comes to affordable cycles that perform much better than you'd expect, the 510ic is hard to beat.
I want to say one more time that I enjoyed my time using this cycle and I would choose it again in a heartbeat (especially at its new price).
All things considered, this is probably the best indoor cycle under $500 at the moment. Highly recommended.
P.S. – you can use the promo code HOMEGYM10 for an extra 10% off.