C3Strom's Astro Pro might be one of the coolest looking electric bikes I've ever seen, but we all know what happens when you judge a book by its cover.
In this case though, what you see is what you get.
The Astro Pro is sleek as all get out on the outside, but its performance specs and included features are just as impressive.
With a 750W rear hub motor (1400W peak, 80Nm of torque), this e-bike has some serious power and the ability to reach an impressive 32 mph top speed.
And with a huge, 1040Wh battery, you won't have to worry about draining your battery on your way out the driveway – nope, the Astro Pro will get ya around 30 miles or so on throttle alone.
Additional awesome features include a large headlight, an 8-speed shifter, a brightly-lit console, and puncture-resistant tires.
The biggest downside I see is that this e-bike doesn't come with a height adjustable seat, so even though it'll fit a lot of riders comfortably, it won't fit everyone.
Long-story-short, if you looking for an exciting motorcycle-inspired e-bike, I think the Astro Pro is a great choice.
If you're interested in the longer story, keep reading.
In this review, I'll go over everything this electric bike does and doesn't have going for it and I'll also compare it to some of the other top options in this category.
After reading, you'll know whether or not the Astro Pro is worth investing in.
Off we go.
Quick Stats
| | |
| --- | --- |
| Motor | 750W (1400W peak) rear hub |
| Top Speed | 32 mph |
| Battery | 1,040Wh (52V, 20Ah) |
| Range | 30 - 78 miles |
| Weight Limit | 330 lb |
| Weight | 94 lb |
The C3Strom Astro Pro Electric Bike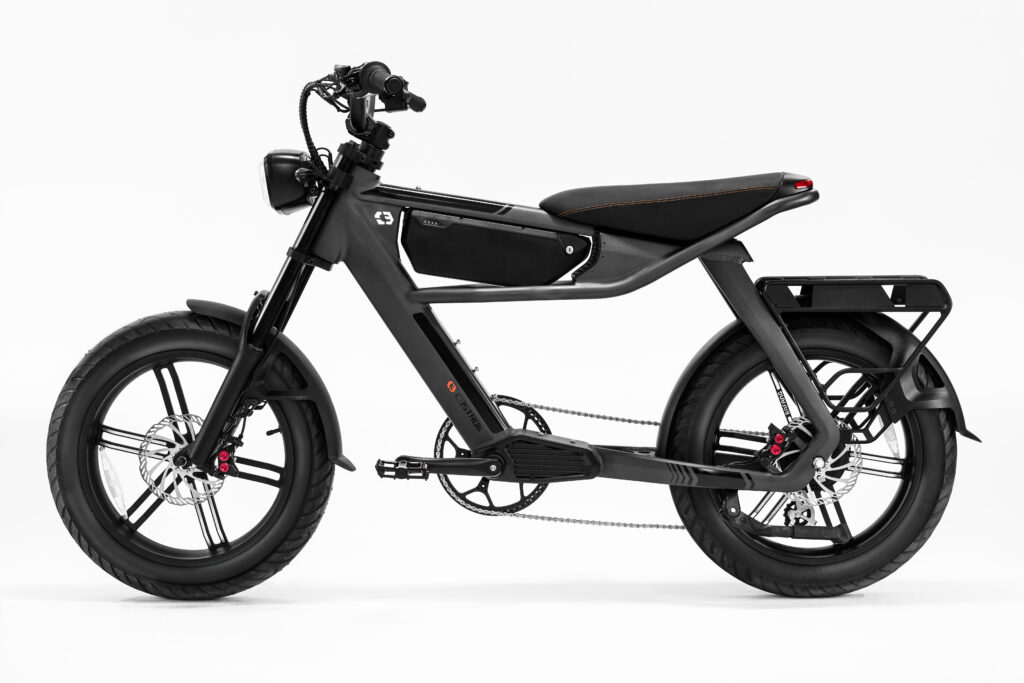 C3Strom is a relatively new brand (as I'm writing this, they've only been around for a few years), but their goal is to create fun alternatives to getting around urban environments.
Well, I'd say their Astro Pro confidently checks that box.
Anyway, at the time of writing this, they only have the Astro Pro and the upgraded Astro Deluxe to choose from, so their lineup isn't nearly as large as some of the other bigger e-bike brands.
I would consider 'em more of a specialty brand, where their area of expertise is the motorcycle-inspired e-bike.
To me, the Astro Pro looks a lot like a dirt bike or motorcycle, although according to C3Strom, it's a "futuristic moped style".
Regardless, I bet we can all agree these e-bikes look pretty badass.
Let's start this review off with a rundown on the performance specs this bike has to offer.
Pros
750W rear hub motor
1,040 Wh battery
Top speed of 32 mph
8-speed shifter
30 – 78 mile range
Sleek frame
Hydraulic disc brakes
Front suspension fork
LCD console
5 levels of PAS
Front/rear lighting
Turn signals
Puncture-resistant tires
330 lb weight capacity
4A fast charger included
Rear rack
Fenders
App compatible
Cons
Heavy
Seat height not adjustable
Motor
Electric bikes are powered by motors, so when thinking about performance, the motor is reasonably one of the most important things to consider.
E-bike motors come in a few different varieties, but generally speaking, we can compare 'em based on power and location.
By power, we're talking watt output and torque and by location, we're usually talking about rear hub vs mid-drive.
Having more power is a good thing when it comes to acceleration and crushing steep inclines, but you have to keep in mind that having a more powerful motor will drain your battery faster too.
So, if extended range is your thing, going with a smaller motor can sometimes make sense.
But if you're checking out the Astro Pro, I'm gonna assume you're interested in a more powerful e-bike and I don't think it'll disappoint.
This bike comes with a 750W sustained (1400W peak) rear hub motor that can reach a top speed of 28 mph through pedal assist and 20 mph through throttle alone.
It also comes with "off road" mode (can be selected through their app) that bumps that max speed up to 32 mph, which is really fast for an e-bike.
This technically makes the Astro Pro a Class III e-bike, but you should consider that Class III e-bikes aren't legal everywhere.
So before you decide, make sure you know your local rules regarding electric bikes and what's street legal.
But 750W is as strong a motor as you can expect to find in most e-bikes in this price range and I'm not exactly sure anything stronger would be street legal either (that said Juiced Bikes does use 1,000W motors).
The watt output on the Astro Pro is impressive, but so is the amount of torque this motor creates.
At 80Nm of torque, you can expect strong acceleration from this e-bike and most users would agree this bike is pretty zippy off the starting line.
In terms of comps though, Ride1Up's Revv 1 comes with a 750W motor with 95Nm of torque, so there are other e-bikes in this price range that offer more torque.
But regardless, I'd say the Astro Pro has more than enough power to the job done, regardless of whether you're cruising around town or doing a little light off-roading.
Overall, this e-bike comes with a powerful motor and exhilarating top speed (it's going to be hard to find a faster e-bike in this price range).
Battery
But it's not all fun and games, that strong motor needs a power source and that's where the battery comes in.
E-bike batteries come in various sizes and capacities and there are several different specs you can look at when comparing batteries.
But the easiest spec to compare is probably the watt-hour (Wh) rating because this calculation takes both the voltage (V) and amp-hours (Ah) into account.
The Wh rating is measured by multiplying the V by the Ah (Wh = V x Ah) and this gives us a good idea of a battery's overall capacity.
In other words, seeing higher Wh's usually means the e-bike can go longer between charges, but again, stronger motors will pull more power than weaker ones, which will still drain the battery faster too.
Anyway, the Astro Pro comes with a 1040Wh battery (52V, 20Ah), which is as large as I've ever seen on an e-bike in this price range.
A lot of similarly-priced e-bikes use 48V batteries, but Juiced Bikes also uses 52V batteries, although their Ah ratings are slightly lower (19.2).
That said, Ride1Up's Revv 1 also uses a 1040Wh battery, but more on this competitor later on.
This large capacity battery gives the Astro Pro an estimated range of roughly 32 miles on throttle alone and upwards of 78 miles on pedal assist (PAS) level 1.
But let's be real, who in their right mind is gonna ride this beast on PAS 1?
Odds are, you'll be riding this bad boy in PAS 5 or on throttle, so you should realistically expect to get 25 – 30 miles per charge, which is still really good for such a powerful e-bike.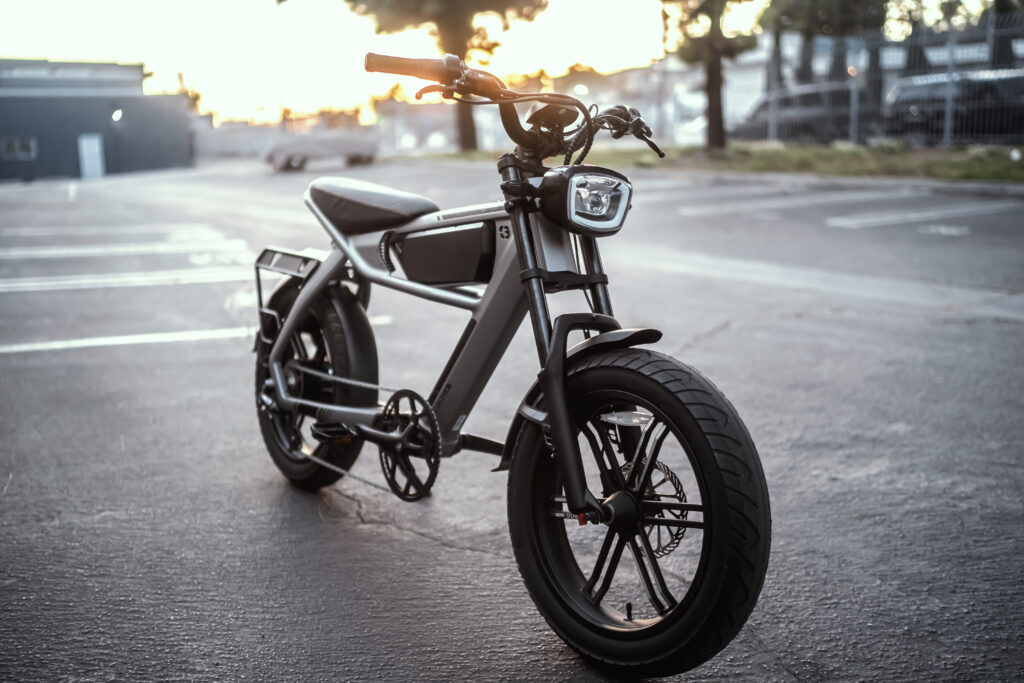 Frame
The Astro Pro's frame is designed to mimic the look of a motorcycle/dirt bike (or "futuristic moped") and I think they nailed the design perfectly.
This e-bike could easily be mistaken for a motorcycle, especially when whizzing by busy city streets.
Only upon closer inspection (and noticing the pedals) would one really know this is actually an electric bike.
This bike looks amazing, but all this awesomeness comes at a price – at 94 lb, this is one heavy bike.
This extra weight can make hauling and transporting the Astro Pro a little more challenging, especially if you live somewhere where you might have to store it up a flight of stairs.
This added bulk is beneficial though, as it allows this e-bike to come with a weight capacity of 330 lb, allowing riders of various sizes to ride it safely.
Speaking of size, if you pay close attention to the seat you'll notice it isn't height adjustable.
It's elongated and cushioned to mimic the look of a moped, but it isn't adjustable whatsoever.
According to C3Strom, most folks between 5'3″ – 6'3″ should be able to ride it fairly comfortably, but either way, you won't be able to fine tune your fit through a height adjustment.
Personally, I don't mind this because I don't think most folks are going to be doing a lot of pedaling on this e-bike, but it's still something to consider.
I also want to point out that the standover height is around 30″, so shorter folks might have a harder time getting on/off this e-bike as well.
Hey, beauty comes at a cost.
Warranty
C3Strom backs their Astro Pro with the following warranty:
Lifetime frame
1 year components
Ok, so, the frame of this bike is covered for life, but everything else (including battery and motor) is only covered for 1 year.
One year for the components for a bike of this price sounds kinda short (and it is), but to be fair, this is the same as what a lot of e-bike brands offer.
Brands like Rad Power Bikes, Juiced, and Ride1Up all offer similar warranties.
Electric Bike Company backs their bikes up with 10 year motor and 5 year battery warranties, but that's certainly not the norm.
C3Strom also offers a 15 day free return for unused bikes.
Features
The C3Strom Astro Pro comes with the following included features:
LCD console- the included display is brightly-lit, making it easy to see your speed and PAS level while riding.
USB charging- the console also comes with a USB charging port, allowing you to charge your phone if the need arises.
8-speed shifter- having the ability to shift through 8 gears makes for a more comfortable pedaling experience, regardless of which PAS level you're on.
Hydraulic disc brakes- these make for smooth and efficient stopping power, something that's important considering how fast this e-bike can move.
5 levels of pedal assist- you can set your PAS depending on how hard you feel like working. Set it at '5' and let the motor do most of the work or set it at '1' and get a workout in.
Half twist throttle- the Astro Pro comes with a motorcycle-like half twist throttle on the right handle, making it easy to cruise regardless of which gear you're in.
4A fast charger- I forgot to mention this earlier, but C3Strom gives you a 4A charger with this e-bike. This means you can get your bike fully charged in 4-5 hours, which is a lot faster than what the 2A chargers a lot of bikes come with can do.
Fenders- front and rear fenders are included with purchase and yes, they look cool, but they also function to keep dirt and water from coming off the tire and getting you dirty while you ride.
Suspension fork- this bike comes with an adjustable suspension fork that can also be locked out, depending on what feel you prefer as you ride.
Rear rack- a rear rack is included, giving you a place to haul goods when needed. And with a 33 lb weight limit, you could throw some serious groceries on there.
Front/rear lighting- it's hard to miss the huge headlight in front (which has high/low beams), but this bike also comes with an integrated tail light.
Turn signals- there's also turn signals, which are a great safety feature when riding in town.
Puncture-resistant tires- finally, the tires. Not only are these tires puncture-resistance, but they're fat (4.25″) for superior traction on uneven terrain and come with a sleek, spoke-less aesthetic.
Price/Comps
Ok, so, as I'm writing this, C3Strom's Astro Pro is selling for $2,699.
This isn't the most budget-friendly e-bike on the market, but it's certainly not the most expensive either.
I'd say most folks looking for a quality e-bike should be prepared to drop around $2k, give or take, so I don't think this price is too over the top.
Especially considering what this e-bike has to offer.
Regardless, I want to compare the Astro Pro to a couple of popular comps to see how it really stacks up against other e-bikes in its class.
And the first one that comes to mind is Ride1Up's Revv 1, which is selling for around $2,395 at the time of writing this.
The Revv 1 is another moto-inspired e-bike and it actually looks very similar to the Astro Pro, although I'd probably say the Astro Pro is just a little sleeker.
In terms of performance though, the Revv 1 is a Class III bike with a top speed of 28 mph and it comes with a 750W (96Nm torque) motor and the same huge, 1,040Wh battery found on the Astro Pro.
The Revv 1 also comes with similar features, although it doesn't come with turn signals or an included rack.
Another motorcycle-like e-bike I want to mention is G-Force's ZM.
It's priced similarly at $2,499 and it too comes with a 750W (86Nm torque) rear hub motor and a top speed of 28 mph.
Its battery is a bit smaller at 960Wh, but it comes with a lot of cool features too, including a 7-speed shifter, enlarged headlight, and colorful LCD console.
At 85 lb, it's also a bit lighter.
But it too is lacking the turn signals, doesn't come with the rear rack, and comes with a slower, 3A charger (and let's be real, isn't as cool looking with its pain design).
So, based on these similarly-priced comps, I'd argue the Astro Pro holds its own quite well.
Final Thoughts
Alrighty, I think that's about all I got here.
All things considered, I really like the Astro Pro and think it's easily one of the best motorcycle-esque e-bikes currently on the market.
It's as sleek an e-bike as I've seen, especially in this price range, and it has the performance specs to hang with any bike in its class.
As mentioned, it's a heavy model and without the adjustable height seat, so it may not be perfectly fitted for all riders.
With regards to the competition, Ride1Up's Revv 1 is very similar, but personally, I think think the Astro Pro has it beat in terms of style.
As e-bikes become more and more popular, I could see more brands coming out with e-bikes like this – you know, in an attempt to make riding an e-bike more fun and exciting.
So, in reference to my title, I would say 'yes', the Astro Pro likely is the future of e-bikes.
Either way, if you're looking for a cool, powerful e-bike to cruise the streets in, I think the Astro Pro is a great buy.