Electric bikes are great because they're fun to ride, good for the environment, and easy to use, but they're also awesome because they come in all shapes and sizes.
Yup, regardless of what you're looking for, odds are you'll be able to find an e-bike to match your style.
These days we've got electric cruisers, cargo bikes, mountain bikes, moped-inspired bikes and yes, even bikes that look a whole lot like motorcycles.
Motorcycle style e-bikes not only look a lot like motorcycles, but they tend to come with more speed and power too… but at a much lower cost than the real thing.
If you're looking for a great motorcycle inspired electric bike, you've got plenty to choose from these days, but before you start buying, you better know what you're doing.
The last thing you wanna do is waste the time and money on a bike just to find it's not what you really wanted.
Luckily, I think I can help.
In this guide, I'll be going over all the specs and features we should be checking out when it comes to motorcycle style e-bikes.
I'll also present my top picks for the category based on the stuff we go over – so after reading, you'll be more than ready to find the right badass looking e-bike.
Let's roll.
Class
Motor
Battery
Range
Features
#1 C3STROM Astro Pro
III
5 levels of PAS
Half twist throttle
750W (1400W peak)
80Nm torque
52V, 20Ah (1040Wh)
32 - 78 miles
20" puncture resistant tires
Headlight/taillight
Turn signals
LCD console
#2 Ride1Up Revv 1
III (pre-programmed as II)
Half twist throttle
750W (1456/1300W peak)
95Nm torque
52V, 20Ah/15Ah (1040Wh/780Wh)
30 - 60 miles
20" x 4" tires
Headlight/taillight
Turn signals
LCD console
#3 Super73-RX Mojave
III (pre-programmed as II)
Thumb throttle

750W (1200W peak)
48V, 20Ah (960Wh)
40 - 75 miles
Heavy-tread tires
Adjustable suspension
LED head/tail lights
Smart console
#4 G-Force ZM
III
5 levels PAS
Half-twist throttle
750W (1300W peak)
86Nm torque
48V, 20Ah or 20Ah + 13.5Ah (960Wh or combined 1608Wh)
60 - 80 miles
20" x 4" puncture resistance tires
LED lights
Hydraulic brakes
Console
#5 Voltsteed V8
III
5 levels PAS
Half-twist throttle
750W (1000W peak)
56Nm torque
48V, 15Ah (720Wh)
35 - 50 miles
20" tires
7-speed shifter
LED lights
LCD console
How To Choose A Motorcycle Style Electric Bike
Alrighty, before we get to far into this, I want to make sure we're all on the same page here – for the sake of this guide, I'm talking about e-bikes that look like motorcycles, not electric motorcycles.
Electric motorcycles are great too, but they're a whole other animal and not what I'll be going over in this article.
The key difference between electric bikes and any other motor powered cycle is that you can manually pedal e-bikes – in contrast, electric motorcycles are 100% powered by a motor (there aren't and pedals).
Ok, I hope that makes sense.
Anyway, when looking for a motorcycle style e-bike, it's a good idea to compare the performance specs and features each bike comes with.
I realize that a big part of opting for an e-bike like this is its appearance, but it's still important to check out the specs that really matter too.
These include:
Bike Class
In the States, California was the first state to officially come up with e-bike regulations and since then, most of the other states have more or less adopted California's regulations.
And according to those regulations, e-bikes are classified into 3 different classes based on their motor performance:
Class I bikes are pedal assist only and have a top speed of 20 mph
Class II bikes have pedal assist and a throttle and both have a top speed of 20 mph
Class III bikes can have pedal assist and/or throttle, but the max speed for pedal assist is 28 mph (still 20 mph for throttle)
Now, with all that said, each state/town/county can have their own rules and regulations regarding what's legal for e-bikes, so you should check with your local area before riding in public.
This is especially true for Class III e-bikes because rules regarding their use can vary greatly.
A lot of states treat class I and class II bikes a lot like regular bicycles, but again, you have to check with your local authorities to see what's allowed in your area.
Rules and regulations regarding helmets, drivers licenses, and where you can ride will vary based on e-bike class and local rules too.
Something else worth considering – most motorcycle style e-bikes push the limit a little on some of these class regulations and can go faster than the 28 mph top speed listed for a class III bike.
This means all motorcycle style e-bikes might not be street legal in your area (or you might have to ride them at a certain level of pedal assist).
So, if you get busted, just know you've been warned!
Motor
E-bikes come with motors of various sizes and strengths, so it's a good idea to have at least a rudimentary understanding of what all these motor specs mean.
When it comes to motors, power is probably the most important spec for most of us, but you might want to consider the torque rating too.
A bike's motor power is measured in watts and most motorcycle style e-bikes come with higher output motors in the 500 – 1000w range.
Having a more powerful motor is beneficial when it comes to going up hill, accelerating rapidly, or pulling cargo, but keep in mind it'll also drain your battery faster.
A motor's torque refers to the amount of rotational force it can generate and it's used to calculate its power (along with speed, measured in rotations per minute [rpms]).
It's also worth knowing that there are different types of e-bike motors, including hub and mid-drive motors, and they each come with their own advantages/disadvantages (for more info on this stuff, check my e-bike buyer's guide).
Battery
It's fun to talk motors and power, but the bike's battery is just as important.
On an e-bike, the battery can be thought of as the gas tank and having a larger tank means better range.
When comparing batteries, look for the amp hours, Ah – this is a measurement of the battery's capacity and it basically tells you how large the "gas tank" is.
You'll also see the voltage listed and this is a measurement of how fast the power can get from the battery to the motor (more volts equals more power to the motor faster = better performance).
You might also see watt hours (Wh) listed – watts is basically the combination of amps and volts and this number gives you a good idea as to how far the bike can go on a full charge.
Range
If you're not an electrical engineer and the above terms sound a little Greek to ya, don't worry – bike manufacturers will do the math for ya and provide an expected range.
The range tells you how far you can expect to go on a full charge, measured in miles (here in the States anyway).
Just keep in mind, the range will vary greatly depending on how you're using your e-bike.
The more you pedal, the farther that battery will get ya – if you're only using the throttle, your range will be significantly shorter.
Most motorcycle style e-bikes come with ranges in the 30 – 75 miles per charge, depending on the battery, the motor, and how you're riding.
Features
Finally, you'll want to consider what features and accessories your e-bike comes with – this is the fun part.
As I mentioned earlier, e-bikes these days come in all varieties and there's really no limit on the features found on these bikes now.
Motorcycle styled e-bikes tend to come with robust frames, fat tires, and all kinds of extra goodies, like lights, horns, rear-view mirrors, storage racks, elongated seats, and much more.
When comparing these cool bikes, don't forget to check out what additional accessories they're compatible with too.
Some brands offer extensive options when it comes to add-ons, others not so much.
Ok, I think that about does it for a quick guide on what to look for when comparing these bikes. Let's get to the fun stuff already…
The 5 Best Motorcycle Style E-Bikes
#1 The C3STROM Astro Pro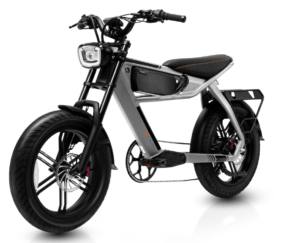 C3STROM is a relatively new brand (only been around since 2020) and at the time of writing this, the Astro Pro is their only e-bike… but boy is it a beauty.
At first glance, it's hard to imagine how any e-bike could look more like a motorcycle.
I mean loose the pedals and the Astro Pro could easily be mistaken for a motorcycle, especially if you're seeing it from the front.
Anyway, looks aside, the Astro Pro is packing some impressive performance specs too.
The heart of this bike is its 750W (1400W peak) rear hub-drive motor that can reach a top speed of 32 mph when in "off road" mode.
Speaking of which, the Astro Pro is technically a Class III bike, but you can set it to function as a Class I or Class II bike as well (with their appropriate speed limitations being enacted).
And with 5 levels of pedal-assist to choose from and a half throttle, you have a lot of control over how much assistance you get from the motor.
The Astro Pro also comes with a large capacity, 1040Wh Samsung battery (52v x 20Ah) that gives you a range anywhere between 32 – 78 miles, depending on how much assistance you use.
Other highlights of this gorgeous e-bike include an extra long saddle, a huge front headlight with low and high beam options, 20″ fat, puncture-resistance tires, and a futuristic LCD display.
This e-bike also comes with 8 gears for easier pedaling and a weight capacity of 330 lb, allowing for larger riders and cargo hauling.
One thing to consider though, is that this bike weighs just over 94 lb, so it isn't light – something to keep in mind if you see yourself having to carry it upstairs on the reg.
Overall though, C3STROM's Astro Pro is the perfect example of what a motorcycle style e-bike can and should be. If you're looking for a powerful e-bike with loads of features, this is a great choice. See full review.

#2 Ride1Up Revv 1 Electric Moped Bike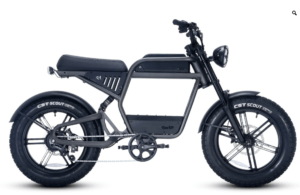 Ride1Up's another great brand with a nice selection of e-bikes to choose from.
And their bikes are very reasonably priced, allowing you to get high-end specs without having to pay as much as a lot of other brands ask.
When it comes to Ride1Up's lineup, the Revv 1 is at the top of the food chain – and even though it's referred to as a "moped bike", it looks a lot like a motorcycle to me.
The Revv1 is quite sleek, but its performance specs are just as impressive.
This e-bike comes with a 750w rear hub-drive motor that can reach a top speed of 28+mph, making it a Class III bike (and more) – but it comes programmed as a Class II bike with a top speed of 20 mph.
For your safety, Ride1Up makes you contact them directly to learn how to unlock "off road" mode – sure, it's a little extra work, but I applaud 'em for taking your safety seriously.
You can choose between 2 packages with the Revv 1 (HT or FS) and the some of the features will vary based on which option you choose.
The FS or "full suspension" package is higher-end and with that choice you get a 52V, 20 Ah (1040 Wh) battery that will give you an expected range of somewhere between 30 – 60 miles on a single charge.
On the Revv 1, you can choose between varying degrees of pedal assist and it does come with a throttle as well.
Additional features include a large headlight, fat tires, a rear brake light, turn signals, an LCD console with speedometer, and a key operated removable battery.
The Revv 1 also comes with a max weight limit of 400 lb and should be able to comfortably fit riders up to 6'4″, so larger folks can use it too.
Like the Astro Pro above though, this e-bike is also quite heavy (93 lb), so it's not the most portable option around.
But if you're looking for a great looking motorcycle-esque e-bike that won't destroy your budget, Ride1Up's Revv 1 is a smart choice. See full review.

#3 Super73-RX Mojave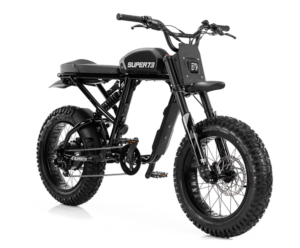 Super73 is a California-based brand that's been around since 2016 and in that time they've mastered the art of creating e-bikes that look like motorcycles.
Personally, these bikes look a little more like dirt bikes to me, but that's just semantics – the point is, these e-bikes look great.
The RX Mojave is one of their highest-end bikes to date and it's got a lot to be proud of.
Like the 2 bikes already mentioned, the Mojave can be used as a Class I, II, or III bike, allowing you to choose which mode you'd like to use it in.
There's also an "off-road" mode that lets you reach top speeds of 28 mph+ with only using the throttle… but again, be careful because it's probably not legal to ride like that on any roads.
The Mojave comes with a 750w motor (1200w peak) and a 960 Wh battery (48V x 20Ah).
The battery capacity on this e-bike is a little smaller, but it can still offer an expected range of 40 – 75 miles, depending on which riding mode you're using.
Additional features you can expect to find on this rugged bike include very grippy tires, an adjustable full suspension, a thumb throttle, a removable battery, LED head/tail lights, and a horn.
Oh, and the Mojave also comes with a really cool console – it's bluetooth compatible with your phone, so you can download the app to get all kinds of features, like navigation, a speedometer, and the ability to view your battery level.
The Mojave is also a little lighter, weighing in at around 84 lb and comes with a weight limit of 325 lb.
Overall, if you're looking for a sleek motorcycle/dirt bike inspired e-bike, Super73's RX Mojave might just be what the doctor ordered.
#4 G-Force ZM Electric Bike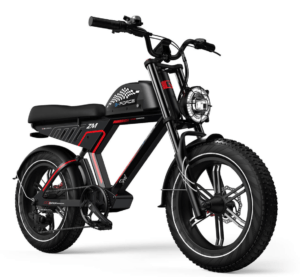 G-Force's ZM certainly has that motorcycle look, what with the elongated saddle, prominent headlight, and front/rear fenders, and I'd have to say I find the red accent on the frame to be pretty darn sleek lookin' as well.
Yup, the ZM is a great looking bike, but it also comes with some interesting features.
For starters, G-Force gives the option to choose between a single 20 Ah battery, or a combo of a 20Ah and a 13.5Ah battery (both 48V).
The extra battery bumps the price on this e-bike up by about $300 or so, but having the extra battery will ensure the motor keeps trucking for those longer rides.
Speaking of the motor, the ZM comes with a 750W (1300W peak) rear hub drive motor that can reach a top speed of 28 mph with pedal assist.
With a top speed this fast, the ZM would be considered a Class III bike – it also comes with 5 levels of pedal assist to choose from as well as a half twist throttle.
The expected range for this e-bike depends a lot on how much motor you're using and whether you opt for the single battery or both.
G-Force has a very detailed range chart on their site, but to summarize, you're probably looking at somewhere between 37 – 80 miles with the 20Ah battery and 60 – 135 miles with both batteries (the 135 mile range is with a pedal assist of 1 only and no throttle).
Average all this out and realistically you can expect a range somewhere between 60 – 80 miles per charge.
Other great features include an adjustable front suspension, hydraulic disc brakes, LED headlight/taillights, and 20″ x 4″ puncture resistant tires.
It also comes with a full color LCD console which shows your speed, odometer, pedal assist level, as well as other great info.
Oh, and it has a USB charging port too, so you can even charge your phone while you ride.
This beast also has a max payload capacity of 400 lb and should be able to fit most riders between 5'3″ and 6'5″, so it's ready for riders of all sizes.
Overall, if you're looking for an affordable motorcycle-looking e-bike with some really cool features, G-Force's ZM is definitely worth checkin' out.
#5 Voltsteed V8 Electric Bike
Rounding out my list, is an affordable e-bike by Voltsteed, a newer brand that at the time of writing this, is only offering this single bike.
The "V8″ is a great name, but in reality this bike isn't quite as powerful as some of the other e-bikes already mentioned, but for the price, it's still got a lot to offer.
More specifically, the V8 comes with a 750W (1000W peak) rear hub drive motor and a 48V, 15Ah (720Wh) Samsung battery.
This combination should give most riders an expected range of somewhere between 35 – 50 miles, depending on much power you're using.
The V8 comes with 5 levels of pedal assist (as well as a '0' level that turns off the motor completely, so you're doing all the work) as well as a half twist throttle.
As a Class III e-bike, the V8 has a top speed of 28 mph, so be careful about how you ride it in public.
Other nice features include 20″ fat tires, 7-speed gear shifter, front suspension, LED headlight/taillights, and an LCD console with USB charging.
The V8 also has a payload capacity of 330 lb and should be able to comfortably fit most riders between 5'2″ – 6'2" tall.
Overall, the Voltsteed V8 is a good looking, affordable e-bike with a nice collection of specs and features – it's also only about 57 lb, so it's easier to move.

Final Thoughts
Ok, there ya have it.
I'd just like to say I had a lot of fun researching for this guide – these e-bikes are really cool.
I live out in the country, but if I lived closer to town or in a city, I could totally see myself cruising around in one of these things.
Anyway, when comparing e-bikes that look like motorcycles or not, you need to compare those performance specs – if nothing else, check the motor strengths, battery capacities, and expected ranges.
You also have to keep those Classes in mind – most motorcycle style e-bikes are Class III bikes because of their top speeds, but most of them can also be set as Class I or II bikes as well.
So just keep your local biking laws in mind when considering an e-bike.
The fun part is of course comparing all the extra features and add-ons these bikes come with – consoles, lights, horns, braking, gears, weight limits… all stuff that needs to be considered before buying.
Well, that's about all I got.
I hope you found this guide helpful and at least a little entertaining and as always, if you have any questions or know of any e-bikes that deserve a spot on this list, please leave a comment and I'll get back to you shortly.
Happy cruising!