Ride1Up has launched an all new e-bike, the Prodigy V2, and boy is it a doozy.
The V2 is a follow up to their popular mid-drive e-bike, the Prodigy, and it comes with the same Brose mid-drive motor and the same 504Wh battery found on its predecessor.
But there is one key upgrade here – the Prodigy V2 comes with the option to go all-in with an internal gear hub with a continuous variable transmission (CVT).
Not only does this look sleeker and reduce the risk of damage that comes with a derailleur, but with a CVT, you can essentially make unlimited gear adjustments and easily change gears from a dead stop (without the clunking that comes from a derailleur).
CVT is a significantly more advanced transmission system and it's pretty unheard of to find one on an e-bike under $3000.
This alone likely makes the Prodigy V2 worth the investment, but Ride1Up's new bike also comes with an updated frame design, a carbon belt drive, and more.
Overall, I think the Prodigy V2 is a home run, but before you decide, you gotta do your homework – and that's where I come in.
In this review, I'll go over all the specs and features this e-bike comes with, but I'll also compare it to some of the other top options in its price range.
This way you can really see how it stacks up and whether or not it's really worth the investment.
Well, let's get to it already.
Quick Stats
| | |
| --- | --- |
| Motor | 250W mid-drive |
| Top Speed | 28 mph |
| Battery | 504Wh |
| Range | 30 - 50 miles |
| Weight Limit | 300 lb |
| Weight | 61 lb |
The Ride1Up Prodigy V2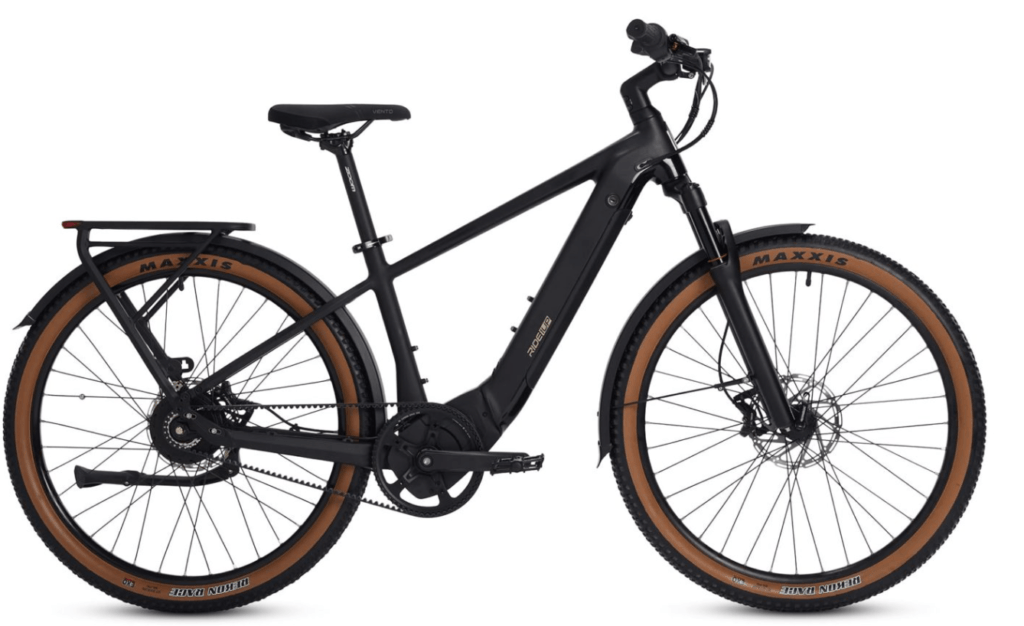 Ride1Up prides themselves in offering e-bikes with higher quality components than you'd expect for their reasonable price ranges and when you check out their lineup, it's hard to argue.
When you compare Ride1Up bikes against other brands in their price range, Ride1Up always has equal or more impressive performance specs.
And they tend to be a little more affordable as well.
Speaking of price, they offer e-bikes of all styles and as of the time of writing this article, all of their bikes cost well under $3k, putting them in the sweet spot when it comes to getting a quality e-bike that won't devastate your budget.
The Prodigy V2 we're here to talk about now is only the second mid-drive e-bike they've come out with – the other being the Prodigy.
Speaking of which, the Prodigy is still a pretty great deal in its own right and it looks like Ride1Up has dropped the price on it a little more since releasing their V2.
So, if you don't care about the CVT, it might be worth looking into…
Anyway, let's start things off with a rundown on the Prodigy V2's performance specs and then move on from there.
Pros
Mid-drive motor with 90Nm of torque
Gates belt drive
Option to get CVT hub
Top speed of 28 mph
4 levels of PAS
Torque sensor
30 – 50 mile range per charge
4 different frame options
300 lb weight limit
Rear rack included
Large, grippy tires
Hydraulic disc brakes
Front suspension fork
Front/rear lighting
Fenders
Great price
Cons
No throttle
Folks under 5'1″ may not fit comfortably
Motor
The motor is what really differentiates an e-bike from a traditional bicycle, so it's probably a good place to start when checking out any prospect.
When looking at e-bike motors, it's important to think about location and power.
In terms of location, we're talking about where the motor is physically placed on the bike – and these days, we're usually talking about either a rear hub motor or a mid-drive motor.
Each motor has its advantages and disadvantages (check out my article on rear hub vs mid-drive motors for more info), but the Prodigy V2 comes with a mid-drive motor, so I'll skip the rear hub speech for now.
Mid-drive motors are located in the middle of the bike with the pedals and they generally provide a smoother, more natural feel.
This is mostly because they allow the motor to take advantage of the different gear settings, unlike a rear hub motor which cannot.
Specifically, the Prodigy V2 comes with a Brose, 250W mid-drive motor that'll reach a top motor-assisted speed of 28 mph (making it a Class III e-bike).
In terms of wattage, 250W is on the smaller side, but don't let this fool you – this motor comes with 90Nm of torque, so it won't have any trouble climbing hills.
FYI, torque (rotational power) is a better gauge of how well an e-bike will be able to climb hills and seeing torque ratings over 60 Nm is a good sign.
Brose is a German brand and many consider their mid-drive motors to be some of the finest being used in e-bikes at the moment – so the fact that Ride1Up is using this motor on their V2 is a pretty big deal.
Anyway, since mid-drive motors benefit from being able to take advantage of the different gears, they can often achieve higher torque outputs without needing higher wattages.
This is awesome because it means you can get powerful performance with better mileage.
The fact that the Prodigy V2 uses a torque sensor also improves mileage.
Unlike a cadence sensor, which simply turns the motor on whenever it detects you pedaling, a torque sensor measures how hard you're pedaling and provides sufficient motor assistance to match your output.
The result is a smooth, natural pedaling motion – the motor doesn't take over, it simply augments your effort.
That said, the Prodigy V2 doesn't come with a throttle, so you're going to have to pedal everywhere you go.
Some mid-drive motors do come with throttles, although a lot don't – again, these motors are designed to augment your pedaling effort, so it means you should be pedaling in the first place.
Overall though, the V2 scores highly with its powerful, smooth acting mid-drive motor; it'll also have plenty of muscle to power you up most inclines.
Battery
I enjoy talking about motors and power as much as the next person, but we all know there's a lot more to an e-bike than its motor.
I would say the battery powering that motor is at least as important, albeit not quite as fun to talk about.
But we're all mature e-bikers here, so we don't mind taking the time to inspect a battery before diving head first into a purchase.
When checking out batteries, it's probably easiest to go right to the watt-hour (Wh) rating because this spec gives you a great idea as to the true capacity of the battery.
This spec is found by multiplying the voltage and the amp-hour ratings (Wh = V x Ah) and seeing a higher Wh rating typically means a larger battery capacity.
Although in reality, motor size, rider size, road conditions, and several other factors effect real world mileage.
With this in mind, the Prodigy V2 comes with a 504Wh (36V, 14Ah) battery that should get most riders somewhere between 30 – 50 miles per charge.
In terms of battery size, 504Wh isn't especially large, considering plenty of commuters come with 672 – 720Wh batteries.
But when combined with the 250W mid-drive motor and torque sensor, it's still able to offer a generous range (while helping to keep the total bike weight down as well).
If you're relying heavily on the motor (PAS level 4) and riding over hilly terrain, you can expect to be around 30 miles per charge; if you do more of the work yourself, you can get closer to 50 miles.
Regardless, 30 – 50 miles per charge is impressive for any e-bike.
I also want to mention that the Prodigy V2 (LS/LX models) also comes with a Gates carbon belt drive instead of a traditional chain.
Gates belts are designed specifically for bikes and they provide a quieter, lower-maintenance option when compared to chains, so this is another nice upgrade.
Overall, the battery on the V2 isn't massive, but it still provides a great range when combined with the efficient motor and torque sensor.
Frame
The Prodigy V2 is available in 4 different frames: ST (step-through), XR (step-over), LS (step-through with CVT), and LX (step-over with CVT).
It's nice being able to choose between a step-over or step-through frame because each is better equipped at fitting folks of different sizes.
The step-through frames should fit most folks between 5'1″ – 6'3″, while the step-over frames will fit most riders between 5'6″ – 6'4″.
The LS/LX models also weigh a little more than the options that are lacking CVT (61 lb vs 58 lb), which is expected because internal hubs weigh a little more than derailleurs.
It's also interesting that Ride1Up offers the V2 without the CVT upgrade because without it, the V2 is very similar to the older Prodigy.
So if you don't care about the CVT upgrade, again, you might want to check out the Prodigy and save a few extra bucks.
FYI, if you opt for the V2 without CVT, it'll come with a 9-speed derailleur.
All frames come with the same 300 lb weight capacity and all have the same rear rack with a 40 lb payload capacity as well.
Overall, I like that Ride1Up gives us a choice when it comes to the frame here.
Warranty
Ride1Up covers the Prodigy V2 with the following warranty:
That warranty covers the motor, battery, and pretty much any other component that could malfunction, so you're well-covered for that first year.
After that though, you're kinda on your own.
As e-bike warranties go, this is pretty standard, especially for this price range.
Quality brands like Rad Power Bikes, Juiced Bikes, and others also offer a single year warranty (that said, some brands, like Aventon, do offer extended guarantees).
Overall, Ride1Up's warranty isn't amazing, but it isn't awful either.
Features
The Ride1Up Prodigy V2 comes with the following features:
1.5″ LCD console- the color display makes it easy to see all your riding metrics as well as PAS level during use.
Torque sensor- I mentioned this earlier, but the torque sensor measures how hard you're pedaling during rides and gives you enough motor assistance to augment your efforts. The result is a smooth motor assistance that doesn't drain your battery as quickly.
4 levels of pedal assist (PAS)- the V2 comes with 4 different PAS levels, giving you some freedom on how much help you get from the motor.
CVT/9-speed shifter- you can choose between the CVT transmission mentioned earlier and a traditional 9-speed derailleur. The CVT allows you to make gradual changes in gear, essentially fine-tuning your performance as you see fit. You can also change gears from a stopped position, something a traditional derailleur fails to offer.
Hydraulic disc brakes- this e-bike comes equipped with 4-piston hydraulic disc brakes for optimal stopping power regardless of speed.
27.5″ x 2.25″ tires- the tires on the V2 are large in diameter and just a little wider than the tires found on the older Prodigy. The result is a tire that works well on both paved and rougher terrain without giving up too much in the range department.
Front suspension fork- all frame options come standard with an air suspension front fork, making for a smoother ride regardless of the terrain you're riding on.
Integrated lighting- the V2 comes with both a front headlight and a rear light for optimal visibility when riding after dark.
Rear rack- the integrated rear rack gives you a place to haul goodies when the need arises and with a 40 lb limit, you'll be able to carry plenty of cargo.
Fenders- finally, front/rear fenders are included to help keep you dry and clean when riding over dirty/wet roads.
Comps
Inevitably, prices will change, so don't be surprised if what I'm writing here isn't 100% accurate by the time you read this, but as I'm writing this, Ride1Up has the Prodigy V2 listed for:
XR/ST frames – $2,395
LS/LX frames – $2,695
Ok, so going with the upgraded CVT option bumps the price of the V2 up by $300, which is to be expected.
The XR/ST options are fine, but personally, I think it's the CVT that really puts the V2 in a league of its own, so I'm going to ignore the XR/ST frames for now.
Instead, I wanna compare the LS/LX options to some comps to see how it stacks up against the competition.
Honestly, I wasn't able to find many e-bikes in this price range to compare the V2 against because there just aren't many mid-drive, CVT options under $3k.
But I did find a couple…
The first comp I want to mention is EVELO's Galaxy SL, which costs around $2,299.
The Galaxy SL comes with a 500W mid-drive motor, an Enviolo CVT transmission, and a 468Wh battery that could get you up to 50 miles on a single charge.
The motor on the SL is stronger, but this e-bike uses a chain drive and can only fit riders who are up to 5'10" tall.
There's also EVELO's Galaxy Lux, which costs just a bit more at $2,959.
The upgraded Galaxy Lux comes with a 500W mid-drive motor, a 556.8Wh battery, a Gates belt drive, and Enviolo's Automatiq CVT transmission that automatically shifts gears for you based on your preferred riding cadence.
The Galaxy Lux also comes with a range up to 55 miles, but again, it can only handle riders up to 5'10" tall and it doesn't come with a suspension fork (the tires are also only 24″ as well).
Still a nice bike though.
Final Thoughts
Ok, I think that's about all I got here.
All things considered, I think Ride1Up has one hell of an e-bike here – I'd be shocked if the Prodigy V2 didn't rapidly become one of their top sellers.
There's just not much to complain about and trust me, I like to complain.
If I had to complain about something, I'd say that the motor could be a little larger, but with 90Nm of torque at your disposal, I just don't think most riders are going to notice.
And again, the fact that you can get a Brose mid-drive motor, a carbon belt drive, and a CVT hub for $2700 is kinda hard to believe.
Especially considering all the other goodies it offers, like choice of frame, tire size, suspension fork, and rear rack.
As I mentioned above, I'm not aware of many e-bikes that even come close in this price range, but EVELO does have a couple of similar options.
Personally, I think I'd go with the V2 over either of the EVELO options, but at 6'1″, I wouldn't have much choice anyway.
Overall, I think Ride1Up has a winner here.
If you're looking for a sophisticated mid-drive e-bike, it's going to be hard to find a better one in this price range.