Sole's SB900 is a heavy-duty, affordable indoor cycle that's backed by a great warranty – wow, I feel like I really summed things up nicely there, but I should probably go into a little more detail.
More specifically, this bike comes with a 48 lb flywheel, a micro-adjustable magnetic resistance system, and a weight capacity of 300 lb.
It doesn't have the most sophisticated console in the world, but it still comes with a simple LCD monitor that displays all your workout data and it's also heart rate strap compatible.
And with an included tablet holder, it's easy enough to follow along with streaming workouts from your tablet.
All things considered, I think the SB900 is easily one of the best indoor cycles on the market today, especially for folks looking for a no thrills bike that's built to last.
But before you start pulling out credit cards, you have to know exactly what this bike's all about – and that's where I can help.
In this review, I'll be going over everything this indoor cycle does and doesn't have going for it, as well as how it stacks up to some of the other top options in its price range.
After reading, you'll know whether or not the SB900 is the right exercise bike for your home.
Let's do this.
The Sole SB900 Indoor Cycle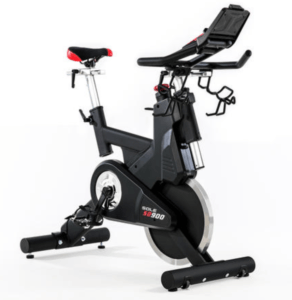 I'm a fan of pretty much everything Sole does.
Actually, that's a bit of an understatement – I think they're the best moderately priced home fitness brand around.
I say that because I like how Sole emphasizes performance and build over tech features… which is becoming increasingly rare these days.
That said, if you're on the market for tech savvy bike or treadmill with streaming features, Sole isn't the right brand for ya.
But if you're looking for a straightforward piece of cardio equipment that doesn't require a monthly membership fee, Sole is a great brand to consider.
Anyway, they have a pretty generous lineup of cardio machines, but they've only got 2 indoor cycles to choose from – the SB900 and the SB700.
The SB900 we're here to go over now is their most advanced cycle to date and comes with a few key upgrades over their SB700.
Pros
48 lb flywheel
Micro-adjustable magnetic resistance system
Belt drive
Heavy-duty frame
300 lb weight limit
Fully adjustable seat
Fully adjustable handlebars
Heart rate monitor compatible
Dual-compatible pedals
Tablet holder
STUDIO compatible
Compact
Incredible warranty
Cons
Simple console
No built-in workouts
Resistance
I like to start all my reviews off with a rundown of the performance specs and it just turns out this is where the SB900 really shines.
Especially if you prefer the old school feel of a really heavy flywheel.
More specifically, the SB900 is packing 48 lb under the hood, which should be heavy enough to count as "heavy" in anyone's book.
And even though a lot of affordable cycles come with heavy flywheels these days, there aren't many packing more weight than this.
With a flywheel this heavy, you won't have to worry about the SB900 being able to create enough momentum for a smooth pedaling motion.
And with such a heavy flywheel, you won't have to worry about this bike being able to create enough resistance either.
Sole pairs that heavy flywheel with a micro-adjustable magnetic resistance system, which has its advantages and disadvantages.
The fact that it's a magnetic system and not a friction brake is an immediate advantage in my opinion because magnetic resistances are a bit smoother and quieter.
And the fact that it's micro-adjustable allows you to make really small adjustments to the resistance, allowing you to fine tune your intensity throughout each workout.
On the downside, with a micro-adjustable resistance system, you don't have any set "levels", so it can make it a little harder to replicate workout conditions or follow along with other streaming workout apps.
Something to consider.
Users seem to agree though, that the SB900 offers a quiet, smooth riding experience and can offer enough resistance to challenge riders of all skill levels.
Overall, I'm impressed by the heavy flywheel and smooth acting magnetic system.
Frame
The SB900 scores highly in the resistance department, but it scores just as highly with its ridiculously heavy-duty frame.
And I hate to use that term ("heavy-duty") because I know fitness bloggers and marketers use it to death – so much so that it loses all meaning and credibility whatsoever.
But in this case, it's just the best adjective to describe this cycle.
And I mean it quite literally when I say this bike is heavy-duty, the SB900 comes with an assembled weight of 160 lb, which is crazy heavy for an indoor cycle.
For the sake of comparison, my Peloton weighs around 135 lb and that thing is rock solid.
And Schwinn's similarly priced IC4, which is a great bike in its own right, only weighs in at around 106 lb – and we could come up with a ton of similar examples.
My point is, the SB900 is as heavy a bike as you're gonna find regardless of price range.
I like to look at the assembled weight spec because it can give us a good idea as to how stable a bike will feel during use – with heavier always being a good thing.
With such a heavy weight, you shouldn't have to worry about the SB900 feeling stable and secure during workouts.
It also comes with a respectable weight capacity of 300 lb, allowing it to accommodate folks of most sizes safely.
And in terms of physical size, with a footprint of only 40″ x 21″, the SB900 is actually pretty compact compared to most indoor cycles.
Overall, I love how heavy this bike is because it's going to make for a more commercial-like feel during workouts (just keep this in mind before you try to move it).
Warranty
Sole backs their SB900 Indoor Cycle with the following residential warranty:
Lifetime frame
3 year parts/electronics
1 year labor
Hey, I told ya Sole doesn't mess around when it comes to their warranties.
I can confidently say, without exaggeration, that this is one of the best warranties you're going to find on any indoor cycle in any price range.
It's rare to see a lifetime frame guarantee these days – most brands stop at 5- 10 years on the frame.
Three years on parts is also better than the 1-2 years most others offer.
A year on labor is pretty standard stuff, so nothing too interesting to see there.
But overall, you're not going to find a better warranty in this price range… not even close.
Oh, Sole also backs the SB900 with a light-commercial warranty (same as the residential warranty above).
The fact that a bike in this price range comes with any light commercial warranty is pretty special in its own right, but Sole's commercial guarantee is really generous too.
Well played Sole, well played.
Features
The Sole SB900 comes with the following included features:
LCD console- the console on this bike measures 3″ x 4″, which is small compared to the huge HD touchscreen displays found on some cycles these days, but it's still large enough to easily see all your workout data. There aren't any built-in workouts or anything fancy here, but its battery operated, so you don't have to mess with plugging it in. It's worth knowing that some users have complained that the console isn't very user friendly and it isn't much good for anything other than simply viewing your stats.
Heart rate monitor compatible- that said, the console is compatible with chest strap heart rate monitors, although Sole doesn't specify which ones (one isn't included). Some users have reported that Polar telemetry straps work, but if you're curious, you might want to double check with Sole directly.
Fully adjustable seat- you can adjust the height and horizontal (fore/aft) position of the seat, making it easy to find a comfortable riding position.
Fully adjustable handlebars- you can also adjust the height and fore/aft position of the handlebars for even more customization.
Dual-compatible pedals- the pedals come with a toe cage on one side and are SPD compatible on the other, so you can wear cleats or sneakers while riding this cycle. You can also swap 'em out easily if you prefer another style of cleat.
Tablet holder- there's a built-in tablet holder above the console, allowing you to watch your tablet or connect with other streaming apps during workouts.
STUDIO compatible- STUDIO is Sole's streaming platform that gives you access to some workouts, as well as metric tracking. You get a free trial with purchase and then I think it's $19.99/month. Unlike some bikes, you don't need to subscribe to STUDIO to use the SB900, but it's there if you want to check it out.
Water bottle holder- yups, there's a place to store your water bottle.
Price
Ok, by now it's probably kinda obvious that I think the SB900 is an awesome cycle, but I still want to discuss price a little and compare it to some of the other top bikes in its price range.
At the time of writing this, Sole has the SB900 on sale for $899, which I think is a fair price.
But…
As I'm writing this, Amazon has the SB900 listed for $599, which is a ridiculous price.
I have no idea how long this price will be accurate, so I apologize if its more expensive by the time you read this, but man – that's a great price.
That said, it's not fair to any of the $500 – $600 cycles to be compared to the SB900, so I'm going to still use the ~$900 price range for my comps.
And in that price range, the Schwinn IC4 I mentioned a little earlier is one of the top bikes.
The IC4 comes with a 40 lb flywheel, 100 levels of magnetic resistance, dual-compatible pedals, bluetooth, and an included pair of 3 lb dumbbells.
It's also backed by a decent warranty- 10 year frame, 3 year parts, 1 year labor.
In other words, the IC4 is also an awesome bike, but it's not nearly as heavy-duty as the SB900 and Sole's warranty beats it out (not to mention the IC4 goes for $800 – $1k depending on where you find it).
At around $1k, there's also Diamondback's 1260sc, which comes with a 31 lb flywheel, 16 magnetic resistance levels, a heavy-duty frame, and a self-generating power source.
But Diamondback only backs the 1260sc's frame with a 5 year warranty.
So, based on these comps, I'd argue the SB900 holds its own just fine…and then some.
Final Thoughts
I don't have much to complain about when it comes to the SB900.
I love how insanely heavy-duty this thing is from top to bottom and I love the confidence Sole exudes by backing it with such a long warranty.
The biggest drawback I see is that the console is very basic – so if you're looking for a more advanced console with more sophisticated streaming capabilities, the SB900 probably isn't your best option.
But if you're looking for an indoor cycle that' easy to use and built to last a lifetime, there's no finer option in this price range (and I still can't believe that price on Amazon).
Easily one of the best indoor cycles on the market.