The R50 is Matrix's premiere recumbent bike and as such, we should expect plenty of top notch specs and features (especially considering the price).
Well, the R50 doesn't disappoint here and it even comes with a few features we don't normally see, even on higher-end models.
Like a dual-form frame for added stability and the largest, most comfortable backrest you're likely going to come across on a recumbent bike.
And this being Matrix, of course the R50 comes with a heavy-weight frame, a smooth acting magnetic resistance system, and one of the longest warranties in the biz.
And with the ability to choose between 4 consoles, you can go as simple or as tech-savvy as you please.
And by tech-savvy, we're talking HD touchscreens with entertainment apps, screen mirroring, and instructor-led workouts via iFit.
If you're looking for a high-end recumbent bike, I think Matrix's Cycle R50 is one of the best options out there, but all this awesomeness isn't cheap.
Before you buy, you need to make sure this is the right bike – and that's what I can help with.
In this review, I'll take ya on a tour of everything this bike does and doesn't have to offer, but I'll do ya one better and also offer a comparison to some of the other top recumbents in this price range.
After reading, you'll have a better idea as to whether or not the Cycle R50 is really worth investing in.
Let's roll.
The Matrix Cycle R50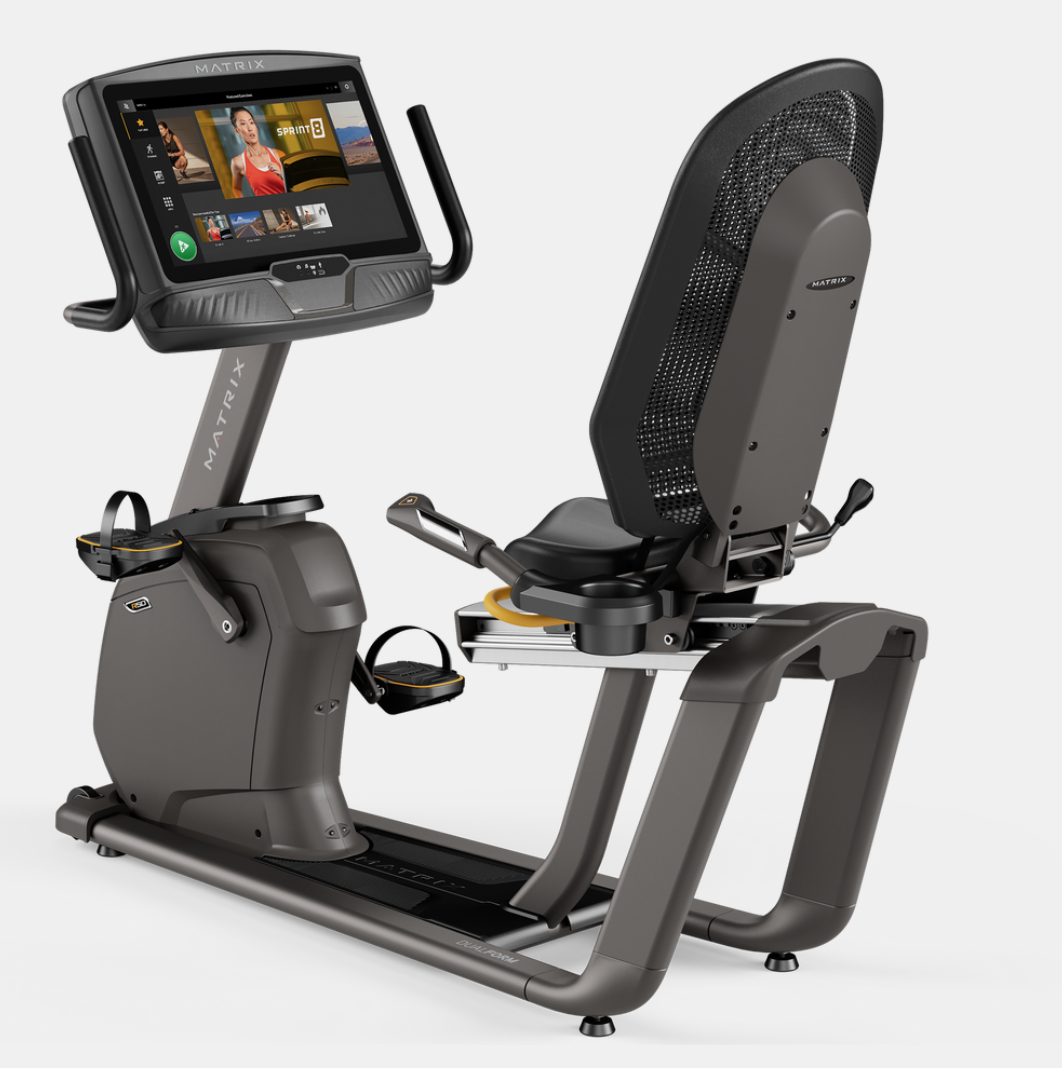 Matrix began as a commercial brand back in 2001 and decided to start offering a residential lineup around 2016.
FYI, they're owned by Johnson Health Tech, the same company that owns Vision and Horizon Fitness (another great brand by the way).
Matrix is Johnson's highest-end brand and according to them, they're one of the fastest growing fitness brands in the world.
I'm not sure if that's true or not, but it's hard to deny that their home lineup is pretty impressive.
The Cycle R50 we're here to go over now is one of two recumbent bikes they offer, with the other being the more affordable Cycle R30.
Let's start things off with a rundown on the performance specs.
Pros
Advanced magnetic resistance system
30 resistance levels
Heavy-duty frame
350 lb weight limit
Large, adjustable backrest
Low step-thru frame
Choice of 4 different consoles
Access to built-in entertainment apps*
Screen mirroring*
Web browser*
iFit ready
USB charging*
Built-in workout programs
Bluetooth compatible
Strap heart rate monitor included*
Great warranty
Cons
Advanced consoles get pricey
*depending on console choice
Resistance
Recumbent bikes are known for their added comfort and being even lower impact than the other exercise bike varieties, but that doesn't mean they can't perform.
Recumbents, just like most other exercise bikes, create their resistance by using spinning flywheels and magnetic systems.
And as long as these components are up to the job, recumbent bikes can still offer tough resistances and smooth pedaling motions.
More affordable recumbents will use weighted flywheels and moving magnets to provide their magnetic resistance, but Matrix has created their own system.
Known as the Exact Force™ Induction Brake, Matrix's resistance system doesn't rely on moving magnets – instead, the magnetic force is increased or decreased by sending more or less power to the magnet (I'm assuming, I'm not an electrical engineer).
Regardless, the result is instant resistance changes without having to rely on moving magnets.
Which is great, because other brands have issues with these moving magnets getting stuck in one position or the other often.
In fact, if your exercise bike's resistance stops working, odds are a magnet has gotten stuck somewhere.
Anyway, Matrix's resistance system is a more sophisticated take.
And fewer moving parts is always a good thing too – you know, fewer chances for something to go wrong.
Since the magnetic resistance mechanism is upgraded, Matrix is able to create a smooth pedaling motion without relying on heavy flywheels.
Matrix doesn't report the actual weight of the flywheel for the R50, but this tells us that it's light.
But with the nicer magnetic system, the R50 doesn't need to rely on the added momentum a heavy flywheel offers to get a smooth pedaling motion.
This recumbent comes with 30 resistance levels to work with too, giving you a lot of control over your workouts.
Having more resistance levels doesn't mean more overall resistance, but it does mean you can make smaller adjustments to the available resistance.
Which I see as a good thing because it gives you more control to fine tune your workout experience.
Overall, I think the R50 scores highly in the resistance department – I like that it comes with a reliable, smooth acting system and that it gives you a lot of control over your intensity.
Frame
Recumbent bikes, like any other exercise bikes, aren't all created equal.
Sure, they all share the same basic frame design (putting the rider in a more reclined position), but otherwise, some recumbents are certainly more impressive than others.
When comparing bikes, I always like to look for the assembled weights and weight limits because I feel these specs tell us a lot about the quality of the frames.
Seeing a heavier assembled weight is a good sign that the bike is more solidly built and is going to feel more secure when I'm sitting on it.
Now this rule certainly isn't written in stone, but generally speaking, seeing a heavier bike is a good sign.
With this in mind, the R50 comes in with an assembled weight of around 172 lb.
This alone might not mean much to ya, but when we compare this to other home recumbents, you'll see how much heavier this bike really is.
For the sake of comparison, more affordable recumbents you'll find from brands like Schwinn or Nautilus normally weigh 100 – 110 lb.
And Sole's LCR, which is really heavy for its price range, weighs in at around 152 lb.
Life Fitness' RS3, which is in the same price range as the R50 weighs in at around 154 lb; and True's ES900, which is more expensive than the R50's base model, weighs in at around 180 lb.
So, point is, the R50 is heavy – and this is a good thing when it comes to stability.
You aren't going to have to worry about this recumbent feeling flimsy or shaky because it's going to feel as solid as any commercial recumbent out there.
This is due in part to its dual-form frame as well, which inherently adds stability to the base (this design also makes for a low step-thru height too, making it really easy to access).
The R50 can handle riders weighing up to 350 lb, which is impressive for any recumbent.
Overall, this bike scores highly with its heavy-duty frame and stable base design, making it easy for users of all sizes to access.
Warranty
Matrix backs their Cycle R50 with the following home warranty:
Lifetime frame
7 year parts
2 years labor
I told ya Matrix doesn't mess around with their warranties.
The lifetime frame guarantee is great, but it's the 7 years on parts that really stands out here, considering most brands in this price range are offering somewhere between 5 – 10 years.
For example, Life Fitness offers 5 years on parts for their RS3 and True and Precor offer 10 years for parts on their ES900 and RBK 665, respectively.
Two years on labor is also very good, considering most brands only offer 1 year (the 3 brands mentioned above all offer 1 year on labor).
Overall, Matrix doesn't have the longest warranties around, but they're not far off.
Features
The Matrix Cycle R50 comes with the following features:
Choice of console- one of the coolest features of the R50 is that you can choose your console. The price and included features will vary depending on which one you go with and your options are the following: XR (8.5″ LCD), XER (10″ HD touchscreen), XIR (16″ HD touchscreen), and XUR (22″ HD touchscreen). The XR is pretty basic, but much more affordable; the XUR is huge and awesome, but much more expensive.
Entertainment apps- if you go with one of the touchscreen consoles, you'll get access to built-in entertainment apps like Netflix, Instagram, YouTube, and more. You can even continue seeing your workout stats at the bottom of the screen while watching your favorite shows/movies.
Screen mirroring- the touchscreen consoles also offer screen mirroring, allowing you to hook up your phone and view any media from your phone directly on your console. This essentially gives you access to any entertainment or fitness app you'd like to view.
Web browser- the XER, XIR, and XUR consoles also include a built-in web browser, so you get search the internet while exercising.
iFit- all of the consoles are compatible with iFit, but with the touchscreens you can access and view the instructor-led workouts directly from your consoles. Matrix also includes a 30 day free trial with purchase, after which you'd be responsible for the monthly subscription (only if you wanted to continue using the service, you don't have to).
Workouts- the number of built-in workouts you get depends on the console you go with (5- 13), but each console comes with some classic workout profiles to get ya moving.
Bluetooth- all of the consoles are bluetooth compatible with heart rate monitors, apps, or headphones (if applicable) and the 3 touchscreen consoles even come with included heart rate straps.
Comfort Arc seat- the tech features are awesome, but you get this comfortable seat regardless of which console you select. You'll notice how high up the back rest goes up your back, providing added support which could be helpful for folks dealing with achy backs. The seat/backrest are contoured and you can adjust the angle of the backrest as well for more customization.
Handlebar controls- you can conveniently control the resistance from the handlebars near the seat.
USB charging- the touchscreen consoles also come with USB charging, so you can keep your phone charged up while riding.
Water bottle holder- and finally, there's even a place to put your water bottle.
Price
Alright, so the R50 is pretty badass, but all those specs and features come at a cost and that cost is gonna vary greatly depending on which console you go with.
At the time of writing this, these prices are as follows:
R50 with XR: $3,399
R50 with XER: $4,199
R50 with XIR: $4,799
R50 with XUR: $5,399
So, you've got a $2k difference between the simplest console and the most advanced and each time you go up a notch in screen size, you're looking at around $600.
Personally, given the performance specs, luxury seat, and warranty, I'd argue $3400 for the XR version is pretty reasonable, but is asking another $2k for a 22 HD touchscreen console fair?
That's a tougher one.
So, let's look to the comps to see what else is out there.
There's Life Fitness' RS3, which is going for around $3700 at the time of writing this.
The RS3 comes with 20 resistance levels, a solid frame, a decent warranty, and does have a reclining backrest, but its Track Connect 2.0 console is more on par with Matrix's XR and it doesn't offer any touchscreen options.
FYI, Life Fitness does offer a touchscreen option (the SE3 HD) on their Club Series+ Recumbent, but it brings the price up to around $8k, putting well beyond the price range we're talking about here.
There's also True Fitness' ES900, which comes with 30 resistance levels, a self-generating power source, a heavy-duty frame, and an amazing warranty.
It's going for around $4300 and it comes with a very similar reclining back rest, but its T9 touchscreen console has nothing on the XER.
Finally, I want to mention Precor and their RBK 600 Series of recumbents.
Precor is an elite brand and their recumbents are heavy-duty, smooth acting, and backed by great warranties, but the seat on these recumbents doesn't recline.
Their consoles are probably the closest thing to what Matrix has to offer and you can choose between an LCD option (P31), a 10″ touchscreen (P62), and a 15″ touchscreen (P82).
But going with the P62 brings the price up to around $5700 and the with the P82 you're looking at almost $7k.
So, based on these comps, I don't think Matrix is being too unreasonable with their pricing.
Final Thoughts
Well, that'll about do it for the Cycle R50.
The only real thing to complain about here is the cost, but I think the examples above illustrate that the R50 is actually well-priced for the ballpark it's playing in.
I'm not sure if that sports analogy makes sense, but what I'm trying to say is that you get what you pay for.
If you want a high-end recumbent bike with advanced performance specs and top of the line tech features, you're going to have to expect to pay more.
And based on what these other elite brands are charging, I'd say the R50 is priced reasonably.
This recumbent bike comes with nice performance specs, but to me, it's the enlarged backrest and consoles that really set it apart from other bikes in its price range.
I haven't come across any other consoles that offer what these do and the option to use iFit as well is kind of a game changer.
Overall, if you're looking for a comfortable recumbent bike with loads of media options, I think the Cycle R50 is likely the best option in its class. Highly recommended.