Ride1Up's Gravel Roadster V2, as its name likely implies, takes their classic Roadster V2 model and bumps it up a few notches, making it more off-road ready.
The result is an affordable, lightweight e-bike that can handle urban and off-road terrains.
Highlights of the Gravel Roadster V2 include a 350W rear hub motor, a top speed of 24 mph, a Gates carbon belt drive, and an assembled weight of only 33 lb.
The price is also a huge perk, but all this affordability and lightweight-ness comes at a cost – the Gravel Roadster comes with a small battery and is lacking some of the accessories we take for granted on more expensive models.
All things considered though, I think the Gravel Roadster V2 would make a great choice for folks looking for a lightweight e-bike that can handle going off the beaten path.
But I'm probably getting a little ahead of myself.
Before you make any decisions about this e-bike you need to know what it's all about – and that's where I can help.
In this review, I'll not only go over all the specs and features the Gravel Roadster has to offer, but I'll also compare it to some of the other top options in its price range.
This way you can really see if this is the right e-bike for ya.
Well, let's get to it already.
Quick Stats
| | |
| --- | --- |
| Motor | 350W rear hub, 40Nm torque |
| Top Speed | 24 mph |
| Battery | 252Wh |
| Range | 20 - 30 miles |
| Weight Limit | 300 lb |
| Weight | 33 lb |
Ride1Up's Gravel Roadster V2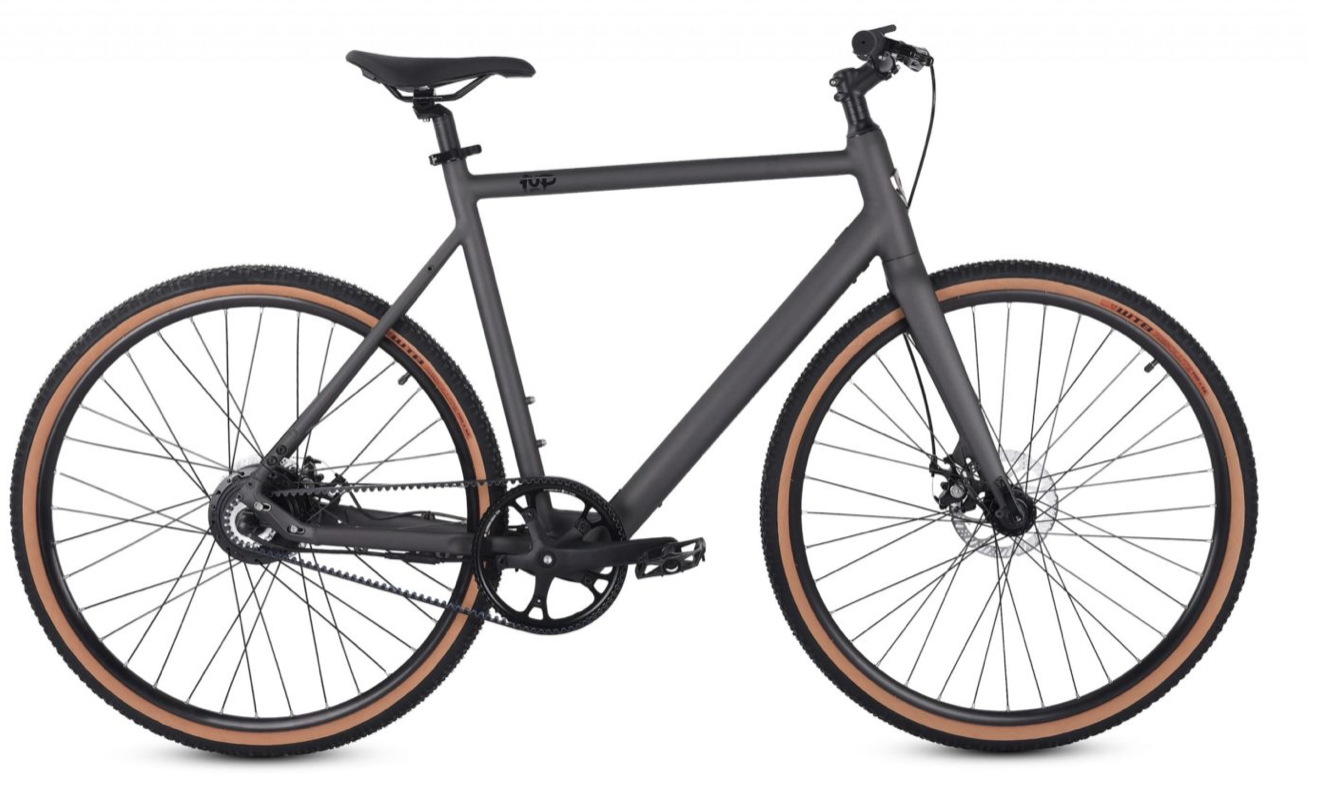 Ride1Up has made a name for themselves with their affordable, higher-quality-than-you'd-expect-for-the-price electric bikes and I have a feeling their popularity is just going to continue to grow.
I mean quality bikes and low prices is hard to beat.
Anyway, Ride1Up has a nice lineup of e-bikes to choose from and they offer a little bit of everything, so regardless of what style of e-bike you're looking for, odds are they have a model to fit your needs.
They now even offer an insanely-fast, moped-style e-bike, known as the Revv 1.
The bike we're here to discuss now though is the Gravel Roadster V2, who's name sounds a whole lot like their Roadster V2.
Well, that's not a coincidence, these 2 cycles are very similar, but the Gravel Roadster comes with upgraded tires and brakes, making it better suited to handle, you guessed it, gravel/dirt roads.
It's also a little more expensive, but we'll talk prices in a little bit – let's start things off with a rundown on the major performance specs.
Pros
350W rear hub motor
Top speed of 24 mph (Class III)
Thumb throttle
Gates carbon belt drive
Lightweight frame
300 lb weight limit
Integrated battery
2 frame sizes to choose from
5 levels of PAS
Large tires
Great price
Cons
Small battery
No adjustable gears
Kickstand not included
Front lighting not included
Mechanical disc brakes instead of hydraulic disc brakes
Motor
The motor is the heart of any e-bike, so it's probably a good place to start.
E-bike motors can be classified as either hub or mid-drive, depending on where the motor is located and each has their own advantages and disadvantages.
The Gravel Roadster uses a rear hub motor, so I'll skip the speech on mid-drive motors, but if you're interested in the differences between 'em, you can check out my guide on the topic.
But for this price range, we should expect a rear hub motor because they're generally quite a bit cheaper than mid-drive motors.
More specifically, the Gravel Roadster comes with a 350W sustained rear hub motor that can reach a top speed of 24 mph with pedal assist (PAS).
This technically makes the Gravel Roadster a Class III e-bike, so before you go any farther, it would be a good idea to make sure Class III bikes are legal to ride in your community (all states/localities have different regulations).
FYI, you used to be able to choose between getting a throttle and not getting a throttle, but as I'm writing this, Ride1Up has discontinued the non-throttle version.
When it comes to power, 350W is smaller compared to the 750W motors found on a lot of all-terrain e-bikes, but for a lightweight road/gravel bike, it's the norm.
Aventon's Soltera.2 and Velotric's T1, for example, also use 350W rear hub motors.
It's also a good idea to look at the motor's torque specs too though, especially if you plan on riding your e-bike in really hilly areas.
Recall that torque refers to the rotational power and when it comes to e-bike motors, seeing higher torque ratings usually means better acceleration and better hill climbing abilities.
That said, the Gravel Roadster's motor only offers 40Nm of torque, which is low on the spectrum for e-bike motors.
But to be fair, lightweight, affordable gravel bikes come with weaker motors – it's one of the ways they stay lightweight and affordable.
The T1 mentioned a sec ago comes with 45Nm of torque, so just a little more, but not much.
So, the Gravel Roadster comes with a smaller, weaker rear hub motor, so it's not the best option for serious off-roading or steep hills, but for the price, it's as strong as we can really expect.
Battery
Moving on, let's talk batteries.
The battery is to your e-bike what the gas tank is to your car (unless you've upgraded to an electric car, in which case I guess you're used to talking about battery capacities).
A lot of variables affect real world range, but generally speaking, having a larger battery capacity allows you to go farther between charges.
When comparing batteries, it's easy to look for the watt-hour (Wh) ratings because this spec gives you an instant idea as to the batteries functional capacity.
And seeing higher Wh ratings usually means better range.
With this in mind, the Gravel Roadster comes with a 252Wh (36V, 7Ah) battery that should get most riders somewhere between 20 – 30 miles per charge.
Again, this is pretty small as e-bikes go.
The smaller battery helps keep weight and cost down, but it's certainly something to consider if you plan on going on longer excursions.
20- 30 miles is about as low as any range I've seen for any e-bike and in order to get that 30 miles, you'll have to plan on doing a fair amount of pedaling yourself.
For the sake of comparison, the Soltera.2 comes with a 360Wh battery and the Velotric T1 comes with a 352.8Wh battery.
To be fair, both of those bikes cost a little more than the Gravel Roadster, but the point is the battery on this e-bike is really small.
But if you keep your rides to shorter distances or are ok with doing more work yourself (less reliance on PAS or throttle), this might not be a dealbreaker.
Frame
So far, we've seen that the motor and battery are both on the smaller side for the Gravel Roadster, but this is purposeful in order to keep the overall weight of this bike down.
More specifically, this e-bike only weighs 33 lb.
This is really light for an electric bike and it's going to make this bike a lot easier to haul around and handle – something that could come in handy if you expect to be carrying your bike up/down stairs on the reg or packing it up for travel often.
For the sake of comparison, the Soltera.2 and Velotric T1 mentioned earlier weigh in at 46 lb and 36 lb, respectively.
And even though the Gravel Roadster is light, it still comes with a respectable weight capacity of 300 lb, allowing folks of all sizes the ability to safely ride it.
Ride1Up also offers it in 2 frame sizes, depending on rider height.
The 'small' frame is designed to fit riders 5'3″ – 5'8″ and the 'large' frame is for riders 5'8″ – 6'3″.
Both come as traditional step-over frames and the stand-over height will be 30″ or 33″, respectively.
And with a wheelbase of only 40″/41″, the Gravel Roadster is also a pretty compact.
This also makes it easier to haul around, but it'll also make it a little more nimble when riding on pavement or rougher terrain.
The shorter frame will make this bike more responsive as well, which may take a little getting used to if you're accustomed to longer bikes.
Overall though, the Gravel Roadster scores highly with its lightweight frame and impressive weight capacity.
Warranty
Ride1Up covers their Gravel Roadster V2 with the following warranty:
Yeah, not a lot of warranty to speak of here, but this isn't too out of the ordinary for affordable e-bikes.
For example, Rad Power Bikes and Juiced Bikes also only offer 1 year guarantees on their electric bikes.
But some brands do offer better warranties.
Aventon, for example, offers 2 year frame/parts warranties (frame warranty upgradable up to lifetime with registration) and Velotric offers 5 years on their frames and 2 years on components.
So, Ride1Up's warranty isn't great, but it's pretty average for such an affordable model.
Features
Ride1Up's Gravel Roadster V2 comes with the following included features:
LCD console- the display included with this e-bike is small and basic, but it'll still let ya know how fast you're going, which PAS level you're on, distance, etc.
5 levels of PAS- speaking of which, this bike comes with 5 levels of PAS, letting you fine tune how much work you put into each ride.
Thumb throttle- there's also a thumb throttle mounted on the left handlebar, giving you easy access to instant motor power any time you want it (regardless of which PAS level you're in).
Gates carbon belt drive- the Gravel Roadster comes with an upgraded, carbon belt drive that should never require any maintenance. Unlike chain drives, this belt drive is silent, won't require any oil, and will never kink up on ya (fyi, the Roadster V2 also comes with a carbon belt drive, but the 'Gates' is considered a nicer belt).
Single speed drive train- the belt drive is awesome, but this e-bike is single speed, meaning there aren't any adjustable gears. This makes it easier to ride, but it also makes it lower performance when it comes to hilly terrain.
Cadence sensor- this bike uses a cadence sensor to tell the motor when to cut on/off. Basically, every time you start pedaling, the cadence sensor senses this and tells the motor to turn on, depending on which PAS level you have it set on.
27.5″ x 1.65″ tires- the Gravel Roadster comes with large tires that are a little thicker than what you'd find on a road bike, making it better able to handle gravel and dirt roads.
Mechanical disc brakes- these brakes are an upgrade over the dual pivot brakes found on the Roadster V2, but hydraulic disc brakes are generally considered the better option.
Comps
Ok, time to talk dollars.
As I'm writing this, Ride1Up has the Gravel Roadster V2 listed for $1,245, making it quite affordable for an electric gravel bike.
There aren't a ton of electric gravel bikes in this price range, but I think I found a few we can use to compare the Gravel Roadster too (two of which I've already mentioned a few times).
The first comp I want to go over is Aventon's Soltera.2.
The Soltera.2 isn't marketed as a gravel bike, but it's got similar specs, so I think it'll do.
This e-bike costs around $1,399 and it comes with a 350W rear hub motor, a 360Wh battery, a range of 20 – 46 miles/charge, and a weight of 46 lb.
It doesn't come with a belt drive, but it does come with a 7-speed shifter, a torque sensor (very rare at this price point), and an included kickstand.
Its tires are also a little bit more narrow, so it might not be quite as responsive on rougher terrain.
There's also Velotric's T1, which costs a bit more at $1,699.
The T1 comes with a 350W rear hub motor, a 352.8Wh battery, a max speed of 25 mph, and a weight of 36 lb.
It too comes with a torque sensor, an 8-speed shifter, hydraulic disc brakes, and an included headlight – but again, it does cost $400 more.
The last comp I want to mention is NAKTO's Ranger Premium, which costs around $900.
This isn't the sleekest bike around, but for the price, it does come with some solid specs, including a 350W rear hub motor (50Nm torque), a 384Wh battery, and a 6-speed shifter.
It weighs quite a bit more at 53 lb, but it does come with a headlight and kickstand (and similarly-sized tires).
Final Thoughts
Alright, that's about all I got.
Based on everything the Gravel Roadster V2 has to offer and after looking at a few similar comps, I think this e-bike definitely has a lot to offer for the price.
If you're able to sped a few hundred bucks more, you can certainly get a nicer gravel-style e-bike with upgraded components.
But I think the Gravel Roadster is competitively priced (especially considering it comes with a Gates carbon belt drive).
The biggest downsides I see is that it doesn't come with a kickstand or front lighting and the battery is pretty small, even for a budget cycle.
But it's going to be hard to find a sleeker, lighter-weight e-bike in this price range.
So, if you're looking for an affordable, easy-to-handle bike that can go on or off-road, I think the Gravel Roadster would be a great option.