Aventon's Level.2 is an attractive looking commuter with some great features for its price range.
The 672Wh battery and 500W rear hub motor are great, but personally, I think it's the inclusion of a torque sensor that sets this e-bike apart from most competitors.
With a torque sensor, the Level.2 is able to provide a smoother, more natural commute, giving you enough motor to supplement your effort instead of blasting full power every time you touch the pedals.
Other cool features include a color LCD console, hydraulic disc brakes, zippy tires, an 8-speed shifter, and a 3 amp charger for faster charges between rides.
All things considered, if you're looking for a well-balanced commuter, it's going to be hard to find a finer specimen than Aventon's Level.2, but there's a lot of competition out there, so you have to really do your homework.
Luckily, I'm here to help.
In this review, I'll go over everything this e-bike has to offer, but I'll do ya one better and compare it to some of the other top options as well.
This way, you'll be able to really see if Aventon's Level.2 is the right e-bike for you.
Let's roll.
Quick Stats
| | |
| --- | --- |
| Motor | 500W rear hub |
| Top Speed | 28 mph |
| Battery | 672Wh |
| Range | up to 60 miles |
| Weight Limit | 300 lb |
| Weight | 62 lb |
The Aventon Level.2 Commuter Ebike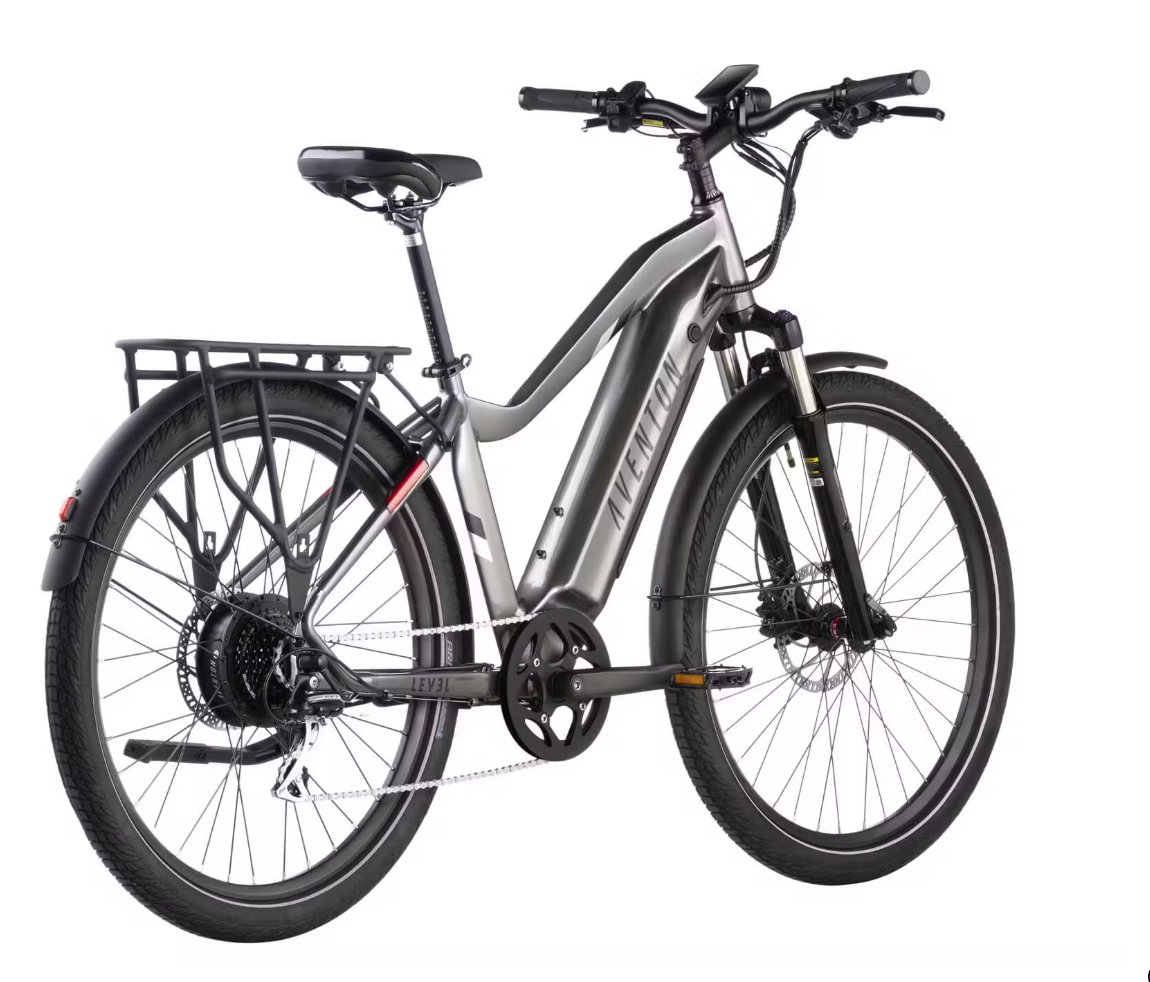 Aventon is a popular e-bike brand and when you check out their lineup, it's pretty easy to see why.
They offer great looking bikes that are created with quality components and then price them reasonably – so yeah, no big mystery why so many people are investing in their products.
Aventon has several models to choose from, including bikes in most every class, and they offer both step-over and step-thru frame designs for most bikes as well.
The Level.2 Commuter we're here to talk about now is, you guessed it, an electric commuter bike.
This means it's designed to be a comfy ride while going to work, running errands, or simply cruising around the neighborhood.
The Level.2 is the upgraded version of their "Level Commuter" and the 2 e-bikes are very similar.
The biggest difference is that the Level.2 comes with a torque sensor – so if you're cool with a cadence sensor and looking to save a couple hundred bucks, the Level Commuter could be the way to go.
But more on that later.
Let's start with a rundown on the performance side of things.
Pros
Comes in 4 frame sizes
Great range
Torque sensor
Class II/III use
300 lb weight limit
8-speed shifter
5 levels of PAS
Thumb throttle
High-quality console
Hydraulic disc brakes
Integrated lighting
Integrated rear rack
Front suspension fork
Fenders
Large, grippy tires
Sleek design
Good warranty
Well-priced
Cons
Motor
The Level.2 comes with a 750W peak/500W sustained, 48V rear hub motor that can reach a top speed of 28 mph with pedal assist (PAS), thus making it a Class III e-bike.
That was a real mouthful, so I'm gonna break that down a little.
For starters, when looking at the motor strength, it makes more sense to consider the "sustained" output because this is where the motor will be operating the majority of the time.
This means the Level.2 is really using a 500W motor.
In terms of strength, this isn't as strong as an e-bike packing a 750W sustained motor, but it's going to help improve your battery life and range.
Stronger motors usually offer faster acceleration and better hill climbing capabilities, but they also use more energy – speaking of hills, you can also look for the motor's torque rating to see how good they'll be with hilly terrains, but I couldn't find where Aventon offers this spec.
Anyway, that's my long-winded way of saying that the Level.2 isn't the strongest commuter out there, but it has enough muscle to comfortably reach top speeds.
Speaking of which, the Level.2 is shipped as a Class II e-bike (top speed of 20 mph with throttle or pedal assist), but you can contact Aventon for instructions on how to unlock Class III mode.
This is a rear hub motor, meaning it's located with the rear tire.
This is as opposed to a mid-drive motor, that's located with the crank set.
For this price range, it's expected to see a rear hub motor and they work just fine, just know that the motor won't be able to take advantage of the different gears.
Overall, as I mentioned, there are stronger commuters in this price range (like Ride1Up's LMT'D and its 750W motor), but having the smaller motor certainly improves the Level.2's range.
Battery
The Level.2 comes with a moderate-sized motor, but it comes with a rather generously-sized battery – and that's a potent combination when it comes to getting the most range per charge.
More specifically, this e-bike comes with a 672Wh (48V, 14Ah) battery that'll get most riders somewhere between 30 – 60 miles per charge.
When comparing e-bike batteries, it's easiest to compare the 'Wh' ratings because this spec gives us a good idea as to real world capacity.
Basically, seeing higher numbers here means the battery should last longer.
And at 672Wh, the Level.2's battery scores highly.
This is as high as most commuters in this price range offer, although there are a few out there with larger batteries (like Juiced Bikes' CrossCurrent X and its 995Wh battery).
Regardless, 30 – 60 miles of range is awesome.
To get that 60+ mile range you'll have to keep it PAS level 1 and do a lot of the work yourself, but getting 30 miles or so on PAS level 5/throttle is legit.
I told ya using a smaller motor has its benefits.
This great range could be reason enough for some riders to opt for the Level.2 over similarly-priced bikes with stronger motors.
Frame
The Level.2 comes in both a step-over and a step-thru frame and both options come in 2 sizes, ensuring folks of most heights will be able to find a comfortable riding position.
For the step-over frame, the "regular" should fit most riders between 5'3″ – 5'10" and the "large" should fit most between 5'10"- 6'4″.
For the step-thru frame, the "S/M" should fit most people between 4'11" -5'7″ and the "M/L" should fit most folks between 5'7″ – 6'1″.
So, this means shorter folks might want to go with the step-thru frame and taller folks should consider the step-over option.
In terms of weight, all variations weigh around 62 lb with the battery installed, which is pretty average for a commuter – not exactly light-weight, but not excessively heavy either.
The Level.2 comes with a 300 lb weight capacity, allowing it to safely accommodate most riders and the rear rack is able to safely hold 55 lb (just keep in mind cargo weight counts toward the total weight capacity of the bike).
Overall, I like that Aventon offers this commuter in several different frame options, as it should be able to comfortably handle riders of all sizes.
Warranty
Aventon offers the following warranty on the Level.2 Commuter:
2 year frame
2 year parts
1 year accessories
Two years on the frame/parts isn't bad for an electric bike, especially considering a lot of brands only offer a single year (Rad Power Bikes, Juiced Bikes, etc).
But if you register your new e-bike with Aventon within 90 days of purchase, they'll give you a lifetime frame warranty, which is even better.
And yes, the parts warranty includes major components like the motor and battery as well.
Overall, I think Aventon has a pretty solid warranty program.
Oh, they also offer a 14-day return window where you can send it back for a full refund, but you'll have to pay the shipping fee to get it there.
It's worth noting though, that this return policy if for new and unused bikes – if you put a few miles on said bike, you'll have to pay a restocking fee as well.
Features
The Aventon Level.2 comes with the following included features:
Color LCD console- the display on this e-bike is large and brightly-lit, making it easy to read in all riding conditions. It lets you see all your stats while riding, but is also compatible with Aventon's app for data tracking.
Torque sensor- the torque sensor measures how hard you're pedaling and gives appropriate motor power to augment your efforts. This means the harder you pedal, the more motor assist you get. The result is a smoother, more natural riding experience, but it also helps improve battery life. Torque sensors aren't usually seen in e-bikes under $2k, so this feature is pretty special.
Thumb throttle- the torque sensor makes for a nice pedaling experience, but if you don't feel like pedaling, you can take advantage of the built-in throttle, which gives you instant motor power any time you want it.
5 levels of pedal assist- there are 5 levels of PAS, giving you a lot of control over how much motor assistance you get during rides.
8-speed shifter- and with 8 gears to work with, you also have a lot of control over your pedaling performance (with a rear hub motor however, the motor doesn't take advantage of the different gears).
Hydraulic disc brakes- hydraulic disc brakes offer great stopping power, so you'll be able to slow down comfortably regardless of how fast you're going.
27.5″ x 2.1″ tires- the tires on the Level.2 are well-suited for speed and efficiency. The large diameter makes it easier to gain speed and they're just thick enough to offer a little bit of grip without taking away from efficiency.
Front suspension fork- the suspension fork gives you a little shock absorption for a more comfortable ride over rougher roads, but it can be locked out as well.
Integrated lights- the Level.2 has 4 built-in lights (front, rear, both sides) for optimal safety when riding in dark conditions.
Rear rack- it also comes with an integrated rear rack that can safely hold up to 55 lb of cargo.
Fenders- and the included front/rear fenders will help keep ya clean and dry as you ride.
Comps
Ok, that about does it for what the Level.2 Commuter comes with and has to offer, so let's switch pace and talk about some of the competition.
As I'm writing this, Aventon has the Level.2 on sale for $1699, which I would argue is a very reasonable price for this bike.
That said, there's some pretty stiff competition in this price range.
The first comp that comes to mind is Ride1Up's LMT'D, which is priced at around $1695.
The LMT'D is very similar to the Level.2, in that it also comes with a 672Wh battery and also comes with a torque sensor, but the LMT'D has a stronger, 750W rear hub motor (95Nm torque), meaning it won't get quite as good range per charge.
Speaking of charge, it comes with a standard, 2 amp charger which will take longer than Aventon's 3 amp charger they provide with the Level.2.
The LMT'D doesn't come with a rear rack either.
There's also Rad Power Bike's RadCity 5 Plus, which is priced a bit higher at $1999.
The RadCity 5 Plus comes with a 750W rear hub motor, a 672Wh battery, a 7-speed shifter, and an integrated rear rack.
But it uses a cadence sensor instead of a torque sensor, which is a pretty big difference.
The last comp I want to mention is Juiced Bikes' CrossCurrent X, which has a normal asking price of around $2k.
It comes with a 750W rear hub motor, a massive 995Wh battery, a 9-speed shifter, and does use a torque sensor.
Its tires are a little thinner (1.75″) and it comes with a 2 amp charger as well, but it's another great commuter in the $2k price range.
Final Thoughts
Alright, I think it's about time to wrap this up.
Based on what the Level.2 Commuter has to offer and after looking at some of the top-rated comps in its price range, I think it's fair to say the Level.2 can hold its own with any e-bike in its class.
The only real complaint I have is that a stronger motor would offer better acceleration and faster hill climbing, but again, this would bring down its range.
With regards to the comps mentioned above, Ride1Up's LMT'd and Juiced Bikes' CrossCurrent X are both awesome bikes and worth considering.
Personally, I think I'd go with the Level.2 over either, but I would double check prices on all before making a final decision.
I think the Level.2 looks better than the CrossCurrent X and the fact that it comes with a rear rack is an advantage over the LMT'D.
But realistically, it could come down to whether you want more power or more range between charges.
Either way, the Level.2 Commuter is a great e-bike for the price and easily one of the best electric commuters around.